Whether you want balmy beach days, windswept walks, or historic pubs you can dip into whenever the mood strikes, Cornwall has something to offer throughout the year.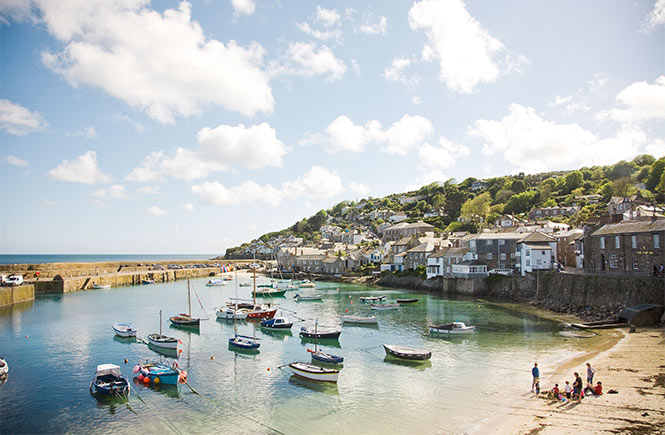 Of course, each season promises its own draws, from bluebells in spring to the coppery colours of autumn – not to mention Cornwall's vibrant mix of festivals and markets that keep the calendar full year-round.
Whatever date and destination you choose, you'll be met with jaw-dropping landscapes, friendly locals, oodles of culture, and entertainment aplenty. And when it comes to how long to spend in Cornwall, the answer is gloriously open-ended as it depends on what you want to do while visiting. From long weekends filled with top-notch dining to week-long escapes that offer a leisurely approach to sightseeing, Cornwall is easily discoverable in long or short breaks, allowing you to create a tailor-made stay.
Curious to discover which season is best for you? Here are some things to help you find the best time of year to visit Cornwall…
Spring
Freshly blossoming flowers, warmer weather fronts, brighter mornings and longer days; there are many wonderful reasons to visit Cornwall in the spring.
Best for gardens…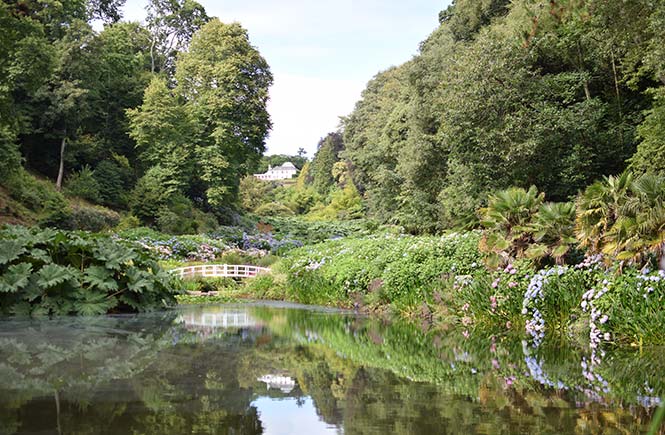 As flowers everywhere start to wake up, it's no surprise that Cornwall takes on a rather spectacular look in spring, especially across its many beautiful gardens. Oh yes, from stately gardens that wrap around historic houses to wild and wonderful tangles that were forgotten for many years, Cornwall's gardens offer a vast array of sights worthy of a green thumbs up. Head to the iconic Eden Project for a glimpse at spring around the world or one of the many glorious gardens in Falmouth for a colourful array of Cornish classics.
Best for bluebells…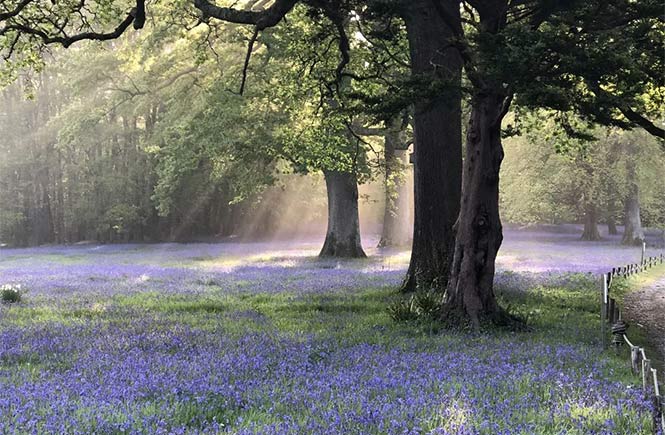 While the gardens take on a bouquet of colours, Cornwall's woodlands opt for a more duo chrome aesthetic as bluebells carpet the spring-green forest floors. April and May are wonderful months for a woodland walk in Cornwall, with the periwinkle hues of bluebells creating an enchanting display throughout every corner of the county. Woodlands often boast excellent trails through the trees too, making them a great destination for a springtime stroll with the family in tow.
Best for dog-friendly beaches…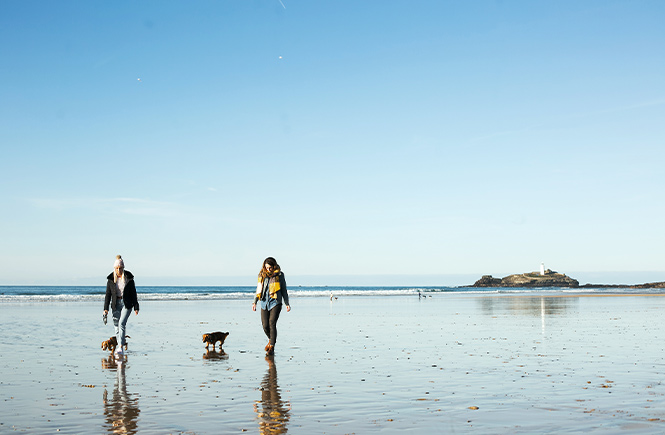 While Cornwall boasts an impressive number of beaches that are dog-friendly throughout the year, autumn, winter and spring open up a whole new selection of sandy havens our furry friends can enjoy, as most of the restrictions run between the 1st of July and the 31st of August. This means that almost every beach in Cornwall becomes a dog-friendly paradise in spring, from the dramatic charms of Porthcurno to the near-Mediterranean charms of the beautiful beaches found throughout St Ives. You'll find lots of welcoming dog-friendly cafés and pubs along the Cornish coast too, perfect for a post-walk refuel with the pup.
Best for food festivals…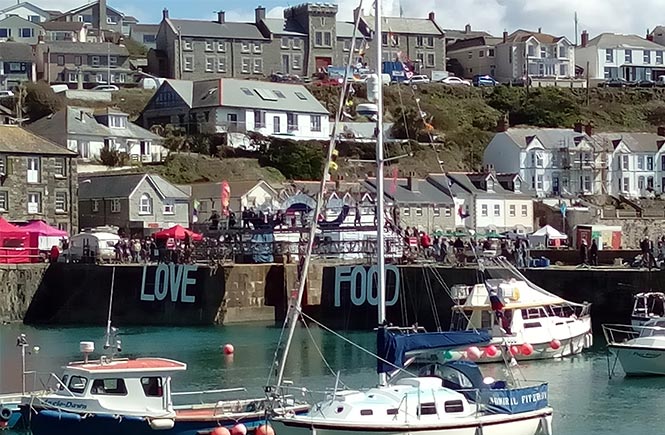 Cornwall enjoys a rather impressive calendar, but spring is when the food festivals shine. Kicking things off with a three-day festival that draws thousands of hungry visitors to the pretty harbour in April, the Porthleven Food Festival is a Cornish must with its button-popping array of foodie stalls on offer, as well as live music in the evenings and a variety of family-friendly entertainment. Taking place a few weeks later in May, St Ives Food and Drink Festival hosts an array of local chefs taking to the sandy stage for cooking demos while a collection of stalls offers mouth-watering morsels.
Summer
For many, there's no better time to come to Cornwall than in summer. Hot days spent on world-class beaches reminiscent of the tropics, country estates in full and beautiful bloom, and the greatest lure of them all: ice cream!
Best for balmy beach days…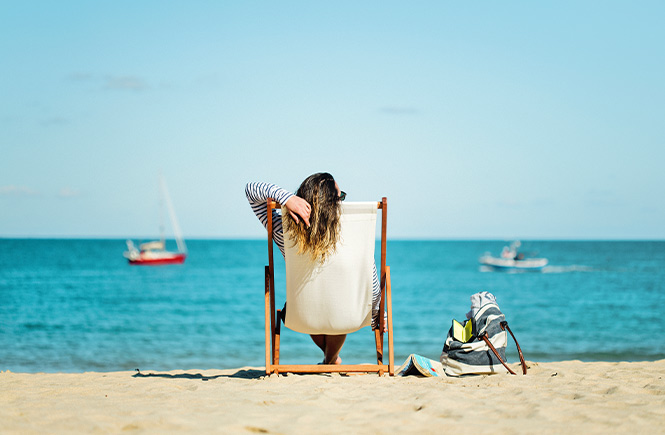 Whether you're all about sea swimming, sunbathing, or surfing, Cornwall's bountiful beaches have something for every beachgoer, and with July boasting the title of warmest month in Cornwall, it's the perfect season for a beach day. On the north coast, you'll find some of the best surfing beaches in the country, while West Cornwall promises sandy beach after sandy beach. And if it's tranquil havens backed by picturesque villages you're after, South Cornwall has you well and truly covered, from St Mawes to Fowey.
Best for walking the South West Coast Path…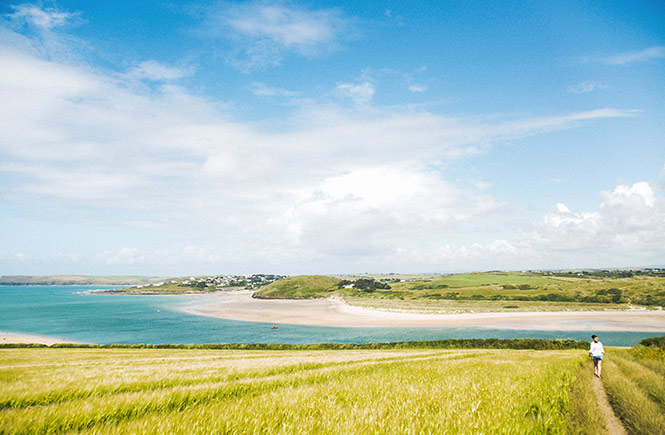 The South West Coast Path makes for an incredible day out at any time of year, but there's no denying the perks of a summery jaunt along the coast. Boasting over 300 miles of beautiful coastal paths to follow, there's an unending supply of routes to explore. In the summer months, you can enjoy cooling dips in the ocean followed by a pitstop in one of the county's welcoming beachfront cafés – not to mention the incomparable joy of walking along a dusty clifftop path with an ice cream in your hand.
Best for alfresco dining…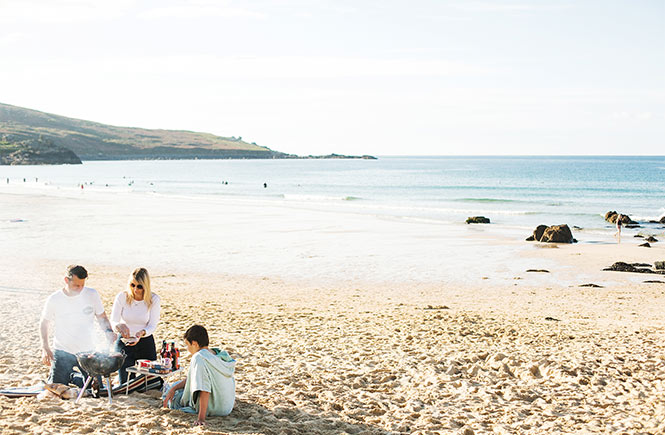 With an impressive collection of beer gardens dotted across the county, Cornwall is an alfresco dream in the summer months, whether you fancy a refreshing pint after a day on the beach or a wood-fired pizza after an undulating amble along the coast. The Duchy is also home to a dreamy selection of scenic picnic spots, perfect for your own open-air feast. Simply stop by one of the many local farm shops to fill your basket with all manner of Cornish goodies.
Best for outdoor entertainment…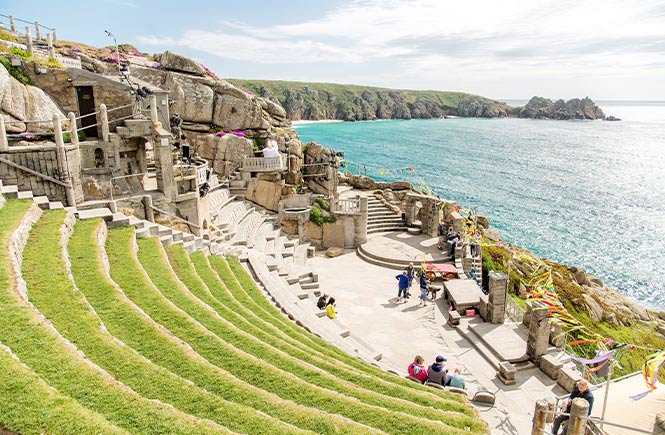 Whether you're a festival reveller or a pirate at heart, Cornwall's round-up of outdoor entertainment really kicks up a notch during the summer months. For the musically minded, mammoth festivals such as Tunes in the Dunes and Boardmasters turn Cornwall's coast into a toe-tapping extravaganza, while the likes of Falmouth's Sea Shanty Festival bring a foot-stomping atmosphere to the waterside town.
Falmouth is also known for its annual regatta, which takes place during the town's famous week-long celebration that includes more live music, parades, and carnivals. Over on the west coast, the world-famous Minack Theatre beckons for a wonderfully unique theatrical experience. Etched into the cliffs above Porthcurno beach, this outdoor theatre enjoys a backdrop of turquoise seas and sunsets, alongside its roster of incredible shows, from family-friendly matinees to waterside whodunits.
Autumn
As summer winds down, so does the pace of life in Cornwall, creating a wonderfully easy-going atmosphere across the county during the autumn months.
Best for autumn colours…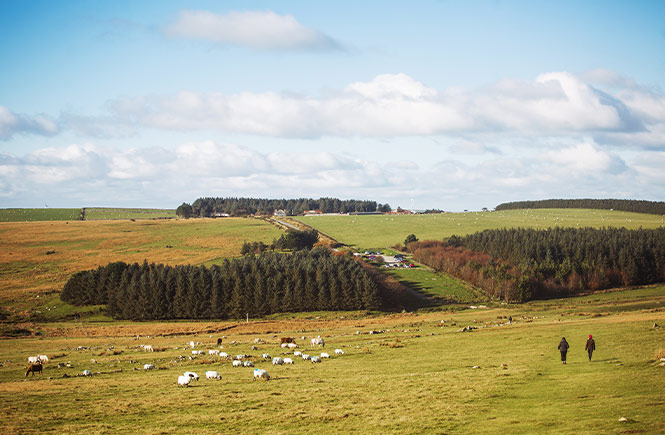 Autumn in Cornwall is a wave of rich hues, from the coppery woodlands that promise a sun-dappled stroll to the purple wash that takes over the moorlands. These russet colours make for a rather spectacular backdrop to any walk, ideal for family days out that finish with a refuel in a cosy Cornish café. Tehidy Woods, Cardinham Woods, and Golitha Falls are just some of the woodlands that swap their green covers for golden blankets, and boast a bonus of hot chocolate spots nearby. Bodmin Moor is another stunning space to soak up the colours of autumn, with the heather adding a deep purple hue to the wild and rugged landscape.
Best for stargazing…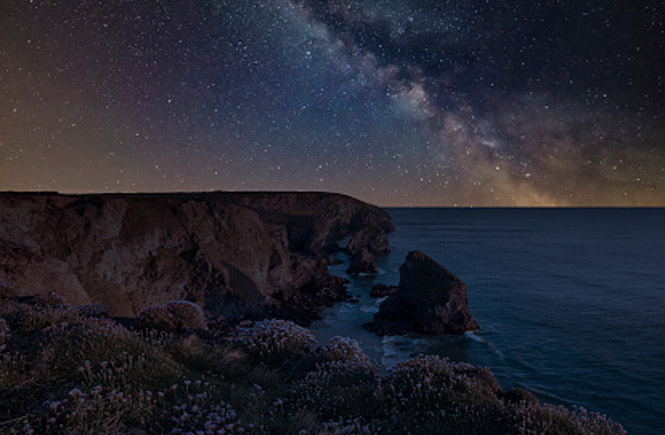 Pulling your gaze from the ground to the skies in autumn will reward you with a star-speckled sky that promises night after night of astronomical viewings. Oh yes, autumn is one of the best months for stargazing in Cornwall, with the Milky Way in peak position during September. Cornwall is home to many incredible stargazing spots, from the dramatic outlines of Kynance Cove and Bedruthan Steps to the historic silhouette of St Michael's Mount. On clear nights, you won't need any equipment to see the stars, just rock up to your favourite Dark Skies spot (wrapped up in all your warmest layers) for an evening of dazzling displays.
Best for an Indian summer…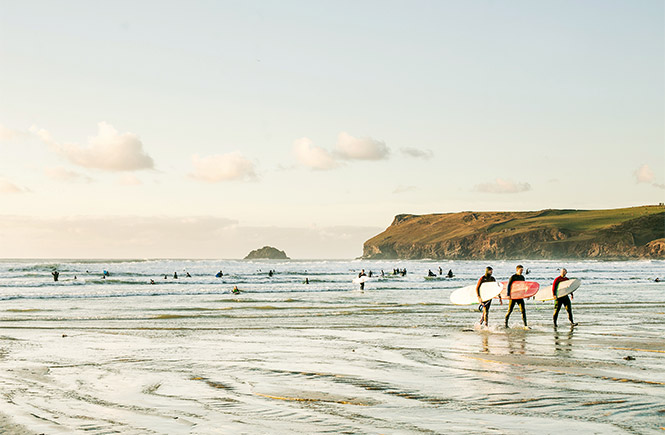 Summer might be the first month that springs to mind for glorious sun, but autumn can be just as sunny, if not sunnier, with Indian summers becoming more and more common. This means you can enjoy all the joys of a balmy beach day with the added bonus of autumn colours surrounding you. Spend your days lounging on the beach, enjoying the quieter seas with a surf lesson or two, or sitting back in your favourite beer garden as you watch the trees turn from vibrant green to gold.
Best for sea swimming…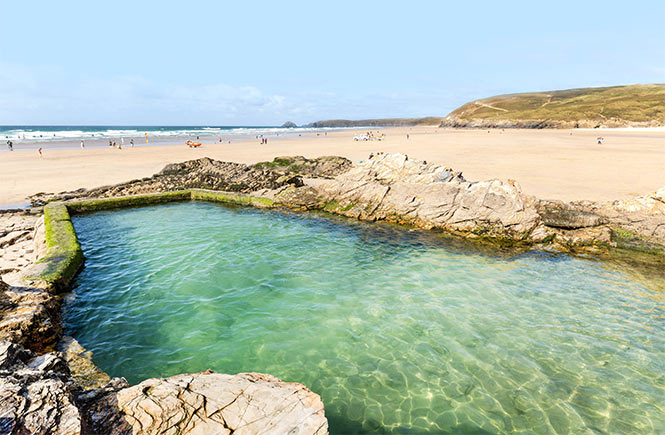 It may come as a surprise, but autumn is one of the best seasons for swimming in Cornwall. With the seas having had the whole of the summer to heat up and the often balmy temperatures of an Indian Summer, there's no warmer time to enter the water. Cornwall is home to a myriad of amazing beaches perfect for a spot of wild swimming – not to mention a number of sea pools that provide the same refreshing experience without the waves.
Winter
Whether you love cuddling up by the fire or blowing the cobwebs away with a windswept stroll, winter in Cornwall is a dramatic must.
Best for storm watching…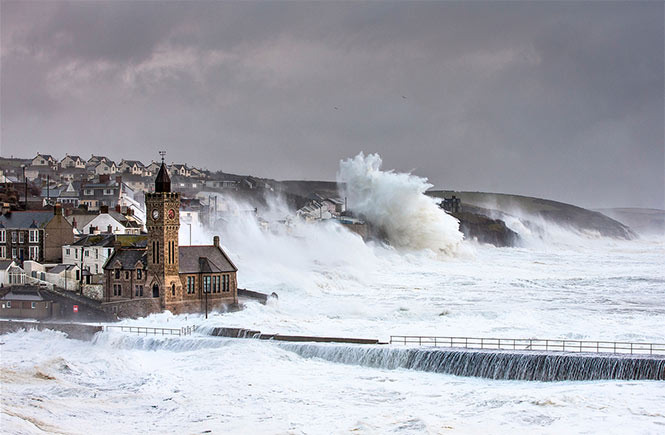 If autumn is all about stars, then winter in Cornwall is all about storms as the county plays host to some big and beautiful weather fronts. From the iconic clock tower in Porthleven facing off against mighty waves to the lighthouse at Godrevy, which has been battling the ocean for over 150 years, storm-watching in Cornwall makes for a spectacular show. You can visit these wind-hewn spots yourself for a front-row seat, watch them live on one of our many webcams, or you can stay in one of our cosy cottages perfect for storm-watching and enjoy the show with a woodburner and cuppa keeping you toasty.
Best for pub walks…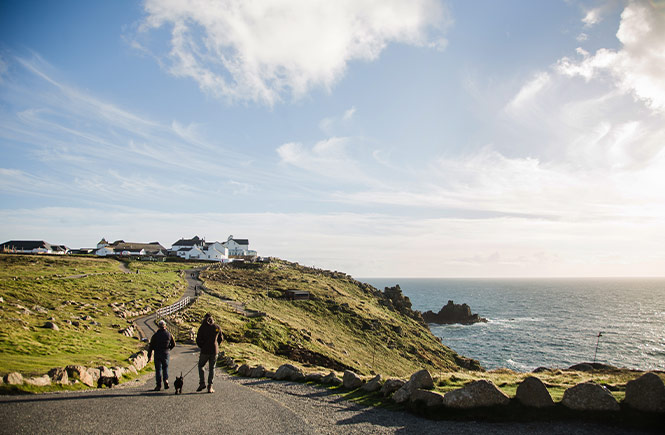 Pubs and wintry walks go together like Sundays and carveries (which, by the way, is another unbeatable reason to visit Cornwall in the winter). From the rejuvenating blast of fresh air to the relaxing atmosphere of a historic pub, this epic combination is the ultimate way to truly clear the cobwebs while staying in Cornwall. Cornwall's coast promises a range of incredible walks that truly come alive in the winter months, while the array of cosy pubs make for an uber-welcoming finish to your trek. Many of Cornwall's pubs welcome dogs and muddy boots too, making this a terrific day out for all, whatever the weather.
Best for festive celebrations…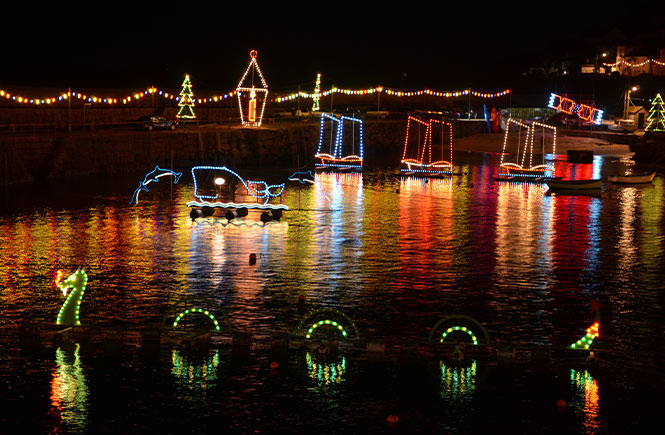 Whether you love Christmas markets and mulled wine, harbours lit up like Christmas trees, or festive swims in the bracing Cornish waters, Christmas in Cornwall is a truly magical time. You'll find lots of unique experiences filling up the calendar, including ice skating at the Eden Project and the many wondrous festive events in St Ives - did you know Santa visits Cornwall by boat? The line-up doesn't end with Christmas either, oh no! From masked balls held in cathedrals to town-wide fancy dress, nowhere does New Year's Eve quite like Cornwall – you can even jump in the ocean on New Year's Day for a wonderfully refreshing start to the year.
Best for rainy day activities…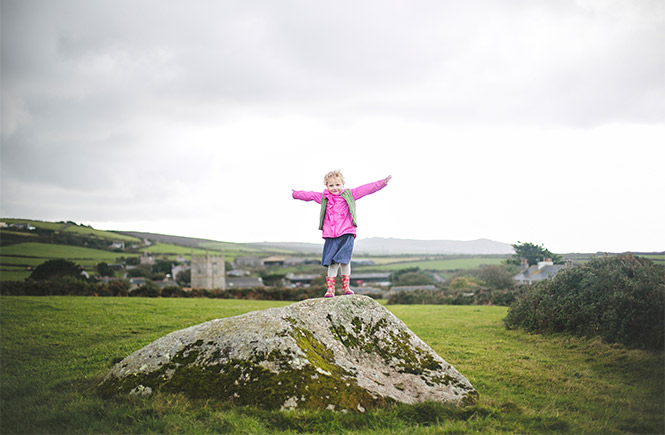 As much as we love the sun, there's something wonderfully cosy about a rainy day. From curling up by the fire with your holiday read to embracing the elements for a wildly refreshing trek, there's something for every rainy day in Cornwall. You'll find a whole host of indoor attractions around the county, from museums and soft play areas for the kids to spas and art galleries for the adults. We also recommend simply throwing on your trusty coat, hat, and scarves for a blustery walk. There's just something extra satisfying about returning to your cosy cottage after a dramatic adventure in the rain.
Ready to experience Cornwall throughout the year? Pick your favourite season and explore our beautiful collection of holiday cottages, from coastal escapes to romantic retreats with a hot tub for a memorable escape in every season.
Tags: Christmas | Cornwall | Summer | Winter | Spring | Autumn |