Whether you prefer a fancy dress party with your mates, fireworks on the beach with the family, or some sophisticated wining and dining with your other half, Cornwall's varied schedule of celebrations offers something for everyone.
Book a last minute New Year's Eve break in Cornwall for a memorable start to 2019 and read on to discover some of the best ways to celebrate around the county…
St Ives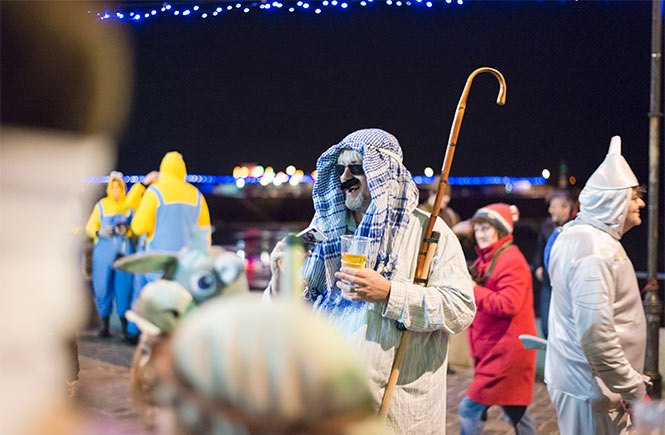 New Year's Eve in St Ives is the ultimate street party and beach party combined. It's become one of the biggest celebrations in the UK and one of the country's biggest fancy dress gatherings. You can expect amazing fireworks, delicious street food, live bands and a spirited atmosphere.
The streets are closed for traffic around the harbour front for celebrations, there are plenty of pubs and bars to nip in and out of and, later on most people gather on the beach to watch the dramatic firework display over the sea.
Newquay
Newquay on the north coast of Cornwall has always been really big on fancy dress on New Year's Eve. This year there are lots of events to choose from, including themed nights, posh parties with fine dining, and decadent club nights. Dance the night away at the 80's themed night at Lewinnick Lodge or the Great Gatsby themed party at the Porth Venue!
At midnight, most party-goers spill out from Newquay's venues for the big countdown and to watch the harbourside fireworks. There's also a countdown with confetti in central square. Whether your night takes you to pubs, clubs and hotels, or you simply take a walk on the beach and watch the fireworks with loved ones, Newquay's vibrant atmosphere will provide you with a memorable end to 2018.
Mevagissey
Mevagissey may be a sleepy harbourside village, but it comes to life on New Year's Eve. It's a small village but there's plenty going on in the pubs, restaurants and bars that surround the harbour, which will be illuminated with festive lights. At midnight everyone congregates on the harbour to say ""happy new year!"
The whole town go crazy with fancy dress costumes and the pubs offer free entry and discos. If you fancy something a bit quieter, the Sharksfin is the place to go for a lovely set menu (pre-book) or you can join the locals and the bar staff in donning outrageous fancy dress outfits and ring in the New Year with one of the best celebrations in Cornwall.
Penzance
The streets of the seaside town of Penzance will be full of revellers in fancy dress, gathering in bars and restaurants and partaking in pub crawls through the town.
Join in with one of the themed nights at Penzance's party venues and head outside just before midnight to join everyone else for the countdown.
Mousehole
Mousehole is one of the most picturesque villages in Cornwall and is a lovely setting for New Year's Eve, whether celebrating in a couple, as a family or with a group of friends. The fireworks over the harbour are spectacular and the pubs and restaurants have a fantastic celebratory atmosphere.
Head into one of the local pubs for some live music in your fancy dress and join everyone under the clock just before midnight for a splendid firework display and to see in the new year in a small and intimate setting with a wonderful atmosphere.
Looe
Looe is a great destination for New Year's Eve with the family. The quaint cobbled streets and harbourside come to life with fancy dress, with a carnival going through the streets and harbourside, and lots going on in the town's venues.
There's not one but two dazzling firework displays in Looe, meaning families can enjoy the display at 6pm before heading into a pub or restaurant for a celebratory dinner, and another at midnight for love-struck couples and late-night revellers. Looe has an amazing party atmosphere all evening and into the early hours.
Bude
Bude has a buzzy atmosphere on New Year's eve but is a bit more chilled out than some of the other locations in Cornwall.
Whether you choose to cheers with some cocktails at The Beach Bar, with craft ales at The Barrel, or with a glass of vino at the North Coast Wine Bar, Bude offers a beautiful coastal setting to mark the occasion with loved ones.
These stunning locations across Cornwall all have their own unique party atmosphere, so wherever you choose to say farewell to 2018 and welcome 2019, we're sure it will be a memorable one.
View all holiday cottages and apartments with availability for New Year here>
Tags: New Year's Eve | New Year |