Whether you prefer a fancy dress party with your mates, fireworks on the beach with the family, or some sophisticated wining and dining with your favourite person, Cornwall's varied schedule of New Year's Eve celebrations offers something for everyone, with every event promising a memorable way to ring in the New Year.
Book a last minute break in Cornwall for a memorable start to 2024 and read on to discover some of the best ways to celebrate the New Year in Cornwall…
St Ives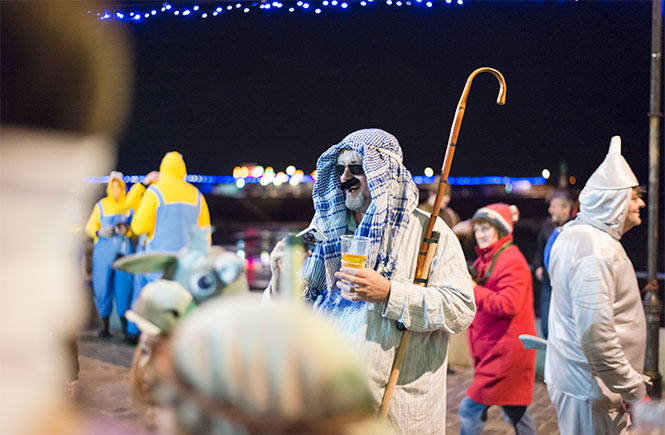 New Year's Eve in St Ives is the ultimate street party and beach party combined – as you would expect from a town with such an impressive list of annual festivals. It's become one of the biggest celebrations in the UK and one of the country's biggest fancy dress gatherings. You can expect amazing fireworks, delicious street food, live bands, and a spirited atmosphere, all peppered with bizarre costumes.
The streets are closed for traffic around the harbour front for celebrations, there are plenty of pubs and bars to nip in and out of as well as inviting restaurants with sea views and mouth-watering menus (best to book if you want to eat as they fill up fast). Later in the evening, people gather on the beach to watch the dramatic firework display over the sea.
Above Porthminster beach, where the legendary fireworks display takes place, Harbour Hotel is hosting a decadent five-course dinner alongside musical entertainment by the magnificent Laura and the Jazz Capsule. At the end of the evening, find yourself in the best seats in the house as you watch the dazzling display from the comfort of the overlooking terrace – you just can't beat that kind of view!
Newquay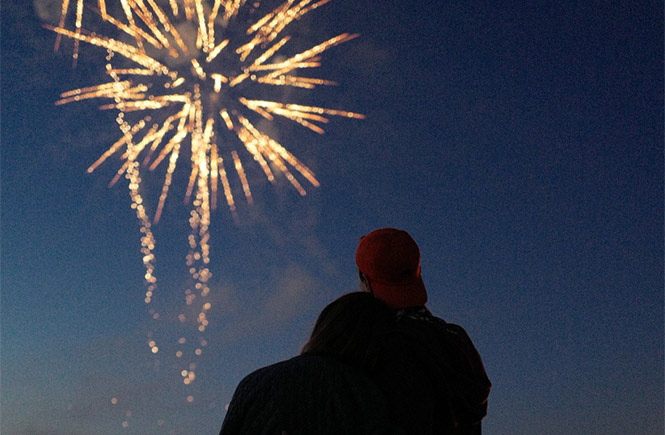 Newquay on the north coast of Cornwall has always been really big on fancy dress on New Year's Eve. This year there are lots of events to choose from, including themed nights, posh parties with fine dining, and decadent club nights with cocktails galore. Dance the night away at one of the many New Year's Eve bashes, whether it's a night of pop, rock, and soul at Fistral Beach Hotel or cocktails at the Slug & Lettuce! Or, for a more formal affair, the Atlantic Hotel is offering revellers an evening of opulence and grandeur with their annual New Year's Eve celebration.
At midnight, most partygoers spill out from Newquay's venues for the big countdown and to watch the harbourside fireworks, which are always a mind-blowing show. There's also a countdown with confetti in the central square. Whether your night takes you to pubs, clubs, and hotels, or a magical walk on the beach where you can watch the fireworks with loved ones, Newquay's vibrant atmosphere will provide you with a memorable end to 2023.
Mevagissey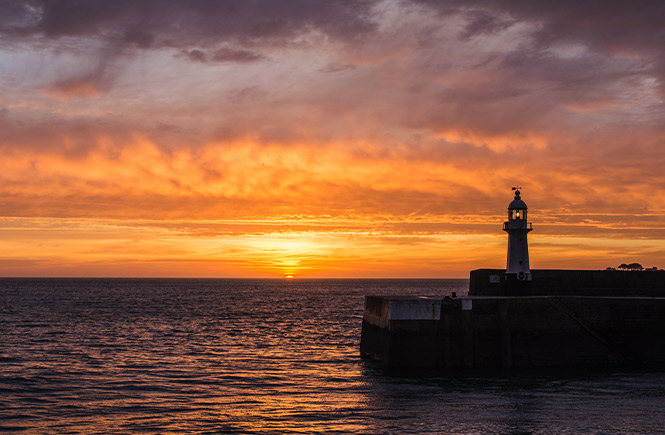 Mevagissey may be a sleepy harbourside village, but it comes to life on New Year's Eve. You'll find plenty going on in the pubs, restaurants and bars that surround the harbour, which will be illuminated with festive lights in true celebration of the occasion. At midnight, everyone congregates on the harbour to say (or rather shout) "Happy New Year!"
The whole town goes crazy with fancy dress costumes and the pubs offer free entry and discos. If you fancy something a bit quieter, the Sharksfin is the place to go for a slap-up seafood feast or you can join the locals and the bar staff in donning outrageous fancy dress outfits and ring in the New Year with one of the best celebrations in Cornwall.
Penzance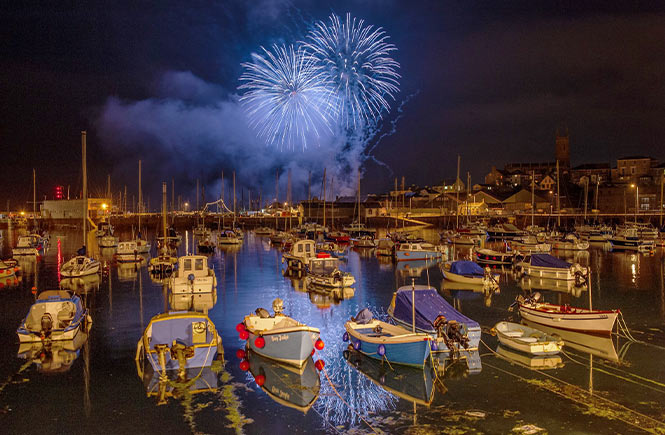 The streets of the seaside town of Penzance will be full of revellers in fancy dress, gathering in bars and restaurants or partaking in pub crawls across the town. The Club PZ welcome the ska-stomping beats of Los Palmas 7 for a night of reggae greatness, while The Star Inn holds its annual New Year celebrations.
Originally serving pirates and smugglers, the Admiral Benbow will be welcoming NYE merrymakers for an evening of music and rum amidst its quirky maritime décor. Whichever fun-filled event you attend, make sure to join the crowds outside just before midnight for a loud and excited countdown to 2024.
Mousehole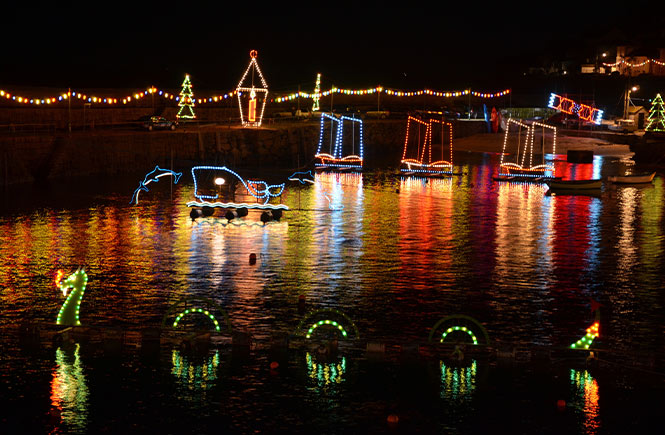 Mousehole is one of the most picturesque villages in Cornwall, making it a lovely setting for New Year's Eve, whether you're celebrating with your partner, as a family or with a group of friends. The fireworks over the harbour are spectacular and the pubs and restaurants have a fantastic celebratory atmosphere – some even boast views over the dazzling midnight display.
Head into one of the local pubs for some live music in your fancy dress and join everyone under the clock just before midnight for a splendid firework display and to see in the new year in a small and intimate setting with a wonderful atmosphere.
Looe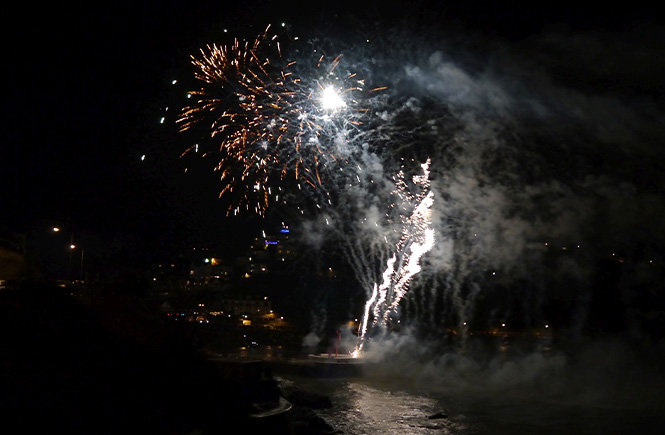 Looe is a great destination for New Year's Eve with the family. The quaint cobbled streets and harbourside come to life with fancy dress, while a carnival winds through the streets, and there's always lots going on in the town's venues.
Looe's famous firework display is always a colourful affair too. Families can enjoy the display at 6pm before heading into a pub or restaurant for a celebratory dinner, or the midnight show for love-struck couples and late-night revellers. Looe has an amazing party atmosphere all evening and into the early hours so wherever you end up, you're in for a great time. You can even join the locals for a dip in the ocean on New Year's Day, the ultimate way to kick-off 2024!
Bude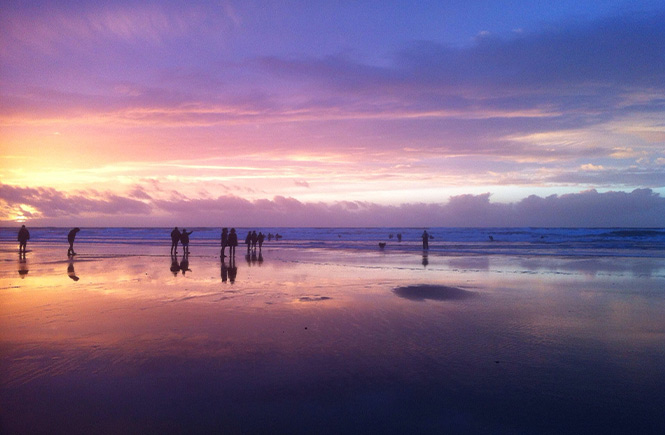 Bude enjoys a buzzing atmosphere on New Year's Eve while managing to maintain a more chilled out vibe than some of the other locations in Cornwall – perfect for families or those wanting a relaxed send off for 2023. The Beach House is offering a special menu for an evening of good food in good company, with cocktails and their famous 'roast on the coast' adding to the occasion.
In town, whether you choose to cheers with some cocktails at Elements Restaurant, craft ales at The Carriers, or with a glass of vino at the Olive Tree, Bude offers a beautiful coastal setting to mark the occasion with loved ones. You'll also find a collection of top-notch eateries where you dine the night away and enter 2024 with a very satisfied stomach.
Falmouth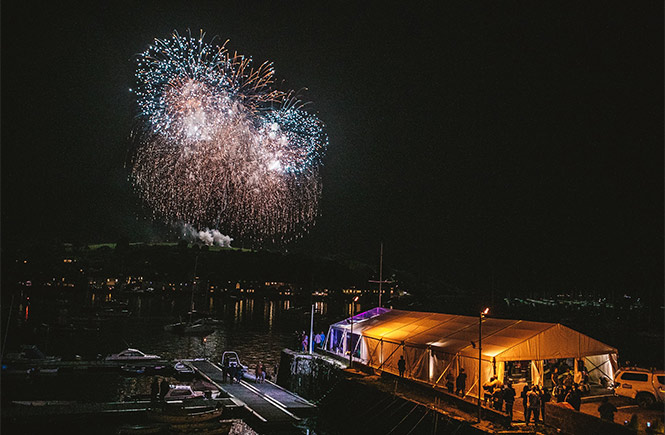 Famed for its jaw-dropping fireworks displays and town-wide enthusiasm towards fancy dress, Falmouth is a popular destination for New Year's Eve in Cornwall for a very good reason. The many pubs and bars provide a jubilant setting for your celebrations, whether you fancy a four-course dinner at The Working Boat or a flight of cider at The Stable.
For the ultimate mix of festivities, head to The Greenbank where a massive house party will be welcoming the New Year in absolute style alongside a more refined and utterly glamorous gala dinner. Finish the night off with the annual fireworks display, which can be seen lighting up the sky and the harbour. It's a sight that will stay with you well into 2024.
Truro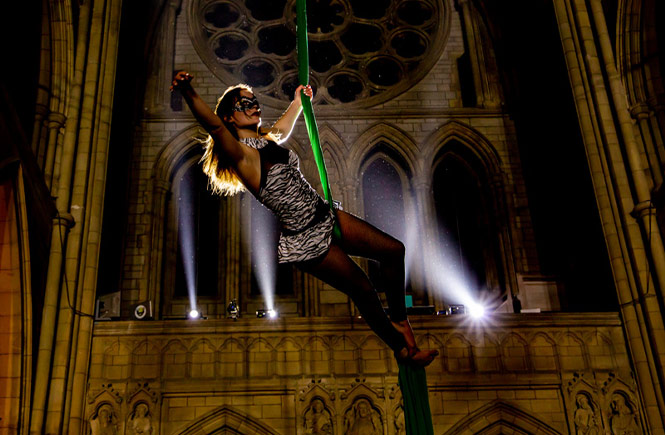 Cornwall's only city goes big for New Year's, with venues dotted around the cobbled streets putting on a proper show as they bid farewell to 2023. One of the biggest events of the night has to be the Cathedral Masquerade, which sees the iconic Truro Cathedral transformed into an epicentre of celebration, complete with gin gardens and a silent disco. The bells ring in the New Year as the clock strikes 12, creating an everlasting memory you'll cherish forever.
Truro's favourite Old Ale House celebrates with a cracking night of music, pints, and monkey nuts, or, if you prefer Bellini's over beer, The Alverton has you totally covered with its glitzy evening full of bubbles, six course dinner and a resident DJ who knows how to ring in the New Year in style.
These stunning locations across Cornwall all have their own unique party atmosphere, so wherever you choose to say farewell to 2023 and welcome 2024, we're sure it will be a memorable one. Explore our welcoming holiday cottages to find the perfect place to celebrate the New Year in Cornwall.
Tags: New Year's Eve | New Year |