In the iconic harbourside town of St Ives, the opportunities for eating in front of the ocean are practically as endless as the horizon in front of you. Whether you're in the mood for seafood, burgers or good old fashioned fried chicken, there's a restaurant and sea view pairing for you. Or, if you're just after a refreshing drink, check out some of the best pubs and bars in St Ives here.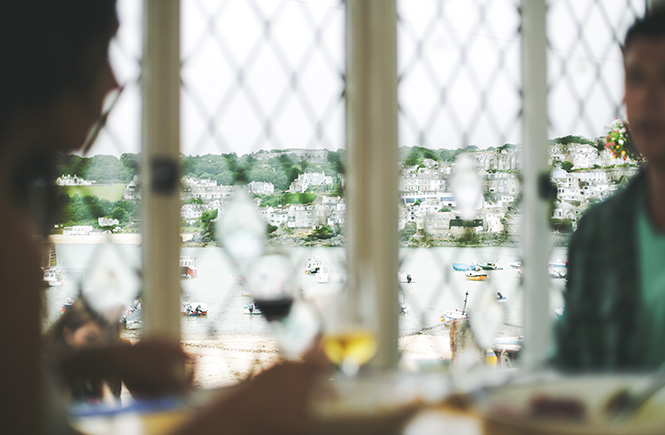 Stroll down the cobbled harbourside street (enjoy a preview with our webcam) letting your nose lead the way to a delicious meal or head to one of St Ives' stunning beaches for some true seaside dining, perfect for a refuel after a coastal walk.
Are you ready to feel hunger pangs while getting some serious scenic envy? Let's take a look at some of the best restaurants in St Ives with beautiful sea views.
Beach Restaurant
Best for: Easy-going vibes
Where: The Wharf TR26 1LG
Website: beachrestaurant.co.uk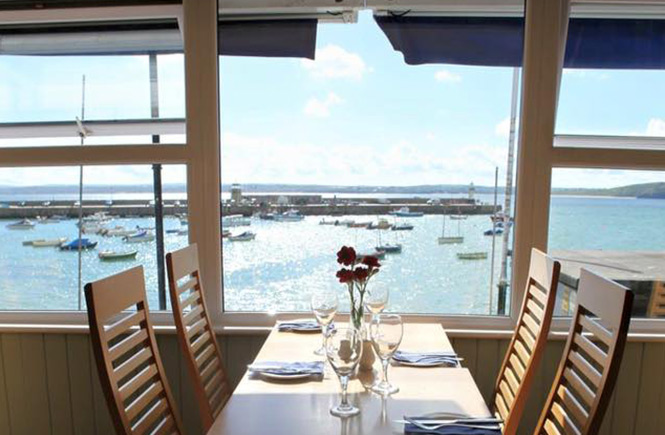 Family-run for over 50 years, Beach Restaurant has a relaxed atmosphere with incredible views out over the harbour and beyond. The menu mirrors the coastal location with a variety of local fish dishes including their renowned New School "Fish and Chips". Pop in for a light bite with a glass of wine after an energising boat trip or dine the evening away on the beautiful harbour.
Porthminster Café
Best for: Pizza on the beach
Where: Porthminster Beach, Carbis Bay TR26 2EB
Website: porthminstercafe.co.uk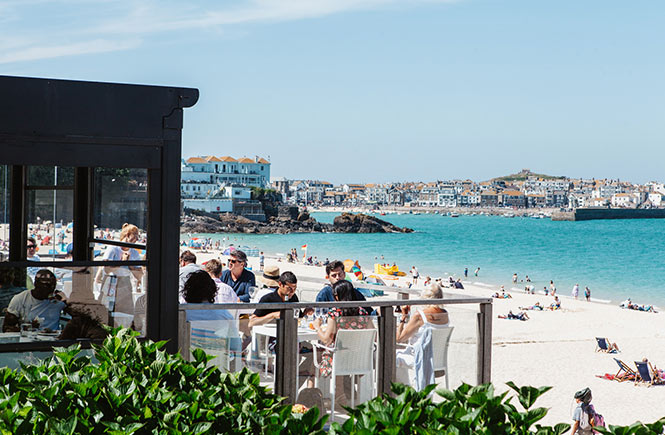 There are few things better in life than pizza, prosecco and turquoise waters, which is why it's hard to resist the call of Porthminster Beach Café. As close to the beach as you can get without getting wet, this beachside café offers incredible surroundings and a menu to match. Feast on fresh seafood, garden-grown veg and even ingredients foraged from the Cornish coast.
Hub St Ives
Best for: Award-winning burgers
Where: 4 Wharf Rd TR26 1LF
Website: hub-stives.co.uk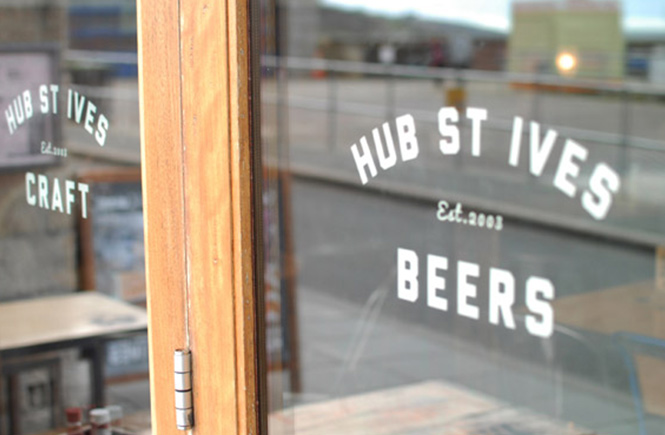 The birthplace of the now national Hub Box, Hub St Ives is as much a part of the harbourfront as the boats sitting in the water. Award-winning burgers, craft beers and delicious malty milkshakes await inside as this laidback burger and barbeque bar allows you to sit and people-watch in peace. We could easily lose an entire afternoon to this harbourside favourite. It's also one of the many dog-friendly restaurants and pubs in St Ives, which makes it an absolute must for a pup-friendly feast.
TALAY Thai Kitchen
Best for: Tasty Thai tapas
Where: Wharf Rd TR26 1LF
Website: talaythai.kitchen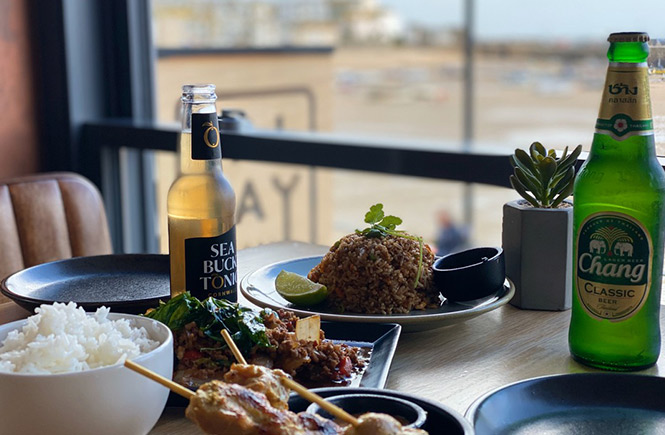 Talay in Thai actually means both sea view and sea food, making it the perfect name for this harbourside restaurant. All your favourite Thai dishes are on the menu from Pad Thai to a mouth-watering assortment of tapas dishes that deliver plate after plate of fragrant taste. Top it off with uninterrupted views of the water and your experience has lived up to the name Talay.
Firehouse Bar & Grill
Best for: Beachside BBQ
Where: 27 Fore St TR26 1AB
Website: firehousestives.co.uk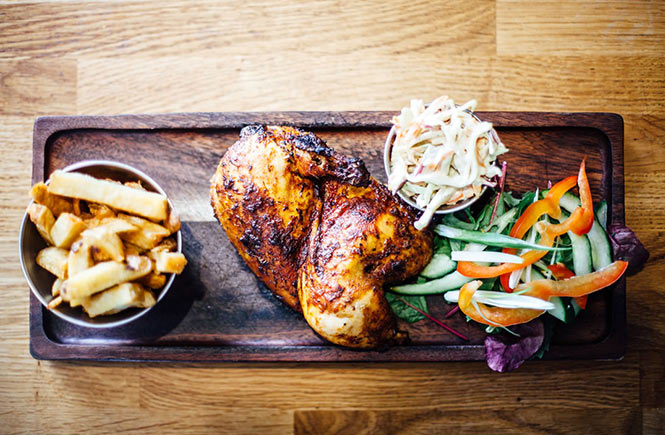 Whether you want to stroll off the beach for a drink at the town's best-stocked gin bar or you're in the mood for food, Firehouse has something for everyone. Chargrilled steaks, chicken, local seafood and a host of veggie options make up the tempting menu, while a variety of specialist gins fill the shelves behind the bar. We are so ready for a G&T as the sun sets over the harbour.
Porthgwidden Beach Café
Best for: Uninterrupted sea views
Where: Porthgwidden Beach TR26 1PL
Website: porthgwiddencafe.co.uk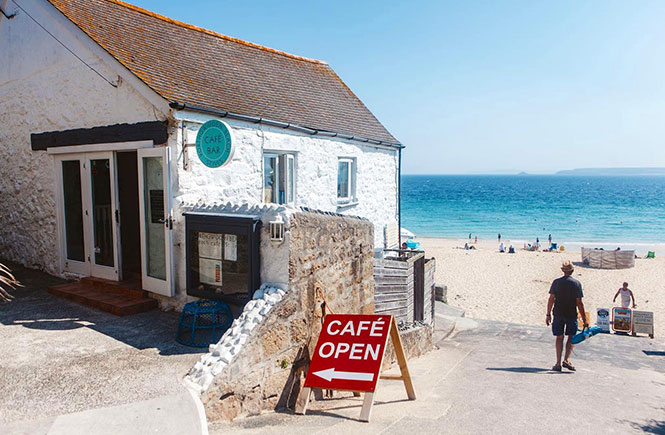 Hot chocolates in the winter and refreshing beers in the summer, Porthgwidden Beach Café is perfectly located to refresh during a day soaking up the St Ives coastline. Tuscan-style pizzas and daily specials (as well plenty of cake) are also available to make your beach day truly memorable… and full of food.
The Searoom
Best for: A gin-tastic time
Where: The Wharf TR26 1PG
Website: stivesliquor.co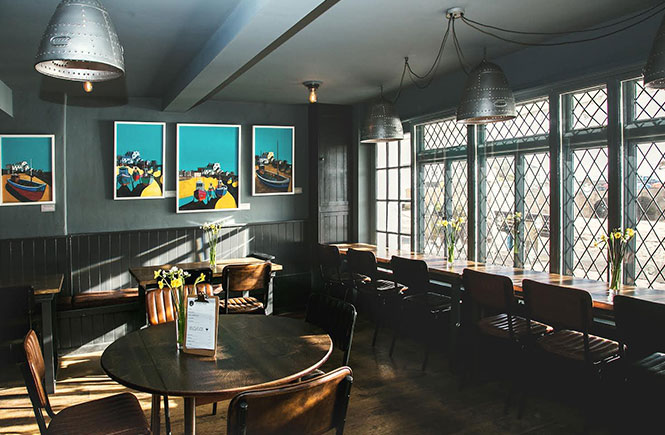 Where better to sip on a lip-smacking range of Cornish gins than in the town where they're made! The Searoom is an extension of the Saint Ives Liquor Company and features all of their incredible botanicals alongside a delicious menu of light bites and bar snacks (because who doesn't love some olives and local bread with a sea view).
The Rum & Crab Shack
Best for: Cornwall's famous rum
Where: Wharf Rd TR26 1LG
Website: rumandcrabshack.com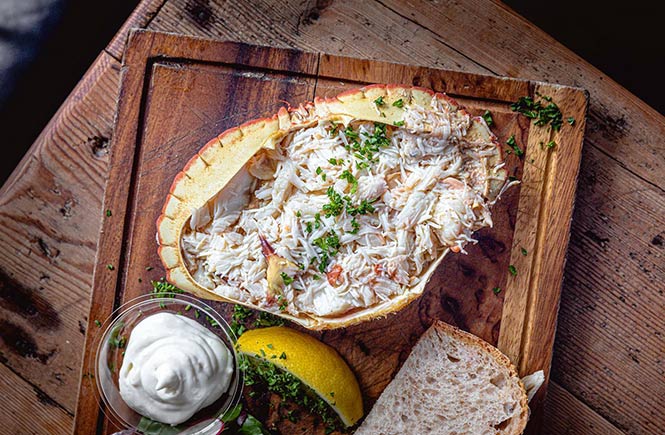 Sea facing and offering seafaring fare, The Rum and Crab Shack is the place to go if you want to dine on Southern-style comfort food while perusing over 100 rums. When dining here, you don't want to miss out on a cocktail featuring their famous rum, Dead Man's Fingers, or their new addition to bars everywhere, Stargazy - caramel gin liqueur? Yes, please!
Porthminster Kitchen
Best for: Any meal, any day
Where: Wharf Rd TR26 1LG
Website: porthminster.kitchen
We love a place that can dish up cracking continental breakfasts, light lunches and super suppers as well as a coffee and cake anytime the mood strikes. Whatever time you dine, panoramic sea views will accompany you adding a beautiful backdrop to your meal. On the menu you'll find a fantastic mix of Cornish cuisine with influences from all over the world including seafood linguine and vegetable curry.
Pedn Olva
Best for: Pub classics on the coast
Where: West Porthminster Beach, Warren TR26 2EA
Website: pednolva.co.uk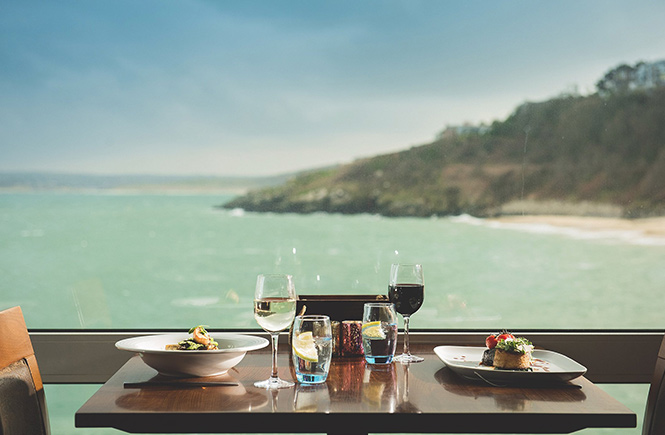 With much of the menu going straight from sea and field to plate, the food at Pedn Olva is a superb example of local cuisine. Whether you're in the mood for pub classics such as cod and chips or something a little different like beetroot and goat's cheese risotto, you won't be disappointed, especially as you sit down with Porthminster beach in front of you.
The Loft Restaurant and Terrace
Best for: Evenings on the terrace
Where: Norway Lane TR26 1LZ
Website: theloftrestaurantandterrace.co.uk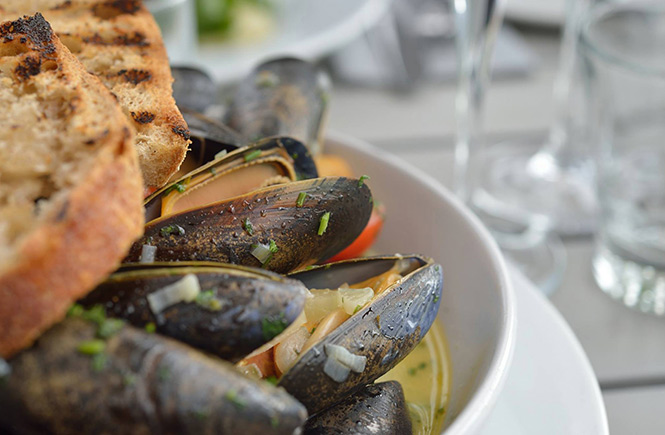 The covered terrace, which is complete with heaters and blankets for the cooler evenings, is the perfect place to dine with the dog in tow. Overlooking the bay and catching the last of the summer sun, you can sit back and unwind as you fill your tummies with freshly caught seafood and farm-grown veg. Just make sure to let them know if you're bringing the dog as the terrace is weather-dependent.
Caffe Pasta
Best for: Classic Italian cuisine
Where: The Wharf TR26 1PG
Website: caffepasta.co.uk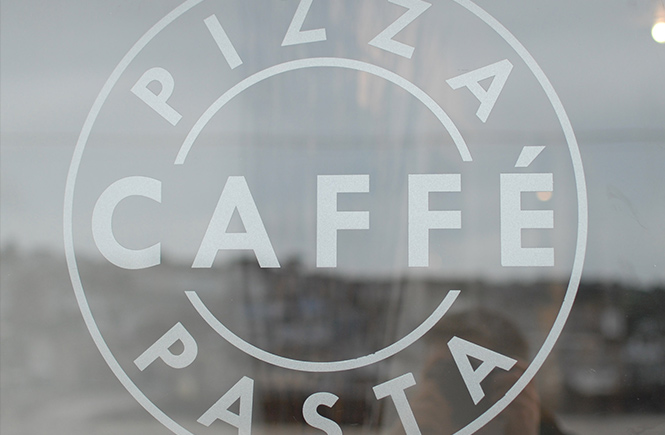 Sourdough pizza, fresh pasta, Tiramisu to finish off… there isn't a day that goes by where we're not thankful for Italian food. Here in this little modern restaurant on the harbour, you can satiate your cravings with this mouth-watering menu, which you can enjoy inside or out on the harbour front in true Italian style!
Ready to dine your way around St Ives? Check out our beautiful cottages in St Ives now.
Tags: St Ives | Food and Drink | Sea Views |