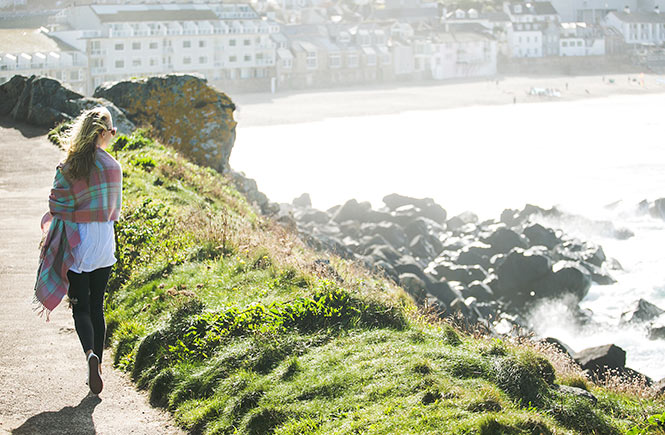 Situated in the far west of Cornwall and jutting out into the north Atlantic coast, St Ives is as ramble-worthy as it gets while also presenting a gateway to explore a myriad of other places on foot. Rugged coastlines, sweeping countryside, historic monuments and picturesque villages are all part of the wanderer's experience.
Whether you're a serious hiker, enjoy a leisurely stroll, or have the dog in tow and fancy venturing a bit further afield than the town itself, you'll find a network of routes and trails to satisfy every agenda.
Roam a host of beaches and coves along the renowned South West Coast Path, discover panoramic peace at Trencrom Hill or Zennor village, or embark upon your own pilgrimage inland to find yourself gazing at the gorgeous shores of the south coast. And if you've worked up an appetite, take a look at the best pubs and bars in St Ives for ideas on where to refuel.
Try these beauties for starters...
St Ives Town Walk
Trail the town and its attractions...
Difficulty: Easy
Distance: Up to you!
Type of walk: Linear/Circular - whatever you decide!
To walk the town, simply lose yourself to the waterfront. Strike westward past the harbour and the diminutive Bamaluz and Porthgwidden beaches toward the island, then onward to the Tate St Ives and surfing epicentre of Porthmeor (where you'll find a host of facilities). Walk up the hill past the cemetery to the top of town for the Barbara Hepworth Museum & Sculpture Gardens and Leach Pottery, before descending back into St Ives' cobbled centre. Alternatively, continue east to Porthminster, where you'll find the celebrated beach café, bar and take away and, of course, white sands fringed by scenic shores. The beauty of a walk around St Ives is that you can take in as many or as few of the sights as you please at your own pace (so it's perfect for families) while stopping for regular refreshments, shopping, gallery trips - or using it as a warm-up for longer walks elsewhere.
St Ives Island Walk
Take a mini island adventure...
Difficulty: Easy
Distance: 1 mile
Type of walk: Circular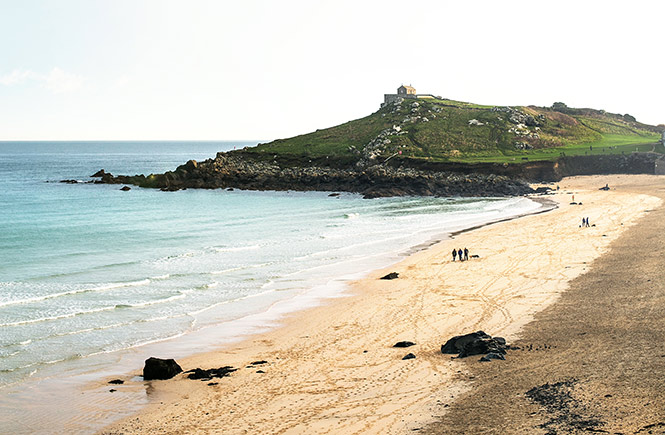 This is one for taking your time and taking it all in as you circumnavigate St Ives' mini 'island', Pendinas – meaning 'fortified headland' (it is actually attached to the mainland) - and breathe in those jaw-dropping views. Wildflowers, wildlife and birdlife all live here in their droves, so keep a special eye out during all seasons. Whether you approach from the Porthmeor or Porthgwidden side and roam in the clockwise or anticlockwise direction, skirt the bottom before strolling to the top to behold the aerial-like views of the panoramic blue bay as far as the eye can see, along with the 15th century St Nicholas Chapel and Coastguard lookout station. You'll also find SurfHouse St.Ives, which is the brainchild of local Pro surfer Tassy Swallow who crowd-funded the Battery building's restoration project to create a space to study, celebrate and advance all things surf related. It's also home to Tassy's Surf Ratz: a surf/sea education and development programme with a focus on body positivity for girls aged 6-12.
In the evening, The Island presents a picturesque spot for a picnic and some stargazing, so return here after dark or build it into your walking itinerary as your final, dream-like destination.
St Ives to Zennor Walk
Test your stamina along the most breath-taking cliffscapes...
Difficulty: Moderate
Distance: 6.5 miles
Type of walk: Linear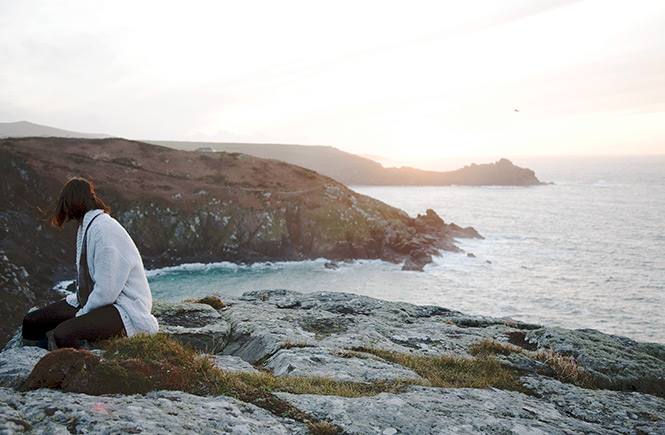 This is one of the more strenuous walks, covering almost 7 miles of rugged terrain. From Porthmeor, walk west to the breath-taking headland of Man's Head and Clodgy Point, hugging the coast that will lead you past The Merry Harvesters Stone Circle and Seal Island to the village of Zennor. Here, you'll find a warmly welcoming respite at locals' haunt, The Tinner's Arms (and mouth-watering ice cream at Moomaid of Zennor), while a visit to St Senara's Church reveals a carved depiction of the fabled Mermaid of Zennor – or seek out Pendour Cove (Mermaid's Cove) and settle till sunset to hear the singing of the man who followed her out to sea. Head off-the-beaten-track with a diversion inland to one of West Cornwall's most striking megaliths at Zennor Quoit, then return to St Ives by following the Coffin Path inland, retracing your steps along the coast path, or hitch a bus ride if the weather (or your legs) take a turn for the worse.
Hike onward to Gurnard's Head for a collection of coves, scenic farmland, inviting pub and historic must-sees such as Chapel Jane and Old Mine Ruin. On the headland (or anywhere along this stretch of the South West Coast Path, for that matter) the views are otherworldly.
Find out more about the St Ives to Zennor walk >
St Ives to Rosewall Hill Walk
Enjoy an easy rural escape...
Difficulty: Easy
Distance: 1.5 miles
Type of walk: Circular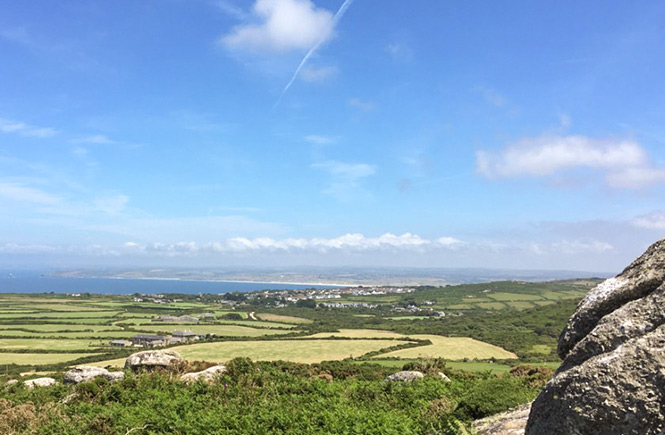 This supremely easy-going 1.5 mile circular route lies between St Ives and Zennor just east of the town, so whether you wish to walk from the town, jump in the car for the ten-minute drive to the National Trust car park that's located at the base of the hill, or take a detour while en route to Zennor, the extra steps will reward you with eye candy aplenty. A handy map at the gate illustrates the walking options available in the area, while the route gently winds up the hill past stiles, old mineshafts, chimneys and stone walls to the summit where you'll be greeted by staggering 360 degree views across Trendrine Hill and the bay to Godrevy Lighthouse and round toward Mount's Bay. Glance down if you can steal your eyes away from the sea for the beautiful Bussow Reservoir below.
St Ives to Carbis Bay Walk
Walk the ocean...
Difficulty: Moderate
Distance: 1.2 miles
Type of walk: Linear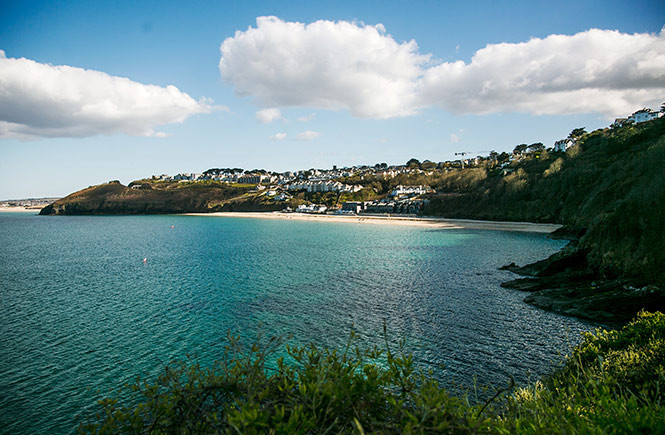 For obscenely striking views, this moderate linear route takes in a distance of just 1.2 miles, trailing along the sands of Porthminster and Carbis Bay, thus allowing you to indulge in a refreshing sea dip or reviving café break at any of the offerings scattered en route. Simply weave your way round the headland at Porthminster Point via the South West Coast Path and descend directly onto the beach the other side before returning on the St Ives branch line (or double your mileage by retracing your steps back), which is one of the most picturesque train rides you may ever take.
Find out more about the St Ives to Carbis Bay walk >
St Ives to Knill's Monument Walk
For a historic hill walk...
Difficulty: Easy - Moderate
Distance: 2 miles
Type of walk: Linear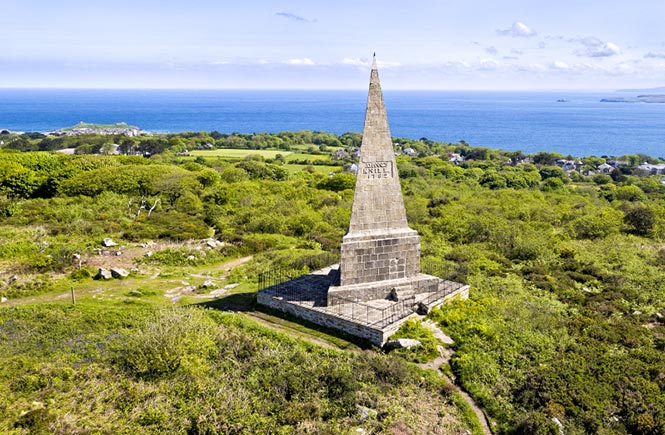 You can either walk or drive from St Ives toward Carbis Bay for the turn off to the route's beginning (after the Cornish Arms pub). The easy-moderate 2-mile path to Knill's Monument is well sign-posted, leading up Worvas Hill and through Steeple Fields Nature Reserve to the 15 metre high pyramid-shaped obelisk overlooking St Ives Bay (which is still the site for the unique Furry Dance ceremony that happens every five years and was established by John Knill, who commissioned the monument in 1782). This is prime picnic territory, so pack some provisions to devour while immersing yourself in the vast views at the summit.
St Ives to Lelant Walk
Stretch your legs beside the sea...
Difficulty: Easy - Moderate
Distance: 4.5 miles
Type of walk: Linear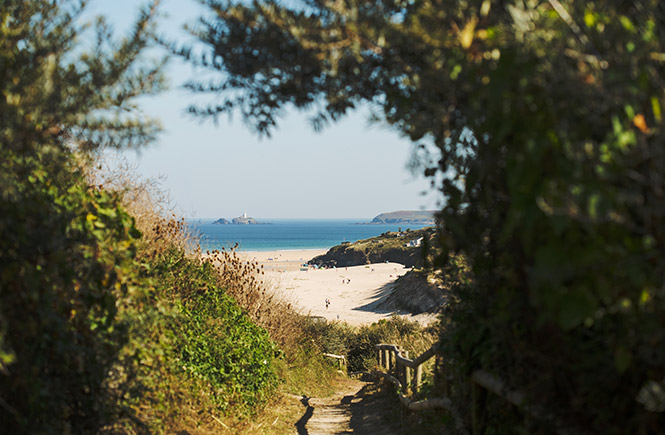 An easy to moderate walk of about 4.5 miles, the route sits between the coastal and railway lines, giving you the pick of oh-so pretty beaches including the harbour, Porthminster, Carbis Bay and Porthkidney, alongside wildflowers and striking bay-wide views. There are plenty of opportunities to find 'your place', whether you pitch up on the beach or find a quiet bench overlooking the bay, so take plenty of refreshments or pack a picnic to make the entire route that much more leisurely. Score more miles with a walk back, or take the train and lavish in those soul-stirring seascapes as you wind along the cliff edges back toward St Ives.
St Michael's Way Walk
For soul-searching and a strenuous saunter...
Difficulty: Moderate - Strenuous
Distance: 12 miles
Type of walk: Linear
For a cross-country challenge and your own mini pilgrimage, this iconic 12-mile path runs from Lelant (just outside Carbis Bay) to Marazion. Signposted along the way with a special stylistic shell that signifies the pilgrims' way, it will also afford you one of the best views over the entire peninsula at the Neolithic hill fort of Trencrom Hill. The top of this tremendous Cornish cairn affords a breath-taking bird's eye view of far-reaching sights that scan from St Ives Bay and Hayle Estuary on the north coast round to Mount's Bay on the south, bestowing jaw-dropping vistas from every awe-inspiring angle. From here, hike south toward the sea for St Michael's Mount, which needs no introduction.
St Ives to Hayle Towans Walk
Wildlife watching and beach-gazing...
Difficulty: Moderate
Distance: 6 miles
Type of walk: Linear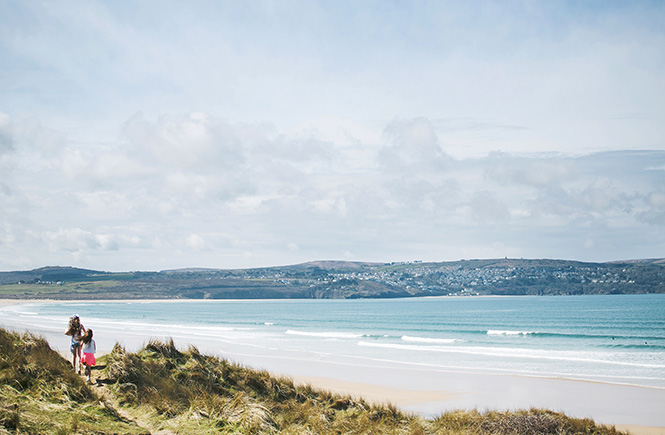 A moderate walk of just over 6 miles (depending on how far along the coast you decide to go), take the Carbis Bay route before continuing along the coast path past Hawkes Point and along Porthkidney Beach. From here, you can take a detour into Hayle town (a good buggy/wheelchair-friendly option) or stroll alongside the Hayle Estuary Nature Reserve for wildlife and bird watching (and perhaps a swim in the outdoor pool, which is open during the summer months). Trail the coast path or walk the entire three-mile stretch of Hayle's golden sands, at the end of which you'll discover the dramatic cliffscapes of Godrevy, complete with seal colony, famous lighthouse (the inspiration for artist John Miller and author Virginia Woolf, amongst others) and several ocean-gazing cafés. Walk to the furthest reaches of St Ives Bay and you'll stumble across the staggeringly beautiful, Hell's Mouth. Admire the view before stopping off at the café for a Cornish cream tea while deliberating your return route home.
St Ives to Pendeen Walk
To push your limits and see the cultural sights...
Difficulty: Strenuous
Distance: 13.7 miles
Type of walk: Linear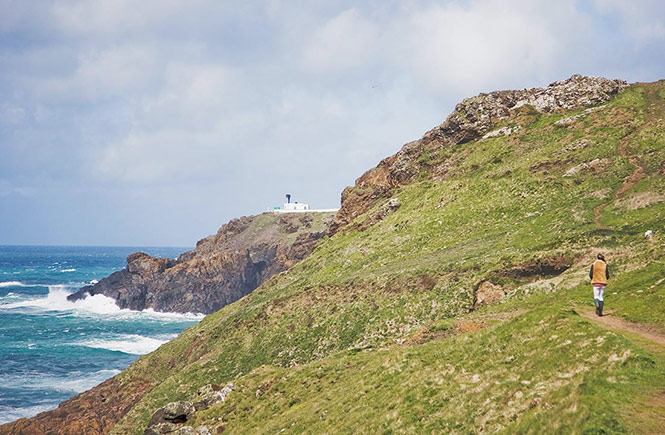 If you prefer your walks to be on the strenuous side, then this 13.7-mile route is often tagged with the word 'severe', so expect plenty of uphill battles, wild remoteness and sweat-inducing sections of rocky terrain. From St Ives, follow the South West Coast Path east past Clodgy Point and onward to Zennor's Area of Outstanding Natural Beauty before continuing onward toward some of Cornwall's most dramatic World Mining Heritage (WHS) landscapes in West Cornwall. Pass Portheras Cove, a stunning secluded beach inland from Morvah, and continue to Pendeen Lighthouse, which was opened in 1900 to guide ships through one of Britain's most notoriously treacherous coastal stretches. An overnight stop-off somewhere here would be advised if you wish to continue exploring further, as the area is rich with remnants of Cornwall's mining past including Geevor Tin Mine and Poldark's favourite, Levant Mine and Beam Engine, along with Botallack, Wheal Edward and Wheal Owles.
Roger's Tower/Baker's Pit Circular Walk
For birds' eye views...
Difficulty: Easy
Distance: 4 miles
Type of walk: Circular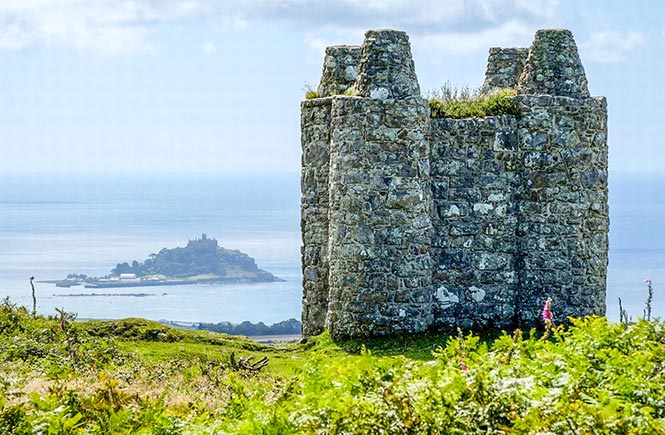 An easy 4 mile hike for historians or anyone keen to discover West Cornwall's unique array of historical remnants and rural hinterlands, which – believe it or not – are just as beautiful as our famed seascapes. Beginning at Baker's Pit nature reserve in nearby Ludgvan (which you'll need to drive to first unless you're already in the vicinity on foot), the route winds to the Iron Age hillfort of Castle-an-Dinas before reaching Roger's Tower: a beautiful 17th century folly. Turn around to trudge your way back, and then maybe drive further west to find an endless network of other routes and standing stones that wind around this particularly picturesque corner of Cornwall's incomparable wild west.
Tregenna Castle's Woodland Walk
A leisurely stroll in gorgeous gardens...
Difficulty: Easy
Distance: Up to you!
Type of walk: Linear/Circular - whatever you decide!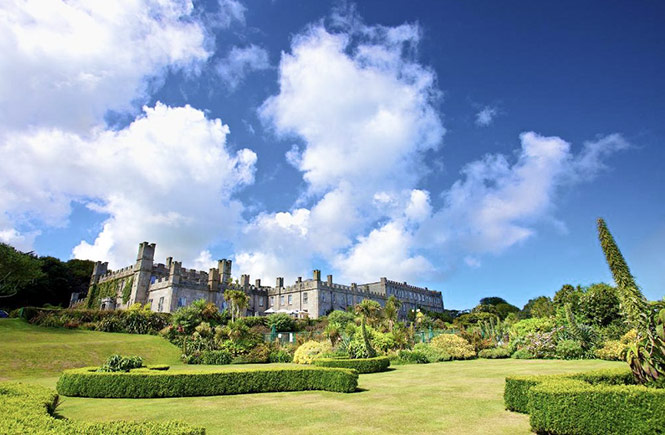 Located between St Ives and Carbis Bay, Tregenna Castle's 72-acre grounds offer a gorgeous green space and are open to non-residents who may wish to embark upon a woodland walk and admire the expansive sub-tropical gardens designed by John Moreland (though may on occasion be reserved for residents only during especially busy times). Extend your visit by treating yourself to a cream tea or lunch in The Brasserie, where laid-back dining and ocean views continue the sensory feast.
Find the perfect bolthole for your walking holiday by browsing our beautiful range of cottages in St Ives >
Tags: Carbis Bay | Hayle | Lelant | Pendeen | St Ives | Zennor |