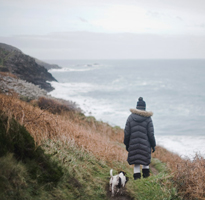 This part of the famous South West Coastal Path is truly beautiful, with amazing sea views the entire way along. It is highly recommended if you enjoy walking, but this stretch can be quite tricky in places, with slippery muddy sections and some clambering over rocks necessary. It is eight miles in total – and perhaps not a great choice for small children or those with restricted mobility. There is an easier journey slightly inland along the Tinners Way, which, at only 90 minutes long, takes a more direct and level route to Zennor, so this could be a simpler, less strenuous option for some. For the views, however, the coastal route is a must.
Leaving St Ives
Pick up the coastal path from the west side of Porthmeor Beach. Don't go down to the beach itself, but follow the pathway around the back of the bowling club and out to the headland known as Man's Head. (At low tide walk down to the shore line and look up at the rock formation – you'll see why!) The tarmac pathway quickly becomes a rugged trail that descends and ascends along the contours of the coast line. Through the kissing gate you will pass Clodgy Point and continue west – passing small rocky and pebbly coves as you go. In spring the wild flowers here make carpets of different colours, and if you are quiet enough you will see rabbits making the most of the grass. Keep your eyes open for the Trevalgan Stone Circle on your left, one of many examples in this part of Cornwall.
Ups and downs
It is hard work, and you might find your walking speed a lot slower than normal as you tackle the climbs and drops involved. The last time we walked this route we had to negotiate a large patch of mud – making us thankful for our sensible walking boots! The views make it all worthwhile, make sure you look back into St Ives as you go round Pen Enys point to see Porthmeor Beach glimmering in the distance, and keep your eyes peeled in summer for pods of dolphins, sunfish and basking sharks; you might just be lucky! In colder seasons and on stormier days the crashing waves make a good substitute, providing spectacular sights of foaming water and spray.
Nearing Zennor
As you near Zennor the route becomes, if anything, more taxing, with large boulders blocking the way – it doesn't make the walk impossible, but those not used to conditions like this may find it challenging. We have always loved these sections of the pathway as it adds to the feeling of being an intrepid explorer! As you near Zennor itself, the thought of lunch at the Tinners' Arms will sustain you. This pub, a favourite place of DH Lawrence, was built to house the masons working on the nearby church in 1271, and it is a traditional pub with a cosy friendly atmosphere. The menu changes daily, and lunches are reasonable and delicious. A great place to celebrate the end of your walk and recharge your batteries.
Return journey
There are buses from Zennor to St Ives if the thought of retracing your steps does not appeal – some walkers recommend catching the bus to Zennor first and walking back to avoid waiting around for return transport– but then of course, lunch at the Tinners' Arms would not be the reward for your effort! Whichever way you choose, this walk is a real treat, but do prepare yourself properly with sturdy boots and expect some tough sections.
View all our cottages in St Ives >
Tags: South West Coast Path | St Ives | Walking | Zennor |