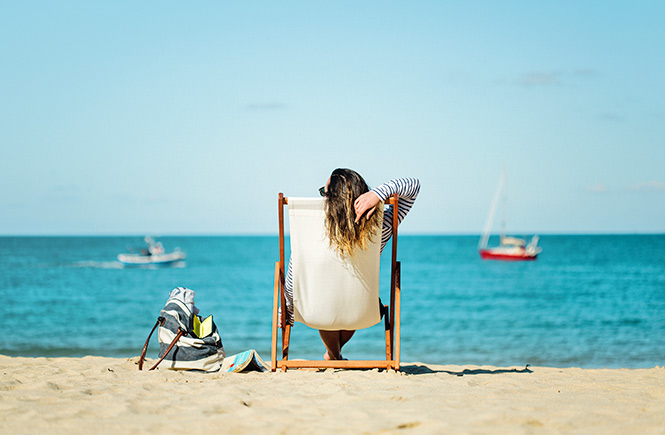 It's a strange truth that whenever St Ives locals travel and visit a beach elsewhere, they always find something wrong with it. That's because the beaches they are used to are simply magnificent. Another great positive is that each beach around St Ives itself has its own particular charm and qualities – making St Ives the perfect destination for a family full of people demanding different things from their holiday.
Porthminster Beach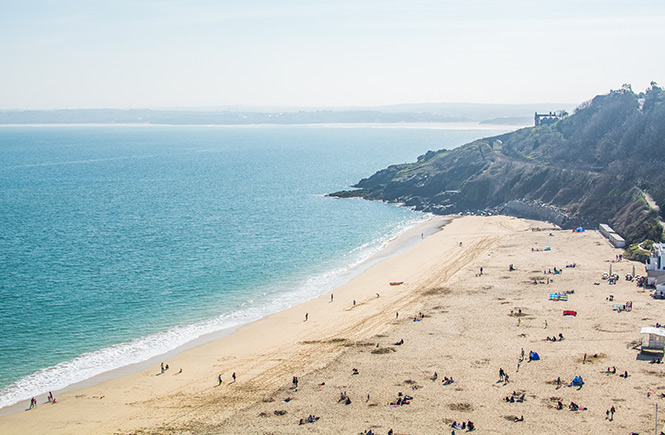 If you take the train into St Ives (we highly recommend this way of travel in summer as it is much easier than finding a parking space) Porthminster Beach is the first expanse of golden sand that you see as you disembark. The beach is 150m from the station platform. The sea is gentle, clear and calm and in summer there are usually perfect paddling conditions for small children. The beach has RNLI lifeguards throughout the holiday season, toilets nearby, a pitch and putt green, a slope down to the sand itself making access with wheelchairs and buggies simple, a view to die for and even church groups providing entertainment for children during high season. The award winning Porthminster Café sits right on the beach, and there is a takeaway café with benches on a decking at the other end of the beach for everyday snacks and drinks. There is also a beach shop so that you have everything you need for a perfect family day relaxing on the beach. Bliss. View all our Porthminster Cottages >
Harbour Beach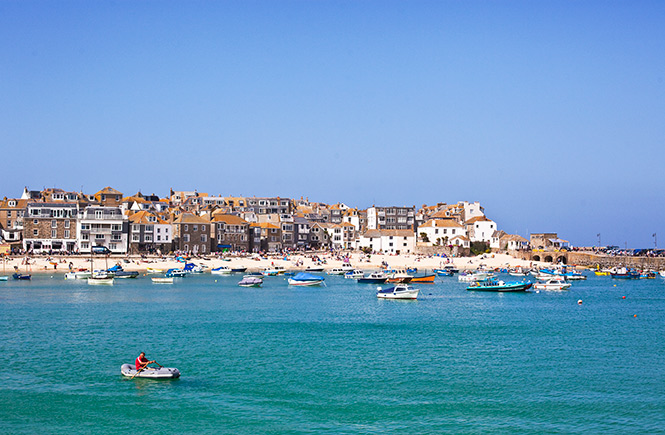 The Harbour Beach is full of the hustle and bustle of the town; fishing and pleasure boats come and go and in high season you can hire self-drive motor boats to explore the bay a little. Shops and restaurants line The Wharf, the road that runs along the back of the beach itself. This is a great place to sit in spring and autumn, as it is generally much more sheltered than the open beaches – sit with your back against the harbour wall and your face pointed into the sun! This beach is perfect for people-watching and feeling as if you are right in the thick of it. In summer the RNLI and local Surf Lifesaving Club put on fundraising demonstrations of their skills, there is a local raft race in August (beware of flour bombs!) and traditional skills such as boat scullying and lobster pot weaving are often showcased here. Local traditions and events are usually centered on Harbour Beach. At low tide you can wander amongst the boats, but keep an eye on the tide – it can rush in suddenly sometimes leaving people high and dry on a mound of sand. Not usually dangerous, but embarrassing and wet!
We would remind you that this is a working harbour, and boats do move in and out at high tide. If you are enjoying a summer swim, keep an ear out for engines and don't get in their way as it can be hard to see a swimmer in the water. Likewise, think twice before jumping off the pier – shallow water and propellers can and do cause accidents. There are no lifeguards here, but the RNLI lifeboat house itself is on one pier, and if you are lucky enough to be in the right place at the right time you may see the volunteers called out on a 'shout' – off at speed risking their lives to save someone in trouble at sea. View our cottages in The Wharf >
Porthgwidden Beach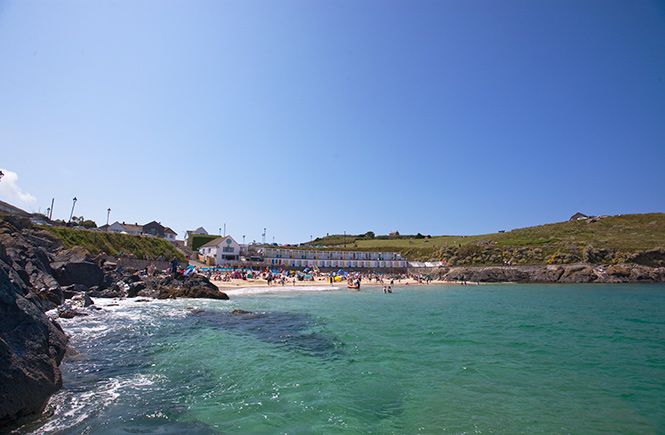 You really have to look at an aerial view of St Ives to work out exactly how there can be so many different beaches in one town! Porthgwidden is a small but perfectly formed beach between Harbour Beach and the Island (which isn't really an island but a grassy hill). It has brightly coloured chalets that form a backdrop to the beach, and steep rocky banks at either end that provide shelter and a feeling of calm. On Porthgwidden you feel a little bit out of the way, somehow. This is the beach where you could suddenly find a sand sculpture, or a seal basking in the sun – a beach where you can imagine magical things happening. There is a lovely café which can provide a smart sit down lunch and also has a takeaway hatch for coffee and snacks. Toilets can be found on the edge of the car park at the top of the slope – again the usual St Ives parking challenge will present itself. Solve these access problems by renting a holiday cottage in St Ives itself – all these beaches are close enough to the town centre to make walking each day a real possibility. There are no RNLI lifeguards on Porthgwidden, but there is provision on nearby Porthmeor for the extended season should you need assistance. View our cottages near Porthgwidden >
Porthmeor Beach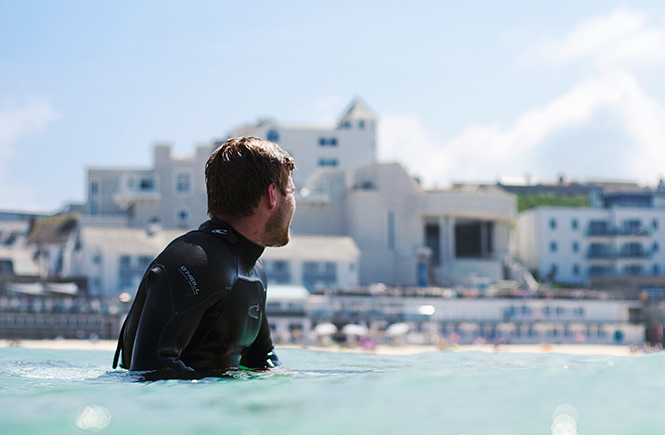 Surfers' paradise. The full force of the Atlantic hits Porthmeor making it excellent for surfing, body boarding and messing about in the waves. There are RNLI lifeguards from May to September, with extended cover provided over the school holidays at Easter and in October. There are three access points to the beach; slopes at the east end and in the middle, and a set of granite steps at the west end. The lifeguards have their base in the centre next to the friendly and enthusiastic St Ives Surf School run by local surfers. Read more about Surfing in St Ives on our blog. There are fabulous takeaways that provide great coffee and high-quality snacks, and Porthmeor Café in the middle of the beach is a must visit for the view alone. It also has outside booths with heaters and blankets that give you the feeling you are eating on the beach itself when in fact you are cosy and sheltered.
There are chalets at the back of the beach – ask at the cafés if you would like to hire one for your holiday (they make great places to stash your beach chairs and windbreaks for the duration of your stay.) Porthmeor is also home to Tate St Ives – well worth a visit when you feel like a little bit of culture! Saturday sees the invasion of the local Surf Lifesaving Club, which trains its Nippers in sea swimming, board paddling, running and the bizarre discipline of flags (designed to improve speed and reaction times). Porthmeor is another Blue Flag beach well loved by local residents that is usually very busy in summer. There is a tiny car park at the west end of the beach, but again, we highly recommend parking elsewhere and walking in. View our cottages in Porthmeor >
If you bring a dog on holiday with you, St Ives beaches are off limits in high season – but there are a couple of options. Behind the lifeboat house is a small rocky beach, and to the left of Smeaton's Pier, just in front of St Ives Museum, are some steps down to Bamaluz Beach which at low tide has a large enough area to exercise your dog. Read more about dog restrictions on beaches around St Ives.
Carbis Bay Beach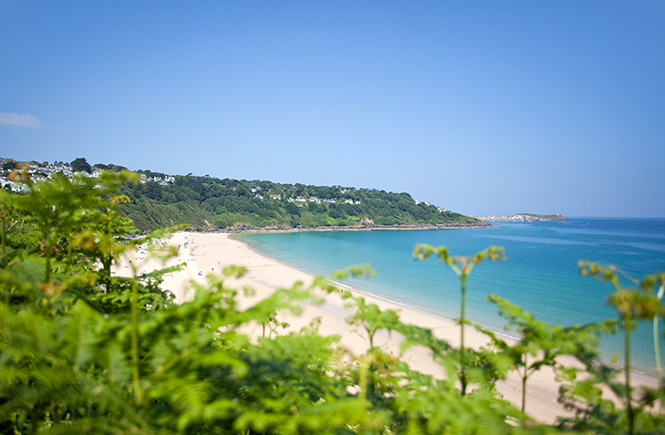 Carbis Bay Beach has seen great improvements added to it in recent years, and it has now become a fabulous place to take the family to spend a day. Café facilities can now match those of the main beaches in St Ives, with new takeaway and café The Shack providing great food and a colourful deck space on which to enjoy a drink or meal right on the beach. There is even live music in the evenings in high season, and blankets when the temperature drops and you don't want to leave yet.
Carbis Bay has toilets; a car park next to the beach and a pay and display car park halfway up the hill; a place to buy beach equipment and coffee; and RNLI lifeguards. The sea is generally calm, but there can be gentle waves for body boarding and children to play in. There is also a watersports centre where you can hire kayaks, stand-up paddle boards and even go on a trip in a Hawaiian outrigger. We've had a go – its great fun!
Even if you are staying in St Ives, Carbis Bay is easily accessible. It takes about 25 minutes to walk the beautiful coastal path there, but only two minutes and £1 on the train – a journey with equally sensational views.
If you'd like to explore the many other beaches in the area, check out or blog post on Sandy Beaches in West Cornwall.
View all our cottages in St Ives >