If there are two things St Ives is known for, it's beaches and more beaches! In fact, you really need to look at a map to wrap your head around how one town can be enveloped in such a striking coastline - or you can see them from the sea with one of the many memorable boat trips in St Ives.
This popular seaside town fills with eager beachgoers in the summer months while dog walkers come out in droves throughout the rest of the year to make the most of the seasonal lift on dog restrictions on some of the more popular beaches in the area. Although with some truly special dog-friendly beaches in St Ives, the summer isn't short of pawprints in the sand.
Whether you're looking for a place to surf in St Ives, sunbathe or somewhere to enjoy your ice cream with a view, there's something for everyone in the picture-perfect coastal town. Here are the best beaches in St Ives (hint: it's all of them).
Porthmeor Beach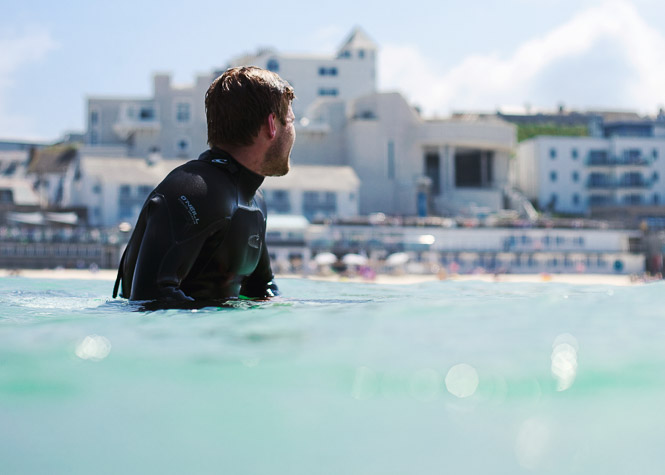 Lifeguards: Seasonal (Easter bank holiday weekends and daily May to September)
Dog-friendly: Seasonal restrictions 15 May – 30 September, 10am – 6pm
Facilities: Café, toilets, surf school
Accessibility: Easy access to the beach, including a slipway on the east side
With the impressive Tate St Ives as its backdrop and a beach full of golden sand and superb waves, there's little doubt as to why Porthmeor is amongst the best surfing beaches in West Cornwall, let alone St Ives. If you need proof of Porthmeor's standing, just check out its collection of Blue Flag Awards that have shown it to be an outstanding beach time and time again - or, take a look at our Porthmeor webcam to literally see for yourself. Learn to surf with the St Ives Surf School, soak up the sun on the soft sand or pop into the Porthmeor Beach Café for a delicious break from your beach day.
At the back of the beach, you'll find rows of beach chalets where you can store your bigger beach essentials throughout your stay. Simply ask at the beach café about hiring one.
Porthminster Beach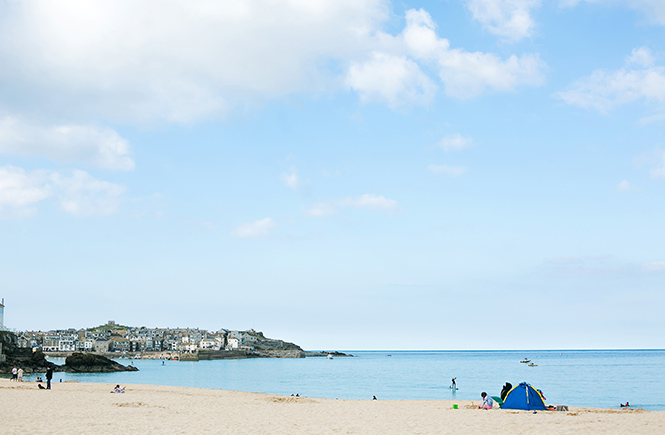 Lifeguards: Seasonal (May to September)
Dog-friendly: Seasonal restrictions 15 May – 30 September, 10am – 6pm
Facilities: Café, toilets, train station
Accessibility: Easy access to the beach with a sand chair available for hire
Directly below the train station, this iconic sandy beach is one of the first things people see as they arrive in St Ives by train, and what a sight to be welcomed with! Clear waters, white-gold sand and practically tropical plants all add up to a beach that wouldn't look out of place on a postcard from the Mediterranean. Perfect for families thanks to the lifeguard cover and quality of the water, Porthminster is another of St Ives Blue Badge beaches. Spend the day lolling around in the water, playing boule on the beach or even testing your skills at the 18-hole mini golf course. Round your day off with a glass of something crisp and refreshing at Porthminster Beach Café and you have the perfect beach day. Or, if you time your visit just right, you can enjoy one of Cornwall's famous food festivals right here amongst the sand - perfect!
Porthgwidden Beach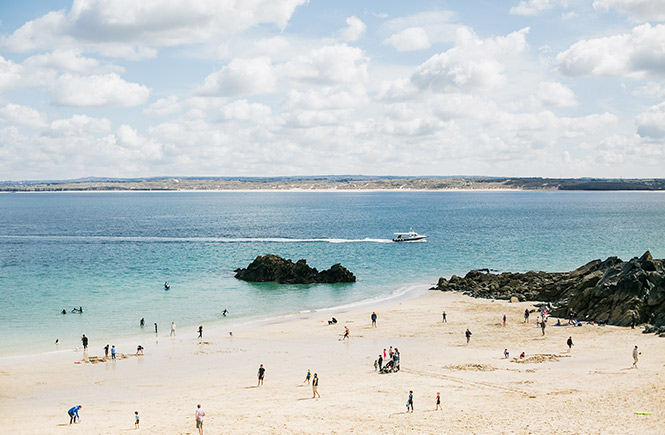 Lifeguards: No
Dog-friendly: Seasonal restrictions July and August, 10am – 6pm
Facilities: Café, toilets, beach huts
Accessibility: Easy access to the beach from the adjacent car park
If we had to pick one word to describe the indescribably beautiful Porthgwidden beach it would have to be suntrap. Thanks to its sheltered nature with St Ives Island, this beach escapes most of the winds leaving behind a perfectly protected patch of sand where you can doze in the sun till the cows come home… or until you get hungry. Another of the beaches in St Ives to benefit from a superb café, delicious meals with unbeatable views are always on the cards so never worry if you forget to pack a picnic.
Although sunbathers and families are the more common sight on Porthgwidden, occasionally you might be treated to a more unusual view as mysterious sand sculptures appear or seals enjoy a nap on the shore. After you're all packed up and free of sand, you can head into the town for a spot of shopping in one of the many independent shops and boutiques.
Harbour Beach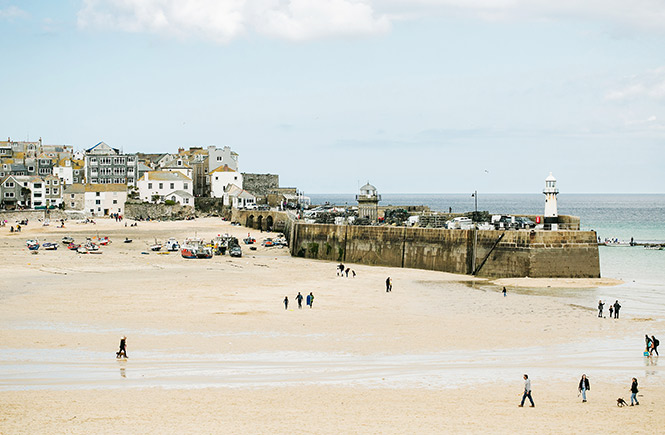 Lifeguards: No
Dog-friendly: Seasonal restrictions July and August, 10am – 6pm
Facilities: Plenty of cafés and shops close by along the harbour
Perfectly placed for everybody's favourite ice cream on the beach (check out the Moomaid of Zennor Ice Cream Parlour for a local delicacy), the Harbour beach is ideal for families thanks to the calm waters of the harbour - enjoy a sneak peek of the harbour with our St Ives webcam. Although not as busy as it was in the past, St Ives harbour is still a working harbour, which means you can sit and watch the fishing boats come in with the day's catch – bear this in mind when enjoying a dip as it can be quite difficult for the boats to spot swimmers. You can also head out yourself on one of the boat tours that visit Seal Island where you can spot seals and sometimes even dolphins!
When you've had your fill of the sun and sea, walk the two steps back to St Ives and choose from the array of restaurants with sea views for an evening meal to really round the day off.
Carbis Bay Beach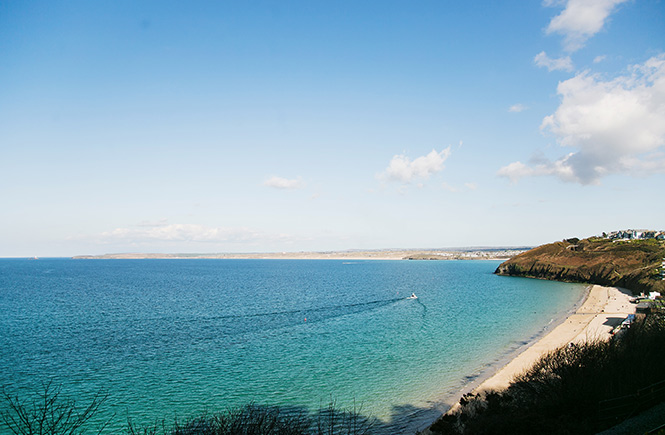 Lifeguards: Seasonal (July – September)
Dog-friendly: Seasonal restrictions 15 May – 30 September, 10am – 6pm
Facilities: Café, toilets, beach shop, first aid post, lost child centre
Accessibility: Easy access to the beach from the car park but there is a steep hill if you're unable to park by the beach
Let's be honest, there isn't a single beach in St Ives that we wouldn't describe as a stunning sweep of golden sand and Carbis Bay is no different. Nice and sheltered with generally calmer waves than its neighbouring beaches, Carbis Bay is popular with families and those wanting a more relaxed swim in the sea. The calm waters are also perfect for a bit of paddle boarding and kayaking, both of which can be hired right on the beach.
The beach is often quieter than those directly in St Ives and it can be easily reached by train as it has its own train station, making it a delightfully easy day out. Simply top up your supplies with the beach shop and settle down in your patch of sand for a traditional day at the beach. And if you get peckish, take a short stroll up the beach to The Beach Club Restaurant for a Mediterranean-style lunch with a Mediterranean-style view!
Bamaluz Beach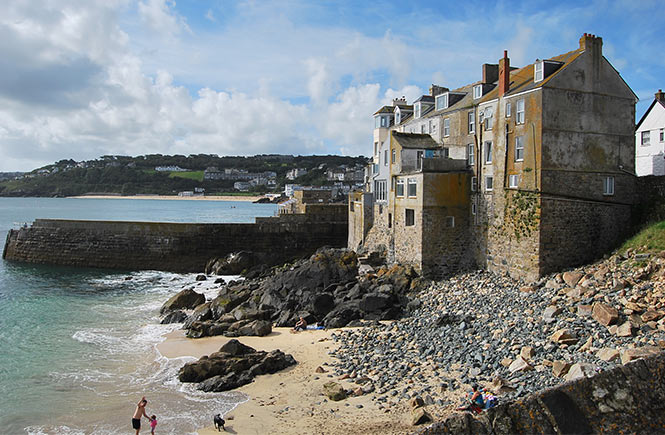 Lifeguards: No
Dog-friendly: All year round
Facilities: Cafés and shops close by in St Ives
Accessibility: Accessed by steps onto the beach
This hidden gem often goes unnoticed by visitors who flock to the better-known beaches nearby, which means it's one of the quietest beaches in St Ives. Its biggest draw though is the fact that it's dog-friendly all year round so you can pack up the pooch along with the beach towels. It's good to know your tide times when visiting this doggy oasis as the beach almost disappears at high tide. Don't worry though, the tide coming in is the perfect excuse to make your way over to one of the many pubs and bars in St Ives for a cheeky drink or two.
Lambeth Walk Beach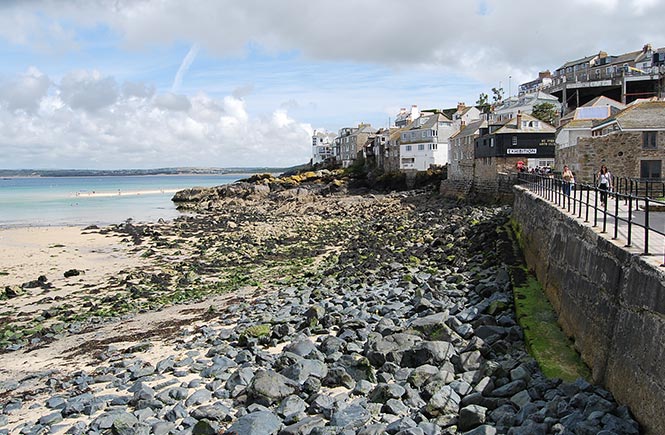 Lifeguards: No
Dog-friendly: All year round
Facilities: Cafés and shops close by in St Ives, public toilets by the beach
Accessibility: Steps and a few rocks make access to the beach tricky
Another of the dog-friendly beaches in St Ives, Lambeth Walk beach is great for four legs as well as two. While at low tide you can often walk around to the neighbouring sands of Porthminster beach, high tide renders Lambeth Walk practically non-existent so always check the tide times before packing up the beach bag. Check out our guide to dog-friendly St Ives to find a café or restaurant where you and the pooch can refuel after your day of sandy adventures.
Parking in St Ives
For those staying in St Ives, you'll be pleased to know that all of the beaches around St Ives are just a short walk away so you can head off straight from your cottage. For those travelling into St Ives for your beach day, you have a few options for parking. While St Ives does have a few large, long stay car parks (notably the Island car park, Smeatons Pier, Barnoon, Park Avenue, the Station and Trewith), in the height of summer it can be a better idea to park in St Erth or Lelant and get the train in. Not only can you save the trouble of hunting for a spot, but you can enjoy the incredible views as you roll into St Ives.
Ready to start planning your seaside holiday in Cornwall? Explore our collection of cottages in St Ives today.