St Ives is synonymous with art. The seaside destination has been a mecca for creatives from across the globe for over a century, having been drawn by the staggering natural beauty and immersible light to spawn a modern art movement whose tradition is proudly continued today.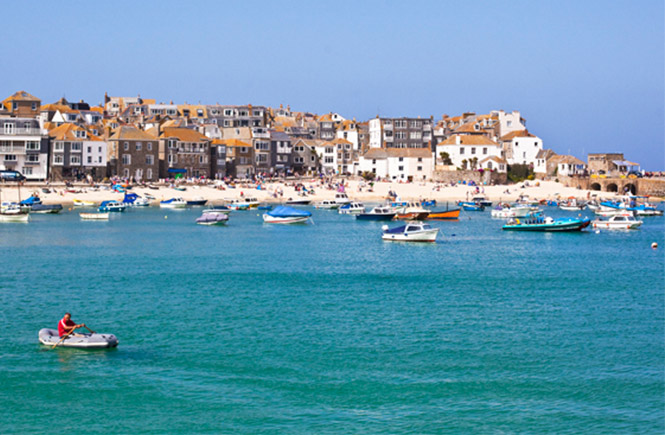 It is little wonder why there's such a strong connection between artists and St Ives, such is its magical sense of place. Vast swathes of the great Atlantic ocean, pristine beaches and coves, and dramatic cliff-lines are as much a muse to artists as they are to the visitors that flock here to experience such epic beauty.
Central figures from the St Ives School of Art include the celebrated likes of Barbara Hepworth, Ben Nicholson, Wilhelmina Barns-Graham, Alfred Wallis, Bernard Leach, Patrick Heron and Peter Lanyon, to name but an esteemed few, whose works can be discovered amongst an assortment of other local and international artists throughout the array of galleries scattered amongst the cobbled streets.
What could make a better day than swooning at some superlative St Ives art before settling in to one of the town's pubs or bars to savour your favourite tipple – or grabbing a bite to eat in the company of to-die-for sea views?
Here's our top pick of art galleries in St Ives...
Tate St Ives
Porthmeor Beach TR26 1TG
tate.org.uk/visit/tate-st-ives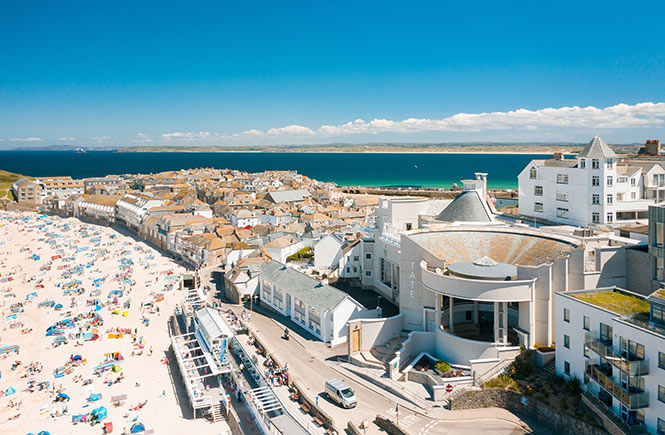 Housing a vast collection of seminal works by artists with links to St Ives and the surrounding area - as well as a selection of international artists - the iconic white building sits a mere stone's throw from Porthmeor Beach, presenting jaw-dropping ocean views alongside modern masterpieces.
Inside, a mix of ongoing and changing displays showcase and explore a variety of pieces and installations from some of St Ives' most important and influential artists. Expect everything from historic paintings to an eclectic series of sculptures, ceramics, film, media and photography as you take a sensorial journey across decades and continents at this must-see attraction.
There's a year-round schedule of events such as workshops, talks, tours, music and family-friendly activities to enjoy, a cafe with sweeping coastal views, and a well-stocked shop should visitors wish to make a morning or entire day out of the Tate, which you can round off in dreamy style with a cocktail or dinner at the adjacent Porthmeor Beach Cafe as the sun dips below the ocean.
Barbara Hepworth Museum and Sculpture Garden
Barnoon Hill TR26 1AD
tate.org.uk/visit/tate-st-ives/barbara-hepworth-museum-and-sculpture-garden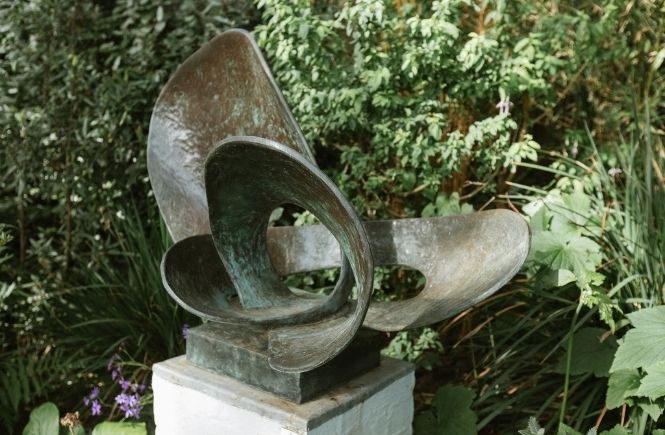 Run by Tate St Ives, visitors can prolong their artistic outing by exploring both artistic venues (within short walking distance of each other) to include the renowned sculptor's Trewyn Studios, where she lived and worked from 1949 until her death in 1975.
Containing a number of bronzes still where she originally positioned them, the gorgeous garden also maintains the same layout she created with friend and composer, Priaulx Rainier.
Giving visitors great insight into the artist, her life and creative processes, the gallery presents audio descriptions by Dame Barbara Hepworth herself along with the opportunity to view her studio space and the tools she used, while perusing the awe-inspired sculptures beautifully dotted in and around the building.
Porthminster Gallery
22 Fore Street TR26 1HE
porthminstergallery.co.uk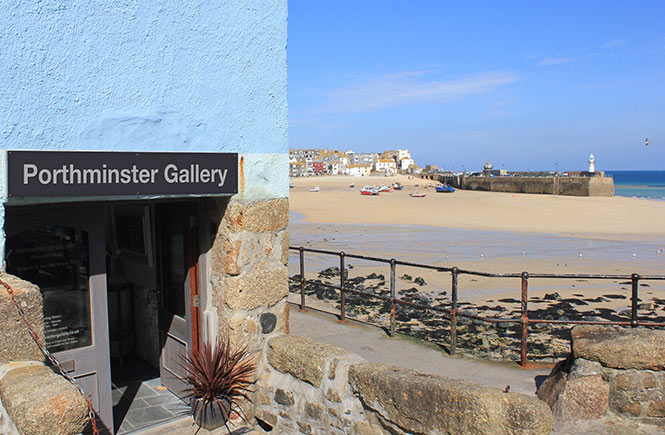 A staggering mix of artwork can be found in St Ives' award-winning gallery, whose diverse collection includes both local and British art of the highest calibre.
You'll be able to admire and purchase collectable post-war and modern pieces by the likes of Trevor Bell, Sandra Blow, Terry Frost, Patrick Heron, David Hockney, Roger Hilton, Henry Moore and Margaret Lovell alongside contemporary paintings, sculpture, ceramics and original signed prints from curated exhibitions.
Situated near the Barbara Hepworth Museum, a visit here could coincide with an art-filled day out, or simply feature in your schedule of must-sees as you marvel at the spellbinding sights of both the gallery and the town beyond.
Anima Mundi
Street-an-Pol TR26 2DS
animamundigallery.com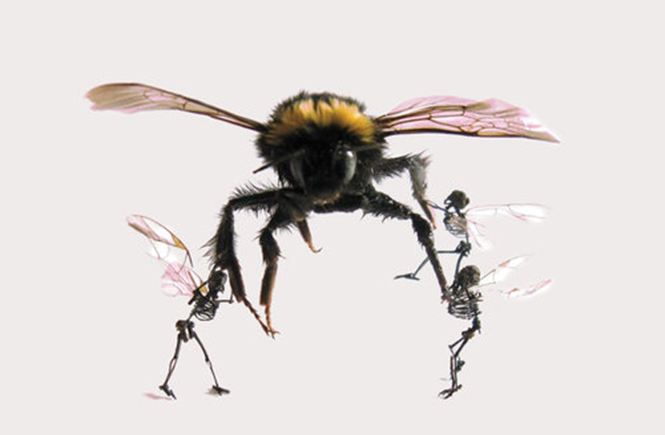 Situated in the buzzing centre of town, Anima Mundi was founded by Joseph Clarke, who has spent the last two decades curating over a hundred exhibitions from a huge array of international artists.
Representing and supporting the best contemporary artists while philanthropically collaborating with a range of charities and organisations, the gallery is home to works by Massimi Angei, Gabrielle K Brown, Jim Carter, Claire Curneen, Arthur Lanyon, Sax Impey, Youki Hirakawa, Jarno Vesala and Joy Wolfenden Brown, amongst others.
Converting former Christian Science reading rooms into the internationally acclaimed space that it is today, Anima Mundi presents a private haven away from the hustle to allow visitors to fully imbibe the art on offer. Once you've had your fill, retire to one of the town's beautiful beaches to swoon at nature's masterpieces and wallow in the inspiration of it all.
St Ives Society of Artists
Norway Square TR26 1NA
stisa.co.uk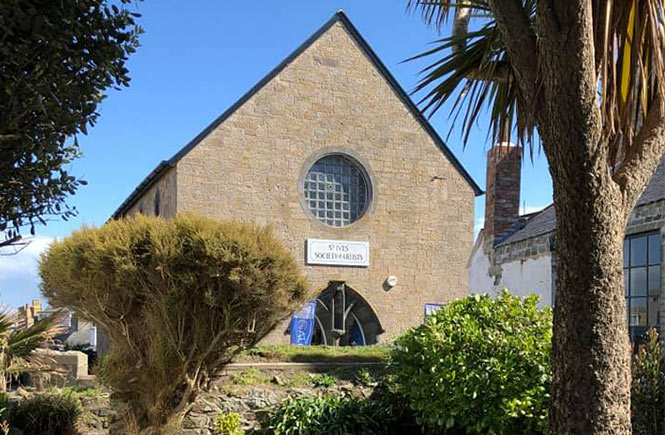 Founded by marine artist George Fagan Bradshaw in 1927, The St Ives Society of Artists continues to provide a beautiful space for a range of contemporary visual art in a striking building that once was the Mariners Church.
Located in the centre of town between Porthmeor Beach and the harbour, the expansive, light-filled space showcases the society's annual exhibitions (along with special events such as music evenings), including new submissions for the Spring, Summer and Autumn shows, plus invited artists exhibiting in-between. A few of the many featured artists include Ray Barry, Edwina Broadbent, Lar Cann, Jack Davis, Bod Devereux, Barbara Karn, Tom Leaper, Hani Mroz and Stephanie Sandercock.
Roam the gallery (while the kids quietly create something in the Children's Gallery), purchase your favourite piece, and then see where St Ives' cobbled streets next land you.
Livingstone Gallery
71-73 Fore Street TR26 1HW
livingstonestives.co.uk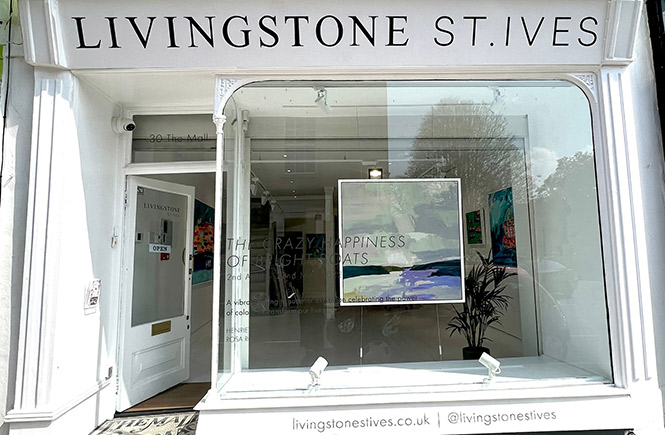 The independent gallery is nestled just behind the harbour front, providing a pensive place to absorb the art on offer. Curating a diverse mix of works with a keen focus of oil painting, visitors can expect an awe-filled experience in an uber relaxed setting that begs you to stop, sit and simply stare awhile.
Allow your eye to wander as you explore a wealth of contemporary works with a strong Cornish association from the likes of Maggie O'Brien, Terry Frost, Jack Davis, John Emanuel, Judith Kerr, Janet Lynch, Iona Sanders, Alasdair Lindsay, John Maltby and Rosa Roberts.
Founded by Alicia Livingstone in 2020, the fabulous three-story gallery occupies a pair of former fishing cottages in the centre of town, providing a light and historic space in which to browse the extensive collection.
Leach Pottery
Higher Stennack TR26 2HE
leachpottery.com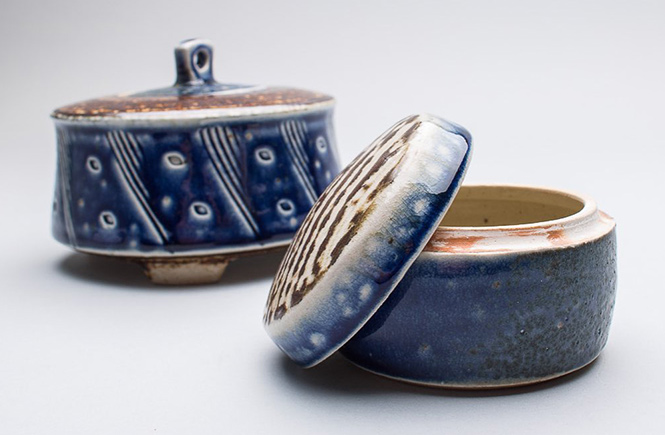 The original home and workplace of lauded potter, Bernard Leach, a visit to the museum is both informative and inspirational as you view 100 year-old pottery and learn about the history of this truly beguiling place.
Two exhibition spaces showcase the changing programme of exhibitors, blending history with work by contemporary potters to enchanting effect, many of which – along with a host of others – can be bought in the on-site shop, where you can pick up a piece or two by local and international potters including Jacqueline Clark, Sarah Dunstan, John Webb, Kat Wheeler, Joseph Ludkin, Nick Rees, Shinsaku Hamada and Kazuya Ishida alongside Leach's classic Standard Ware.
And if you're in the mood to make, a year-round schedule of courses and classes for teens, families and adults are available to help you hone your inner creative as you take a turn at the potter's wheel during a throwing course or taster session, discover all about glaze technology, or try your hand at teapot making.
Penwith Gallery
Back Road West TR26 1NL
penwithgallery.com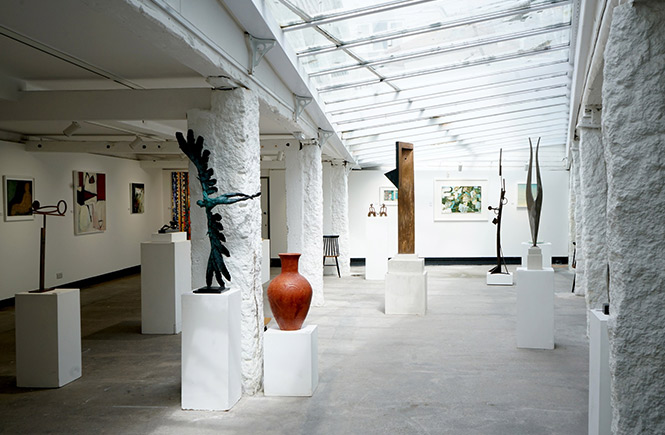 Founded in 1949 by artists including Barbara Hepworth, Ben Nicholson, Bernard Leach, Sven Berlin, Peter Lanyon and Wilhelmina Barns-Graham, the Penwith Society of Arts finds its home today in St Ives' spectacular, Penwith Gallery.
Here, a former pilchard-packing factory has been converted into an assortment of buildings that includes three public galleries, ten artists' studios, a sculpture courtyard, Porthmeor Printmakers Workshop, shop and archive.
Exhibiting the best contemporary pieces from Cornwall and beyond, the gallery's regular members and associates exhibitions are hotly anticipated affairs, showcasing work from names including Anthony Frost, Christine Feiler, David Moore, Jessica Cooper, John Emanuel, Sutton Taylor and Tamsyn Williams, whose sculptures, paintings, drawings, ceramics and prints are breath-snatching stuff. What's more, well-behaved dogs on leads are welcome, so you can treat your pooch to an inspired day out too!
Art events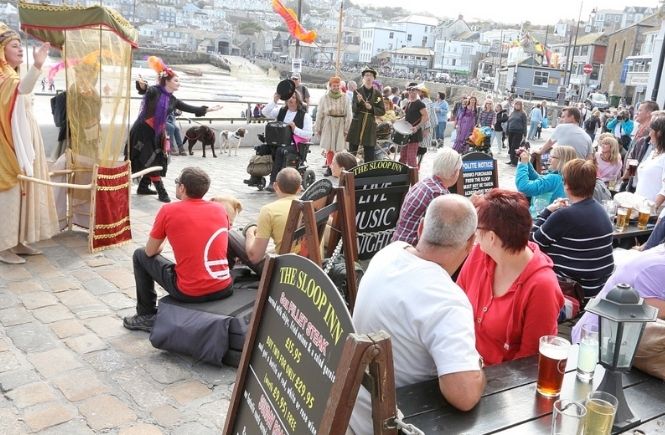 A brilliant way to bolster your art-infused time in St Ives is to attend an artistic event or festival in or near the town. Open Studios provides addresses in and around the town of artists openly welcoming visitors into their studios to see them work and purchase pieces; while St Ives September Festival includes everything from open studios and exhibitions to talks and workshops all with a giddying artistic flavour.
Lusting for a holiday to St Ives? View our stunning selection of cottages in St Ives and start planning your artistic escape.