Everyone loves a holiday in St Ives, whether you're exploring the popular seaside town on two legs or four. It's got some of the best beaches in Cornwall as well as cobbled streets that are full of intriguing sights and sniffs.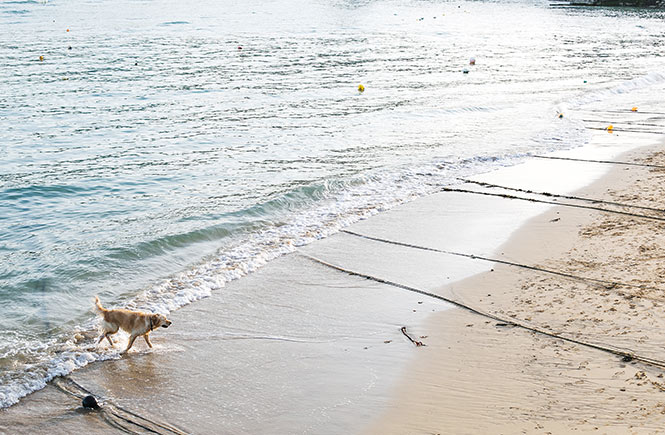 St Ives and the surrounding area welcomes dogs of all shapes and sizes, meaning the entire family can enjoy some quality downtime together. Here are just some of the dog-friendly things you can do around St Ives…
Beaches
St Ives is home to some stunning stretches of sand where the dogs can let their fur down and run free, resulting in some happily wagging tails and many pawprints in the sand.
Bamaluz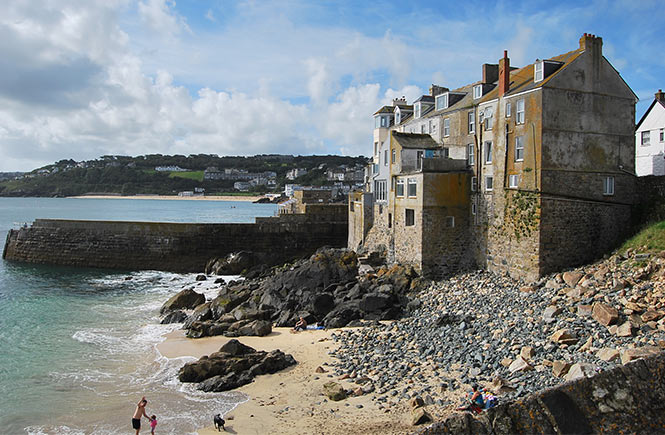 Situated between the harbour and Porthgwidden beach, Bamaluz is one of the most popular all-year-round dog-friendly beaches in St Ives. Despite its much-loved reputation with local dog walkers, it often remains considerably quieter than its neighbouring beaches, which is always a score when you're looking for somewhere peaceful. It might not be the biggest beach in St Ives, but the sheltered aspect and sandy patch create a lovely little oasis you can enjoy with the whole family, pup included.
Lambeth Walk beach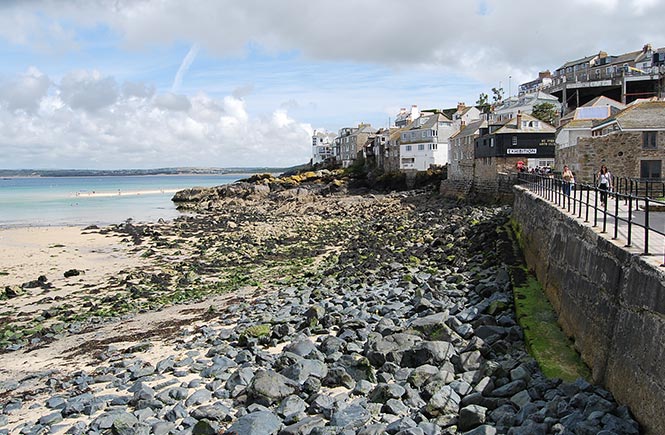 Right in the centre of town, this oddly named beach is often overlooked, which means it's usually a nice quiet spot for a cool down. There is one quirk with Lambeth Walk that's important to remember though… it doesn't exist at high tide! So, if you're looking for a beach you can run the dogs on during the summer months in St Ives, make sure to check your tide times before heading out.
Porthkidney, Lelant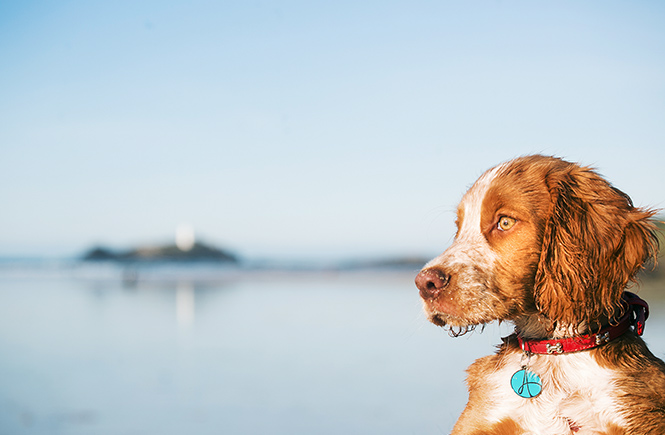 Just outside of St Ives you'll find another dog-friendly haven at Porthkidney Sands in Lelant. Almost a mile long and backed by sand dunes at one end, this sandy beach appears to double in size at low tide creating a veritable playground for your four-legged friend where they can really make the most of some off-the-lead time. Simply pack a ball and you've got everything you need for a doggy day out.
Beaches with seasonal restrictions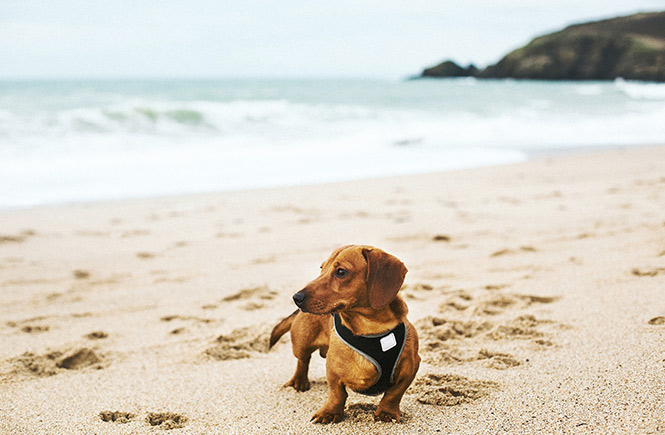 Carbis Bay, Porthmeor (check out the Porthmeor webcam here), Porthgwidden and Porthminster beaches all have restrictions on them between 15 May and 30 September where dogs are not allowed on the beach between 10am and 6pm. This means you can still enjoy beautiful walks in the morning and picnics with a sunset in the evening during the summer months, and complete free reign throughout the rest of the year.
If you want to enjoy the pretty Harbour beach in St Ives with the dog, you can do so any month of the year except July and August, when you'll have to follow the same dog restrictions as the other beaches and make the most of the shore before 10am and after 6pm. With such glorious mornings and evenings though, Harbour beach is well worth the early start - see for yourself with our Harbour beach webcam.
Walks
Is it really a dog-friendly holiday if you don't embark on a bunch of walks? Come to think of it, is it even a Cornish holiday if you don't get out on the South West coast path!
St Ives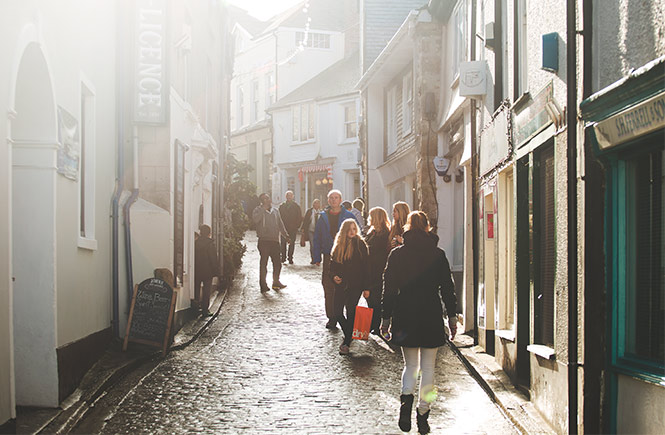 In St Ives, there are plenty of shorter routes perfect for your daily walks with the dog. Wander around the cobbled streets and winding alleys as you learn that there's more to St Ives than harbour views and ice cream. You'll discover pretty cottages with hanging baskets and creative flower pots as well as hidden gems you never would have found if you had stayed on the beaten track. These pretty streets are easily explored from many of our cottages in St Ives.
Another popular walk in St Ives is the Pendinas circular. Sitting comfortably at one mile, this quick stretch around the mini 'Island' in St Ives is great for shorter legs that aren't up for the ups and downs of the Cornish coast. You can trot around the base of the headland before scaling the short climb to the top where you'll be rewarded with amazing 360-degree views of St Ives and the Atlantic.
Zennor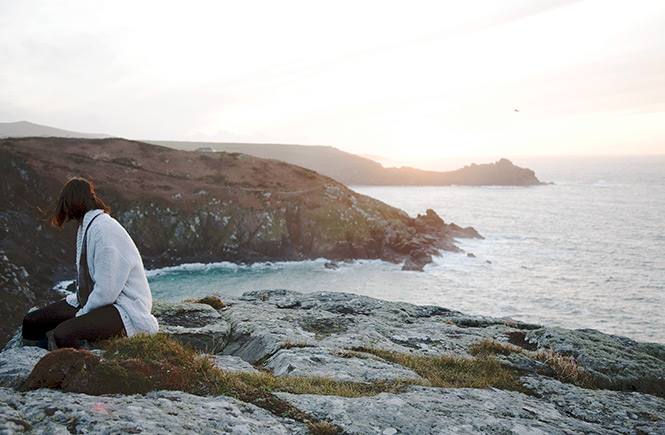 Perfect for some adventurous dog walking, Zennor is a truly breath-taking stretch of coast. Whether you head right along the rugged cliffs and take the 6.5-mile coastal path to St Ives; left towards the fantastically dog-friendly Gurnard's Head with its bright yellow visage; or in-land towards Zennor Quoit, a ruined megalithic burial chamber, you are in for a walk with a seriously jaw-dropping view. The best part of your walk around Zennor? A pint at the ancient and welcoming Tinners Arms where muddy boots and paws are always welcome.
Gardens
If you're looking for greener pastures, head into the centre of St Ives where St Ives Gardens and Trewyn Gardens await. Benefiting from the wonderfully mild climate St Ives enjoys, you'll find a beautiful array of subtropical plants, providing a peaceful escape from the hustle and bustle of town. Pack up a lunch and some dog treats and enjoy a tropical picnic in the heart of St Ives.
Attractions
It's not just the great outdoors that will keep you and the dog entertained during your stay, as many of the local attractions gladly welcome dogs so you can really get out and experience everything Cornwall has to offer.
St Ives Boats
Where: Harbour Masters Office, Outside the, Wharf Rd, Saint Ives TR26 1LP
Website: stivesboats.co.uk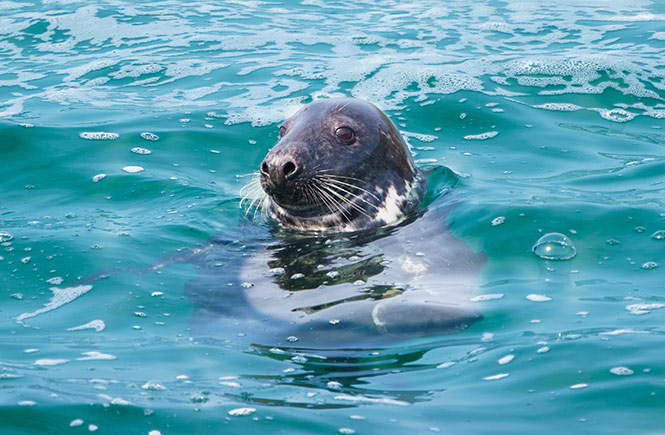 Who's ready for a boat trip! Take to the water with your seadog and see St Ives from a whole new angle as you sail around the coast. Seal Island is always a popular destination as its home to a colony of grey seals and one of the best places in Cornwall to catch a glimpse of these salty locals. Watch as they turn from blubbery sunbathers to majestic swimmers and keep a tally of seal sightings in your head - who can spot the most? You can also visit the iconic Godrevy lighthouse, another spectacular sight with more promises of marine wildlife as you learn all about the local maritime history from shipwrecks to rescues.
Check out our guide to 'watching seals well' you can continue spotting them when you return to shore.
Art Galleries
Where: New Rd, Newlyn, Penzance TR18 5PZ
Website: newlynartgallery.co.uk
Good news for all the art lovers out there, if you head to the neighbouring village of Newlyn you'll find the Newlyn Art Gallery and The Exchange, both of which welcome dogs on leads so you and the pooch can enjoy a cultured day out. With their continuously changing exhibitions featuring local and national artists, you're always in for something new and fascinating at these contemporary galleries. After you've soaked up all the culture you can then walk along the promenade into Penzance for a drink and a bite to eat at The Turks Head Inn, which is as dog-friendly as it is pirate friendly - so, very!
Polgoon Vineyard
Where: Rosehill Mdw, Tredarvah, Penzance TR20 8TE
Website: polgoon.com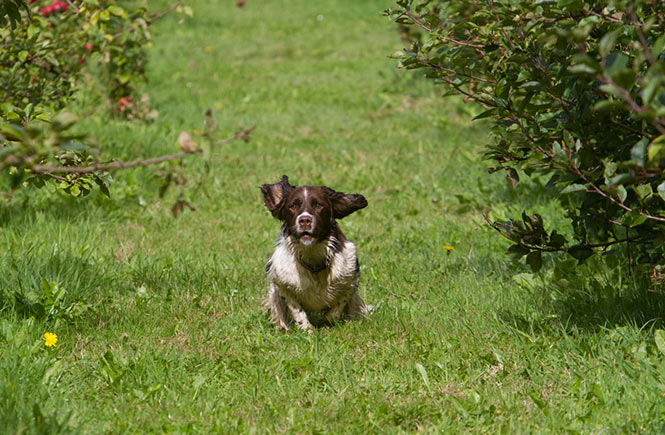 So you've been out in the open waters and toured some of the local galleries so naturally it's time to wind down with a drink and where better to do so than a vineyard! At Polgoon Vineyard in Penzance you and the pooch can walk around the beautiful Cornish vineyard high above Mounts Bay in either a guided or self-guided tour before finishing things off with a taste of some of the incredible Cornish wines… Sign us up! While dogs aren't allowed in the shop or winery, if you want to pop in and pick up a bottle to remember your visit by, there is a water bowl and dog mooring where you can quickly leave the pup.
Cornish Seal Sanctuary
Where: Gweek TR12 6UG
Website: sealsanctuary.sealifetrust.org/en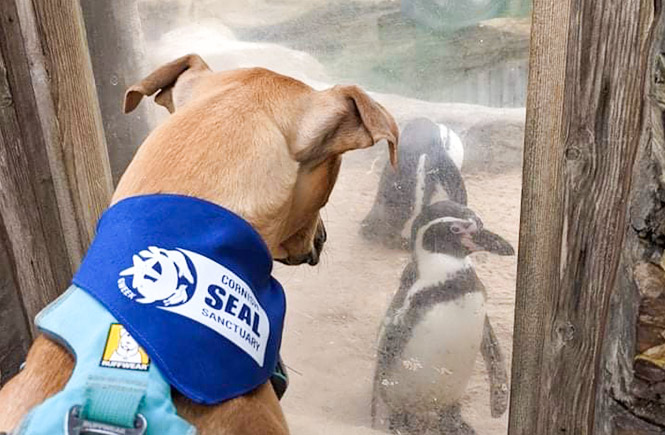 Located in Gweek, the Cornish Seal Sanctuary is a fantastic day out for every member of the family, dog included. Meet the adorable residents of the sanctuary, which vary from seals to otters to penguins, and even catch the feeding shows for an extra hit of cuteness. Heading below decks, you can watch these fascinating Cornish locals and overseas visitors glide through the water from the underwater viewing areas – perfect for the wide eyes of kids and puppies alike. The only areas dogs can't visit are the café and the seal hospital, which still leaves 42 acres of fun to enjoy.
Tanglewood Wild Garden
Where: Sancreed Lane, Newbridge, Penzance TR20 8FP
Website: tanglewoodmaycontainnuts.co.uk
While Cornwall has some truly spectacular gardens on offer, if you prefer the wilder look then Tanglewood is the place to go. Nine acres of natural gardens and woodland make a terrific place for a dog walk with a difference, with countless picnic benches and grassy areas welcoming the whole family for a rustic lunch amidst butterflies and bees.
Tehidy Country Park
Where: Camborne TR14 0HA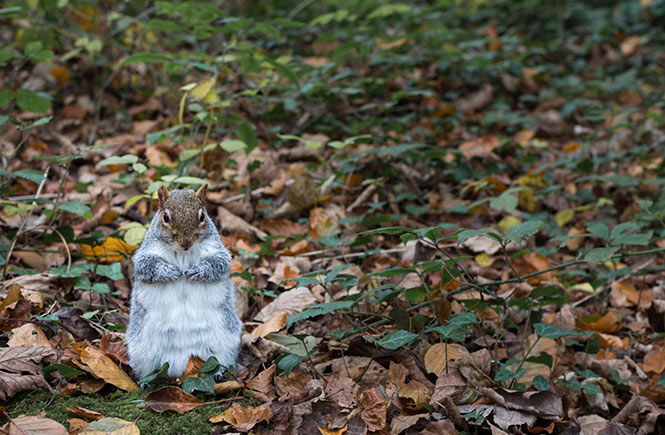 A quick dart up the A30 will take you to squirrel country, or as the locals call it, Tehidy Country Park. With over 9 miles of paths, Tehidy Woods is the largest woodland in West Cornwall giving you acres of sniffing and exploring. Stroll around the lake, explore overgrown glades and stop off at the café for a hot chocolate and a bag of squirrel food if you want to meet some of the furrier locals. You can access the woods from several points including the South Drive car park and the North Cliff car park, so you can easily combine it with a stroll along the coast and a visit to Portreath.
Places to eat
Whether you're in the mood for coffee and cake or a hunger-banishing meal, there are some exceptional dog-friendly restaurants and pubs in St Ives.
Hub St Ives
Where: 4 Wharf Rd, Saint Ives TR26 1LF
Website: hub-stives.co.uk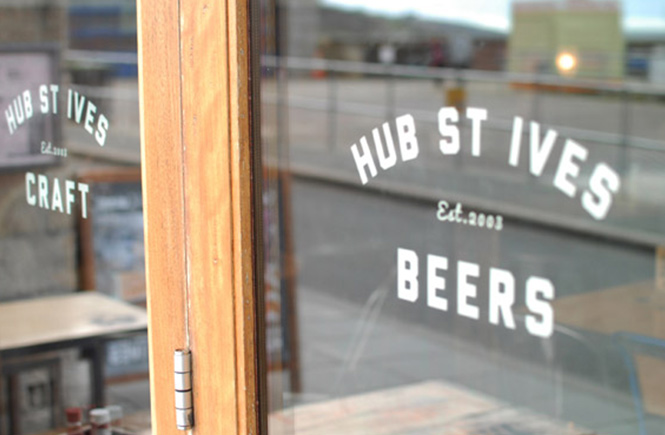 Burgers, burgers and more burgers are on the menu at the restaurant that started a national chain. Sit back, enjoy the sea views and eat your way through the variety of burgers, hot dogs and loaded fries before finishing things off with a malty milkshake to beat all milkshakes - and do it all with your best furry friend by your side.
Scoff Troff Café
Where: Market Pl, Saint Ives TR26 1RZ
Website: scofftroff.co.uk
From breakfasts that not only start your day but MAKE your day, to sharing platters that go great with an ice-cold beer after an energetic dog walk, Scoff Troff is definitely one of the best places in St Ives to refuel with the dog. Sip on their famous coffee as your hungry eyes scour the menu for the perfect treat as you plan the rest of your dog-friendly day in St Ives.
The Sloop Inn
Where: The Wharf St Ives, Saint Ives TR26 1LP
Website: sloop-inn.co.uk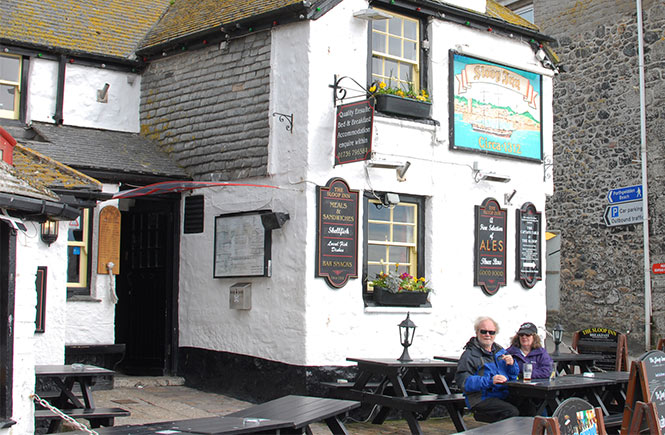 There's just something extra special about a pub visit with your four-legged friend by your side. The Sloop Inn in St Ives not only allows dogs but welcomes them with open arms as your pup joins you for a drink in one of Cornwall's oldest pubs. Popular with fishermen, artists and well, pretty much everyone, you can't go wrong with a pint overlooking the pretty St Ives Harbour at The Sloop.
Explore more of the great pubs and bars in St Ives to find your favourite.
Yellow Canary
Where: 12 Fore St, Saint Ives TR26 1AB
Website: theyellowcanary.co.uk
Whether you're local or a visitor, human or dog, Yellow Canary always has a seat for you in its friendly café with all the trimmings. Sandwiches that can make anyone drool, canine or not, and one of the best cream teas in St Ives make this humble coffee shop a hit with everyone that visits.
Are you and the dog ready to explore this wonderful seaside town? Choose from our collection of dog-friendly cottages in St Ives and start planning a holiday you won't forget (but will want to replicate time and time again).
Tags: Beaches | dog friendly | Dogs | Family | Penzance | St Ives | Walking | Wildlife |