St Ives. Simply uttering those words makes you feel as if you're already on holiday.
The famous seaside resort remains as perennially popular as ever while retaining its unique character and quintessentially Cornish vibe. And what better way to take in your picturesque surrounds while indulging in a spot of people-watching, not to mention – first-rate eating and drinking - than by visiting some of the town's best pubs and bars?
Whether you fancy cooling off at a beachside watering hole, cosying up to a candlelit dinner for two amongst the cobbled streets, or treating the entire family to feast at one of St Ives' most lusted-after locales, the town is chock with options for all types of visitor.
Here are a few of our favourites...
The Lifeboat Inn
Dog friendly and vegan...
Where: St Ives harbourfront, TR26 1LF
Contact: 01736 794123 / lifeboatinnstives.co.uk
Dog friendly? Yes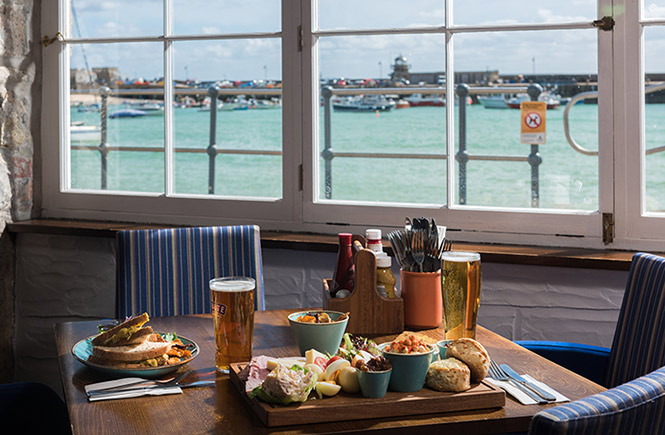 This is one of the most hospitable places to drink and dine in St Ives with all dietary requirements eagerly welcomed into its seafront space. Expect pub classics, local specials, fresh seafood and plant-based dishes alongside Cornish wines, ciders and beers for a taste of the Duchy as you sink into your surrounds and gaze at the harbour activities and scenic spoils beyond.
Beer & Bird
For craft beer and fried chicken...
Where: Fore Street, TR26 1AB
Contact: 01736 793776 / beerandbird.com
Dog friendly? Yes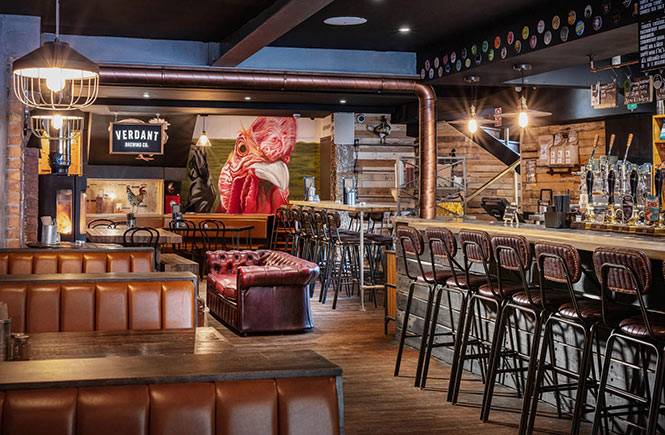 It might sound niche, but the combination of craft beer, fried chicken and superlative service makes for an ultra memorable drinking/dining session. Whether it's a burger and ice cream shakes for the kids, sharers and pints for an afternoon soiree, or a meat-free 'birdless burger' and cocktails during date night, the centrally located restaurant-bar on Fore Street is a super stylish and tasty choice.
Sloop Inn
To sit within stone's throw of the sea...
Where: St Ives harbourfront, TR26 1LP
Contact: 01736 796584 / sloop-inn.co.uk
Dog friendly? Yes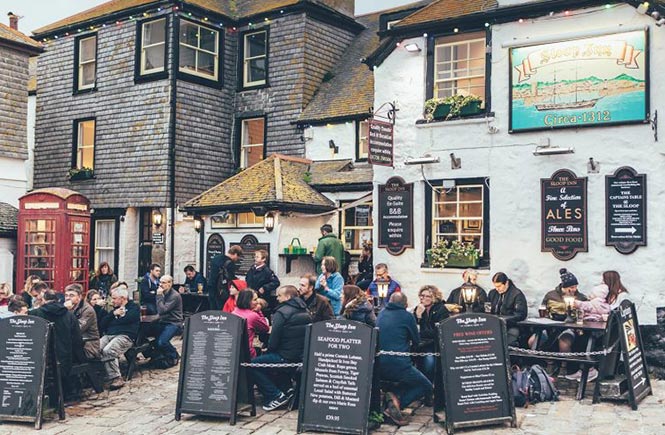 Traditional, quaint (dog friendly) and one of Cornwall's oldest pubs, local's favourite, the Sloop, offers three levels for drinking and dining within stone hurling distance of the harbour. The menus cover breakfast, lunch, and dinner, so expect everything from a Full English to toasties, steaks, seafood and salads. Pick from the lower decks of the uber cosy Sloop Pub Restaurant (perfect for snuggling up in winter), the light and airy floor of The Captain's Table, or the gorgeously al fresco rooftop bar that is, The Upper Deck: the perfect summery space to soak up the sun while overlooking the ocean to your heart's content.
The Rum and Crab Shack
For rum and sea-views...
Where: St Ives harbourfront, TR26 1LG
Contact: 01736 796353 / rumandcrabshack.com
Dog friendly? Yes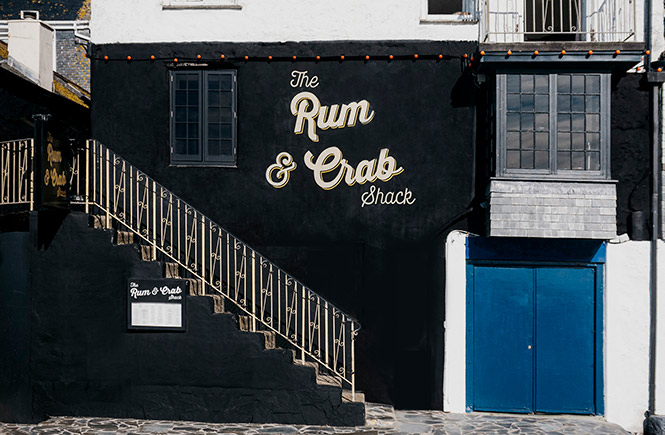 Evoke your inner pirate with any of the vast selection of rums stocked at the self-dubbed 'spiritual home of dead man's fingers and new sibling stargazy'. If anything from their dizzying dark, flavoured, premium, overproofed, spiced, vintage, white or golden rum range doesn't tickle your taste buds, then there's plenty on the world wine and beer list that should leave you salivating in similarly impressed style. Soak up your liquor with (you've guessed it) some crab, lobster (tacos, nachos, linguine), a seafood staple (steamed mussels, seafood curry, jambalaya), or veggie dish (Buddha bowl, vegan fish & chips), and settle in for a top tasting night with harbour-wide views, whether you're a two-some, family or have a hound in tow.
Hub
Fabulous for families...
Where: St Ives harbourfront, TR26 1LF
Contact: 01736 799099 / hub-stives.co.uk
Dog friendly? Yes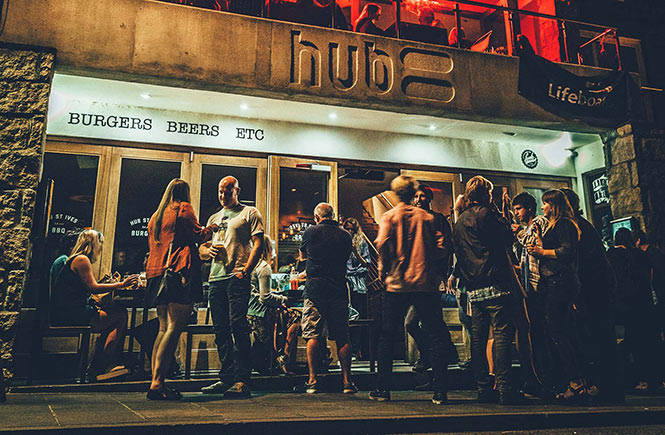 Award-winning burgers, hand-cut fries and crafted drinks are always the order of the day here, which is only beaten by the waterfront location of this fantastically family (and dog) friendly bar and restaurant in the middle of Wharf Road. Cocktails and craft beers complete the Hub experience.
The Searoom
For the best cocktails...
Where: St Ives harbourfront, TR26 1PG
Contact: 07561 651501 / stivesliquor.co/searoom
Dog friendly? Yes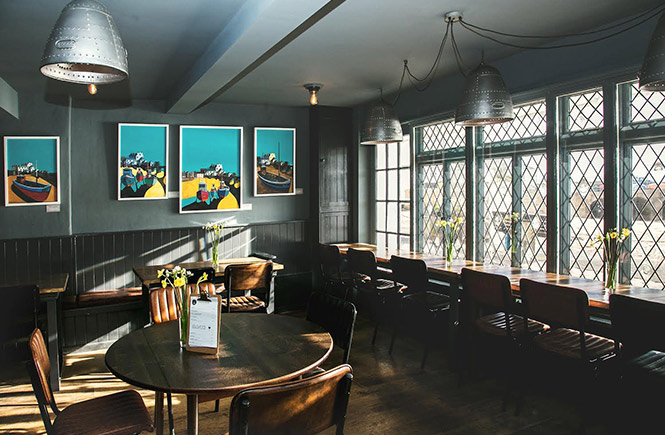 The home of St Ives Gin alongside a host of other top-notch beverages and food, The Searoom teeters out toward the ocean in one of the town's most stunning vantage points between the harbour and the island. Dog friendly and practically surrounded by the sea, its prime waterfront position is matched only by its signature drinks menu, where visitors will delight in the variety of top tipples available including the exotic likes of The Cornish Garden, Berry Gin Smash, St Ives Gin Martini and the retro stylish flavours of The Aviator. Should hunger strike, lighter options like Spanish omelette, Cornish cheese and grilled Mackerel fillet should hit the spot, or for something more substantial, think slow roasted Cornish pork belly, local mussels and Cornish fish goujons rounded off with chocolate mousse or key lime pie.
Balcony Bar & Kitchen
For fantastic harbour views...
Where: St Ives harbourfront, TR26 1LP
Contact: 01736 798482 / balconybarstives.co.uk
Dog friendly? Yes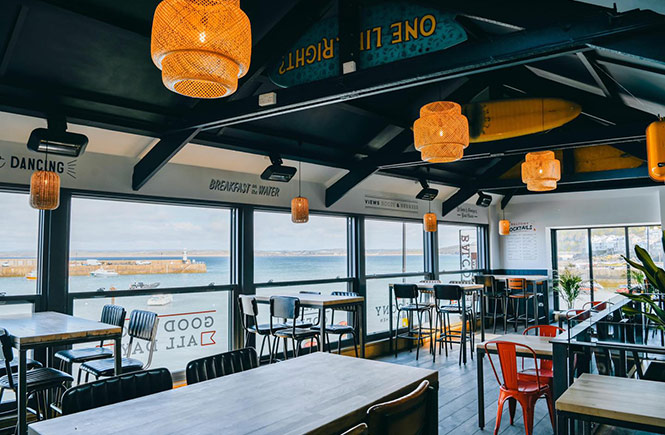 Light, airy, dog friendly and affording vast views out over the harbour and St Ives Bay beyond by its central Wharf Road position, a stop-off here is rewarding on a range of fronts. Good food is served up in hearty portions of squid fries, gourmet burgers, tacos, sea salt beer sandwiches, and vegan sweet potato patty burger (and children's menu) alongside a range of drinks including cocktails, beers and non-alcoholic options. Bag an open balcony seat for an al fresco experience, or sit in the centre of the bustling bar to feel the atmospheric buzz in the air.
St Ives Brewery
To experience the art of brewing...
Where: Trewidden Road, TR26 2BX
Contact: 01736 793467 / stives-brewery.co.uk
Dog friendly? Yes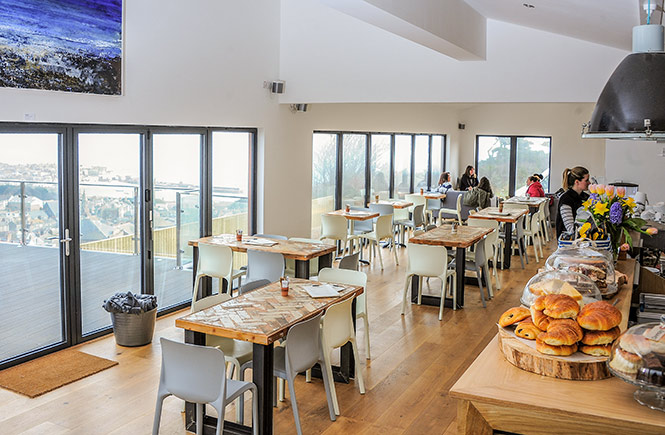 Creating delectable craft beer in the town since 2010 with its first outing, Boilers Golden Cornish Ale, the local company has grown to produce an extensive range of beers including everything from traditional pale ales to light vegan IPAs and juicy hop-filled brews. Their coastally cool Brewhouse Cafe and shop is situated on Trewidden Road at the top of the town, affording gull's eye (and dog friendly) views of the bay below while you sup on something fresh from their lip-smacking range (along with local coffee, cakes, specials and sandwiches) and drink in those to-die-for views. They also host feast nights and shopping events too.
The Pilchard Press Alehouse
Head to a hidden gem...
Where: St Ives harbourfront, TR26 1LF
Contact: 01736 791665 / The Pilchard press Alehouse Facebook page
Dog friendly? Yes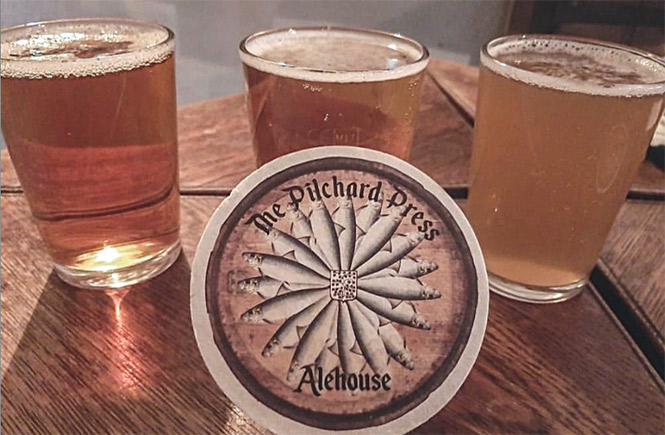 A bona fide micropub, The Pilchard Press is tucked away from the hustle of the harbourfront up a side-alley on Wharf Road, giving visitors (and their dogs) an inviting sense of escape while they tap into some seriously good local beers from the regularly rotating list.
Firehouse
For cocktails and chargrills...
Where: Fore Street, TR26 1AB
Contact: 01736 799664 / firehousestives.co.uk
Dog friendly? Yes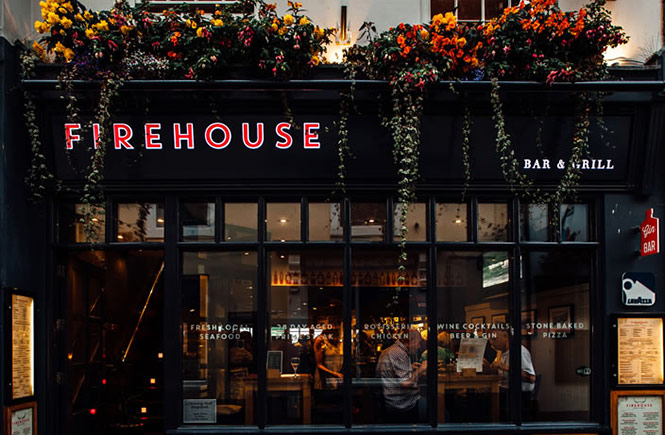 It doesn't matter whether you simply wish to prop up the bar and tuck into their glorious gin list, or sample something delectable from their food menu, because the Firehouse Bar and Grill offers it all. Scan the rooftops and harbour glimpses from the restaurant, which is centrally located in the cobbled centre of Fore Street. Dine on chargrilled steaks, chicken, pizzas, vegetarian dishes or local Cornish seafood before deliberating over the town's most extensive selection of gins in the bar (which is also open during the day for teas and coffees, or a sneaky tipple should the mood take you). If a Bramble, Negroni or Tom Collins gin cocktail doesn't suit, then something from their signature list such as a Firehouse Sunrise, Spicy Storm or Sea Breeze might whet your appetite. If not, there's bottled and draught beers alongside a luscious mix of wines and flavoursome soft drinks. It's dog friendly to boot!
The Queens Hotel
For a (family-friendly) gastropub experience...
Where: High Street, TR26 1RR
Contact: 01736 796468 / queenshotelstives.com
Dog friendly? Yes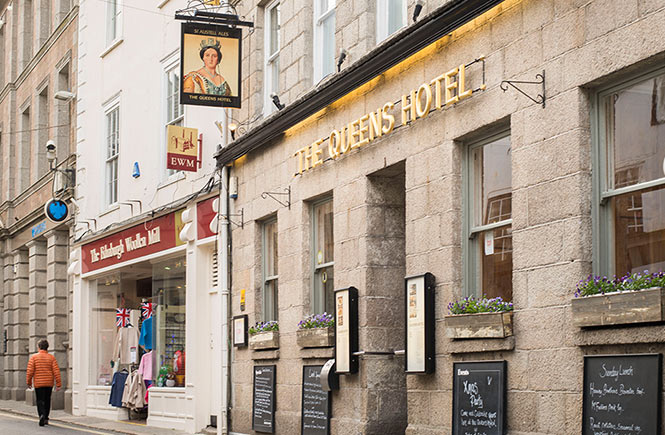 Adding home grown ingredients to classic pub dishes in order to produce a menu full of crowd-pleasing flavour, The Queens promises much more than pub food with family favourites designed to please all. Settle in for an uber friendly atmosphere courtesy of snuggly chairs and sofas, an open fire and laidback approach, all located in a beautiful late Georgian building set just back from the seafront on High Street. Pick from the best cask conditioned Cornish ales including Tribute, or something from the world wine list before tucking into local butcher's sausages and mash, vegetable lasagne, a beef burger, tomato & basil pasta, Tribute-battered fish & chips, or a classic Ploughman's. Families will love the extra consideration of highchairs, changing facilities, games and varied children's menu, while dogs are also welcomed.
Harbour Kitchen
To spoil all of your senses...
Where: The Terrace, TR26 2BN
Contact: 01736 795221 / harbourhotels.co.uk
Dog friendly? No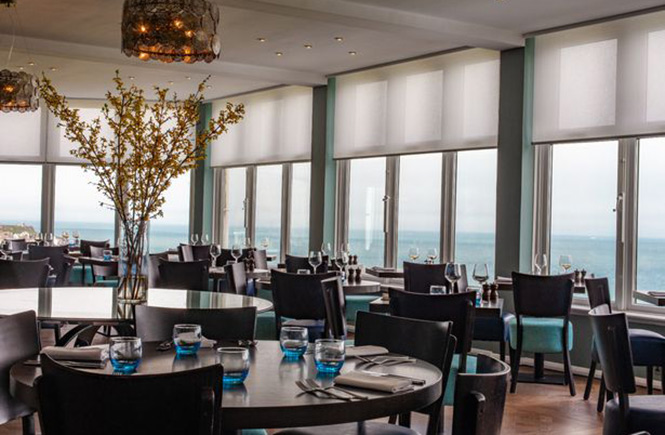 This is wow worthy stuff. Uninterrupted views over St Ives Bay, stellar service and sumptuous surrounds with inimitable style, a visit to the St Ives Harbour Hotel & Spa's in-house Harbour Kitchen, Bar & Terrace (presiding over one of St Ives' best beaches - Porthminster Beach) provides guests with an unforgettable treat. And that's before we even mention the menus. Locally sourced and seasonal are the keynotes, which can be enjoyed inside or out on the terrace and can be perfectly paired with signature cocktails, beers and spirits from top local producers. Plus, with no less than five different dining options (with All Day, Desserts, Kid's, Sunday Lunch and Afternoon Tea menus all available), whether you're dreaming of the most delectable Cornish cream tea, grilled shellfish, a Cornish crab sandwich or bowl of pasta for the little ones, some gorgeous gastronomy is guaranteed.
The Union Inn
For drinks and live music...
Where: Fore Street, TR26 1AB
Contact: 01736 796486 / The Union Inn Facebook page
Dog friendly? Yes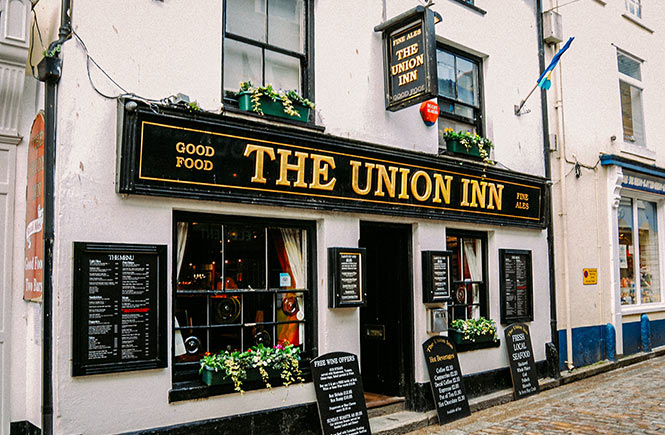 The Union is as entertaining as it is thirst quenching. A schedule of live music acts provides locals and visitors (along with their dogs) with a fantastic soundtrack to enjoy a tipple or two at this centrally located, traditional style pub. From burger and chips to roasts and club sandwiches, think classic pub dishes served with local ales including Doom Bar, Korev and Cornish Rattler cider.
Tretho Lounge
For anytime eating and drinking...
Where: St Ives harbourfront, TR26 1LF
Contact: 01736 799160 / thelounges.co.uk/tretho
Dog friendly? Yes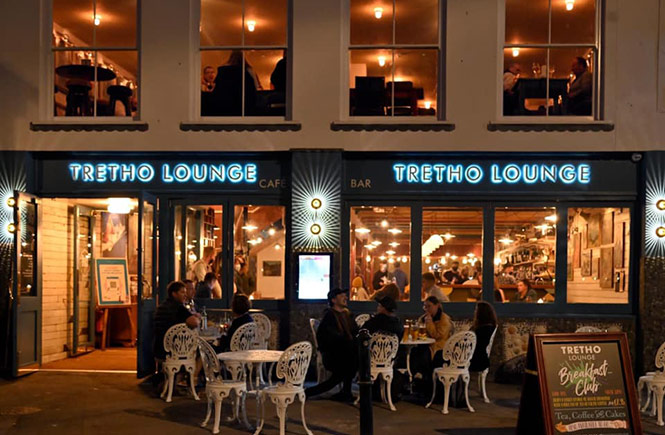 Staring out over the harbour on Wharf Road, Tretho Lounge boasts a huge all-day menu that promises to satisfy every appetite and dietary requirement. Pull up a chair for brunch, a light bite with a sandwich, Panini, tapas or salad, fill your belly with a burger or classic main meal (think steak frites, macaroni cheese, fried chicken and Bombay sweet potato & lentil curry), or satisfy your sweet tooth with a fresh slice of cake or indulgent pudding such as churros or a mango & passion fruit sundae. The drinks menu follows in similarly eclectic style, presenting everything from herbal teas, homemade lemonade and smoothies to cocktails and fine wines.
The Golden Lion
To feed & entertain the whole family...
Where: Market Place, TR26 1RZ
Contact: 01736 797935 / The Golden Lion Facebook page
Dog friendly? Yes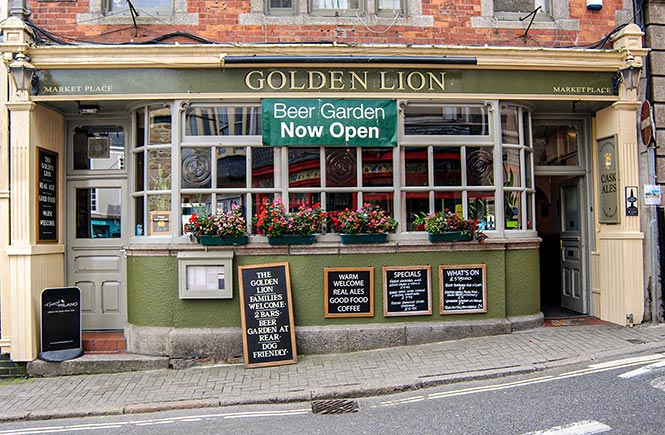 Welcoming kids, dogs and all other visitors with a winning combination of two bars, a beer garden, real ales and good food, The Golden Lion is an all-round box ticker. Their homemade menu offers everything from Sunday roasts (including a nut roast), pies, chilli, and grills (rump steak, Cajun chicken and Portobello mushroom burgers) to guest and local ales such as Skinner's. Visitors will also relish entertainment aplenty in the form of live music, sport screenings, darts board, pool table and duke box.
The Cornish Arms
For traditional homemade fare (with a twist)...
Where: St Ives Road, TR26 2PG
Contact: 01736 796112 / thecornisharmsstives.com
Dog friendly? Yes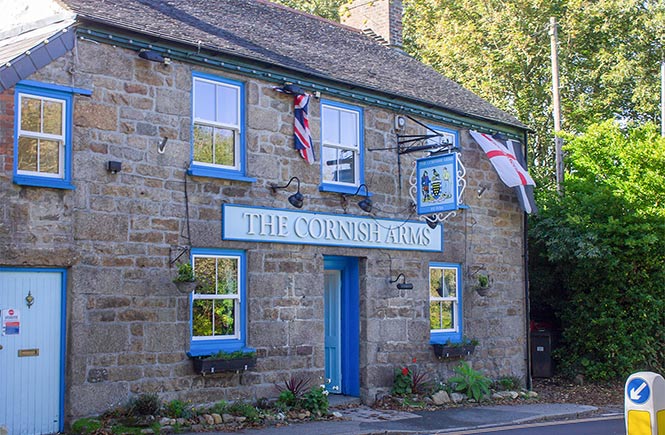 Strictly speaking, this isn't in St Ives but is located en route in Carbis Bay, so if you're heading in or out of the town and are in need of a pub near St Ives, this is the place to pitch up. For a friendly (dog loving) atmosphere and simple food done well – and with a little extra flavour – this is the spot. From beer battered chicken fingers to homemade Szechuan pepper squid, homemade nachos, seasonal risotto and lip-smacking selection of homemade puddings, visitors will delight while dining in the separate family area by the bar. All dishes are prepared using locally sourced produce and the bar is brimming with Cornish drinks to complete your local feast.
Porthmeor Beach Cafe
For stunning sunsets and the sand-between-your-toes...
Where: Porthmeor Beach, TR26 1JZ
Contact: 01736 793366 / porthmeor-beach.co.uk
Dog friendly? Yes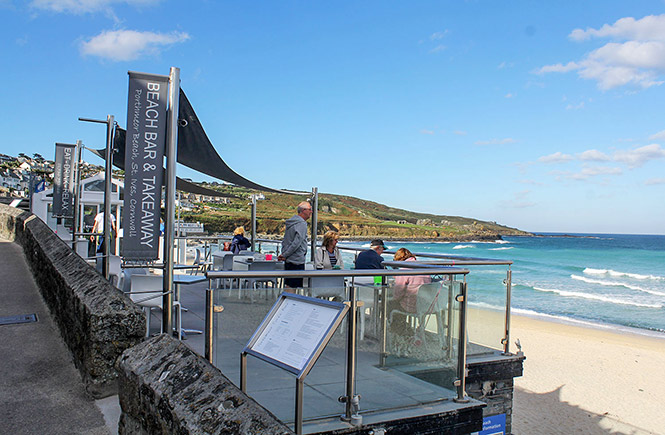 If cool is your thing, then this beachside cafe bar has it in spades. Overlooking St Ives' buzzing surf hub of Porthmeor Beach, watch the locals carve it up as you sample something from the fabulous food or drinks menu. Grab breakfast on the deck, warm up after a sea stint under a blanket with a hot chocolate, settle in for lunch or tapas, or sit under the stars for a supper to the soundtrack of the waves rolling on the shore (with your dog at your feet). And let's not forget the drinks. From sparkling wine and cocktails to chilled whites, warming reds, refreshing beers and ciders, or rounding off your evening with a delicious digestif – it's as if the entire place was made just for you.
The Castle Inn
Always in good company...
Where: Fore Street, TR26 1AB
Contact: 01736 796833 / the-castle-cornwall.co.uk
Dog friendly? Yes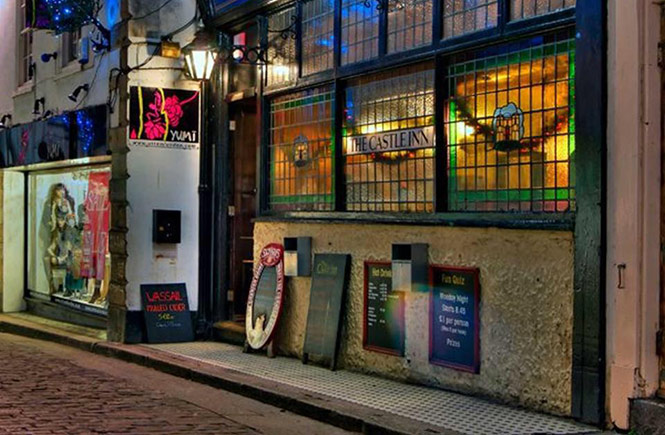 Fore Street's old-fashioned pub is wonderfully quaint and welcoming (dogs included). Established since 1840, the quirky haunt remains a well-loved favourite, having been frequented by the likes of artists Barbara Hepworth, Peter Lanyon and Ben Nicholson alongside returning visitors and regular locals alike. What's not to love about a palpable sense of history combined with traditional interiors including slate floors, exposed beam ceilings and a feature stained glass window? And with Cornish real ales from Skinner's, an extensive gin menu and assortment of wines, soft drinks and ciders alongside homemade bar bites, traditional bar snacks and 'pub grub' such as Sunday roasts and Pieminster pies all with a side of live music (both impromptu and scheduled), quizzes and other events, The Castle always fails to disappoint.
The Mermaid
For the best seafood...
Where: Fish Street, TR26 1LT
Contact: 01736 796816 / mermaidstives.co.uk
Dog friendly? No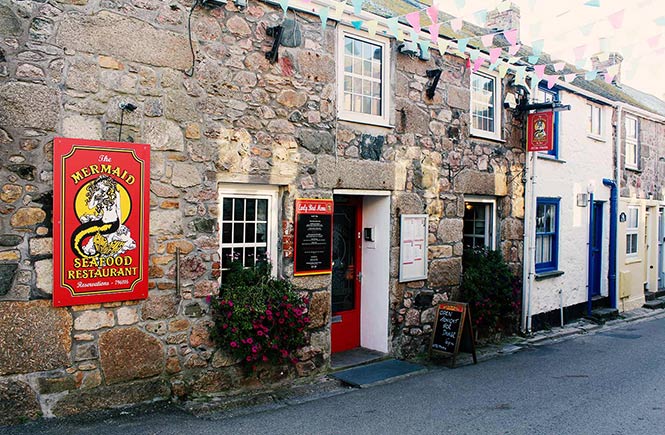 Aptly nestled in the old fishing quarter in Fish Street smack bang between The Island, Porthmeor and the harbour, family-business, The Mermaid recalls the romance of another place and time while remaining distinctly Cornish. Pull up a Church pew and sit amongst fishing nets that drape from the walls in this diminutive diner for one of the best seafood suppers in St Ives. Try the fish platter, pot of seafood, or freshly caught sea bass, amongst others; or opt for some poultry or plant-based loveliness in the form of pork belly, steak, or Thai vegetable curry. Wash it down with a spirit, lager, beer, soft drink, or anything from their wine list, which contains the Cornish-own, Camel Valley. (Though note that you'll have to leave the dog at home on this occasion.)
The Three Ferrets
For entertainment aplenty...
Where: Chapel Street, TR26 2LR
Contact: 01736 793497
Dog friendly? Yes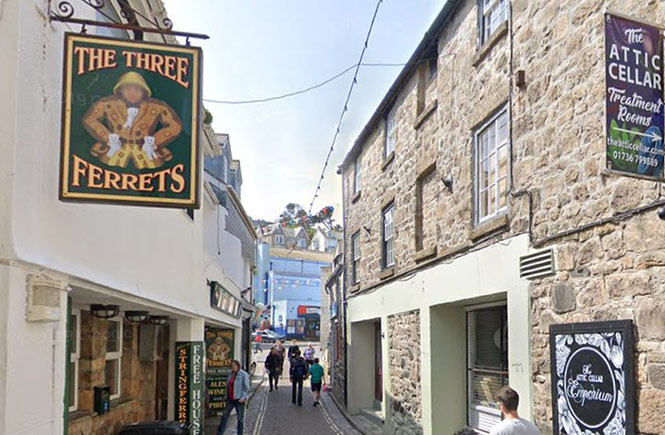 Nestled on Chapel Street just off St Ives' bustling main drag, The Three Ferrets is one of those hidden haunts offering more than first meets the eye. The wood-clad 'no frills' free house is always alive with the sound of music, whether from music streaming from the TV screens, jukebox, or the weekend's live entertainment of choice, ensuring that a stop-off here is both unwaveringly friendly and atmospheric. Prop up the bar, dance with a stranger, play a game of pool or sample the wine list while you soak up The Ferrets' old school flavour. In short, expect a cheap pint, good service and plenty of local character at this fantastically 'proper' old pub.
The Western Hotel
History, jazz and a guaranteed good time...
Where: Fish Street, TR26 2LU
Contact: 01736 795277 / hotelstives.com
Dog friendly? Small, well-behaved dogs only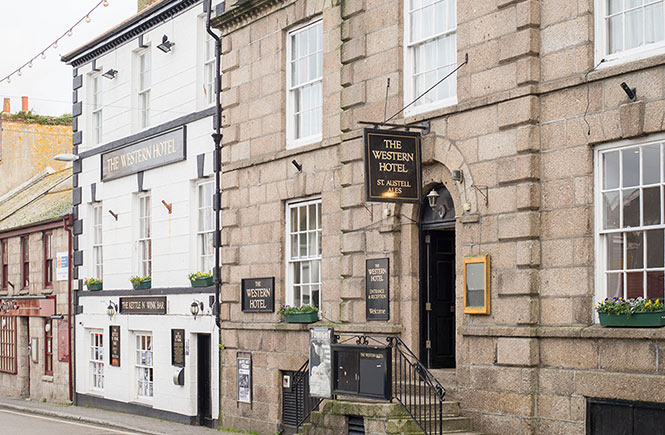 For a hearty welcome and historic backdrop, look no further than The Western Hotel. Situated in Gabriel Street in St Ives' thronging epicentre, the listed building is one of the town's oldest coaching houses, boasting St Austell Brewery status since the 19th century. Live music is the order of every evening, while the hotel also hosts the annual September Festival and is the founder of the St Ives Jazz Club, which unites musicians from across the globe who gather here for riveting performances of international repute. Meanwhile, locally sourced food is served at lunch and dinner in the hotel's public bar, The Kettle 'n' Wink, which features traditional pub grub (and children's options) such as soup, sandwiches, salads, steak and ale pie, wholetail scampi, vegetable curry and burgers, with a belly-filling Sunday carvery also available. Small, well-behaved dogs can accompany customers both inside the pub/restaurant and outside in the beer garden.
Where to find them:
Thinking of visiting St Ives? View our range of beautiful cottages in St Ives >
Tags: Beer | Eating out | Pubs | St Ives |