If you are hop-ing to visit some of the best breweries in Cornwall, then look no further. A county with a brewing history dating back centuries and with an ever-evolving craft beer scene, it is one of the best places in the country to sample new brews and classic favourites.
Naturally, if you're a craft beer connoisseur or simply enjoy cool pints and cooler vibes, then our whistlehop tour of the best Cornish breweries should pique your interest. With guided tours and taproom tasters, you can look forward to unbottling the finest flavours around in these atmospheric hubs, ready to savour golden-hued IPAs with coastal backdrops and rich stouts by crackling fires.
St Ives Brewery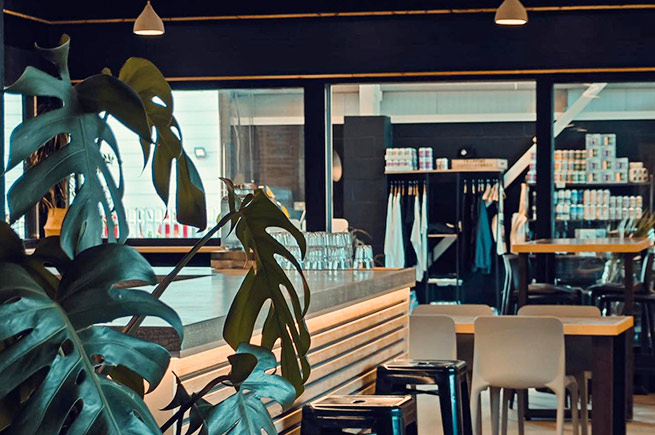 One of our trusted partners, the West Cornwall-based St Ives Brewery is one of the best breweries in the county. Founded in 2010, this fresh-faced brewery boasts an old soul and open mind and creates brew-tiful beers from its Hayle brewery and taproom. Inspired by the wild Cornish landscapes and driven by the desire to celebrate good places, good friends and good times, its taproom is open on select days throughout the year for guided tours, a regular bar, and special events. Choose from their assortment of core and craft beers for a unique boozy experience in Cornwall, or follow in the footsteps of the Aspects team and head over for a guided brewery tour. Ones to look out for, their core range includes Alba IPA, Hella Pale Ale, Meor Session IPA and Porth Pilsner. You can also visit the brewery's Brewhouse and Café and micro taproom and shop in St Ives.
Sharp's Brewery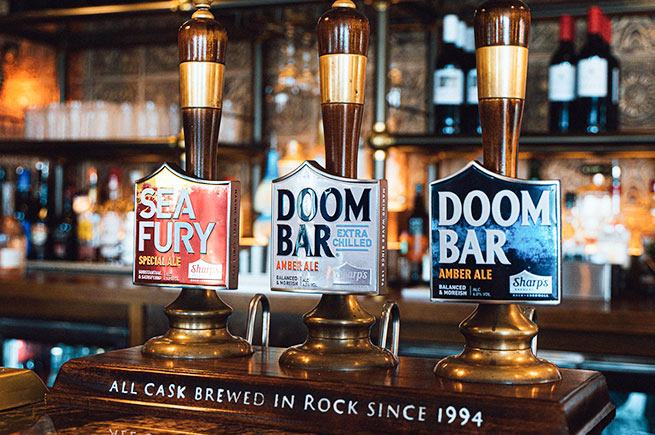 Sharp's Brewery is a popular commercial brewery in Cornwall that was first established in the 90s. Having made more than a hundred different beers, it has produced some of the best-known names on the British beer circuit, including Doom Bar, named after the notorious sandbank at the mouth of the Camel Estuary near Padstow. Other famed names in its armoury include its Offshore Pilsner, Atlantic Pale Ale and Sea Fury Special Ale. Making each drop taste that bit better, Sharp's demonstrates a proud commitment to environmental policies and supports local charities, from local surf living saving clubs to grassroots rugby teams. To learn more about the brewery and taste some of its malty creations, head to their shop and tasting room in the picturesque coastal town of Rock in North Cornwall.
Padstow Brewing Company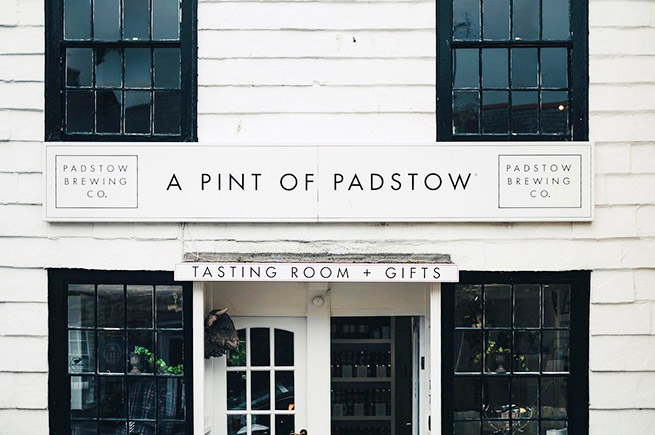 A multi-award-winning craft brewery, Padstow Brewing Company can be found in the North Cornwall foodie haven of Padstow. Starting life in 2013, this family-run brewery was launched into the yeasty ether by owners and directors, Caron and Des Archer. Steadily growing over the years, the brewery has developed a well-deserved reputation thanks to its dedication to artisan production – handcrafting and quality checking all beers to the highest standards. Winning their first award just six months after opening, the brewery has gone on to win even more awards from CAMRA, SIBA and Taste of the West. Venture over to their tasting room in the heart of Padstow, either popping in to peruse the taproom and shop or extending your visit with a ticket to a guided brewery tour or special event. With a warm welcome and cold brew awaiting, you are sure to enjoy your visit to this top Cornish brewery.
Pipeline Brewing Company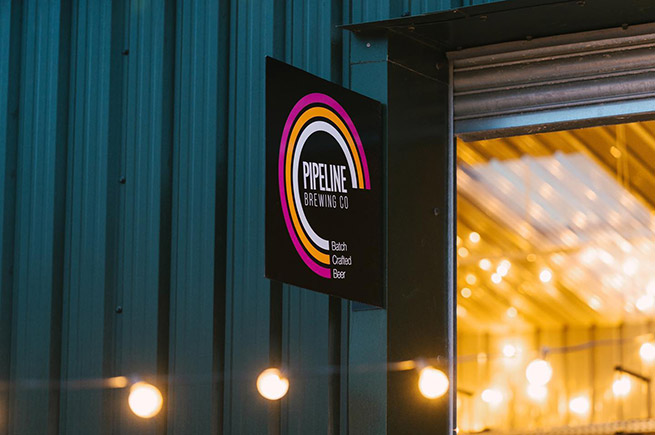 With a mantra "rarely repeated, always exceptional", you can look forward to exciting brews at Pipeline Brewing Company. A microbrewery just outside of St Agnes, this brewery and taproom takes an innovative, hop-forward approach to beers and plays with an array of weird and wonderful flavours to create unforgettable drinks. Created inhouse, its small batch beers are made using fresh ingredients, Cornish water, and the best of New World hops, and cover the spectrum from sours to stouts. Make way to their pop-up taproom to try flavoursome flights, sup freshly-poured pints or pick up some takeaway cans. Among the unusual tasting notes, you can find additions including bubblegum, passionfruit, gooseberry, melon, earl grey and more - but not all in the same beer!
Verdant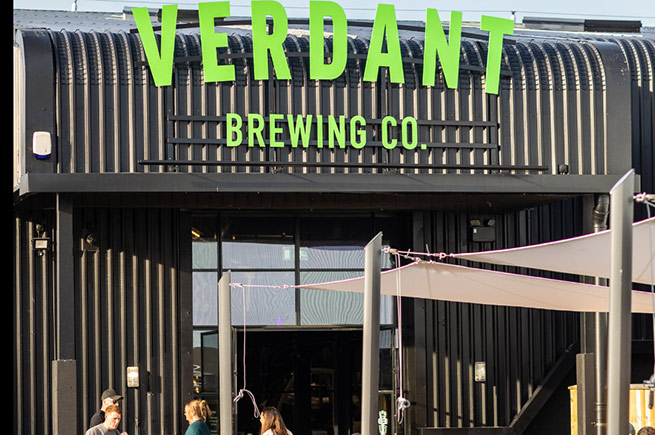 A relative newcomer to the brewery scene in Cornwall, Verdant was established in 2014 and has quickly risen the barrel ranks to become one of the largest beer producers in the county. Originally founded on a desire to create US-style beers rivalling Stateside brews, Verdant's team has rapidly expanded over recent years and has produced more than 300 different beers to date. Still creating hoppy goodness inspired by the New England craft beer scene, it focuses on hop-forward vegan beers – juicy, hazy and unfiltered. Expect plenty of pale ales, IPAs and DIPAs on tap at their brewery in Penryn. Part of the Verdant family, you can also visit Verdant Seafood Bar, one of the best pubs and bars in Falmouth, and Schooners, a bar and restaurant above the beautiful Cornish cove, Trevaunance, in St Agnes.
St Austell Brewery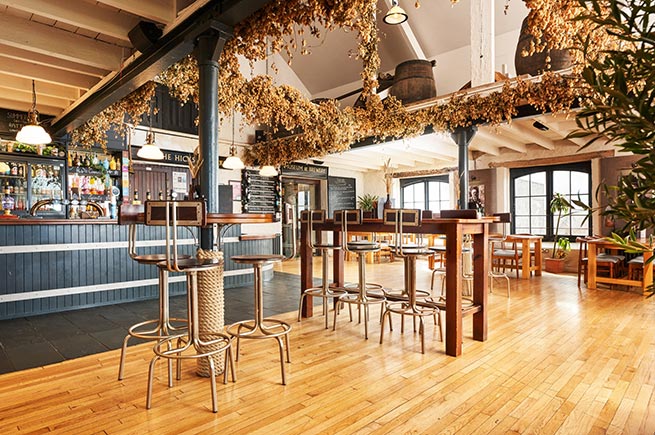 St Austell Brewery is one of the oldest breweries in Cornwall, first commencing brewing in 1860. Still owned by the same family, it has been operating for over 150 years and provides a true taste of the South West. A regular feature in many Cornish pubs, the brewery's beers grace the taps of many a watering hole across the county so you can enjoy plenty of opportunities to try its inventory. Among the line up, you can find real ale favourites such as Tribute Cornish Pale Ale and Proper Job Cornish IPA, as well as the highly quaffable Korev Lager. That said, if you are looking for more of an immersive experience, its brewery tours are a winner. One of the best things to do near Mevagissey, each brewery tour provides an in-depth insight into onsite beer production from grain to glass, while its sampling sessions put your tastebuds to the test across eight award-winning beers.
Harbour Brewery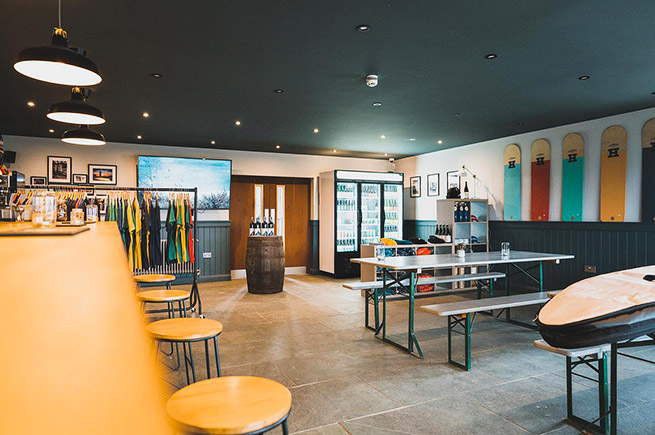 Another of the largest Cornish breweries, Harbour Brewery in Bodmin boasts a roster of more than 200 beers. In partnership with St Austell Brewery, this award-winning, independent craft brewery in Cornwall champions both flagship beers and small batch creations and is a firm favourite amongst many ale fans. Part of its catalogue, traditional favourites mingle alongside experimental brews, including exciting beverages like Harbour Chocolate and Vanilla Imperial Stout, Raspberry Berliner Weisse, and Chilli and Mango IPA. To try some of Harbour Brewery's beers, weave your way to their onsite taproom and expect an offering of solid, well-rounded beers that "reflect the ruggedness of their home". In winter, the brewery's dark, warming stouts set the mood, while in summer, citrus-infused IPAs are the way to go.
Skinner's Brewery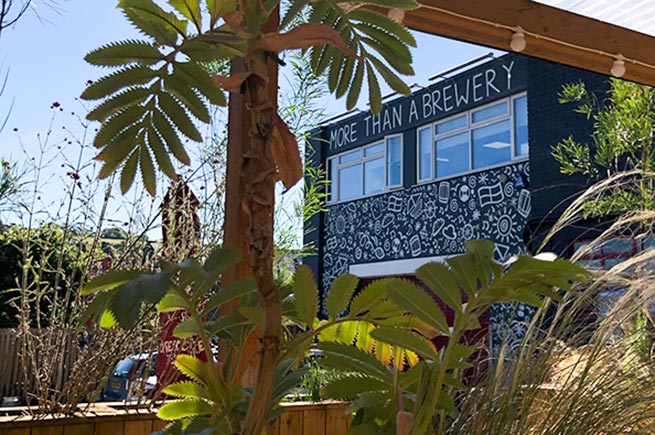 Home of Betty Stogs bitter, Skinners Brewery is a bit of an institution in Cornwall. With roots dating back to 1997, this brewery was started by Steve Skinner and over the years has won various awards to earn a national reputation for its premium cask ales. Taken over by new management in 2023, this independent traditional Cornish brewery remains popular with visitors and locals alike and continues to produce tried-and-tested favourites as well as limited batch brews. Of course, Betty Stogs is dubbed the Queen of Cornish ales, whilst other beloved beverages include Lushingtons Sunshine IPA, Penny Come Quick Cornish Stout and Porthleven Pale Ale. Visit the Skinner's dog-friendly Tapyard in Truro in the heart of Cornwall, complete with indoor and outdoor seating, for leisurely moments with pint in hand.
Firebrand Brewing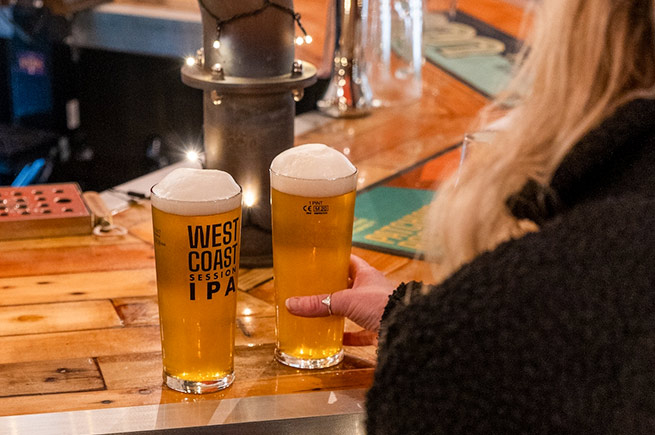 Firebrand Brewing is a microbrewery with a mighty offering. Another brewery grown within the stunning wilds of North Cornwall, this brewery was born on the edge of Bodmin Moor and evolved over a passion for all-natural beers made with Cornish spring water. Now based in Launceston, Firebrand pulls on the beauty of the North Cornish surrounds to provide natural inspiration for its beers. Encouraging seasoned and fledgling ale fans alike to try its beers, its taproom is open on select days throughout the year, as is its working brewery and beer shop. If you're not sure what to have, the friendly staff are happy to guide you through the brewery's award-winning collection, including Firebrand Helles Beach Cornish Lager, Patchwork Rocket Pale Ale, West Coast Session IPA, and Shorebreak Alcohol Free Hazy Pale. Ale have what you're having!
Black Flag Brewery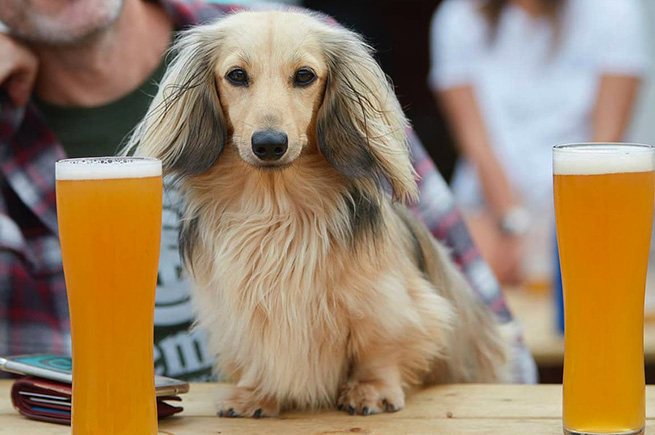 Located in Perranporth, Black Flag Brewery is home to a pint-size working brewery and taproom just a 10-minute walk from the beach. Ideally located for pitstops and picnics, it can easily be reached on foot from the centre of town and beckons with tempting tipples on select days throughout the year. Upon arrival, take a seat within the paired-back, industrial-edged interiors and peruse the beer menu du jour. Made in small batches with organic malts, the quality beers on offer are a product of the brewery's commitment to sustainable practices and minimising environmental impact. Choose from your keg of preference (there's usually at least eight available) and complement your pint with a pizza from the brewery's woodfired pizza oven. If you find a beer you really like, you can also take one of the brewery's refillable glass 'growlers' home with you.
Driftwood Spars St Agnes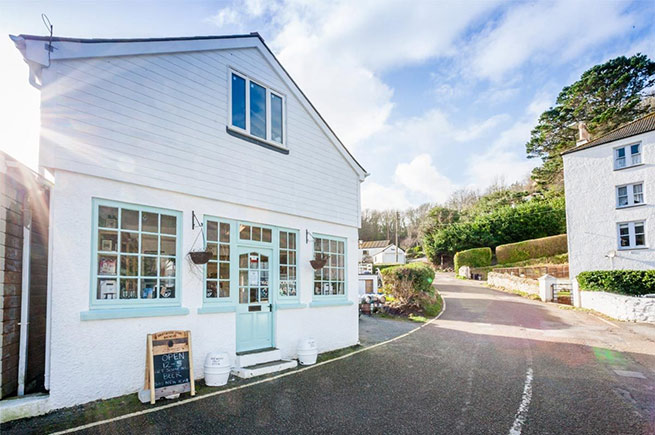 First established in 2000, Driftwood Spars Brewery in St Agnes is one of the most well-known breweries in Cornwall. Honing decades of experience, the brewery team handcraft small-batch brews that combine tradition and innovation to full effect. Receiving a number of awards, their craft collection of gluten-free beers encompasses everything from traditional bitters to fruity IPAs to revivalist porters to cater to all taste buds. Extend your visit to the brewery with a meal in the brewery's sister pub, The Driftwood Spars, and sample their Cove range alongside plates of wholesome Cornish fodder. If you'd like to try something a little different, you can also make your own beers in the brewery as part of guided experiences.
Blue Anchor Brewery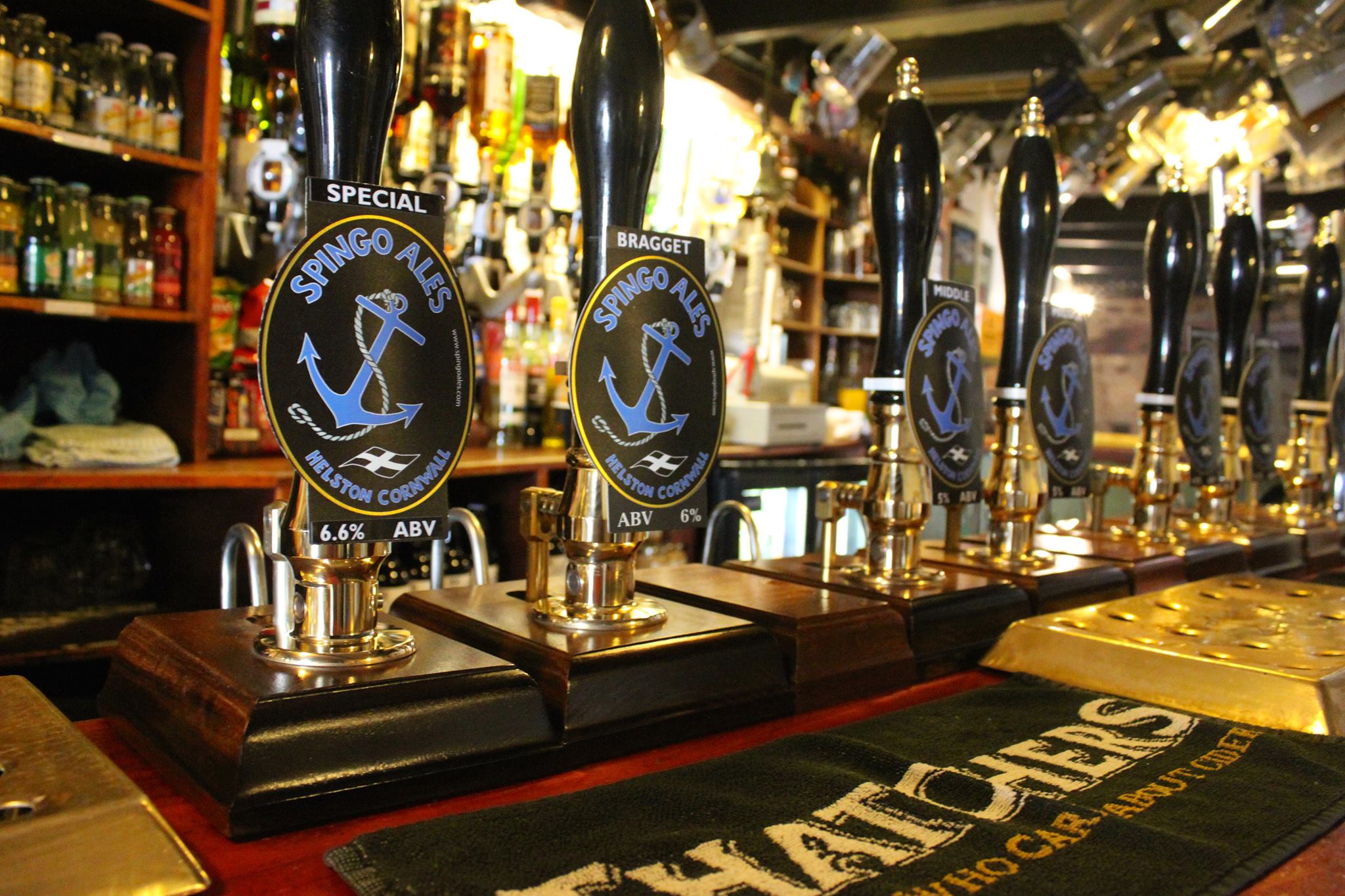 By no means the largest of Cornwall's breweries, the Blue Anchor Brewery in Helston is certainly the county's oldest. Residing within one of the oldest pubs in Cornwall, it is one of the few original West Country pub-based breweries still in operation and one of the oldest continuously running breweries in the UK. First established in 1768, its signature creation is the famous Spingo Ale – a name derived from the old English word "stringo" for strong British beer. Available in light Flora Daze, Middle and Special varieties, Spingo is made with water from the pub's own well and the finest quality British sourced ingredients, and brewed using traditional methods. Dubbed by CAMRA as a mecca for beer lovers, the Blue Anchor is a must-visit for hardy real ale fans looking for a traditional pub and beer that packs a punch. If you haven't tried it before, we recommend you starting off with a pint of Middle!
Looking for somewhere relaxing to return to after a Cornish brewery tour? Take a look at our holiday cottages in Cornwall and start planning your pitcher-perfect retreat.
Tags: Beer | Food and Drink |