Narrow winding streets full of shops overflowing with trinkets and a refreshing collection of pubs and bars, a picturesque harbour dotted with colourful boats and more beaches than you thought possible, there's certainly no shortage of things to see and do in St Ives. But what about what lies beyond the harbour that's captured the hearts of so many artists?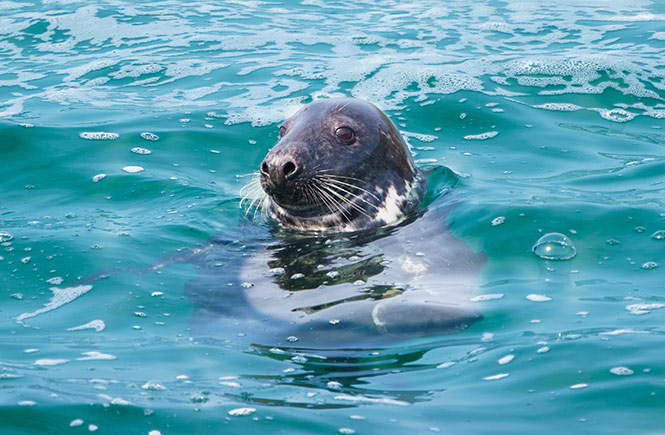 If you've ever been to St Ives, you will have no doubt seen the signs offering chartered boat trips and watched people climbing aboard the gently bobbing boats. But what's in store for you when you swap the cobbled streets of St Ives for the white-capped waves of the Atlantic? From fishing to a trip to seal island, there's no better way to see some of Cornwall's aquatic wildlife than with one of these fantastic boat trips in St Ives. Here's what you can look forward to…
St Ives Boats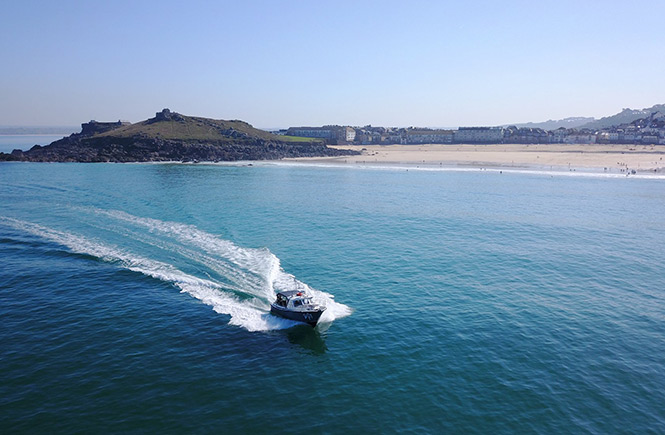 Website: stivesboats.co.uk
Mere metres away from the lifeboat station itself, you can climb onboard a historic lifeboat for your exciting nautical adventure with St Ives Boats. Aboard the James Stevens no 10, you'll be transported on a journey through history as you tour the bay and surrounding areas, learning about unfortunate shipwrecks and the famous Godrevy lighthouse while soaking up a welcome bit of sun and sea.
If your interests lie in the here and now, then the seafaring Dolly P is the vessel for you. Offering boat trips to seal island, which lies just three and a half miles west of St Ives, you'll be able to see these fascinating Cornish creatures up close in their natural habitat as they swim around the boat and bask in the sun on the rocky outcrops.
You'll be in safe and knowledgeable hands with the crew of St Ives Boats as they are the only accredited wildlife safe operator (WiSe Scheme) in St Ives, with one of the members also a BDMLR (British Divers Marine Life Rescue) marine mammal medic that specialises in dolphins, whales and seals – so if you have any burning questions about grey seals, this is the place to find answers!
If you're looking for a dog-friendly day out in St Ives, then this is a must as pups are welcome onboard, giving them a chance to meet their oceanic counterparts – seals are known as sea dogs after all. Finish your doggie day with a run on one of the dog-friendly beaches in St Ives and a meal at one of the dog-friendly restaurants – pawfect!
St Ives Boat Services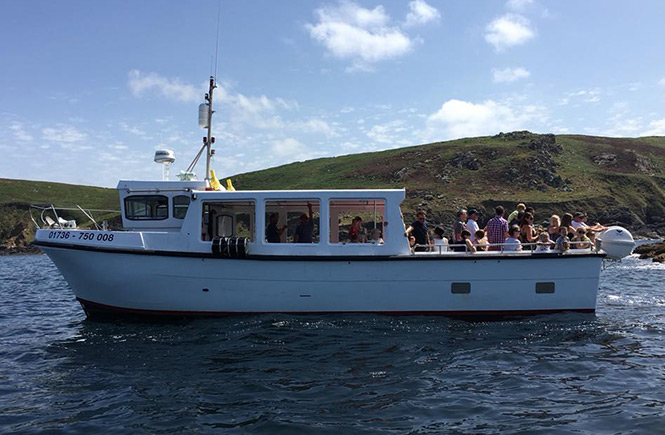 Website: stivesboatservices.com
Welcoming a whopping 43 visitors (including dogs!), the Four Sisters is the biggest passenger vessel in St Ives. Onboard, you'll find lots of benches and a sound-proofed engine providing a wonderfully comfortable trip around the Cornish coast.
Head west to seal island or set sail on the sea safari for a relaxing cruise that takes you from the impressive history of Godrevy lighthouse to the many beaches that line the coastline of St Ives – what better way to choose which beach you're going to visit next! From the big curious eyes of seals to a frolicking pod of dolphins or the looming shadow of a (plankton-eating) basking shark, there's no telling which of Cornwall's marine life you'll encounter on your voyage.
The experienced and knowledgeable skippers provide a friendly and informative narration to your trip, giving you the chance to learn more about this beautiful section of Cornwall as you glide through the crystal-clear waters.
Blue Thunder Ribs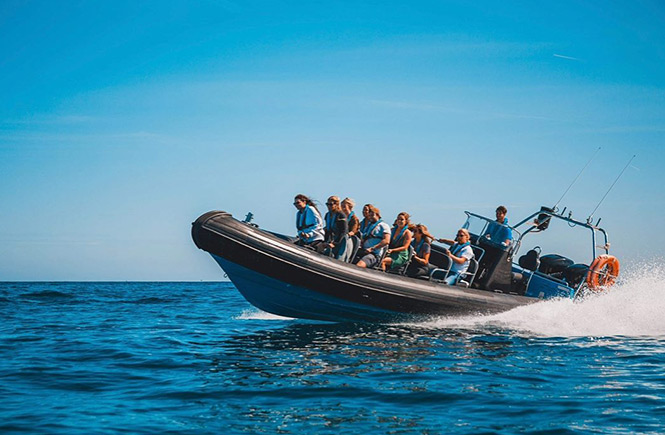 Website: bluethunderribs.co.uk
Ready to speed things up a bit? With Blue Thunder Ribs you can hit the waves with renewed vigour as you embark on an exhilarating rib ride that's sure to put a smile on your face. 25 minutes of high-speed turns, slices and accelerations will quickly become your favourite way to tour St Ives Bay, although we're not sure how much of the stunning scenery you'll take in when you've got your arms in the air like you just don't care!
It's not just for the thrill-seekers though as the longer tours take you out to seal island or to Godrevy lighthouse (don't worry, there are seal colonies at both locations) where you can slow things down and get back to nature. The speedy return trip takes you flying past hidden coves and golden, sandy beaches before depositing you back at the harbour, windswept and thoroughly entertained.
For a longer ride, you can make the watery trek to another of Cornwall's iconic landmarks, St Michael's Mount, with lots of interesting sights along the way. Setting off from the Penzance Sailing Club, this southerly counterpart to the St Ives tours can run when the seas get too rough around St Ives Bay. It also gives you the chance to explore Cornwall's fascinating fishing history as you pass the ancient fishing port of Newlyn, before making your way to Cornwall's most recognised silhouette – St Michael's Mount really is an astonishing sight!
Not sure which of these fun-filled variations you want to try? Gather up 11 of your favourite people and head out on a VIP private charter for a personalised tour of the Cornish coastline. Whether you want to go seal spotting or you just fancy zooming up and down the beaches of St Ives, what better way to while away an afternoon than aboard 600 horsepower of aquatic fun.
St Ives Boat Rides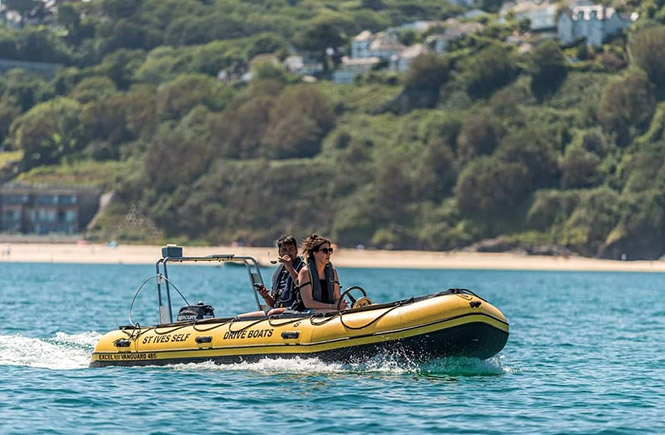 Website: stivesboatrides.co.uk
Once you've been out and about under the experienced watch of a trained skipper, you might feel ready to take the wheel yourself. Well, St Ives Boat Rides has you covered with their collection of self-drive motor boats. Head out on a fishing trip to gather supplies for the evening meal or simply bob about to your heart's content while keeping an eye out for dolphins, seals and much more. Each of the boats is equipped with everything you need, including life jackets for the family (and the dog!) and steering wheels for easy handling.
Or, if you're looking for something a little sleeker and a lot faster, you can hop on the back of a jet ski for the ultimate Cornish adventure. Take yourself up the beautiful coastline as you explore coves and scraggly outcrops that are home to all manner of sea birds. With four jet skis, each holding two, you can round up seven eager friends for 45 minutes of action-packed thrills.
For those that prefer human power to horsepower, rentable kayaks and stand up paddleboards offer the chance to take to the seas at your own pace. Paddle across the turquoise waters and pull in at your favourite beach for a well-earned picnic (or you can splash your way back to the harbour in St Ives for a meal out at one of the many restaurants with sea views).
Combine your salty adventures with one of the beautiful walks around St Ives to really experience everything the coastline has to offer. You can also check out our guide to spotting seals safely so you can continue your seal watching from the land.
Ready to tour St Ives by sea? Explore our lovely collection of cottages to find the perfect base for your coastal exploits.