When packing the car up for a holiday in St Ives, there's one thing you don't want to forget… the dog! With beaches galore and some seriously tempting dog-friendly restaurants and pubs, there's nothing better than a dog-friendly holiday in St Ives.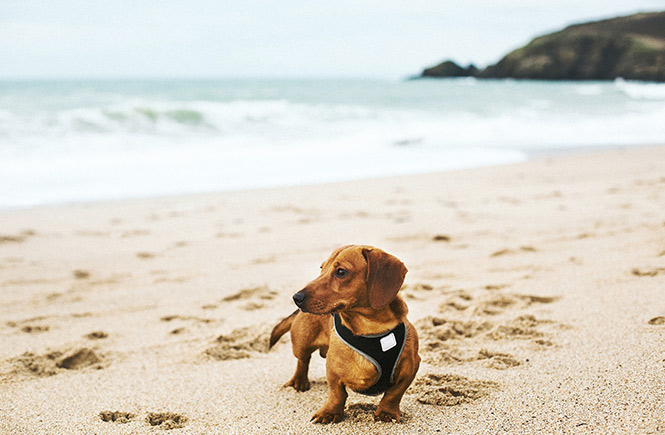 Of course, what holiday would be complete without long days on the beach or quick strolls on two and four legs (and maybe even a boat trip or two you have a seadog) to clear the cobwebs. Here are some of the best dog-friendly beaches in and near St Ives to satisfy eager paws and toes…
Beaches in St Ives
Dog-friendly all year round
Bamaluz Beach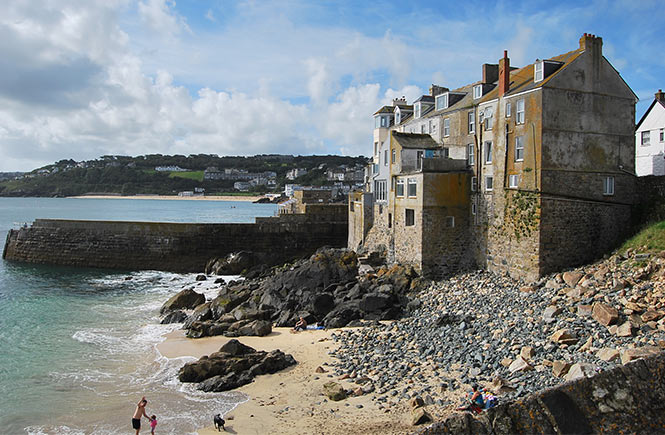 Lifeguards: No
Dog-friendly: All year round
Facilities: Cafés and shops close by in St Ives
Accessibility: Accessed by steps onto the beach
Nestled in between the harbour and Porthgwidden beach, Bamaluz is a surprisingly quiet beach in the heart of St Ives where the leads can come off and the paws can run wild 365 days a year. The beach itself is nice and sheltered thanks to the surrounding walls, while the mix of sand, pebbles and rocks make for an interesting array of smells for sniffing noses to explore. Keep your tide times close at hand though when visiting Bamaluz as this little beach returns to the sea at high tide. After your romp in the sand, you can bundle up the towels and dog and head to one of the many dog-friendly eateries in St Ives. Head to Scoff Troff for a fuelling brekkie or Hub St Ives for some American food with a sea view.
Lambeth Walk Beach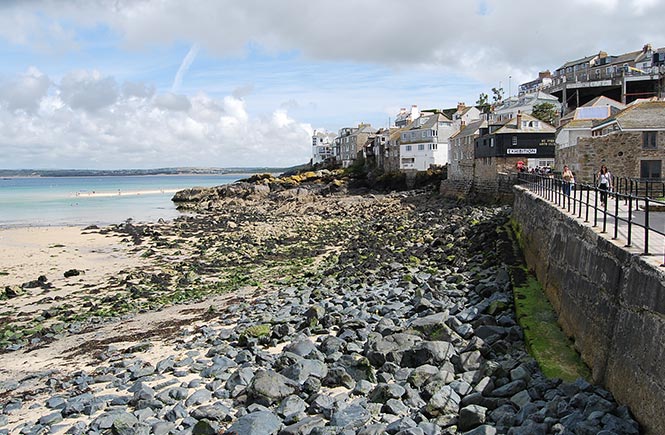 Lifeguards: No
Dog-friendly: All year round
Facilities: Cafés and shops close by in St Ives, public toilets by the beach
Accessibility: Steps and a few rocks make access to the beach tricky
Right next to the action of the Lifeboat Station and the harbour front of St Ives, Lambeth Walk beach is another St Ives beach that welcomes dogs all year round, perfect for beach zoomies at any time of the day or year. The tide does have some say in the matter though as the beach disappears for a breather at high tide. Named after a dance hall craze and hit song in the 1930s, Lambeth Walk doubles in size at low tide. On some days you can even walk around to the neighbouring beaches at Porthminster and Harbour beach. Combine your visit to Lambeth Walk with a stop-off at one of the fabulous pubs in St Ives and you've got a pretty great day out in St Ives.
A matter of steps from the town centre and a lot of our properties in St Ives, the beaches of St Ives are always within walkies distance and pair perfectly with some of the town's pretty walks.
Seasonal restrictions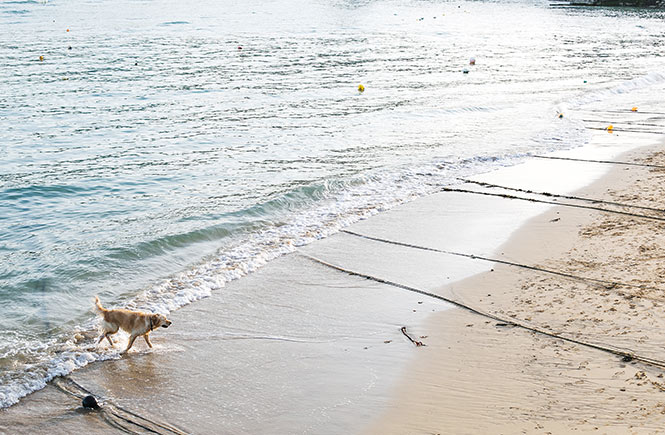 Harbour beach welcomes dogs for most of the year, with only July and August restricting access to before 10am and after 6pm. This still leaves plenty of time for walks and beach visits as you get to watch the sun rise and set over this pretty harbour in St Ives.
Porthmeor, Porthminster, Porthgwidden and Carbis Bay all follow a similar calendar for dogs with the restrictions coming into place between 15 May to 30 September, between 10am and 6pm.
As the restrictions lift and these golden beaches go to the dogs (in the best way), eager pooches everywhere reclaim their favourite beaches. Carbis Bay in the winter when the clear, crisp air and deep blue sea is a whole other type of beauty!
Beaches near St Ives
There are some incredible dog-friendly beaches around west Cornwall where the whole family can let loose in the waves, on the sand and even on the cliffs for some unbeatable coastal walks.
Porthkidney Sands, Lelant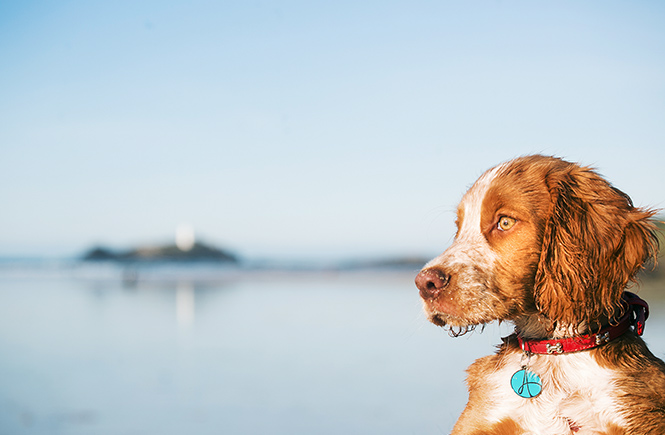 Lifeguards: Seasonal (July – September)
Dog-friendly: All year round
Facilities: No
Accessibility: Access through the sand dunes
If you're looking for some space where you can let the dog run as wild as nature intended, then look no further as Porthkidney Sands offers a mile of sandy playground where even the most energetic pups can tire. Backed by sand dunes that provide even more fun and games for wagging tails, this beach is a paradise on earth for dog walkers. Enjoy a proper beach stomp or lounge around in the summer months enjoying a peaceful dog-nap in the sand. The beach is only 30 minutes away from St Ives and can even be reached by train, so you don't even have to start the engine – perfect!
Mexico Towans, Hayle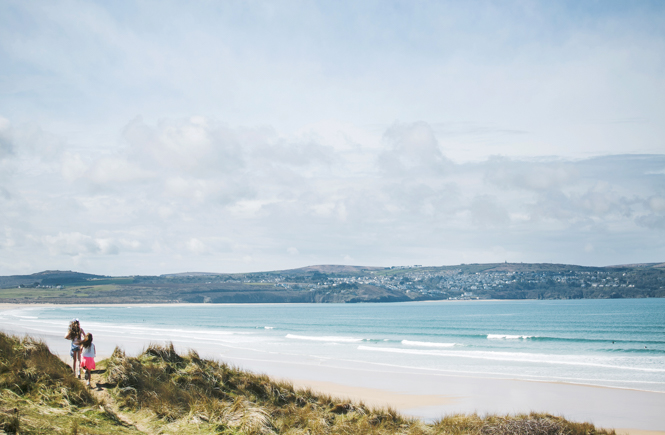 Lifeguards: Seasonal (May – September)
Dog-friendly: All year round
Facilities: Café at the Sandy Acres car park
Accessibility: Access through the sand dunes
Another massive expanse of sand perfect for burning off excess energy, Mexico Towans is situated somewhere in the middle of Hayle's 3-mile-long premier beach. Wind your way down through the sand dunes, which are perfect for a quick game of hide and seek, before arriving at the huge stretch of golden sand that's just waiting to be run across. With so much sand on offer (and even more at high tide) it very rarely feels busy here so it's a great choice if you're looking for a quiet beach day near St Ives. Round it all off with a cheeky coffee and cake from the café in the Sandy Acres car park.
Gwenver, Sennen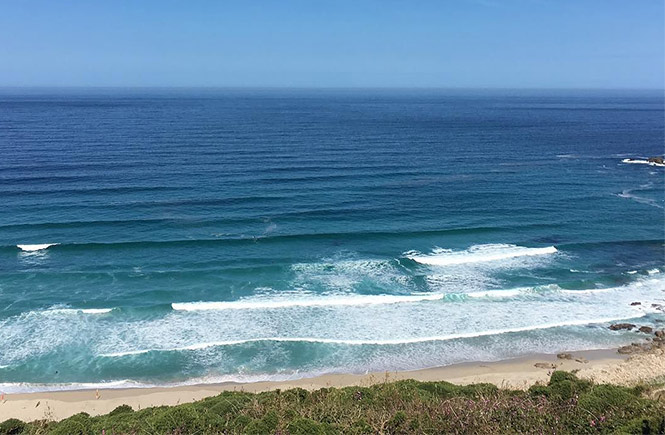 Lifeguards: Seasonal (May – September)
Dog-friendly: All year round
Facilities: None at the beach, but there is a café, toilets and shower around the coast at Sennen
Accessibility: Access via a steep path and steps
Whether you're after a surf, somewhere to stretch the legs or a patch of warm sand to doze on, Gwenver is always a firm favourite in the summer months, especially with dog owners. The steps leading down to the beach are a great example of Cornish exercise and provide the perfect precursor to a guilt-free snooze on the beach. You can also walk along the short coast path to and from Sennen where you can feast overlooking the ocean at the beachside (and dog-friendly) Surf Beach Bar. Continue round to the right of Gwenver for another beautiful stretch of the Cornish coast, ideal for wearing in the walking boots and wearing out the pup.
Portheras Cove, Pendeen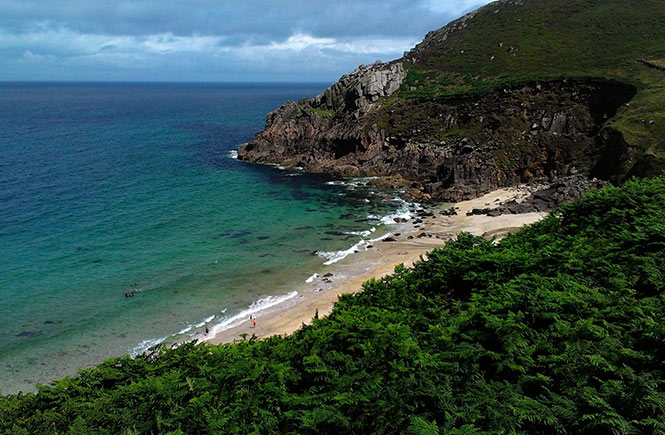 Lifeguards: No
Dog-friendly: All year round
Facilities: No
Accessibility: Access via a coast path
Unspoiled, natural, beautiful… There are so many ways to describe Portheras but really the best way to understand why it's a favourite of so many is to go there and experience it for yourself. In place of shops and cafés, you have pristine sand and sea surrounded by a perfect example of the wilds of Cornwall's coastline. It might take a walk to reach this beach, but as soon as you arrive and see the view, you'll agree that it's worth it. And, of course, allowing dogs every day of the year, this quiet cove is the perfect stop-off for dog walks. You're also quite likely to spot a seal or two during your visit so always keep your eyes open when gazing happily out to sea.
Eastern Green Beach, Penzance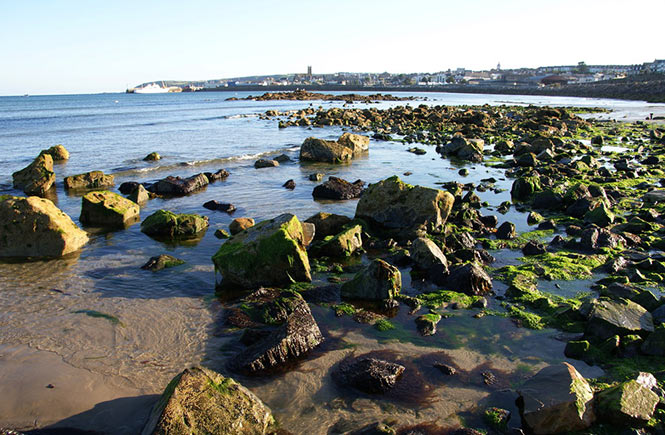 Lifeguards: No
Dog-friendly: All year round
Facilities: Toilets at the bus station
Accessibility: Access via a concrete footpath from the bus station
Also known as Station Rocks, Eastern Green is the start of the great swathe of beaches that joins Penzance to Marazion. A gently sloping shoreline ideal for shallow paddling and swimming throughout the year makes Eastern Green a great spot for families. The long stretch also lends itself perfectly to romps with the dog before heading into Penzance for a spot of shopping or a drink and feed at The Mexico Inn – dogs welcome!
Pack up the towels and water bowls, it's time to start planning your beach-filled holiday in St Ives with one of our lovely dog-friendly properties.
Tags: Beaches | Carbis Bay | Dogs | Lelant | St Ives |