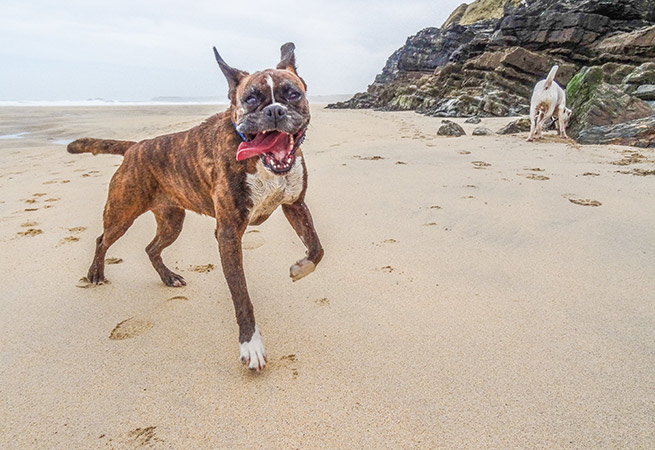 Although there are seasonal dog bans on beaches throughout Cornwall, there are still plenty of places to take your canine friend for a paddle and a romp in the sand. All of the beaches described here are open to dogs throughout the year, so whether you are planning on relaxing in the sun or taking a bracing winter walk with your dog, visit and explore to find your favourite.
North Coast
St Ives

The main beaches in St Ives town do have a ban on dogs from the Sunday before Easter Sunday until the end of September, but at low tide there are two small beaches where you can sit and rest a while as your dog enjoys the sand. Bamaluz Beach is accessed down a flight of steps by St Ives Museum, at the end of Smeaton's Pier. At low tide there is a decent amount of sand and some rocks to rest on as you recover from shopping.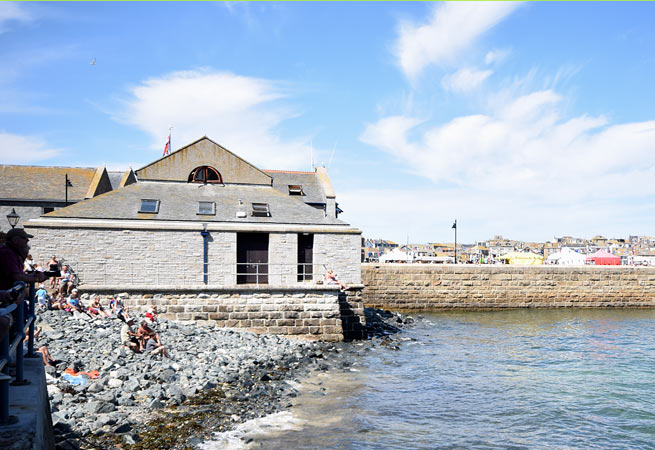 Behind the lifeboat house on Lambeth Walk there is a rocky beach where the Stennack River meets the sea. At low tide there is enough room for your dog to find smells beneath the rocks and chase seagulls – when the tide is really low however, be careful as there is access round to the Harbour Beach where the dog ban is enforced.
View all our dog friendly cottages in St Ives >
Porthkidney Sands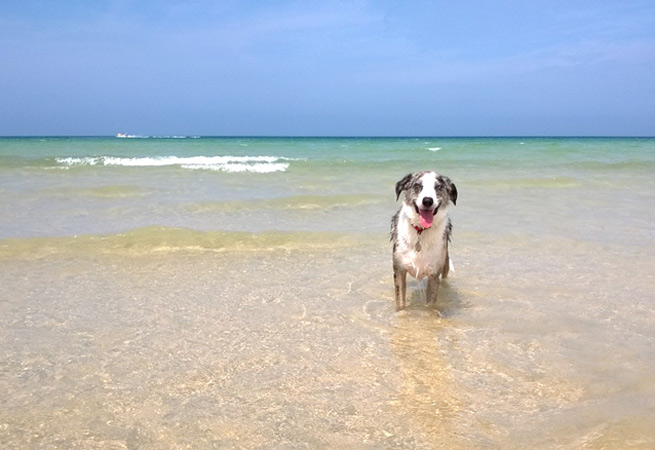 30 minutes from St Ives along the coastal path and just past Carbis Bay is a beautiful expanse of sand at Porthkidney Beach. Although there are no facilities like toilets or shops, there is an RNLI lifeguard in the summer season, so if you want to take your dog out with you for a family day on the beach, this is the best place near St Ives. There is access through the golf course if you have too much to carry to make the coastal path walk an option – park in Lelant near St Uny Church and walk down the pathway that runs adjacent to the church itself. Beware of really high tides – at times you won't be able to walk around the corner by the river and will have to access any sand that is left over the dunes.
View all our dog friendly cottages in Carbis Bay >
Hayle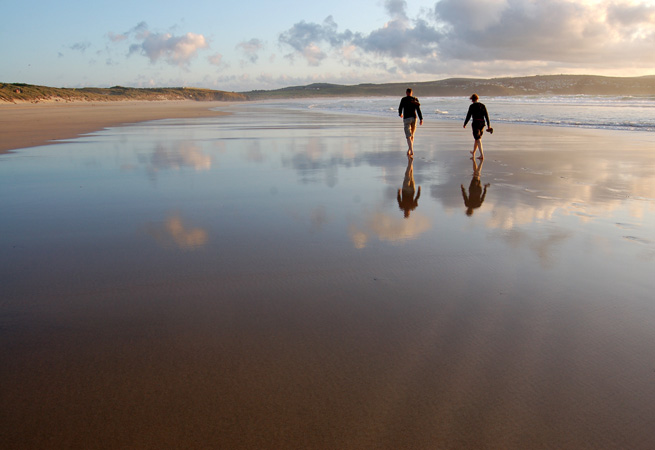 Mexico Towans is part of the long stretch of sandy beaches backed by dunes that runs from Hayle to Gwithian. There is a large car park that can be reached by turning off the main Hayle road towards Phillack, and the beach is patrolled by RNLI lifeguards during the summer season. This beach can be fairly exposed in certain weathers, and there are few facilities. The Hayle Estuary with Porthkidney Beach visible on the other side of the river mouth is nearby – take care when swimming as the currents can be strong here.
View all our dog friendly cottages in Hayle >
Gwenver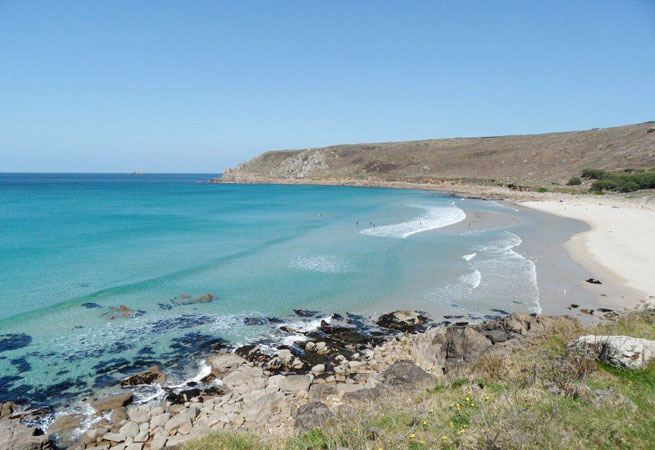 Gwenver Beach is just to the east of Sennen Cove. There is a car park at the top of the grassy cliff that leads to the beach, but there is still a ten minute walk down a steep pathway from your car to the sea. There are RNLI lifeguards during the summer season, and they are needed as Gwenver has large waves that can cause tricky situations at high tide and a reputation for rip currents. On a clear day the views from here can include Brisons Rock and even the Isles of Scilly. At low tide you can walk round to Sennen Cove – but you will have to leave your dog at Gwenver, as the dog ban is in force at Sennen.
View our pet friendly cottages in Sennen >
Portheras Cove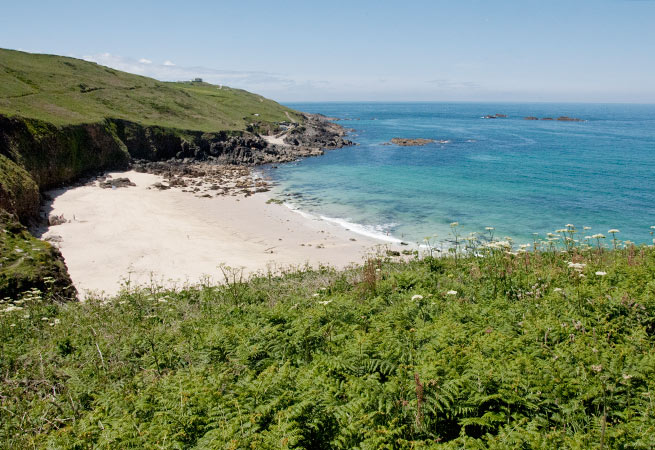 Located between Morvah and Pendeen this is a lovely sandy beach with steep cliffs to one side. Seals often make an appearance here, so make sure you sit with a good view of the sea! You can either park in the farm car park at the end of Rose Valley or, if you fancy a walk, at Pendeen Lighthouse car park a mile away. Although there are no facilities or lifeguards this beach is popular, even more so since the last remnants of a wreck from the 1960s were cleaned up fairly recently. Secluded in early summer, don't expect solitude in high season, as many people know the secret beauty of Portheras.
View our dog friendly cottages in Pendeen >
South Coast
Prussia Cove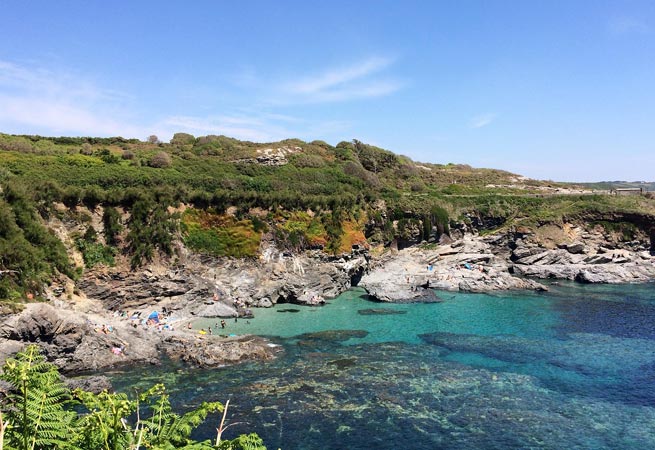 The south coast also has its share of dog-friendly beaches. Prussia Cove is actually between Marazion and Praa Sands, with a car park just a 5-minute walk away from the beach itself. Rocky at high tide with some sand when the tide is out, this beach has a history of smugglers and pirates, and a beautiful walk round to some secluded coves. Dogs are also allowed at Kenneggy's Cove, Bessy's Cove and Piskies' Cove, all a short walk away on the coastal path.
View all our pet friendly properties near Prussia Cove >
Loe Bar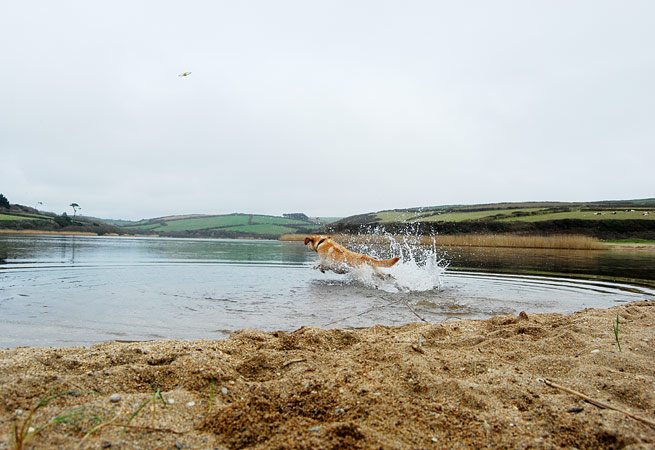 Loe Bar is a half-mile wide shingle beach between Helston and Porthleven. The shingle bar forms a barrier between the sea and a freshwater lake. The beach is notoriously dangerous during storms, as large waves can sometimes appear without warning, but even in calmer weather strong currents and a steep bank make this a place to avoid swimming. This is a strange combination of sand and grass, but there are toilets and a car park nearby, making it an easy place to get to with your family and dog.
View all our dog friendly cottages in Porthleven >
Where to find them:
Tags: Beaches | Dogs | Hayle | Lelant | St Ives | Porthleven |