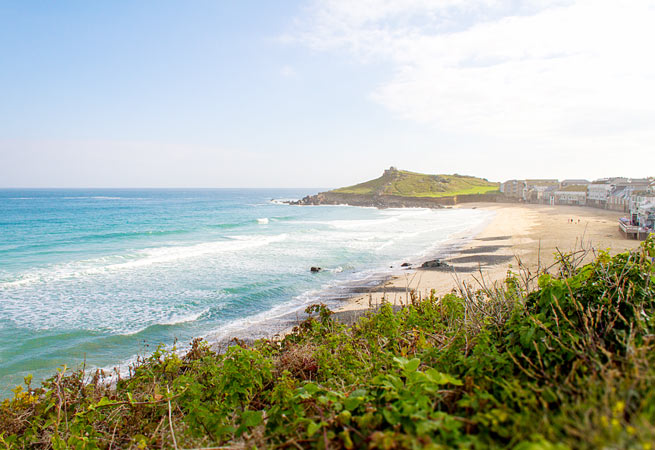 St Ives is classed by many visitors to Cornwall as a 'must do' – and with its cobbled streets, seaside location and array of beaches it's easy to see why. For the surfer visiting St Ives, however, the highlight and first port of call has to be Porthmeor beach.
Backed by the Tate Gallery with a wide sandy expanse, Porthmeor is the favoured surfing location in the town due to being semi-sheltered from the south westerly winds. The majority of beaches in Cornwall face west to north west while Porthmeor beach faces more northerly, which provides it with offshore surfing conditions most of the time.
For those of you new to the world of surfing, offshore wind conditions are preferable for surfing as it make the waves 'clean' and there is less 'chop' on the water which makes surfing easier and a lot more fun.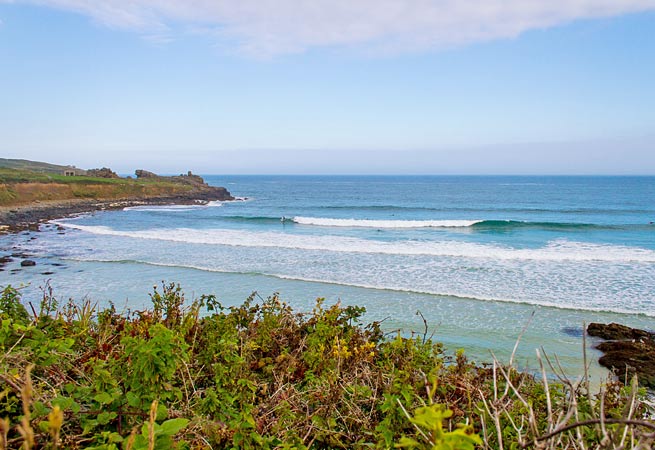 St Ives Surf School runs surfing lessons from Porthmeor beach for most of the year, with a friendly and professional team giving lessons and hiring surf equipment. They also have a base at the neighbouring Porthminster beach, just around the headland and below the train station. Porthminster faces east and therefore rarely receives any waves, which may not please everyone but it does make it an ideal place to learn one of the the fastest growing watersports: stand up paddleboarding (or 'SUPing'). Both SUP's and kayaks can be hired from here, as well as kayaks. There are even kayak tours and coasteering expeditions available for the more adventurous.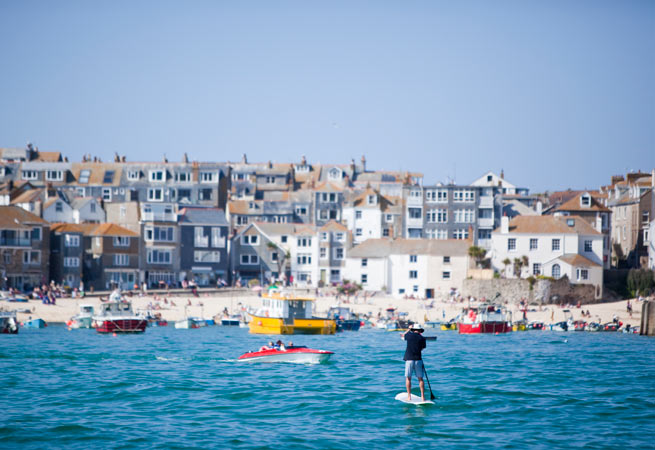 If you're a confident surfer and you're in St Ives during winter – or during a big swell – the 'Break-water' might be worth a look. We must stress that this is a spot for advanced surfers only because, as as you might guess, this wave breaks along the harbour break-water. Some of St Ives' best surfers can be seen surfing here when it breaks and everyone is keen to get their share of waves when it does.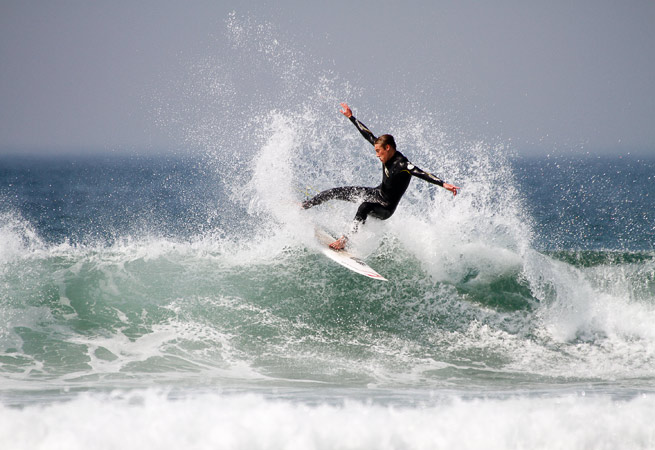 Just outside the main town of St Ives is Carbis Bay Beach, which usually isn't of much interest to surfers as it doesn't get many waves and is mostly considered a flat swimming/kayaking beach. However, when the wind blows from the north east for more than a day or so there can be some very powerful and punchy waves at high tide, and whilst prolonged wind from the north east is quite rare, when it does you'll find many bodyboarders and surfers trying their luck on the shore break down there.
All in all, St Ives caters well for most surfers. You'll find a range of beaches suitable for all standards of surfers and is a great place to learn to surf. The main beaches have showers and toilets close by and RNLI Lifeguards are on duty for the extended season with their truck and Jet Ski. There are numerous beachside cafes on every beach in St Ives as well as several well-stocked surf shops on Fore Street.
To plan your next stay, check out all our holiday cottages in St Ives >
Tags: Carbis Bay | Porthmeor | St Ives | Surfing | Watersports |