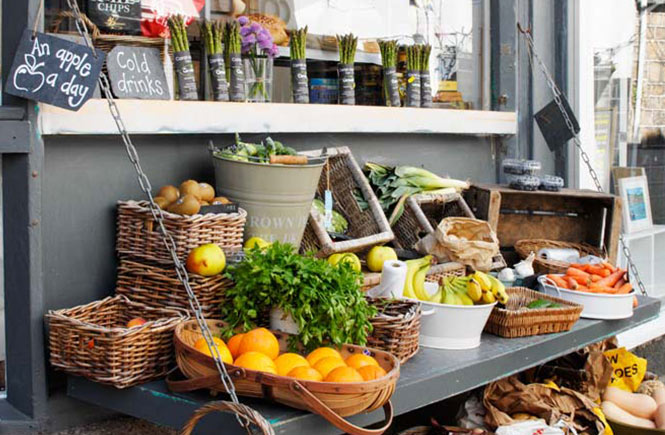 St Ives has managed to resist becoming completely taken over by high street chain stores, and has a wealth of small independent shops that you would be hard pressed to find anywhere else. Of course, there are surf shops, as you would expect in the town that is home to Porthmeor Beach, and gift and pasty shops as befits a town that is such an iconic holiday destination – but mooch around the cobbled streets and you will find some unique places, and buy some fabulous things!
Here are a few we've chosen to illustrate the variety of what's on offer, but explore the narrow streets and you can be sure to find many, many more…
The Glass Tree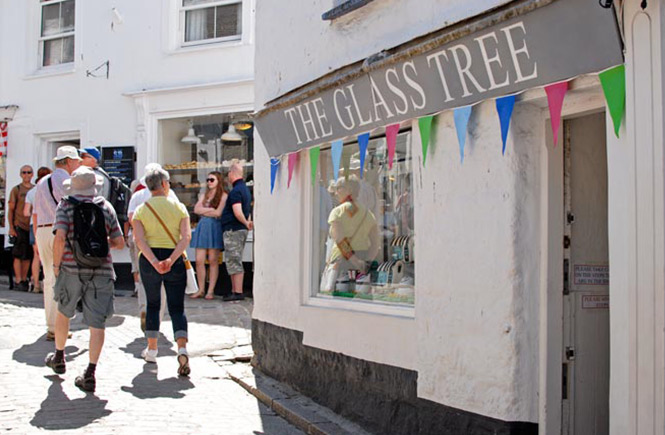 Found in Fore Street this is a marvellous gift shop, particularly around Christmas time, when the window is even more of a joy than usual and Santa takes up residence. The proprietors, who live just round the corner, are rightly proud of the eclectic mix of items they sell, including cards, jewellery, home ware, craft and decorations. This is the best place to go to if you want to either treat yourself or buy something for someone really hard to please – there are some really lovely things here to tempt you. They also have an extension to the main shop called the Glass Tree II (two minutes away in the Digey) which specialises in decorations and cards for weddings and other important events.
Fabulous Kids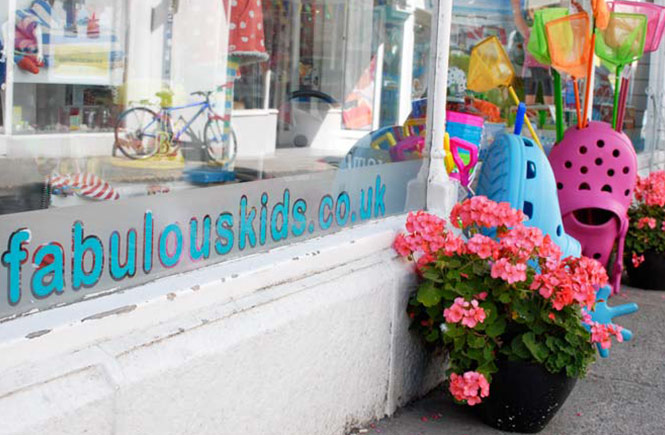 Just try walking past this shop with your children without going in! Very visible in the middle of Fore Street, this shop is crammed with interesting things to tempt everyone. Lovely wooden toys, clothes and shoes, fancy dress, ingenious baby and toddler items but also pocket money treats that children can buy with any holiday money they have. Fabulous Kids seems to have a knack for stocking the quirky and unusual – head in ad see what you can find.
The Allotment Deli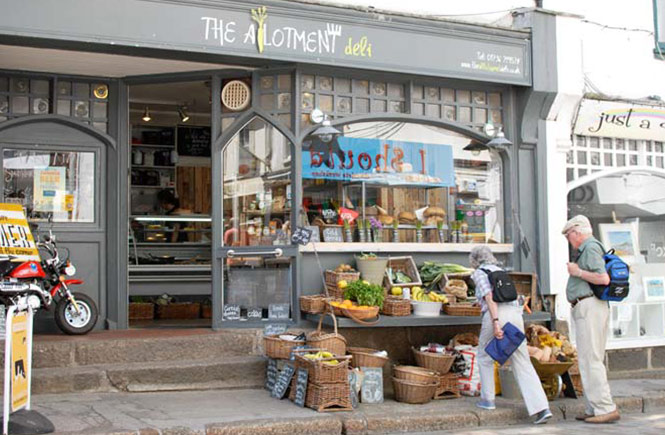 Another locally owned enterprise on Fore Street. This deli is full of amazing home-made pasties, quiches, cakes and other delights, many of them gluten free. They specialise in something slightly out of the ordinary with tea, chutneys, olives, cheeses and the locally adored Ruby Junes curries. Local produce, treated simply and given the respect it deserves. The fruit and veg is displayed outside in baskets with quirky amusing signs, showing the enjoyment that is brought to every aspect of this business. Come here for the makings of a delicious family lunch full of the flavours of Cornwall.
Jo Downs Handmade Glass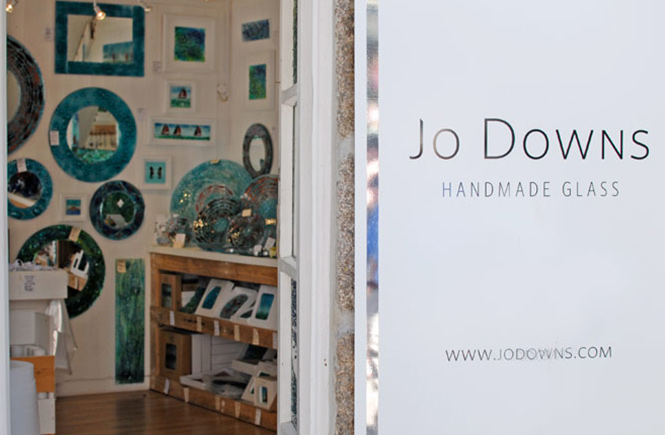 One of four Jo Downs shops across Cornwall has its home in Market Place in the centre of St Ives. Beautiful handmade glass pieces range from huge bowls and statement pieces to wall plaques and coloured wish sticks that can be hung to catch the light. It feels more like a gallery than a shop, and there is a separate section for homewares such as mirrors to jazz up your home.
Kudos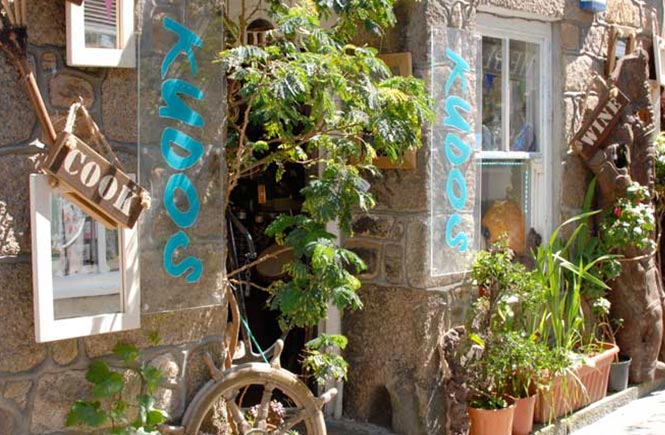 One of St Ives most quirky shops, Kudos uses every square inch of space to house a remarkable selection of items for sale. The owner has travelled far and wide to find the unusual and interesting, and they practically burst out of the shop as you walk past – there really is more in here than you will find time to browse through in one visit. There is an African influence with wood carvings, figures and artefacts, and an eccentric passion for antiques, musical instruments, jewellery and other objects. You'll find Kudos in Fore Street – you can't miss it!
I Should Coco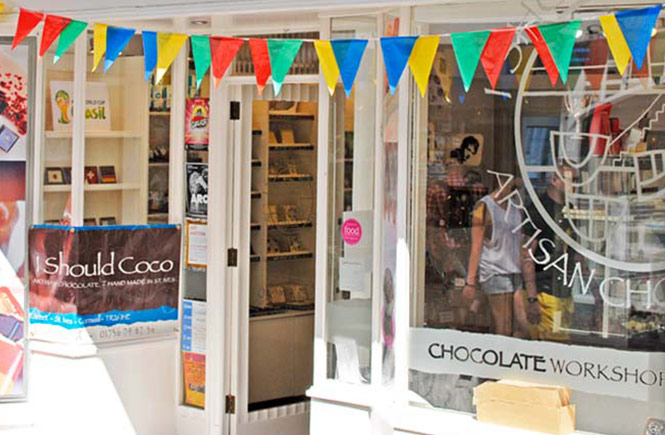 An artisan chocolate shop which specialises in using Cornish produce in its creations. The chocolates and bars are handmade on the premises by a small but passionate team, and their commitment to delicious high-quality chocolate can be tasted in every bite! They have some really different ideas to try – we particularly love their chocolate bars coated in raspberry pieces. They also produce round slabs with messages on – perfect to take home as a gift for those who stayed behind to look after the cat or garden! The smell will draw you in – give in to the temptation.
These are just a few of our favourite shops to visit in St Ives – and we haven't even begun to think about the Halzephron Herb Farm shop in Fore Street, with its dip and sauce samples doted around the shop, St Ives Bookseller with its huge range of signed books by local authors, Ruby Doobies the sweet shop or Leddras Pharmacy, one of the oldest shops in St Ives that has a brilliant selection of perfume. St Ives is not all about surf shops and pasty shops, although there are a lot of them about. There are still a lot of independent shops that are run by passionate people who care about their customers – find your favourites next time you visit…
View all our Cottages in St Ives >