There are two things that make the world go round: momentum and chocolate – ok, the second one might not be scientific, but it doesn't mean it's not true. There's just something about this sweet and moreish treat that's got us coming back for more, time and time again. We give it as gifts, we top cakes with it, and we even add it to our drinks for an extra special hit of the good stuff. There is nothing that chocolate can't fix.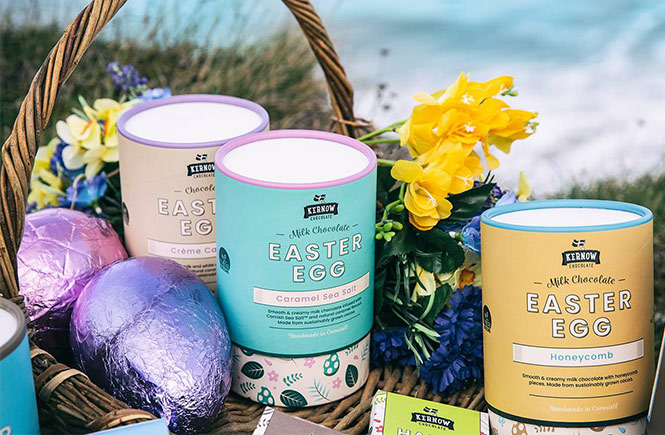 But how do you make an already exceptional delight even more special? Make it Cornish, of course! Here in Cornwall, we are chock-full of chocolate makers, which means you're never far from an utterly unique (and delicious) Cornish take home.
So, whether you're on the hunt for an eggs-eptional Cornish Easter egg, a box of Kernow delights for a loved one, or a well-stocked hamper for yours truly (because no one deserves it more than you), here are some of the best local chocolate makers in Cornwall.
Kernow Chocolate
Best for: Real Cornish keepsakes
Website: kernowchocolate.co.uk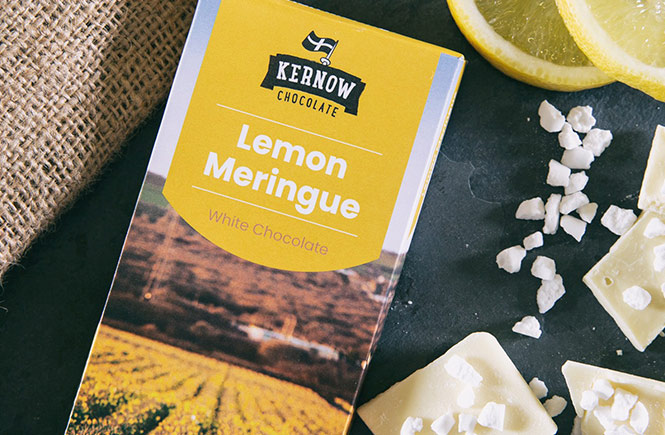 Starting off selling a few bars to a select number of farm shops in Cornwall, Kernow Chocolate has fast become the biggest artisanal chocolate maker in Cornwall, providing chocolatey goodness to local shops, attractions and chocoholics all over the county.
An eye-popping collection of flavours that ranges from the familiar parameters of caramel, honeycomb and mint, to the more adventurous creations of Eton mess, cream tea and toasted teacake, ensures there's a taste for every, well, taste. Each bar then comes wrapped in a beautifully Cornish scene, whether through photographs or the classically Cornish Beck Bettesworth collection.
It's not just bars, either. From chocolate sea creatures to hot chocolate on a stick, there are some great alternatives to the traditional bar of chocolate here. You can even pick yourself up a Cornish Easter egg! Found in many Cornish stores around the county (and beyond) as well as big names such as the Eden Project and the National Trust, you can pick up your own selection of Kernow Chocolate during your stay. And if that Cornish chocolate craving hits after you've returned home, simply hop onto their website and get some Cornish chocolate by post.
Trenance Chocolate
Best for: A taste of luxury
Website: trenancechocolate.co.uk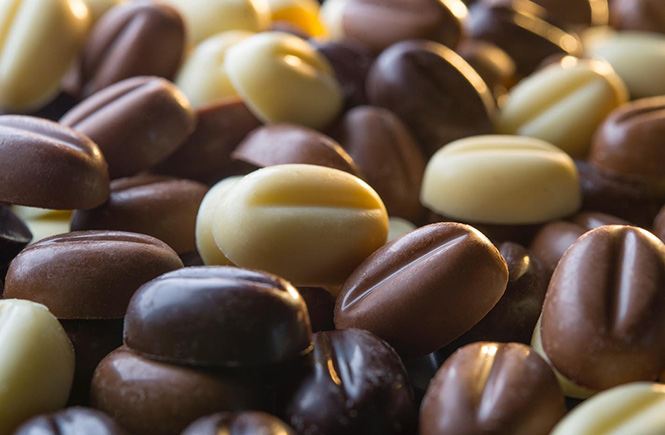 Often found at the many food festivals or shows in Cornwall, as well as their dedicated chocolate shop in Mullion, Trenance Chocolate is a household name when it comes to hand-made Cornish chocolate.
With chocolate bars, shapes and truffles galore, the hardest part will be deciding which to try first. Are you more of a chocolate-covered ginger or a lime-filled toad person? Perhaps all you've ever wanted is a dinosaur-shaped chocolate? Or will the jelly bean bar catch your eye? Don't worry if you just can't choose between them… create your very own collection with a box of either six, 12, or 24 chocolates.
There's one thing we know is on everyone's wishlist, and that's their famous chocolate pasties – you don't get much more Cornish than that!
If you thought the end result was impressive, wait till you watch it being made. Head along to their shop in Mullion and watch as these luxury chocolates are hand-dipped, spun and filled right in front of your eyes. And while you're there, why not pick up a souvenir or two (or ten).
I Should Coco
Best for: Making your own
Website: ishouldcoco.co.uk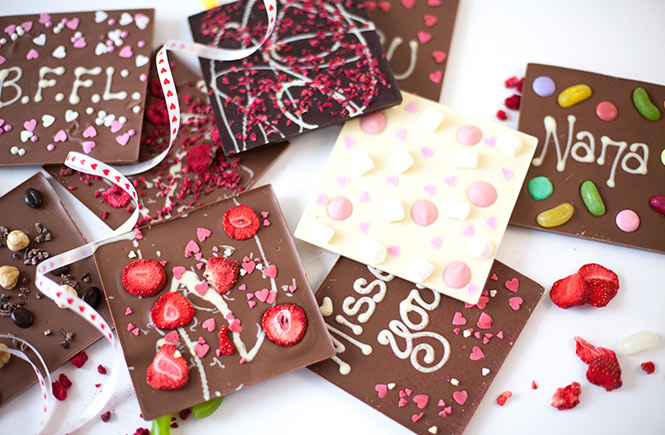 Encouraging you to play with your food, the Coco Kitchen workshops are a great place to get your hands dirty and offer a truly unique foodie experience here in Cornwall. Operating out of their shop in St Ives, you'll create your very own treats from bars to lollies, decorating as you go, providing the ultimate party favour. Once your masterpieces are made, they'll even hold on to them for you while you soak up the sun on one of the many beaches in St Ives – you don't want your hard work to melt, after all!
Don't worry if you'd rather have the chocolate without the dirty work, you can pick up all your favourites from St Ives or online, where you can choose from a selection of incredibly lifelike chocolate tools (yep, we're talking paintbrushes and spanners), chocolate lego pieces that appeal to children and adults alike, and beautifully topped slabs of the good stuff. And if you're lucky enough to visit around Easter, you'll find a selection of incredible eggs that would look more at home in a museum than a chocolate shop.
So, if you're asking yourself if you should coco, the answer is definitely yes!
Josh's Chocolate
Best for: Dark chocolate lovers
Website: joshschocolate.co.uk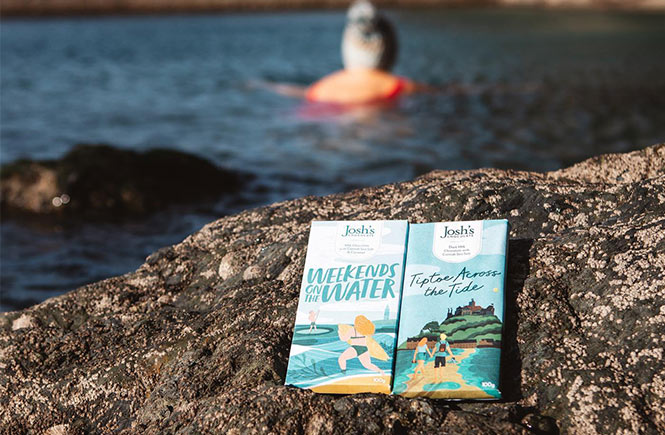 Founded in 2019, Josh's Chocolate is one of the newer chocolatiers on our list. Growing up in Cornwall on a dairy farm, Josh always had an affinity for all things sweet, along with a deep and lasting love of Cornwall's landscape. These passions combined to create local chocolate that manages to capture the heart and soul of Cornwall from first-look to last-bite.
You might be wondering what a vegan is to do when it comes to a list of chocolate? Well, Josh has your back with a spot-hitting assortment of delicious vegan dark chocolate. The vegan chocolate range includes two showstopping hot chocolate spoons, two flavoured dark chocolate bars (peppermint and fiery ginger), and a bag of gigantic dark chocolate peppermint buttons (because chocolate is always better when it's bigger).
Alongside the vegan options, you have some inspired twists on classic flavours, from orange and almond to blueberry and hazelnut – yum! And it's not just the tempting tastes that await you. Each carefully created bar comes wrapped in an utterly unique illustration and ear-catching name – who doesn't want a bar of 'Weekends on the Water' or 'Ramble in the Woods'!
Cornwall's Chocolate Cove
Best for: Chocoholic vegans
Website: cornwallschocolatecove.com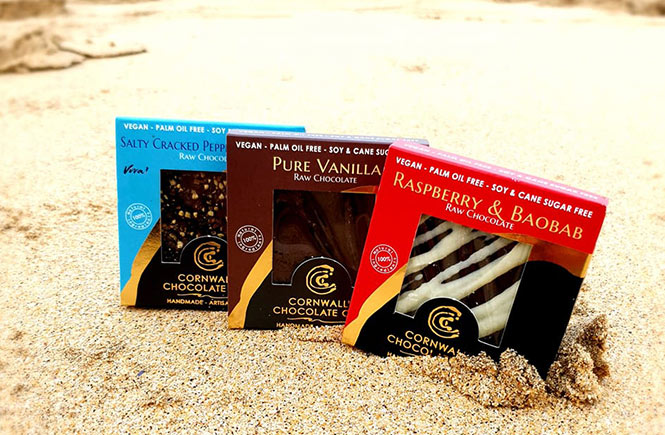 Another Cornish chocolate company that's passionate about catering to the consciously minded is Cornwall's Chocolate Cove, which specialises in artisanal raw chocolate that's vegan and palm oil, gluten, soya and refined sugar free – what a mouthful!
Loved by Ab Fab star Joanna Lumley, this chocoholic's dream has something for every chocolatey taste. Get stuck into the 'I'm diving in' hamper or the 'If I really have to share' banquet gift box for a seriously sumptuous treat or pick your own favourites from the collection of decadent bars, which includes flavours such as raspberry and baobab and salty cracked pepper and caramel.
Around Easter time you'll also be able to get your hands on the Easter egg to beat all Easter eggs, which boasts three layers of vegan chocolate, peanut, and sea salty caramel – can this be all year round, please?
Chocolarder
Best for: A taste of Cornwall and beyond
Website: chocolarder.com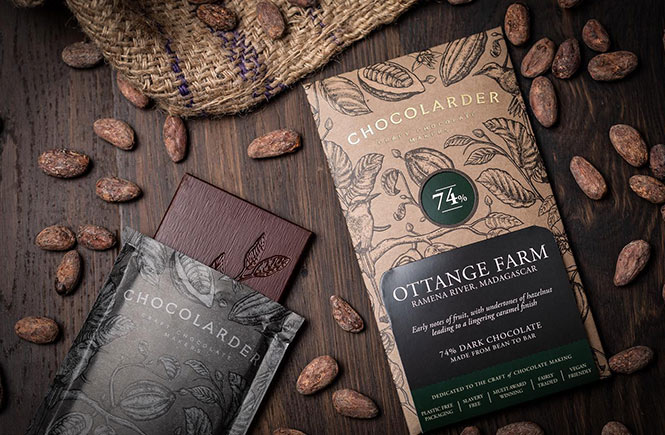 The final mention on our list of local chocolate makers in Cornwall has to be Falmouth-based chocolatiers Chocolarder. Their award-winning bean to bar chocolate explores a winning variety of flavours while demonstrating a fantastic commitment to farmers around the world.
On the Chocolarder menu, not only will you find a seriously tempting array of choices from wild gorse flower to Cornish honeycomb, but you'll also find some information on the history of the ingredients used, including the fascinating cultural backgrounds of the people who grow the beans. It's such a nice touch to include this extra information, as it adds new appreciation for the process, tradition and passion that goes into each scrumptious bar.
If you're looking for something even more decadent, the truffles are an easy choice with their temptingly smooth filling that will have you reaching for "just one more" until the box is empty – don't worry, we've all been there! Around Easter, you can also pick up a luxury chocolate egg for that extra special holiday treat or you can subscribe to the seasonal box, which ensures you always have access to mouth-watering Cornish chocolate.
Ready to discover the joys of Cornish chocolate for yourself? Take a look at our dreamy cottages and start your sweet-toothed tour of Cornwall.
Tags: Food and Drink | Food and Drink | chocolate | Easter |