Move over Kynance, as Mullion is just as worthy of some of the Lizard's limelight. The quaint seaside village is situated on west Cornwall's unspoilt peninsula in an Area of Outstanding Natural Beauty, providing the most picturesque place to enjoy while also exploring the wealth of what's on offer throughout the surrounding area.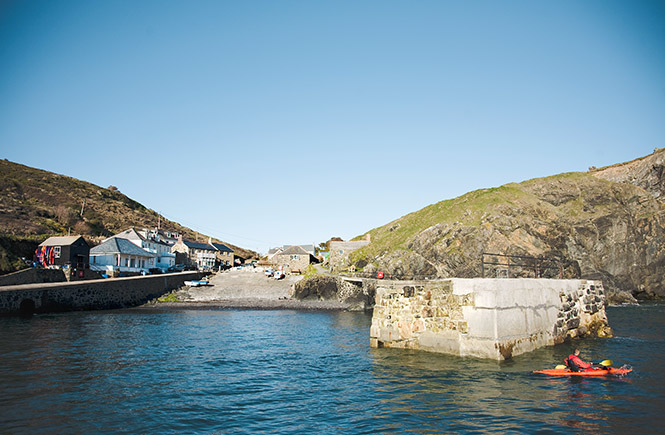 Not only does Mullion boast an array of shops, galleries, cafés and restaurants, but it is also home to a stunning 15th century church and a crystalline cove complete with a gorgeous working harbour and lifeboat station. Before heading anywhere, we recommend packing up a picnic and just sitting in Mullion Garden where the sounds of nature and pretty green space are all you need to unwind.
Couples can escape here to savour the scenic surrounds, fresh seafood and sense of isolation, while families can discover a host of things to see and do both in the village and across The Lizard at a variety of attractions, destinations and exciting must-sees .
Walk the South West Coast Path, relish a holiday on the beach, discover hidden coves, or embark upon an adventure on land or ocean in this spectacularly beautiful corner of the Duchy.
Here's some of our favourite things to do and see in and near Mullion…
Activities aplenty...
Watersports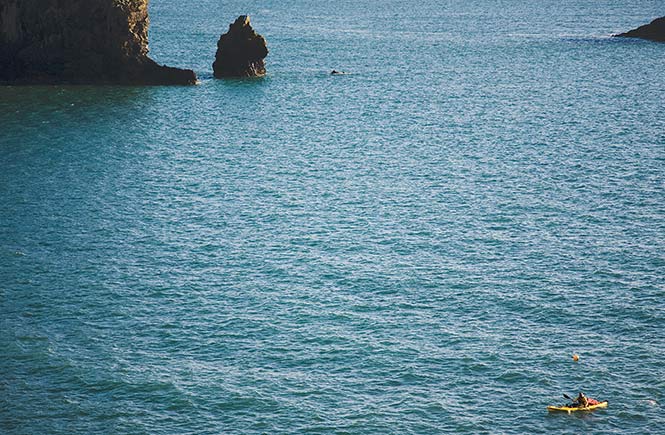 Whether you prefer to be in or on the waves, there are a variety of water sports to individually suit. From open water swimming and snorkelling to kayaking, pick a pastime and pace to match your mood and allow you to soak up all the oceanic action that's on offer in and near Mullion.
Lizard Adventure (based at Mullion and Lizard Point) offers coasteering, paddle boarding, rock climbing and sea, surf and inclusive kayaking for families and groups, along with training and coaching sessions to provide a fun and safe experience for all levels and visitors. Alternatively, go your own way and gear up at Atlantic Forge, where you can buy wetsuits, boards and beachwear. Meanwhile, sea fishing (always be aware of the conditions) remains one of Mullion's most popular pursuits. Find your own fishing spot or head out on a local boat from the harbour (or try Down the Cove at Porthleven) for a fishing trip; or venture out on a sea safari with the family to spot the wealth of local wildlife including the seabird sanctuary of offshore colony, Mullion Island.
Walking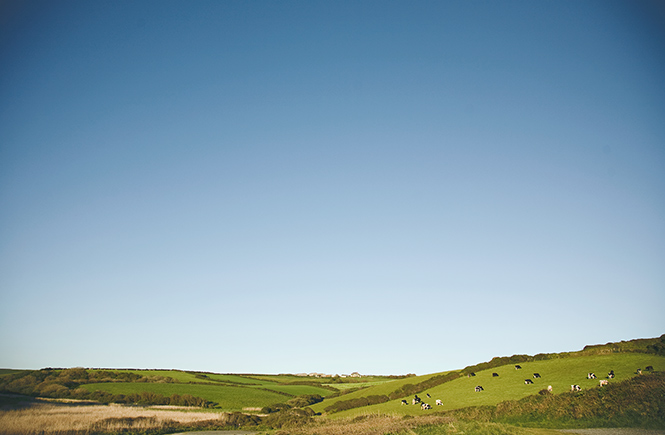 Another fantastic way to take in the myriad sights of Mullion is with any of the area's walking routes – particularly this stunning stretch of the South West Coast Path. Head east for a hike to the exotic, Kynance Cove and further still for the country's most southerly tip of Lizard Point; or trek west for Polurrian, Poldhu, Gunwalloe, Loe Bar and further along to Porthleven. There really is an almost unending catalogue of great walks around the Lizard Peninsula.
Golf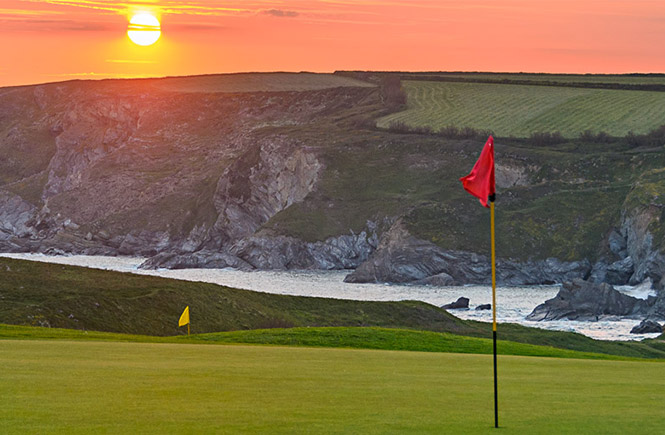 And for any fans of the sport, however novice or seasoned - Mullion Golf Club invites non-members to enjoy its 18-hole course (complete with a cliff-edge 11th tee!), which presents prime golfing territory along with far-reaching views across Mounts Bay from its breath-taking headland location just above the seaside village.
Horseriding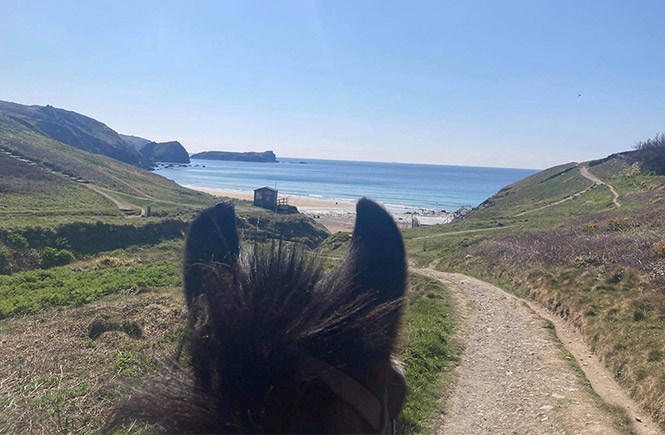 There's nothing quite like an adventure on horseback to give you that wild sense of abandon while on holiday. Newton Equestrian are based in Mullion and offer a range of experiences for all levels, including on- and off-site riding. You might pick the 4-hour excursion to Polurrian Cove, or prefer a walk, trot or canter ride at Chyponds; while the Seven Pines beginner ride will take you on a leisurely off-road route with gorgeous views of Poldhu Cove and Mullion Island. You can also book lessons for individuals and groups to polish up your riding skills before joining a jaunt to some of Mullion's most majestic must-sees.
Fabulous attractions...
The Chocolate Factory & Craft Centre
Mullion Meadows, Predannack Rd, Mullion, Helston TR12 7HB
the-chocolatefactory.co.uk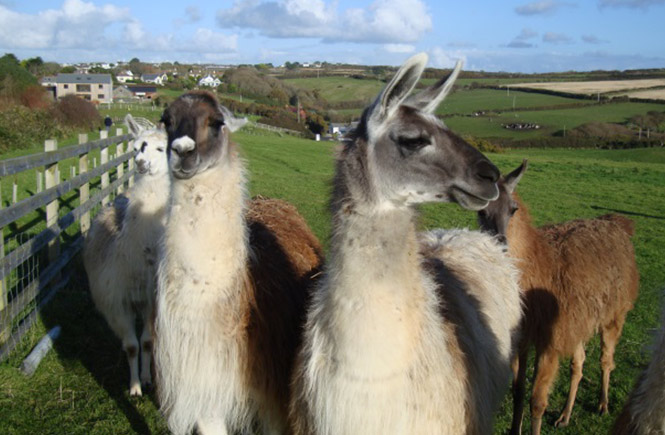 Chocolate and llamas? What else do you need from a must-visit Cornish attraction! Watch the talented chocolatiers at work (before sampling their efforts yourself at the shop), check out the many crafty shops and workshops where you can put your creativity to the test, and visit everyone's favourite furry residents. The llamas, which were born in Llamaland in Truro, have lived in the fields above Mullion for over ten years, bringing a lovely sense of character to the area. They might even follow you on your walk for a bit!
And for even more chocolate, there's also the celebrated Trenance Chocolate shop in Mullion, whose locally-made chocolates are well-renowned throughout nearby shores and beyond. Visit the village shop any day of the week to sample and stock up on everything from chocolate covered honeycomb and mini chocolate pasties to chocolate dipped marshmallows, boxed chocolates, truffles and drinking chocolate for the most tantalising shopping trip imaginable.
Lizard Point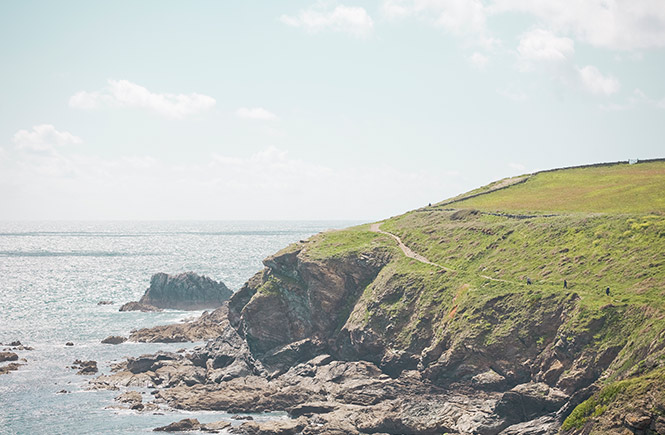 Take a trip to England's most southerly headland for a day out at one of Cornwall's most jaw-dropping landmarks. Refresh at Wavecrest or Polpeor cafés with a cream tea or crab sandwich while scanning the sea and sky for grey seals, Cornish choughs and an array of birdlife. And pay a visit to the lighthouse and heritage centre for interactive exhibitions, displays, historical artefacts and some of the most magnificent views by climbing to the very top.
Poldhu Marconi Centre
Mullion, Helston TR12 7JB
marconi-centre-poldhu.org.uk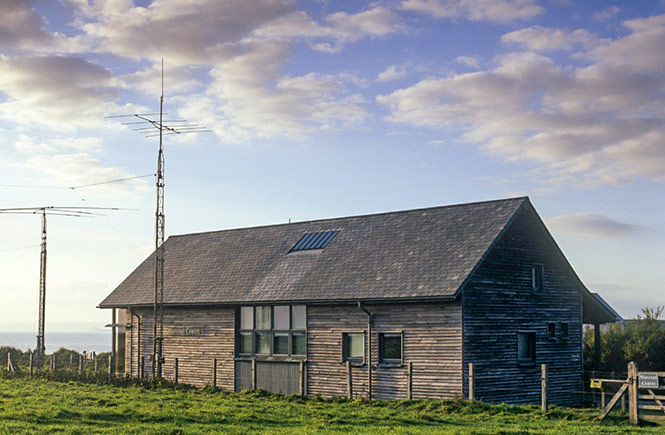 Owned by the National Trust, the building sits between Mullion and Poldhu Cove and offers a brilliant insight into the history of transatlantic radio signal, as pioneered by Guglielmo Marconi. Children can tap out their name in Morse code (and receive a special certificate), listen to short wave radios and discover all about the technology that paved the way for modern communications including mobile phones, broadband and the Internet. Admission is free.
Roskilly Farm
Tregellast Barton Farm, St Keverne, Helston TR12 6NX
roskillys.co.uk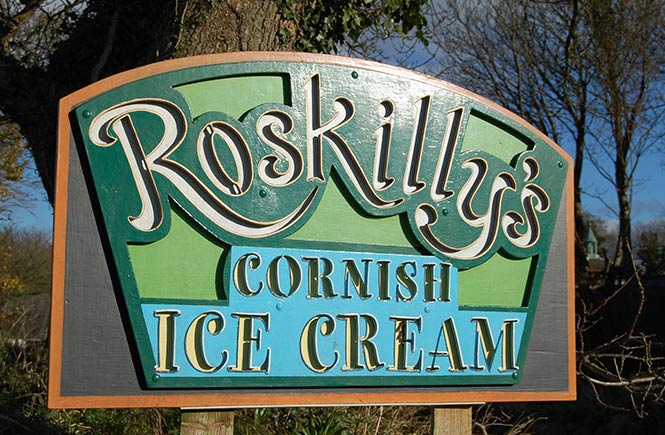 Situated near St Keverne just over 10 miles from Mullion, the family-run farm and attraction is famous for its homemade ice cream in a heady assortment of flavours, but beyond the food (which also includes breakfast and lunch menus brimming with local produce), expect an abundance of wildlife and resident animals, walking trails, and stirring scenery as you explore the beautiful rural estate.
Cornish Seal Sanctuary
Gweek TR12 6UG
sealsanctuary.sealifetrust.org/en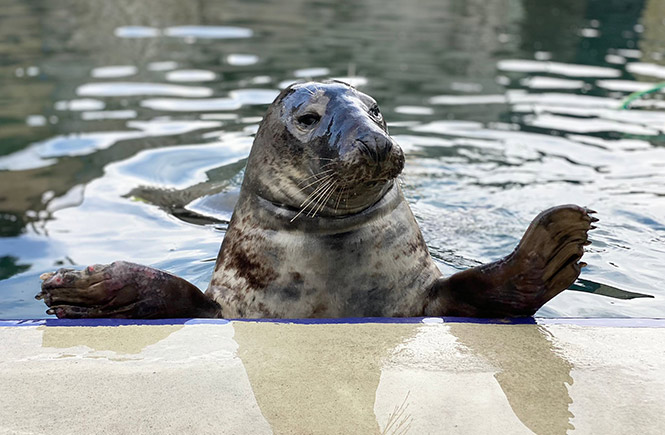 Situated approximately 7 miles northeast of Mullion, the Cornish Seal Sanctuary is a short drive from the village and well worth the visit. Making for an ultra memorable family day out, discover how the charity rescues and rehabilitates grey seal pups from around the Cornish coastline while also providing a permanent home for those in need of the team's specialist support. Meet the residents (including Humboldt penguins, sea lions, beavers and paddock animals), hear their stories, and lend your help by donating, adopting or sponsoring a pup of your own.
Flambards Theme Park
Clodgey Ln, Helston TR13 0QA
flambards.co.uk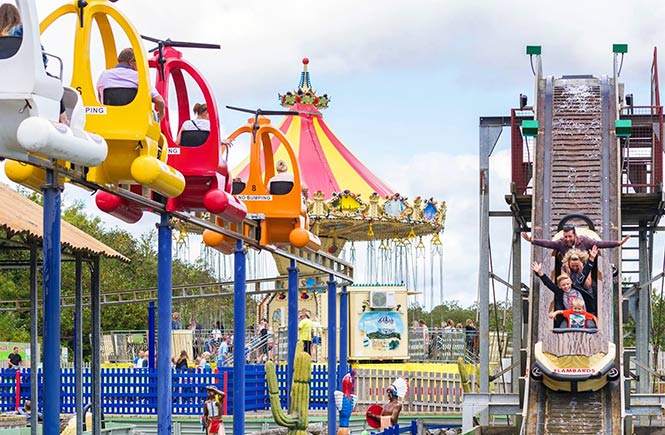 Situated just outside of Helston 6 miles inland from Mullion, the ever-popular family attraction boasts something for all ages with its enticing mix of rides, activities, exhibitions and events. Little ones will love Ferdi's Funland alongside indoor and outdoor adventure play, while bigger ones will delight in the thrill of Skyraker, the Hornet Rollercoaster and Thunderbolt. The entire family will find oodles of fun with the Western Mine Train, Cornwall Eye and Space Shuttle, while the Victorian Village, Britain in the Blitz and Chemist Shop Time Capsule add an interactive and fascinating historical interlude.
Galleries and shops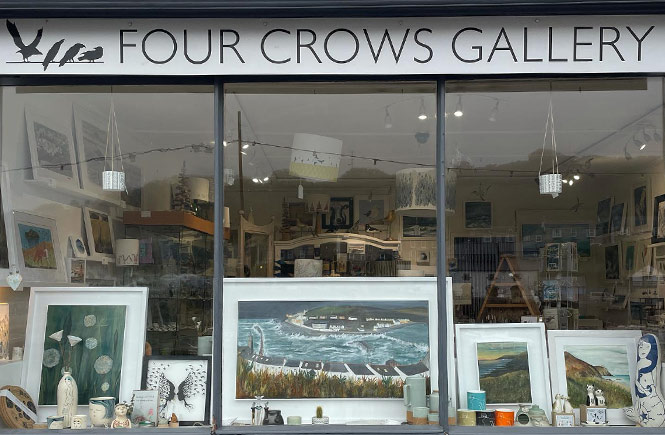 Whether you're an art admirer or avid collector, or are looking for a keepsake from your stay, Mullion's mix of galleries and shops are sure to pique your interest. Mullion Gallery features work from over 80 artists and craftspeople who live and work on The Lizard, while Gallery Anthony combines an artist studio for Anthony and Marjorie Smith with a shop where you can buy an assortment of their original art, open edition prints and greetings cards. For paper craft and workshops, head to Scrapbook Magic, find your favourite flowers at Cross Common Nursery, and sate appetites at Ann's Pasties and Real Cornish Ice Cream. Further afield, keep an eye out for Waves Gallery, Lifeboat Art Studio, Four Crows, Albatross Gallery and Seadrift Gallery while in Porthleven; Cornish Tin & Gold and Everything Cornish in Helston; and Lizard Art in Mawgan.
Meanwhile, stop by a farmer's market in Mullion, Porthleven, Helston, Breage or Mawgan; or schedule a stay to coincide with Mawgan Feast Week, Porthleven Food Festival, Helston Flora Day, St Piran's Day or Coverack Horticultural Show, all of which present a fabulous selection of local flavours, arts and crafts.
Breath-taking beaches...
Mullion Cove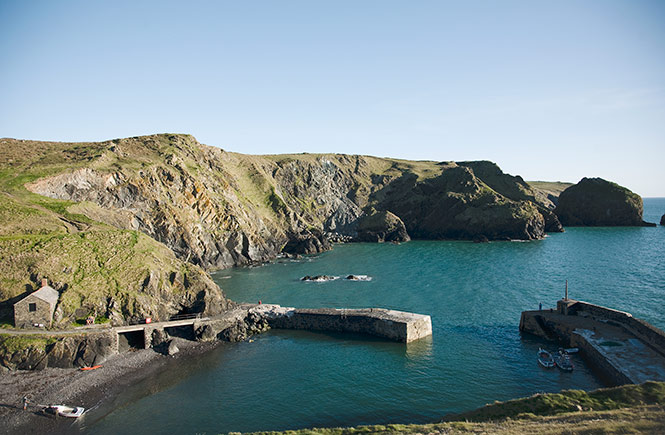 Located on the western edge of the Lizard peninsula, Mullion Cove presents a small sandy stretch flanking the historic working harbour, where you'll also find a café and toilets (plus, it's dog friendly all year round). At low tide, explore the cave, lounge on the sand or take a stand-up paddleboard or kayak out onto the water for fun exploration, as there's little sand at high tide. The Atlantic View Restaurant sits atop the cliff overlooking the cove, offering AA Rosette awarded cuisine alongside soul-stirring sea views for a supper guaranteed to spoil all the senses. Should you fancy a hike, the South West Coast Path will lead you 6.9 miles east to Lizard Point and village, or if it's a spot of downtime you'd prefer, then Mullion Cove Spa is a short stroll up the hill.
Polurrian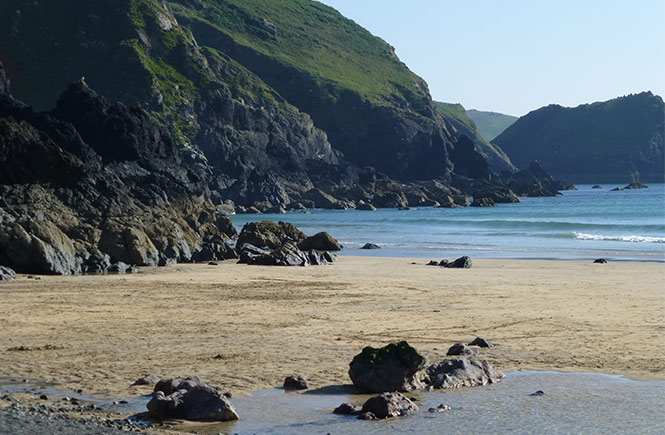 The southwest-facing sand and shingle beach is a mere 15-minute walk from Mullion and presents a gorgeously sheltered spot. Access is via a steep flight of steps or various routes along the coast path (and there aren't any facilities, plus a seasonal dog ban is in place), so it can be a bit of an adventure to get to, often making it the the perfect retreat to enjoy some scenic downtime away from the crowds. Roam the rock pools at low tide and enjoy a stint of surfing – but keep an eye out for shore break and remember the fact that most of the beach will vanish at high tide.
Poldhu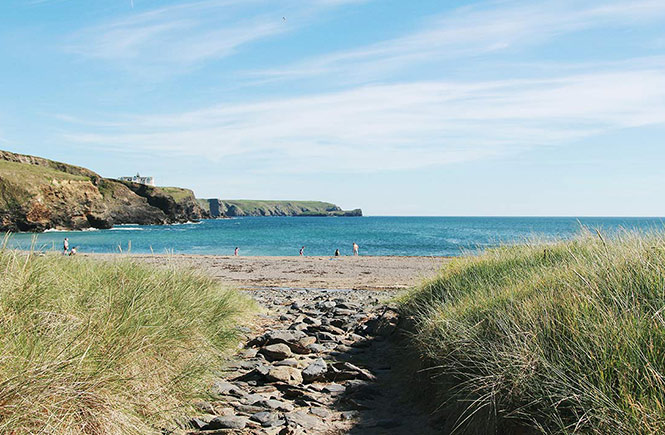 With parking, toilets and a fantastic café (famed for its decadent hot chocolates and summer pizza nights complete with live music), Poldhu remains a firm family favourite. Seasonally lifeguarded (but with a dog ban in place during July and August), the sandy cove offers a safe space for beach and watersports including surfing with resident summer school operator, Dan Joel.
Gunwalloe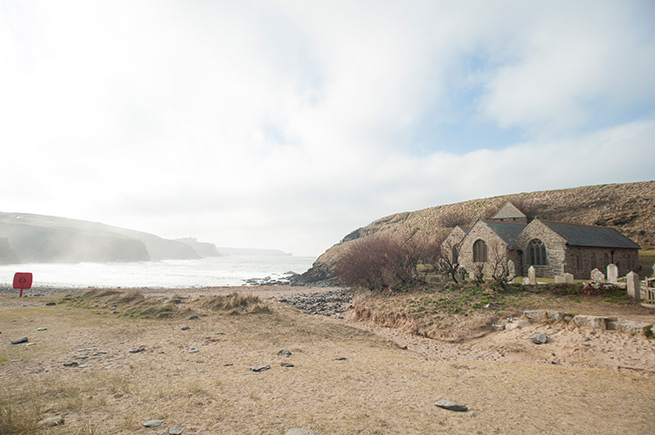 The twin coves of Gunwalloe (also known as Church Cove) and Dollar Cove offer two striking beach scenes: a rocky beach to the west and a sandy stretch backed by sand dunes to the east. There's a National Trust car park and sea-gazing St Winwaloe's Church along with a kiosk serving a selection of hot and cold takeaway drinks and food. Gunwalloe is lifeguarded during the summer and imposes a seasonal dog ban, but dogs are permitted year-round (though there's no lifeguard cover) at the neighbouring smuggler's haunt of Dollar Cove (also known as Jangye Ryn), whose eye-catching jagged rock formations are of special geological interest.
Kynance Cove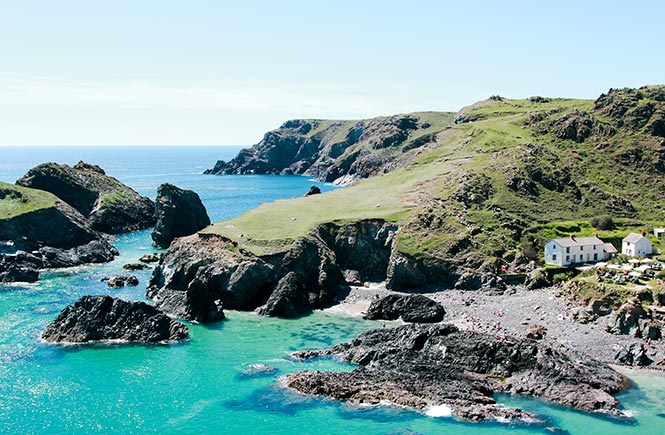 The breath-takingly beautiful Kynance Cove may need little introduction owing to its world-renowned reputation as it continues to reward visitors with its glinting serpentine cliffs, azure waters, striking rock stacks and powdery sands. It requires a bit of a walk and descent to get to (with various degrees of access), but presents facilities including a cliff-top café and toilets alongside a natural playground comprising caves, outcrops, walks and some of the clearest water you'll ever encounter. Be warned that there are no lifeguards, a seasonal dog ban, and that the beach disappears with the incoming tide, which can be dangerous in certain conditions.
Should you wish to venture further east past Lizard Point, you'll find the staggeringly beautiful beaches and villages of Housel Bay, Cadgwith, Kennack Sands and Coverack.
Delectable dining…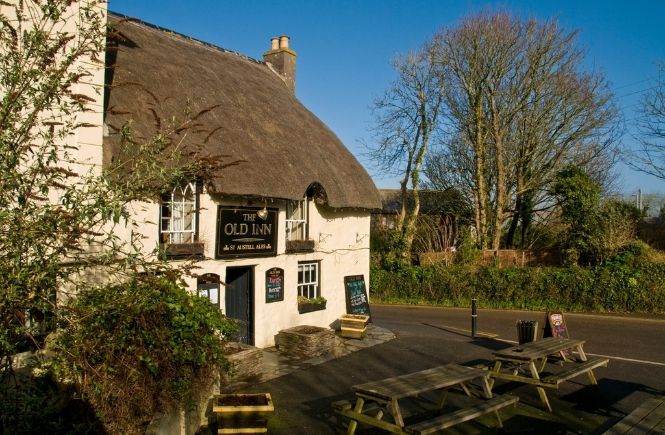 Whatever your dietary requirements, Mullion's many restaurants and places to eat are bound to sate everything from fussy foodies to pasty lovers and kids. In the village, pick Polurrian on the Lizard for a fabulous wood-fired menu, Mounts Bay Inn for traditional pub grub and tapas, The Old Inn for homemade fare, or Mullion Cove Hotel's award-winning Atlantic View Restaurant for the freshest fish and seafood. And for a traditional Cornish pitstop, you can't beat Ann's Pasties (find them in Porthleven, Helston and Lizard Village).
Ready to explore Mullion and beyond? View our range of fantastic holiday cottages in Mullion and start planning your memorable holiday by the sea.
Tags: Helston | Mullion | The Lizard | Food and Drink |