Everyone knows that the beaches in West Cornwall are some of the best in the world, with golden sand, crashing waves and amazing scenery. Add in a café that can provide you with a cup of tea and something tempting to eat and you might just have the perfect afternoon. Below is a selection of our favourite beach front cafes in West Cornwall which are well worth a visit…
Kynance Cafe, The Lizard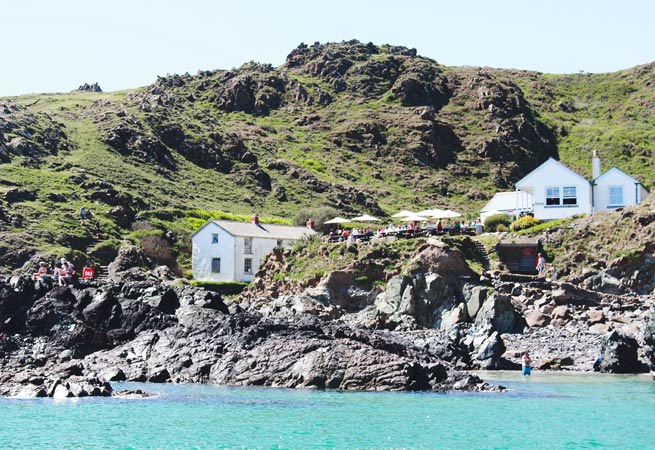 Kynance Cove on the Lizard Peninsula is one of our favourite places whatever the time of year – a pebbly beach at high tide gives way to sand and caves to explore at low tide, with a turquoise sea and a mysterious feel to the rocky headlands either side of the cove. The National Trust car park is a five minute walk away from the cove itself with a fantastically placed and environmentally friendly café right behind the beach. There are composting toilets, solar panels and a fabulous selection of cakes – what more could you ask for?
View all our holiday cottages on The Lizard >
Porthmeor Beach Cafe, St Ives
The three main beaches in St Ives all have cafés that cater for families spending a day in the surf and playing on the beach. Our favourite has to be the decked beach front café on Porthmeor Beach opposite the Tate Gallery. Upstairs, the restaurant is open most of the year and is a must visit too, but make sure you take advantage of the downstairs café during the extended high season. They produce really delicious sandwiches and salads, with hot food available as well if you need a warm through after a session in the waves. As the sun moves over the yard arm we have often treated ourselves to a beer and a tub of olives – the perfect accompaniment to watch the light change and the shadows grow. The café often sets up a barbecue when the weather is good too – providing burgers and an excuse to stay just a little bit longer to watch the sunset. Ideal.  For other ideas on where to eat in St Ives, check out our blog posts: St Ives – The perfect place for a celebration meal! and Our favourite affordable places to eat in St Ives.
View all our holiday cottages in St Ives >
The Cabin Cafe, Perranuthnoe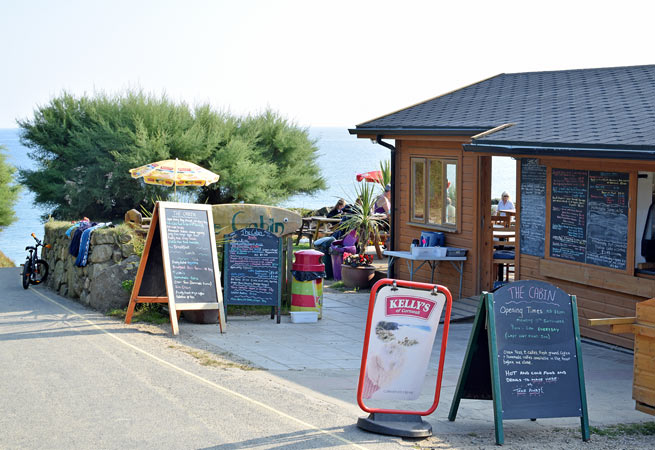 The Cabin has been highly recommended to us as a friendly and welcoming café open all year round in a stunning location right above the beach at Perranuthnoe. Drinks and home-made food are available throughout the day with gluten free and vegetarian options available, and well-behaved dogs are welcomed.  The Cabin is situated right on the coastal path, perfect for a pit stop as you take in the views on a cliff path stomp.
View all our holiday cottages in Perranuthnoe >
Blue Bay Cafe, Hayle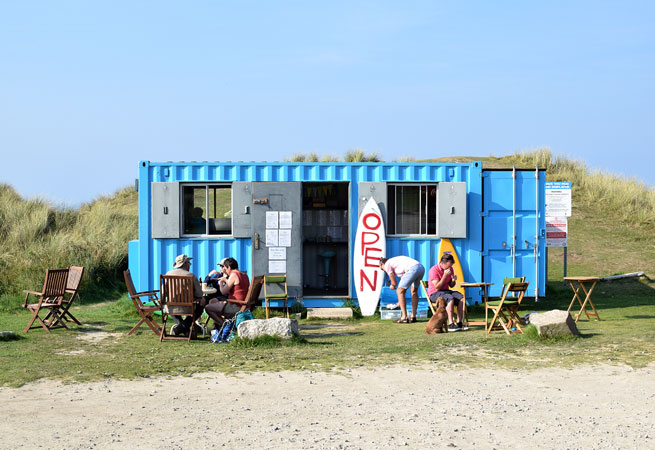 The Blue Bay Café at Sandy Acres in Hayle may not be able to compete with others in terms of size or capacity, but the views are to die for and the coffee machine is state of the art. Home-made cakes, picnic blankets for al fresco snacking and a view of the towans and beaches from both sides make this café in a shipping container a quirky but amazing place for a cup of tea and a slice of cake – not what you would expect but all the better for being different. If that doesn't take your fancy, tucking into some fish and chips from one of Hayle's excellent fish and chips shops whilst watching the sun go down couldn't be more enjoyable. Find out where you can find The best fish and chips shops in West Cornwall >
View all our holiday cottages in Hayle >
The Beach Cafe, Godrevy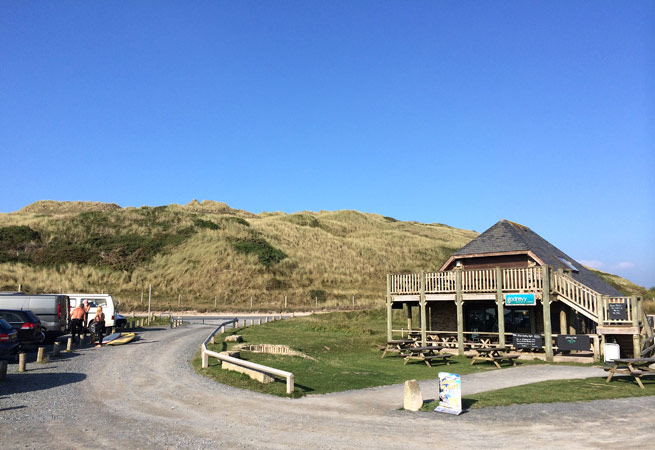 The Beach Café at Godrevy is situated in the National Trust car park and is perfect for tea and cake throughout the year after surfing, seal spotting or exploring the local beaches. They serve a variety of breakfasts and sandwiches and cater well for children. Barista coffee can wake you up for the rest of your day, or a great lunch with the day's newspapers can provide a relaxing few hours – particularly if the weather isn't at its best. The beach cafe is a popular spot with surfers, with Godrevy beach being one of Cornwall's most renowned surf locations. Find out more on our blog: Surfing at Gwithian and Godrevy >
View all our holiday cottages in Gwithian >
Little Bo Cafe, Sennen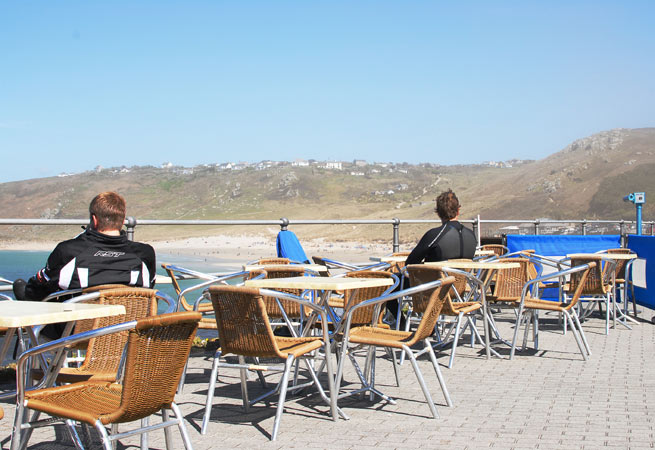 Little Bo Café is right on the beach at Sennen Cove, at the lifeboat house end of the village. It's a quirky and charming little café with mismatched tableware and a relaxed shabby chic feel, amazing views from the outside eating area and cakes that are to die for. They will even provide you with a hot water bottle and blanket so you can eat your massive portion of cake outside and not feel chilly. Perfect! Try them after a summer surf or a winter walking session. For ideas on other places to eat in Sennen, check out of blog post: Our favourite places to have lunch in Sennen.
View all our holiday cottages in Sennen >
If you want some more inspiration on where to eat out, check out our blog post on Restaurants with the best views in West Cornwall.
Where to find them:
Where are your favourite beach cafes in Cornwall? Let us know in the comments below…
Tags: Eating out | Hayle | Porthmeor | Sennen | St Ives | The Lizard |