You simply can't beat the sensation of salivating over a scoop of cold and creamy softness that is, the best of Cornish ice creams.
And the bonus is that it's everywhere. From beach cafés and parlours to shops, restaurants and the farms on which they're made, you simply can't visit our fair far western county and not treat yourself.
With oodles to choose from, we've selected our top five for starters…
Roskilly's
Made on their working farm in the rural heart of the Lizard peninsula, Roskilly's are renowned for their lip-smacking array of flavours.
Visit the farm for free to meander the meadows and meet the animals before stocking up on the variety of foodstuffs (think organic fudge and confectionery, jams and marmalades, chutneys, mustards and hampers) and, of course, chowing down as much ice cream as you can.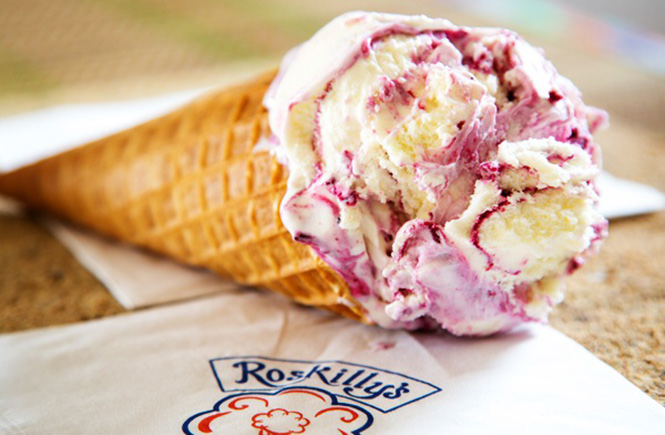 Produced using milk from their own Jersey herd, more traditional tastes will be sated with the likes of chocolate, Cornish golden fudge, mint choc chip, rum and raisin, salt caramel, strawberry or vanilla; while taste buds can experience a slightly different sensation courtesy of wild cherry and chocolate flake, toffee and hazelnut, orange and mascarpone, malty mystery, cream tea, banoffee, apple crumble, chocolate brownie and marshmallow or gooseberry yoghurt.
Or try their delicious dairy-free alternatives such as cherry, mango and passionfruit, pear and elderflower, and raspberry sorbets.
Moomaid of Zennor
This small family business creates ice cream from their west Cornwall parlour at Tremedda Farm, combining fresh milk from their Fresian herd with their own double cream or Rodda's Cornish clotted cream to guarantee the quality and taste.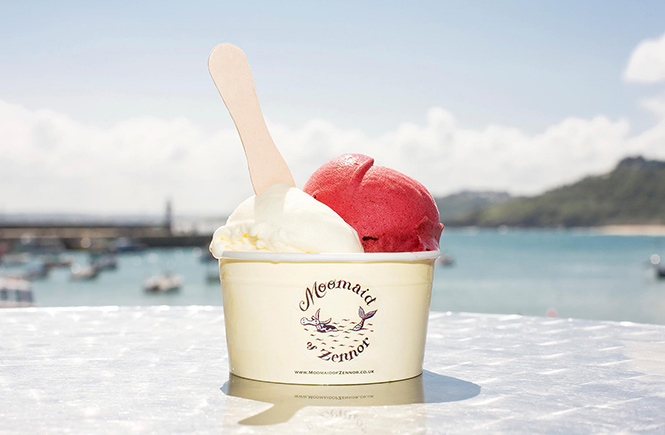 The list of flavours means that picking just one seems an impossible task, so we recommend a daily sampling of vanilla bean and clotted cream, Belgium chocolate, banana, honeycomb, shipwreck, strawberry and clotted cream, Moomaid mess, hazulnut and sea salt caramel – or dive into the smooth and refreshing sorbets such as mango and passion fruit, blackcurrant, raspberry, dark chocolate and prosecco sorbet!
Kelly's
With parlours scattered throughout the county, Kelly's can be found everywhere from woodlands and beaches to supermarkets from Crackington Haven to Sennen Cove and St Michael's Mount to Cardinham Woods.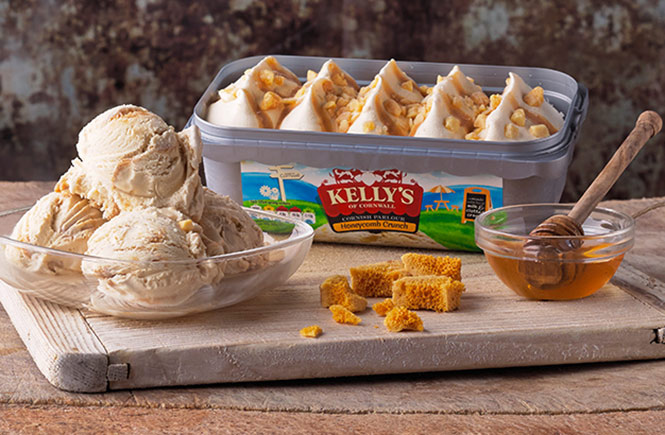 Whether you prefer to scoop, snatch a pot or indulge in a take home tub, tuck into flavours including honeycomb crunch, Eton mess, lemon curd tart, praline caramel, clotted cream, gingerbread, cherry choc brownie, blackcurrant cheesecake, cherry pie and custard, candyfloss, triple chocolate, and vanilla bean seed.
Callestick Farm
Sticking to the original family recipe and produced using free-range milk from their grass-fed herd, Callestick is a top name when it comes to Cornwall's ice cream world.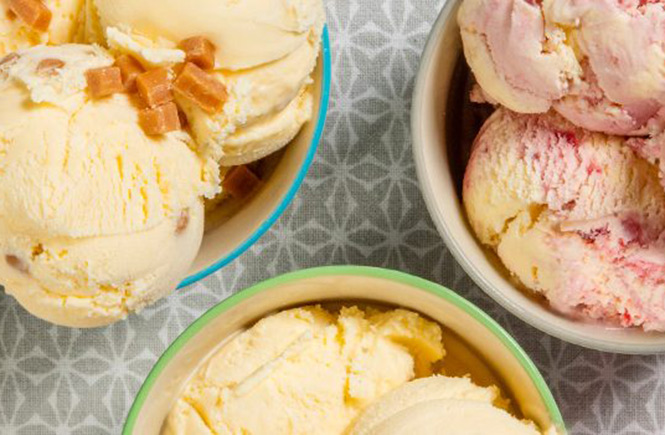 Visit the farm to discover more about how their beyond-moreish ice cream is made, and savour a range of offerings including clotted cream and fudge, butterscotch brittle, strawberry, Belgian chocolate, honeycomb, mint choc crisp, Jaffa cake, oriental ginger, toasted coconut and café espresso.
Go crazy with a 'Christmas Cracker' like orange Cointreau, port and blackcurrant sorbet, and sea salted caramel with whiskey; or opt for the striking simplicity of a lemon, mango, blood orange, pink champagne or gin and lemon sorbet.
Treleavens
Situated at the luxury end of the ice cream market, 'deliciously decadent' Treleavens is all about the self-indulgent factor.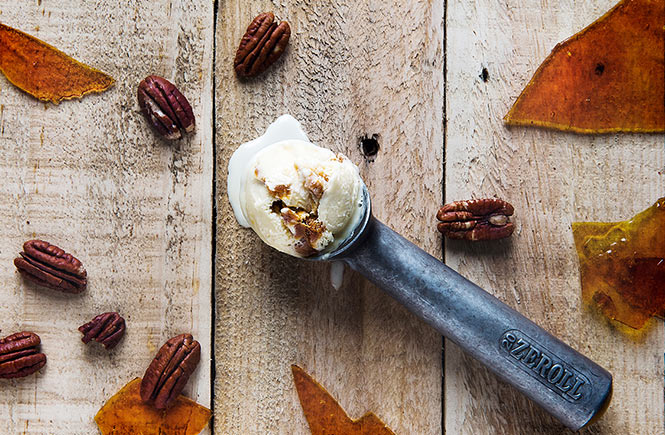 The award winning ice cream comes in a staggering range of flavours, with their restaurant range featuring sweet pleasures such as After Eight, black forest, millionaire's shortbread, New York lime cheesecake, lemon meringue, egg custard, gooseberry fool, sticky toffee fudge, and yoghurt and pomegranate molasses (to name but a few).
Then there are the sorbets. The exotic list includes vodka pink grapefruit, slow gin, sea buckthorne, ruby orange, Pimm's, Kir Royale, raspberry, ginger and lime, wild cherry, and cassis.
Don't forget to try...
Of course, we couldn't list Cornwall's top ice creams without mentioning Jelberts' famous ice-cream in Newlyn! This traditional, one-flavour only ice-cream is made to an ancient and secret recipe which is still rolled down the hill in giant tubs to their small shop in the centre of Newlyn. Be prepared to queue out of the door as this creamy clotted cream ice cream is always popular! Trust us - it's worth the wait!
If you fancy trying our county's famous ice-creams, then view all of our holiday cottages in Cornwall>
Tags: Food and Drink