From coast to countryside, adventure parks to zoos, Cornwall is jam-packed full of exciting things to see and do making it perfect for days out with the kids and fun-filled short breaks.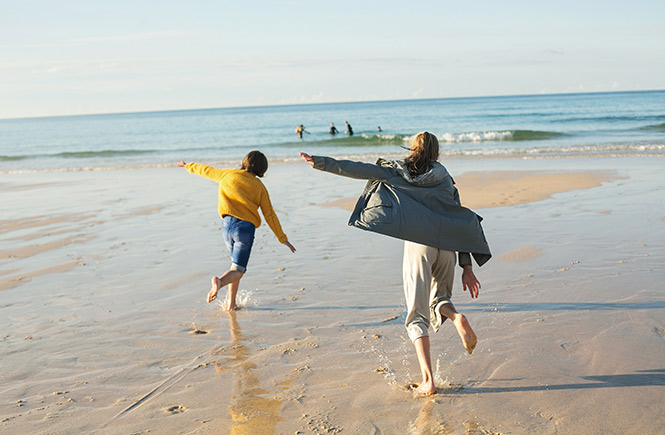 You can pack the bags with a treaty picnic full of delicacies from one of the many great farm shops in Cornwall or you can treat yourself to a lunch out at a National Trust tea room during your day out to remember. Our recommendation? Wherever it is you're headed, always keep the swimming costumes in the car just in case you drive past one of Cornwall's many beautiful beaches and decide to pop in for a spot of wild swimming, which, incidentally, is another great day out in Cornwall!
Whether you're in the mood for a theme park, a wildlife park, or a stunning sub-tropical garden, we've got something for everyone on our list of the best days out in Cornwall.
Eden Project
Bodelva, Par PL24 2SG
edenproject.com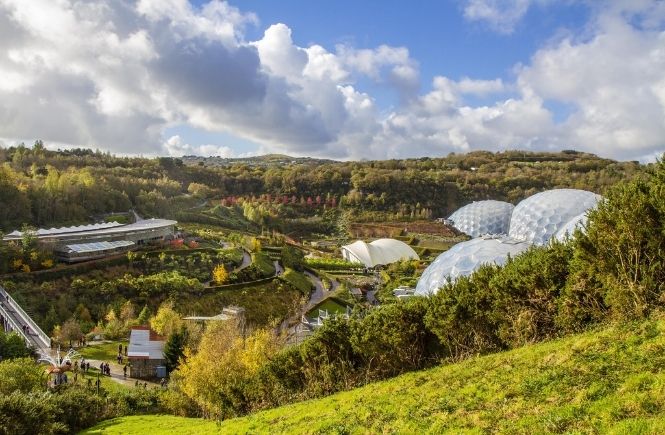 When it comes to days out in Cornwall, there's one big name that offers an utterly unique experience for the whole family: the Eden Project. Hidden away in a former clay pit near St Austell, this iconic day out provides endless entertainment from walks around the huge biomes to daring activities including the longest and fastest zipwire in England.
During your visit, you'll be able to refuel at one of the many cafés and restaurants around the site, including the Med Terrace, which immediately transports you to the slopes of the Mediterranean for a truly special meal. You can also check out one of the two gift shops for an ethical memento or even a bottle (or two) of the much-loved Eden IPA.
Dogs are welcome in the outside gardens as well, making this a great shout for a dog-friendly day out in Cornwall. Our top tip for your visit to the Eden Project? Pack and dress for every climate as the rainforest biome can get very hot and humid, sometimes in stark contrast to the outside!
Read our full guide to the Eden Project to learn all there is to know about this amazing day out.
Tintagel Castle
Castle Rd, Tintagel PL34 0HE
english-heritage.org.uk/visit/places/tintagel-castle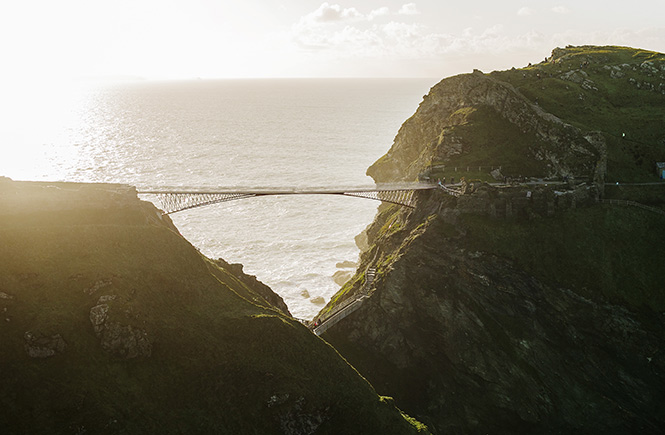 If there's a historian in your group, then dedicating a day to the mystical history that surrounds Tintagel Castle is a must. This ancient castle combines fact with fiction - and a spectacular location - for a jaw-dropping trip that's sure to spark the imagination of anyone who visits.
While the impressive bridge that joins the island to the mainland is certainly worthy of a photo or two, it's the castle itself that draws the crowds. Intrinsically linked with the story of King Arthur, this atmospheric ruin really is the stuff of legends. Take a photo of the eerie statue of King Arthur, pop into the gift shop for a special souvenir, visit the Beach Café for a tasty snack or, explore further along the South West Coast Path to see more of north Cornwall's rugged coast.
Camel Trail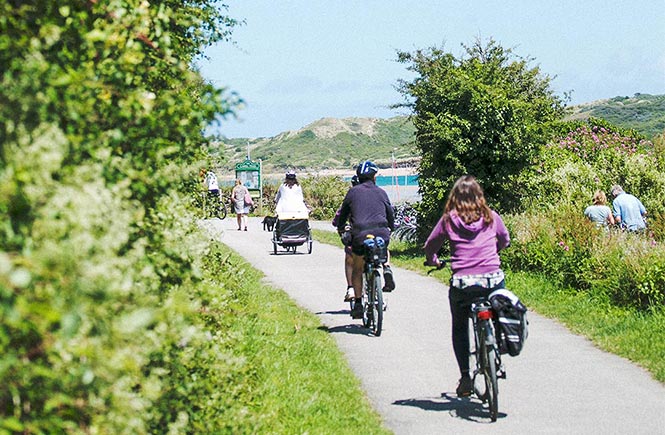 If you're looking for a scenic day out in Cornwall you can't get much more tranquil than the Camel Trail, which follows a lovely stretch of north Cornwall between Wenfordbridge, Bodmin, Wadebridge, and Padstow.
While the whole route is 18 miles and perhaps a little more than a day trip, you can easily break it up into smaller chunks, especially if you have little ones coming along. One of the prettiest stretches lies between Wadebridge and Padstow, which is a much more manageable 5.5 miles and enjoys stunning estuary views along the way. It's also high on our list of the best things to do in Wadebridge.
You can hire bikes in Wadebridge and stop for a well-deserved ice cream and a pasty in Padstow, where you can enjoy your spoils by the water's edge. It's a lovely flat route that's suitable for everyone including walkers, cyclists, horse riders, and wheel-chair users so why not bring the whole family along this lovely Cornish route.
Newquay Zoo
Trenance Gardens, Newquay TR7 2NL
newquayzoo.org.uk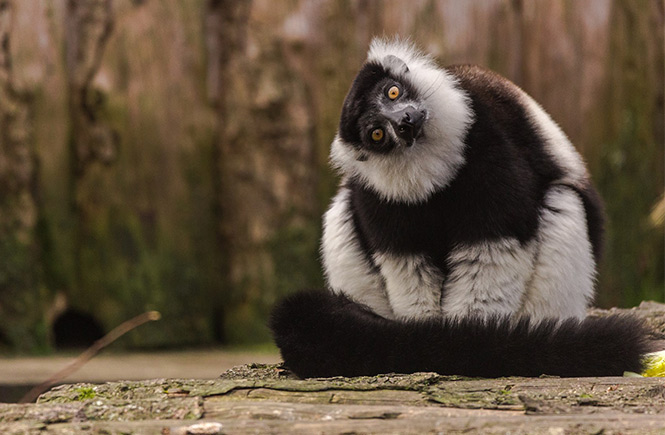 Not only is Newquay Zoo one of the best things to do in Newquay, but it's one of the best days out in Cornwall, offering the perfect spot for a rainy day trip or a sunny walk on the wild side. There are currently around 130 species at Newquay Zoo from the well-dressed penguins to stylishly striped zebra. You can even get up close to some of the animals through the zoo's exciting experience programme, which could see you interacting with penguins, lemurs and even the adorable red panda.
Cementing Newquay Zoo as a whole-day experience, you'll find lots of other attractions to fill the hours with. Tucker the kids out at one of the outdoor play areas, swap the noises of the animal kingdom for some peace and quiet in the secret garden, or explore the world beneath your feet in the tropical house, where you'll be introduced to some of the world's creepiest crawlies!
There are lots of great cafés and snack outlets dotted around the zoo that will satiate even the mightiest hunger or you can bring your own tasty lunch to enjoy in one of the many picnic areas.
Camel Creek Adventure Park
Tredinnick, Wadebridge PL27 7RA
camelcreek.co.uk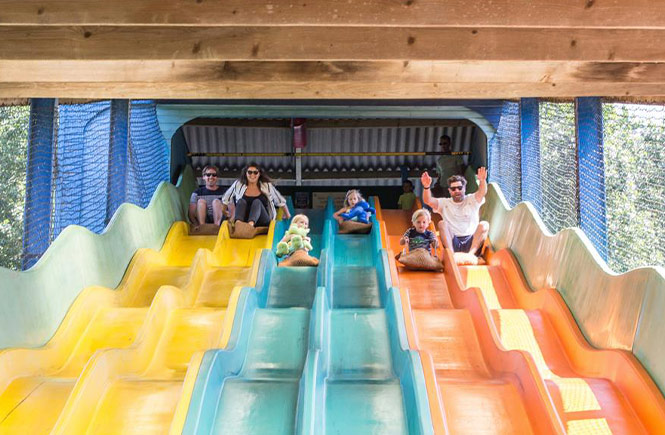 Another fun-filled day out for the family, Camel Creek Adventure Park has something for every from scream-inducing rides to the cutest residents of the park in the meerkat enclosure. There are around 20 different rides at Camel Creek, which vary from the dizzying heights of Vertigo to the splashy fun of Waverider – not to mention everyone's favourite rollercoasters!
You'll also find a great soft play area for those rainier days as well as a restaurant… we all know that masses of fun is hungry work! A quick hunt around the gift shop as you leave for the perfect piece of Camel Creek memorabilia, and you've got the cherry on top for your epic family day out.
National Maritime Museum
Discovery Quay, Port Pendennis, Falmouth TR11 3QY
nmmc.co.uk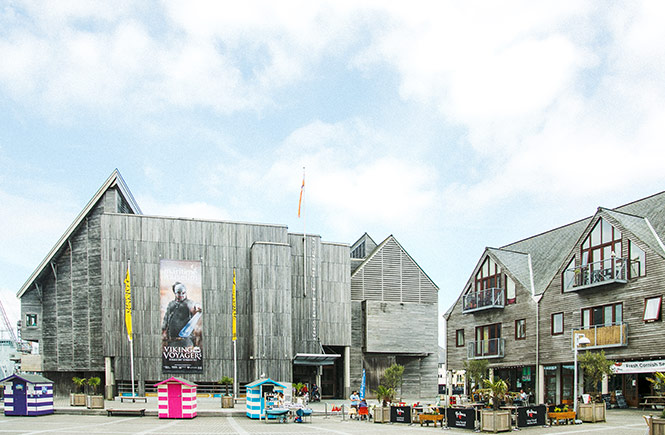 Here in Cornwall, we're understandably more than obsessed with the sea, after all, it does surround us on three out of four sides! A visit to the National Maritime Museum in Falmouth is a great way to deepen your understanding and respect for the sea, with its rolling programme of exhibitions and constant displays walking you through Cornwall's rich maritime history.
During your visit, you'll see a remarkable variety of seafaring vessels from the ancient Inuit kayak to the more recent Mirror dinghy and everything in between! You'll also learn all about the RNLI and the amazing work they do as well as sea safety to help keep you safe while enjoying the Cornish coast. Keep an eye out for the museum's ever-changing roster of exhibitions as well, with previous showcases delving into the 'Monsters of the Deep' and the 'Art of Tattoos'. Get a sneak peek of what you'll see from the top of the lookout tower with our well-placed Falmouth webcam.
There is the lovely Waterside Café on-site if you fancy a pick me up while visiting, or you can wander into Falmouth to make the most of the many amazing eateries. It's also worth checking out our list of the best things to do in Falmouth to really make the most of your visit to this vibrant harbourside town.
National Trust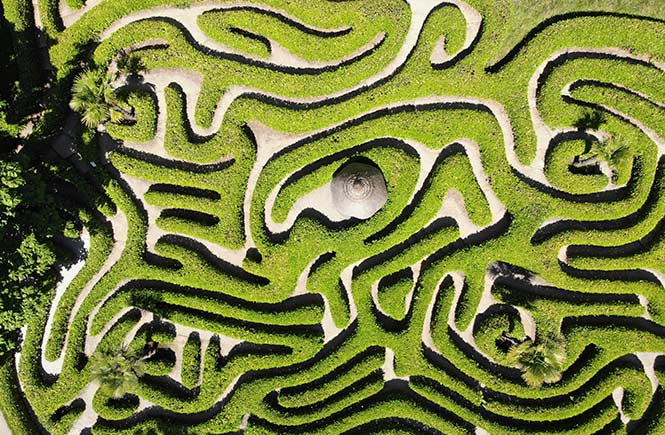 With around 50 sites across Cornwall, we couldn't just pick one National Trust property or garden for our list of the best days out in Cornwall. Spend a day strolling through the beautiful sub-tropical gardens at Glendurgan before whiling away the afternoon on the sheltered beach as the Helford river laps calmly along the shore or, for a more historical day out, why not visit the Victorian country house, garden and wooded estate at Lanhydrock. As with most of the National Trust properties, you'll find plenty to occupy yourself with at Lanhydrock from its tempting café to the lovely wooded walks and cycle trails around the estate.
Another firm favourite – and Cornish icon – is the magnificent and instantly recognisable St Michael's Mount. Consisting of a medieval church, castle, stunning garden, and living community, this historic landmark is as interesting as it is beautiful. In fact, it's first on our list of unbelievably beautiful places to visit in Cornwall! There are many other great National Trust properties to visit across Cornwall, so why not have a browse and create your own to-visit list.
The Lost Gardens of Heligan
B3273, Pentewan, Saint Austell PL26 6EN
heligan.com
A partner attraction to Eden Project, The Lost Gardens of Heligan offers another magical day out amidst nature, history and just a little dash of wonder. Swallowed by brambles since the start of WW1, The Lost Gardens of Heligan were found once more in 1990, becoming Europe's largest garden restoration project.
Today, you'll find 200 acres of enchanting woodlands, gardens and groves, each with their own atmospheric twist on the natural world. Children will love the wild displays and hidden statues while plant-lovers will marvel at the incredible diversity on display throughout the borders and almost jungle-like gardens. After you've thoroughly investigated every twist and turn, a visit to the kitchen and bakery at Heligan is ideal for a delicious refuel where you can discuss your favourite find.
St Ives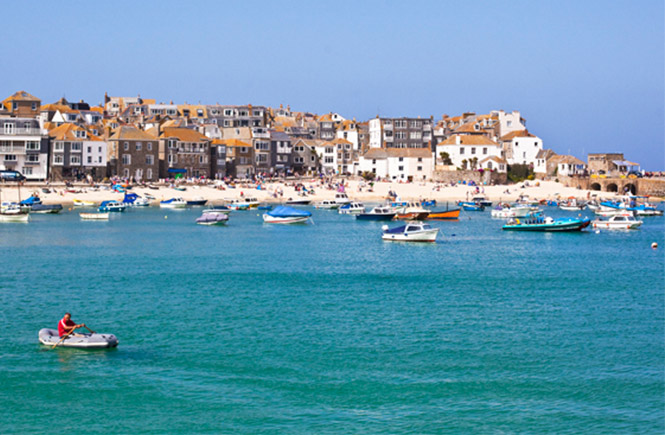 We know this is technically a town, but a visit to St Ives is a day-out must when it comes to visiting Cornwall. This seaside honeypot is full of fun things to see and do including the many art galleries and independent shops that line the cobbled streets. For those who agree that a beach day is the best day, one of the many beaches in St Ives will surely win your affection. You can even enjoy them from a different angle by making the most of the superb boat trips in the area, which not only offer you incredible views of the coast but the exciting chance to spot a seal or two.
After a busy day of lounging on the beach and milling around the shops, a drool-worthy meal at one of the lovely restaurants in St Ives with sea views is a great way to round off the day. There are even some great dog-friendly places to eat so the whole family can dine out in style.
There really are endless options for great days out in Cornwall, so why not use this list as a bit of inspiration as you build your ideal holiday itinerary. Check out our stunning cottages in Cornwall to find the perfect base for your Cornish excursions. You can also take a look at our fantastic short breaks in Cornwall, which provide a perfectly bite-sized Cornish holiday.