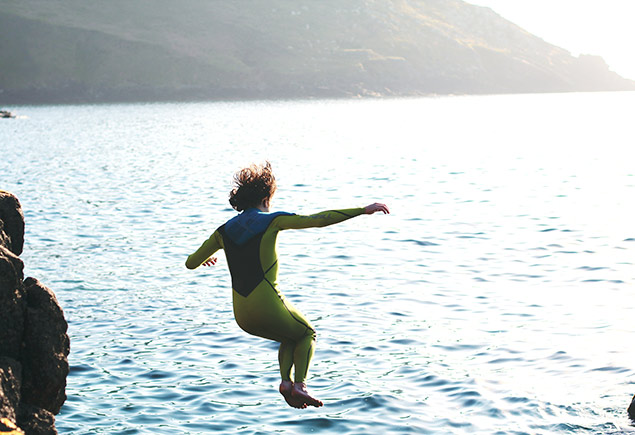 In hot countries, stripping off to cool down in a body of water is normal. Jumping into lakes, rivers, the sea, is a refreshing and relaxing pastime to be enjoyed by all. You don't need any specialist equipment, just a swimsuit, or a pair of pants, or sometimes not even that(!) and best of all its free. It doesn't have a fancy name either, it's simply swimming. Scorching Aussie summers for me meant seeking out every available opportunity to get wet, if not in a conventional pool, then slipping into Tea Tree brown-stained rivers, or diving through powerful bowling Southern Ocean breakers.
In cold countries like Britain it's a different story. Taking the icy plunge takes some nerve and, unless you have a particularly strong constitution, a decent wetsuit. It may be more challenging, but the rewards are equally plentiful, as you still get to commune with nature and the great outdoors, and it's still free. Known here as 'wild swimming', where better to dip your toe in the water than Cornwall? Thanks to the increasing popularity of triathlons and iron man events, open water sea swimming is reaching tsunami high proportions. But you don't need to be an elite athlete to brave the waves or Cornwall's rivers. A sense of fun and adventure will do.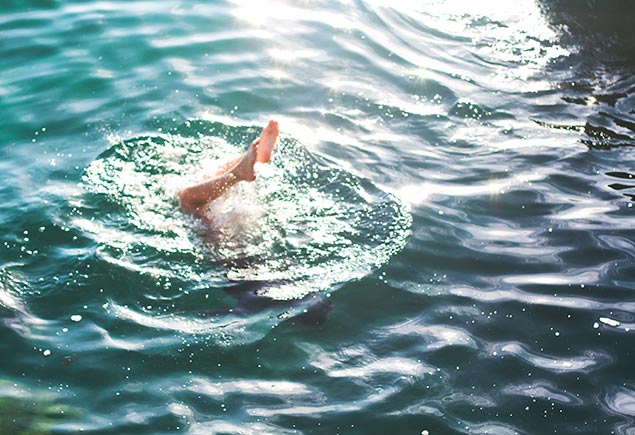 In West Cornwall you'll be spoilt for choice for secluded off-the-beaten-track coastal swimming options. Try finding the Kenidjack Cove rock pool, around to the right and accessible only at low tide. If you have kids with you, the small bathing pool at Cape Cornwall's Fisherman's Cove is safe, while still having that wild elemental feel to it. Further along still, Porth Nanven at Cot Valley is great for swimming with shags and seals, although you're bound to come across all kinds of wildlife wherever you choose to venture in. Past Land's End, Nanjizal Bay is ruggedly beautiful and has great caves to explore. Its stunning Song of the Sea eyelet rock arch is a perfect sea tunnel to swim through, and there's a waterfall and stream for the kids to play in.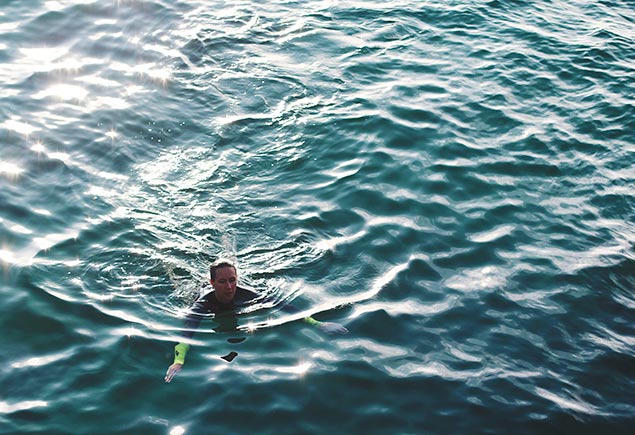 Accessible from Treen down a windy, narrow cliff path, sturdy shoes and a good level of fitness are required to reach Pedn Vounder, one of Cornwall's most exotic beaches. Protected by the imposing granite outcrop of Logan's Rock, sandbars created by the currents expose turquoise blue lagoons at low tide, where the crystal clear shallow waters are nicely warmed by the sun. There are amazing views across to The Minack's dramatic cliff-side theatre, while swimsuits are optional here if you really want to take a swim on the wild side – just don't forget the sunscreen!
The famed bohemian artists of the Newlyn colony used to love taking a dip in Lamorna Cove, enjoying a warming pint afterwards in the welcoming Wink. While Mousehole is great for jumping from its famous harbour walls at high tide, or there's another child-friendly semi man made rock pool, and nearby cafe of the same name, if you'd rather make less of a splash.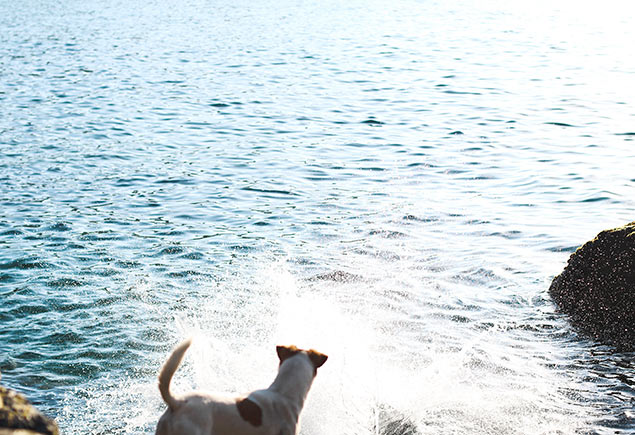 Along the south coast, Prussia Cove is fantastic for coasteering (rock jumping and tidal surge swimming) as well as snorkelling, but be warned, the water feels particularly cold here for some reason. Further around on the Lizard, iconic Kynance Cove is reached via a breathtaking coast path walk, strewn with wildflowers. Birds seem to love it here, but if you're really lucky, you might even spot a few dolphins or basking sharks. Popular with the Romantic poets and painters, bring a picnic and stay the day. At low tide walk around to Asparagus Island, possibly named for its green tinge thanks to the serpentine rocks, to see the sea caves and go rockpooling.
If you feel like a challenge, you could always swim round St Michael's Mount – but only if you're a strong and experienced open water swimmer. Lovely and calm on the sheltered shore side, be prepared for wild choppy seas round the back, but you'll be blessed with wonderful rear views of the castle and the sub-tropical gardens.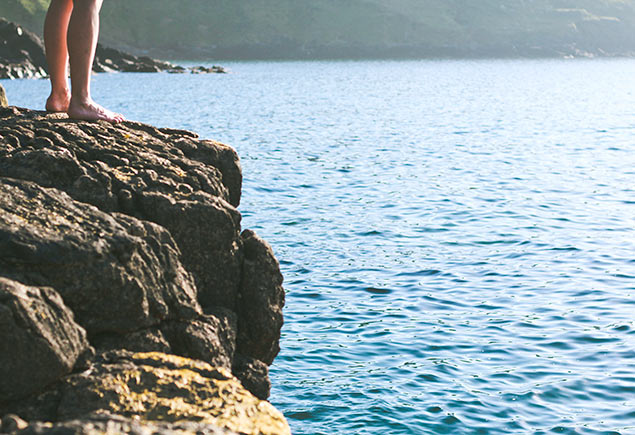 But demanding or gentle, it doesn't matter, just dive in and go wild this summer.
Wild swimming can be enjoyed by anyone who's a competent swimmer. Safety is a must though, as seas and rivers can be hazardous places and the effects of cold water can be fatal. Avoid swimming alone, assess the risks, and wear a brightly coloured hat so you can be seen. Read the swim safety advice on the Outdoor Swimming Society's website   
For further info and events visit www.devonandcornwallwildswimming.co.uk or join one of several regular group swim sessions for 2016
Penzance: daily at 11am at Battery Rocks with the Battery Belles and Buoys, all abilities; Wednesdays and Fridays, 6.45pm to swim at 7pm, meeting in the Yacht Inn car park, experienced/fast swimming ability recommended.
Kessel Quarry near Penryn: Wednesdays 6pm – 8pm, Saturdays 9am – 11am with Kernow Open Water Swimming All abilities.
Falmouth: Wednesdays at 6.30pm. Gyllyngvase Splashmob, meet by the flag.
Carbis Bay: Thursdays at 6.30pm, Carbis Bay Splashmob, all abilities.
Tags: Falmouth | Land's End | Marazion | Newlyn | Sennen | South Cornwall | St Just | St Michael's Mount | Watersports | West Cornwall |