From the famous Coast to Coast route to the family-friendly Camel Trail, Cornwall is full of pedal-worthy routes and trails but what about off the beaten track? Off-road cycling in Cornwall is one of the best year-round activities you can get stuck into as the many woods, moors, and clifftop paths provide miles upon miles of heart-pumping fun.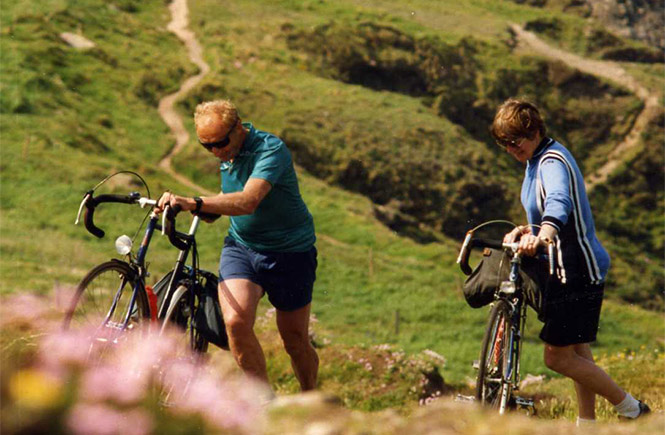 From trails that have been specially designed to teach you the ways of off-roading, to tracks that test your metal alongside your balance, Cornwall is home to some seriously impressive trails that need to be seen – and experienced – to be believed!
Don't worry if you don't fancy lugging your bike down to Cornwall for your holiday. There are lots of great bike shops that not only rent an array of bikes from electric to mountain, but they will actually deliver them straight to your holiday cottage in Cornwall.
Ready to enjoy the great outdoors in absolute biking style? Here's our pick of the best off-road cycle trails in Cornwall…
For the beginners…
Lanhydrock Bike Trail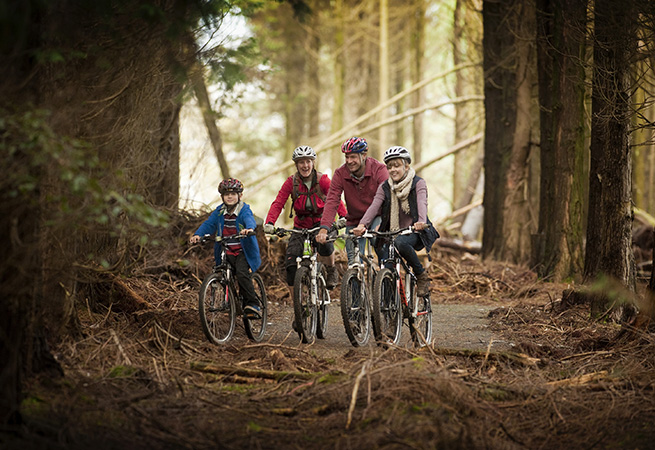 Distance: Between 1 and 2 miles depending on the trail
Difficulty: From very easy to difficult depending on the trail
Cycle hire: Lanhydrock
From those learning to ride to those wanting to take on their first red grade trail (a downhill off-road track that's short but sure to slap a smile on your face), the cycle paths around Lanhydrock are a cyclist's paradise. If you have learners in your party, you can head to the skills area and balance bike track, which has been designed to replicate the surfaces and turns you'll experience on the full trails, giving a gentle introduction to off-roading.
Once everyone is ready to hit the ground cycling, you can choose between the impressive list of trails. The Lodge trail is a lovely wooded green (easy) trail, there are four blue (moderate) trails that vary between 1 and 2 miles long, and one red (difficult) trail that's made up of two 500m downhill tracks you can use to race with your friends and family.
The cycle routes are for bike users only, so you don't have to navigate around walkers, which makes these trails super fun and ideal for testing your skills. Once you've mastered the trails, head into Lanhydrock for a refreshing pick-me-up from one of the two National Trust cafés – a piece of cake after a day spent on the trails just hits different!
For the adrenaline seekers…
Bodmin Beast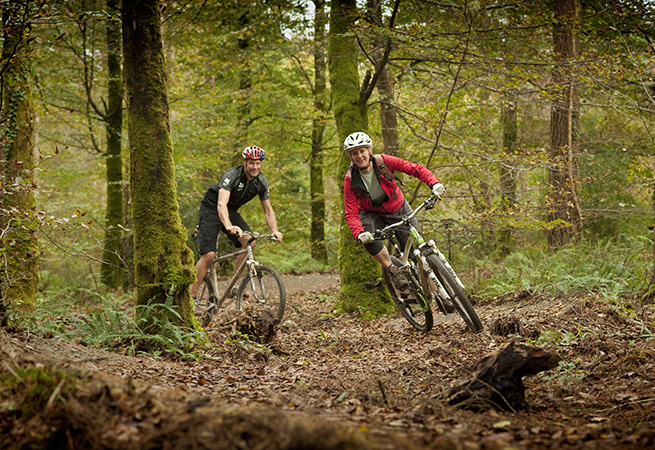 Distance: 7.5 miles
Difficulty: It's mostly a blue grade trail for those with some experience of off-road cycling and mountain biking with two red grade trails for proficient riders
Cycle hire: Trail Munki
Cardinham Woods is definitely in the hall of fame when it comes to off-road trails in Cornwall with the snaking tracks, technical climbs and descents, and tight bermed corners all creating a veritable playground for experienced riders. The majority of the trail here is blue grade, which means it's great for those that have gone off road before but who aren't quite ready to tackle the next step.
However, if you're itching to put you and your bike to the test, there are two hair-raising red trails that are sure to get your blood pumping. 'Dialled-in Dave' is a warm-up and introduction to red trail riding. You can enjoy the natural flow of the trail as well as a decent amount of speed as you hurtle around the track. Kicking things up a notch, the second red trail 'Hell's Teeth' – an appropriately formidable name – offers adrenaline seekers the chance to really get to grips with mountain biking as the trail takes you up a very steep climb before unleashing you on the descent. After your ride, head over to Woods Café for a well-earned cream tea – don't worry, they welcome muddy guests (human and canine).
For West Cornwall sightseeing…
West Kernow Way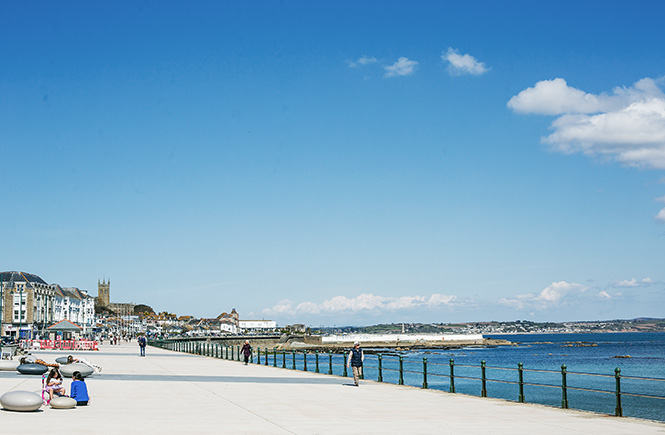 Distance: 143 miles
Difficulty: Mostly blue grade tracks with some loose surfaces and steep sections alongside quiet lanes and cycle paths
Cycle hire: Go eBike Hire, Lands End Cycle Hire, Cornwall Bike Hire
While 143 miles can seem like a lot, one of the best things about the West Kernow Way is that you can either do it in one dramatic go across three or four days, or you can spread it out and tackle little chunks at a time. Following a figure of eight across the south western stretch of Cornwall, this epic trail is one of the best ways to experience just how varied the landscape of Cornwall really is. You'll pass through historic towns and the epicentre of Cornwall's mining heritage, past landmark after landmark (St Michael's Mount and Kynance Cove to name but a few), and you'll get to enjoy miles of rugged Cornish coastline and golden sandy beaches.
The West Kernow Way was designed to be done in a specific direction in order to make the most of the incredible landscape and winding routes. Starting in Penzance, you'll ride clockwise around the Penwith peninsula before heading anti-clockwise around the Lizard peninsula, which is famous for its beautiful walking routes. There are lots of great towns and villages along the way, full of tasty eateries waiting to refill your energy reserves. Try Porthleven for some harbourside delights, Mullion for some traditional pubs, and Penzance for a mega-feed at the end of your Cornish adventure.
The West Kernow Way isn't waymarked or signposted, so make sure you download the map or route GPX onto your GPS before setting off.
For nature lovers…
Goss Moor Multi-use Trail
Distance: 7 miles
Difficulty: Green grade trails that are safe for walkers, cyclists, horse-riders, and wheelchair users
Cycle hire: Cornwall Bike Hire
Open to cyclists, walkers, horse-riders, and wheelchair users, the Goss Moor Multi-use Trail is the baby bear's porridge of cycle trails in Cornwall. Not too long, steep, or uneven, everyone can enjoy this gently winding track that weaves in and out of the little-known Goss Moor Nature Reserve.
A Site of Special Scientific Interest (SSSI) and a Special Area of Conservation (SAC), you're sure to see lots of fascinating locals here, from the fluttering wings of the Marsh Fritillary Butterfly to a rare sighting of a roe deer. While the reserve is made up of marshland and moorland, the paths are perfect for cycling, offering a mostly flat surface from which to enjoy the surrounding wildlife.
For history lovers…
Great Flat Lode Trail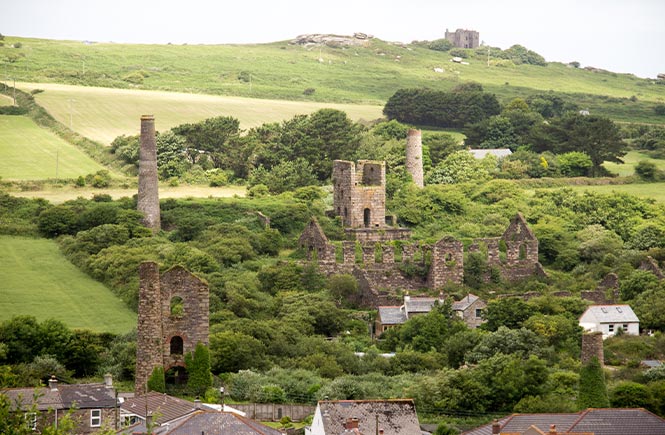 Distance: 7.5 miles
Difficulty: Easy to moderate with some unsurfaced paths and minor roads
Cycle hire: Bike Chain Bissoe
Another cycle route in the heart of Cornwall calling out for some out-of-season exploring is the popular Great Flat Lode Trail. Named after the rich mining history that surrounds the trail, this route will take you past remnants of Cornwall's heritage from the towering engine houses to a mine that was working right up until 2005.
The trail will take you around Carn Brea, the site of a Neolithic hill settlement that can be climbed for even more impressive views over the historic towns and countryside of mid-Cornwall. In true mining style, you'll follow part of the Basset Mine Tramway, which used to carry ore from the mines to be crushed at Wheal Basset Stamps. We recommend starting your journey at the King Edward Mine where you'll be able to get into the history-seeking mood with their fascinating tours – or you can simply fuel up in the café.
For something a little extra…
Woody's Bike Park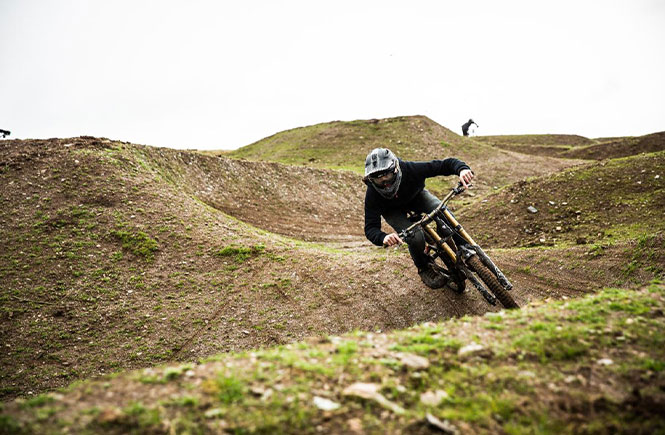 Four Turnings, Fowey PL23 1JU
woodysbikepark.com
Woody's Bike Park had to be mentioned on our list as it's the place in Cornwall to be if you love mountain biking. The first bike park to be built in the county, Woody's is jam-packed with a variety of trails from easy going blues to adrenaline-pumping double blacks that'll plaster a smile on your face that lasts all day.
There are nine trails in total, catering to intermediate, advance, expert, and pro levels, giving you plenty of variety during your day spent hurtling down senders, around berms and over specially created obstacles like Cornish granite rock gardens. Want to see how many times you can make it down in one day? Make the most of Woody's Uplift service and can catch a ride back up the hill so all of your energy can go into the descent.
Due to the nature of the trails here, a full-face helmet and knee pads are recommended when visiting Woody's Bike Park.
Ready to take on Cornwall's off-road tracks and trails? Explore our welcoming cottages and find your perfect base for an adventure.