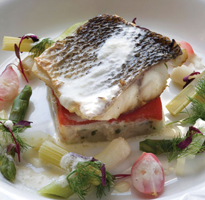 Penzance is a great place for those who love to eat out – there is a selection of different restaurants and cafes that will satisfy your hunger whatever you feel in the mood for! We are sure that you will enjoy trying them all and finding your own favourites, but here are a few recommendations to get you started when self catering in Penzance:
Waterside Meadery
A visit to a Cornish Meadery is a must during your stay – it is a truly different experience. The waitresses are dressed as wenches, the recommended tipple is delicious Cornish mead, and the food is reasonably priced and plentiful. Dishes like 'chicken in the rough' are eaten with your fingers, and there are fabulous puddings. For those who like a salad bar visit Newlyn Meadery just down the road. The atmosphere is lively and the place is very popular with locals – it's a friendly, value-for-money place to bring family to. Be sure to book in advance during high season!
The Bay
At the opposite end of the scale, The Bay produces locally sourced food with an emphasis on locally caught fish. They have a variety of menus that range from fine dining á la carte in the evening to a brasserie-style menu during the day, and they even offer an afternoon tea that would keep you going for hours. They have an extensive and well-thought through wine list to complement the excellent food prepared by the chef and his team. The restaurant itself is open and airy with views of Penzance Harbour in the distance. The Bay provides a friendly yet special experience that is ideal for a celebration, or just an evening to look forward to as part of your holiday.
Sea Palace Chinese
This was recommended to us as the best Chinese in West Cornwall! The restaurant itself has booths that make eating there a little more private and you can choose from all your Chinese favourite meals. Great for eating in or grabbing a takeaway to enjoy in the comfort of your holiday cottage.
The Turks Head
This is the oldest pub in Penzance, with a colourful history of smuggling and piracy! An underground tunnel from the Harbour to the pub provided many with a secret escape route to avoid being caught handling contraband. Nowadays, the pub has won awards for its food and provides high quality dishes in a relaxed informal environment. Their new chef was once a semi-finalist on Professional Masterchef, and he is producing stunning food to prove why he got so far. The burnt toast ice cream in particular is delicious!
Alverne
Alverne is often overlooked by people looking for something to eat, but it should really be higher on the list!  The food has an emphasis on fresh local produce and just-caught fish. The menu includes tapas options and more traditional Cornish specialities, and Alverne is open for breakfast, lunch and dinner, making it a great place to visit regardless of the time of day. Pop in for a relaxed glass of wine and a few nibbles on their comfy sofas after a day exploring Penzance, or take advantage of the summer sun, and enjoy a meal sitting on the terrace.
Archie Browns
Slightly off the main road in Bread Street, which runs parallel to Market Jew Street, Archie Browns is a well-loved vegetarian and vegan café open in daytime only. They source locally grown food, offer alternatives for those who require wheat free or dairy free diets and food is also available to takeaway. This is a lovely place for lunch, with artwork on the walls and a really tasty and interesting menu that changes frequently.
If you fancy venturing away from Penzance to the neighbouring town of Marazion, be sure to check out our guide to eating out in Marazion.
View all our cottages in Penzance >
Tags: Penzance