Food, glorious food… There really is nothing like it, especially here in farm-studded Cornwall where home-grown veg is a thing of beauty and pride. From lay-bys and farm shops offering fresh veg that's been plucked from the earth mere metres away, to restaurants and cafés delighting in creating mouth-watering plant-based dishes that taste as good as they look, Cornwall is a mecca for those wanting their five-a-day in the tastiest way possible.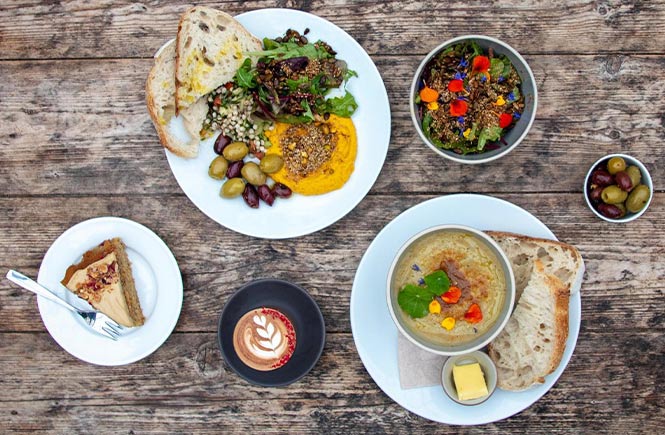 Making the absolute most of Cornwall's natural larder are the many great vegan and vegetarian restaurants. Oh yes, whether you're a breakfast lover to whom there is no better sight than a plate piled high with baked beans, mushrooms, and freshly grilled tomatoes, or you have a sweet tooth that has yet to say no to a giant piece of cake covered in vegan buttercream, a trip to one of Cornwall's top-notch vegan and vegetarian eateries is sure to satisfy.
While Cornwall's impressive array of restaurants (many award-winning) naturally cater to those wanting a meat-free and dairy-free dining experience, this list is all about the places that champion veggie and vegan dining. There are no cursory vegan options in this list, just big and beautiful veg-based menus!
Mouth starting to water? Excellent! Let's take a look at the very best vegan and vegetarian restaurants in Cornwall so you can start building your taste-tastic foodie tour, from garden-side coffee shops to cafés with refill stores included.
Archie Browns, Penzance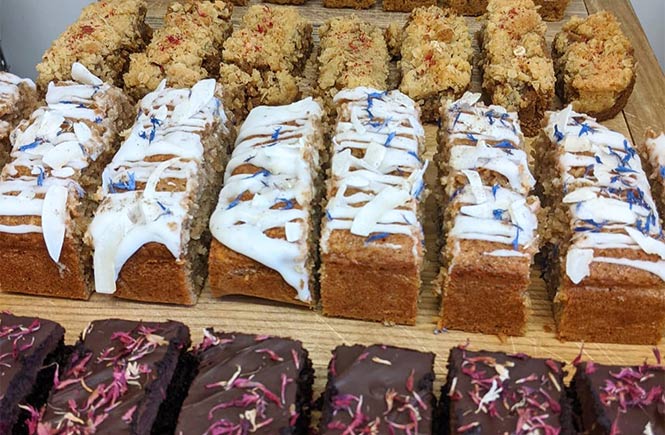 Best for: Takeaways and retail therapy
Old Brewery Yard, Penzance TR18 2EQ
archiebrownscornwall.co.uk
Archie Browns has become a household name here in Cornwall, especially amongst those who strive for a more environmentally conscious way of life. With two locations in the county, a shop in Truro and a shop and café in Penzance, Archie's is all about making life better, whether through the food you eat or the footprints you leave. Stock the medicine cabinets with natural supplements or the fridge, freezer and larder with treaty food and drink with a visit to either of the eco-friendly locations, or head to Penzance for a supremely delicious plant-based takeaway you can enjoy perched on the Prom – the soup of the day alone is worth a visit!
Potager, Constantine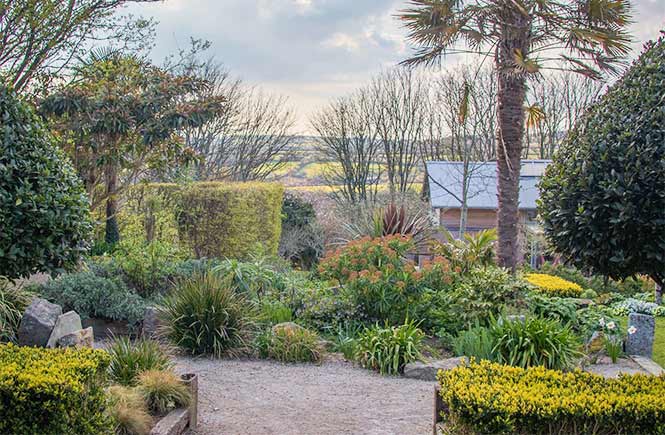 Best for: Green thumbs and plates
High Cross, Constantine, Falmouth TR11 5RF
potagergarden.org/cafe
Seasonal in both veg offerings and opening times (check the website before visiting), the welcoming café at Potager is a must for those wanting a sweet treat or a hearty veg-packed meal while visiting the renovated haven. Within a beautifully converted greenhouse you'll find a charming café where toothsome veggie breakfasts and wholesome lunches draw your eyes to the menu. A lot of the food is grown and harvested from the very grounds that surround the greenhouse, meaning the menu changes often – giving you a great excuse to visit as much as possible throughout the year! Serving food Thursday to Sunday, the quirky glass-clad café also holds events throughout the year including delicious evening feasts and workshops with nature at the heart.
The Bean Inn, Carbis Bay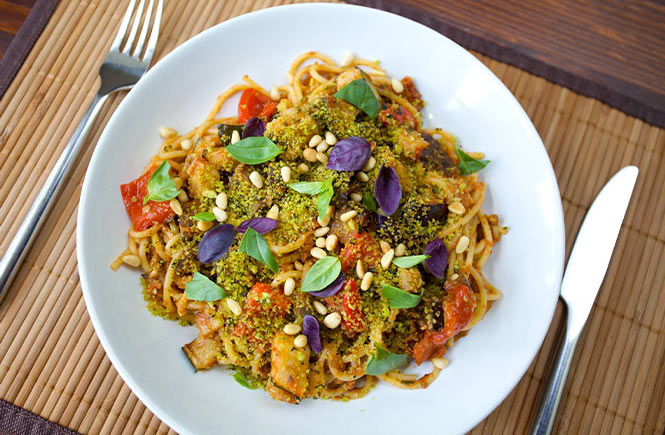 Best for: Photo-worthy flower-power foods
Coast, St Ives Road, Carbis Bay, St Ives TR26 2RT
thebeaninn.co.uk
One of the biggest names in Cornwall when it comes to veggie delights, The Bean Inn in Carbis Bay has been plating up picture-perfect veggie dishes since 2003. Seasonal Buddha bowls, stuffed potato cakes, and Cornish and vegan ice creams are just some of the treats that await at this Cornish gem, with a menu that's either entirely vegan (drinks too) or easily adaptable. A kids menu ensures the little sprouts are well catered for too, with a happy mix of pasta dishes and smaller plates ensuring even the pickiest of eaters find something to delight over. Sit in or take your veg-tastic meal to go and enjoy on the near-Mediterranean sands of Carbis Bay – even the takeaway packaging is plant-based and compostable!
Be Kind, Hayle
Best for: Vegan coffee on the go
South Quay, Hayle TR27 4EP
Tucked away along the banks of the Hayle Estuary you'll find a sky-blue caravan brewing up soul-warming vegan coffees – the perfect stop-off during your easy-going waterside wander. It's not just steaming cuppas on offer though, oh no! Freshly made cakes, pastries and doughnuts fill the air with their tempting aromas, making it very difficult to walk past without treating yourself – and why not! Fancy something a little more savoury? Vegan wraps, bagels, and toasties are the caravan's answer to hungry bellies come lunch time, which when combined with the pretty location, makes a pretty perfect spot to refuel. Check out their social media for some mouth-watering food-spiration!
The Cornish Vegan, Truro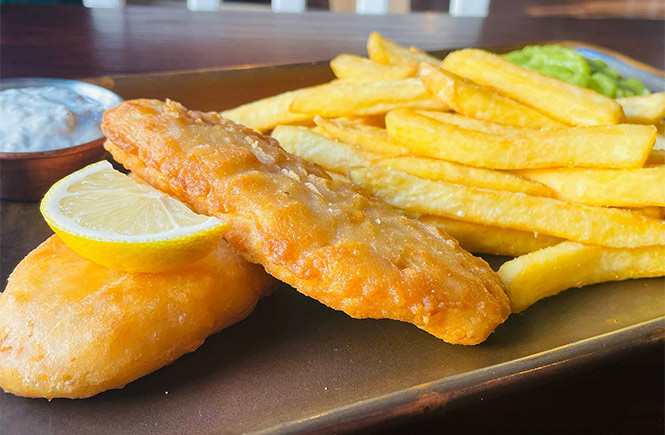 Best for: Vegan comfort food from around the world
15 Kenwyn Street, Truro TR1 3BU
thecornishvegan.com
Whether it's mac 'n' sheese with extra sheese, gluten free tofu katsu, or firecracker 'pork' with a superhot kick, the totally mouth-watering menu from The Cornish Vegan in Truro is the place to be when the hunger pangs hit – especially if you're craving comfort food from every continent. With a sit-in restaurant, delivery, and collection options, it's satisfyingly easy to get your eager hands on the handmade grub, which uses local and seasonal ingredients wherever possible. Run by vegan Cornish duo Rob and Graham, The Cornish Vegan has well and truly won the hearts of locals and visitors alike.
Sprout, Newquay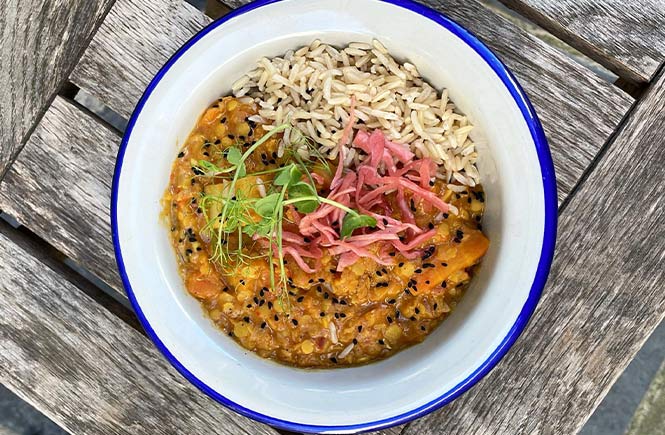 Best for: All things health and wellbeing
The Old Printhouse, Newquay TR7 1FZ
sprouthealth.co.uk/cafe-menu
Aside from being the surf capital of Cornwall, Newquay is also hailed as one of the top spots to quell a hungry stomach as the coastal town boasts many fantastic restaurants, cafés, and bars alongside a slew of beaches perfect for a takeaway backdrop. Bringing a tummy-rumbling collection of wholefood, vegan, and gluten free dishes and sweet treats to the table, Sprout is all about nutritious and delicious delights. Before you even cast your eye over the food, the drinks menu calls your attention with an extensive collection of local coffees, indulgent cacao mixes, and smoothies jam-packed with goodness – all with a range of milk alternatives (you can even pick up oat milk refills). Daily made vegan and gluten free cakes and bakes satisfy the sweet-toothed amongst you, while the famous Sprout hotpot offers a one-pot soul warmer that varies from curries to stew to chilli. You can also do a spot of grocery shopping while you're here.
Canteen at the Eco Park, Porthtowan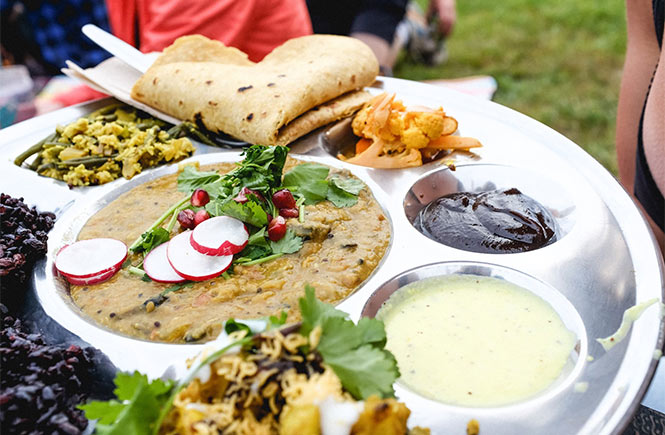 Best for: Vegan breakfast, brunch, and Sunday lunch
Mount Pleasant Eco Park, Chapel Hill, Porthtowan, Truro TR4 8HL
mpecopark.co.uk/cafe
Nothing beats homegrown veg, especially when it's been pulled from the very ground on which you're standing. Canteen at the Eco Park grow as much as they can in the eco park's allotments, with other ingredients coming from local and ethical suppliers, ensuring a true taste of Cornwall in every bite. Whether you kick your day off right with a gargantuan veg-fuelled brekkie or end your week with a slap-up vegan roast with world-changing trimmings, a trip to this canteen is a total treat - especially if you time it with one of their epic feast nights! Roasted cauliflower, aromatic spices, poached pears… The ever-changing menu is always ready to get that tummy rumbling so make sure to check out their social media for upcoming - and totally unmissable - specials.
Fal Falafel, Falmouth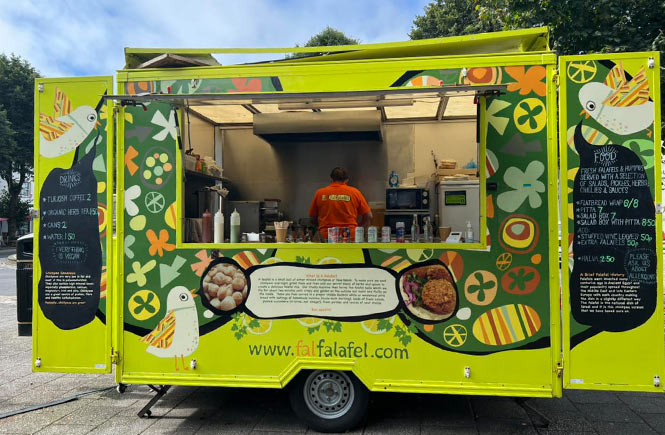 Best for: Street food at its best
The Moor, Falmouth TR11 3QA
falfalafel.com
A cornerstone of plant-based eating, falafels are a joy that's hard to beat, especially when combined with freshly made salads and the hustle and bustle of Falmouth. Found on The Moor, Fal Falafel is a Cornish institution that delivers (both figuratively and literally) hunger-quelling meals you can enjoy on the go or perched on the town's famous harbour. Whether you fancy your falafels with a big old salad or fresh pitta, you'll be chowing down on locally sourced produce – the pittas are actually made on the same Cornish farm that the wheat is grown! Throw in some stuffed vine leaves, a delicious Turkish coffee, and some Halva, and you've got the makings of a veritable feast. We recommend grabbing your foodie haul and heading down to one of Falmouth's many beautiful beaches for the ultimate plant-based picnic.
Plant Based Takeaway, St Austell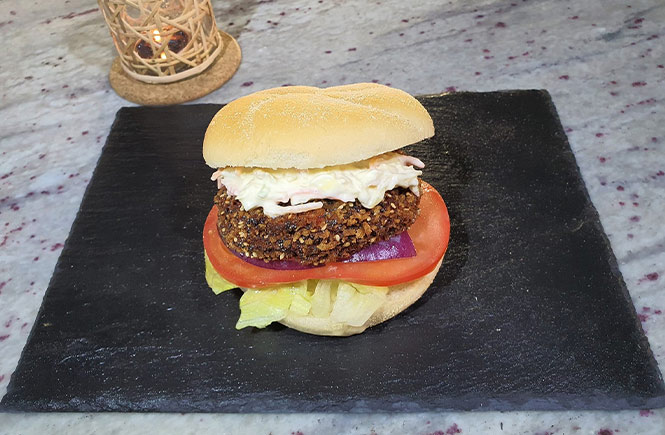 Best for: Veggie and vegan feasts at home
St Austell PL24 2RN
plantbasedtakeaway.co.uk
As much as we love going out to dinner when away, sometimes it's nice to cosy on down in your home from home with a takeaway, and when it comes to veggie and vegan dishes, this St Austell takeaway really does deliver! A mammoth menu that incorporates takeaway favourites from around the world ensures there's something for everyone, whether you're in the mood for an Indian or some comfort food from the States. With each dish jam-packed with veg and flavour, this is a great way to satisfy those cravings while ticking off your five a day – stir fried vegetables always manage to hit the spot!
Wilder Kitchen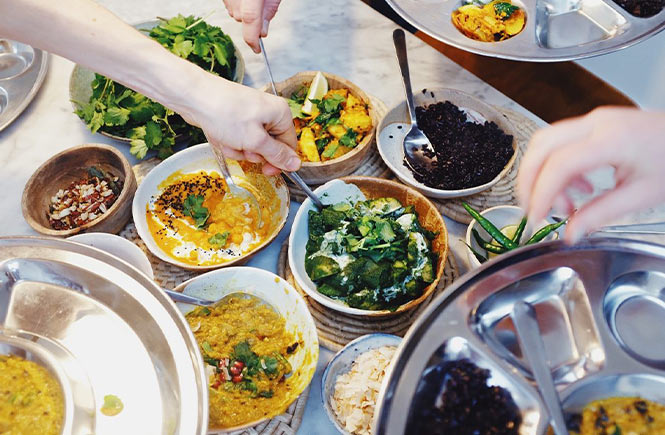 Best for: Veg-powered pop-ups
If you're looking for a plant-based curry that will knock your sandy socks off, look no further than Wilder Kitchen. Popping up all over Cornwall, Wilder specialises in epic Thalis that make the most of aromatic spices and super fresh ingredients. The Thalis vary across each pop-up, giving you an ever-changing opportunity to make the most of this tasty tradition. Common dishes include dahls, pickled cauliflower, and mind-boggling vindaloos, with dosas and naans rounding off the mouth-watering line-up. As a pop-up kitchen, it's always worth checking out their website or social media to see where they'll appear next, ensuring you never miss out on the chance to enjoy the flavours and fun of a Thali.
Check out our collection of beautiful holiday cottages in Cornwall and find the perfect base from which to explore Cornwall's epic foodie scene.
Tags: Eating out | Porthleven | St Ives | Truro |