After a day's stint at the beach, shopping in the town centre, or exploring the myriad landscapes of north Cornwall, visitors to Newquay can look forward to an array of liquid refreshment from some seriously swoon-worthy cocktail bars.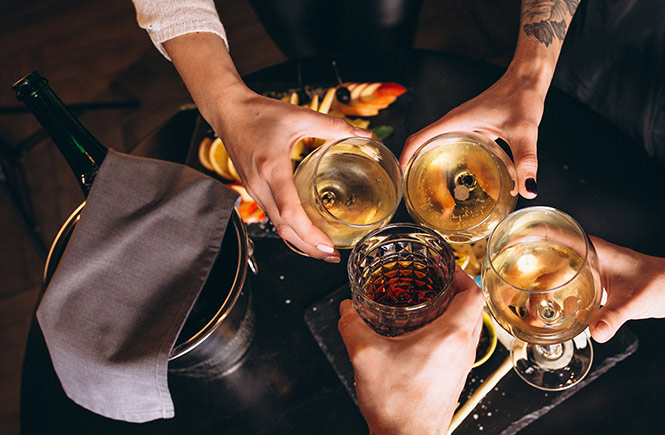 Whether you prefer lively surroundings or a relaxed atmosphere, stylish interiors or sunbathing in a beer garden, Newquay's eclectic mix of watering holes will satisfy your every drinking whim.
The town is awash with options, all presenting an uber friendly and inviting space to sample the local beer, treat your taste buds to a new cocktail (or two), tuck into a local delicacy or enjoy some top-notch live entertainment.
You might fancy settling into a cliff-top pub to take advantage of bay-wide coastal views, or somewhere beachside to imbibe the sea air and feel the sand-between-your-toes, or to experience a buzzing new bar in the heart of Newquay.
Wherever and however you wish to toast the end to another dreamy day in Cornwall, any of the variety of cocktail bars in Newquay will provide the perfect place to kick back and take it all in.
Here's our top seven for starters...
Cove24
Best for: Drinking and dining
Where: 24-26 Fore Street, Newquay, TR7 1LN
Website: cove24.uk
If you'd like to fill your stomach with something particularly appetising before tackling the cocktail list, then Cove24's 'multi-sensory gastro experience' promises to spoil your taste buds accordingly.
Offering far-reaching views of the bay from its central town location, the restaurant and cocktail lounge is one of Newquay's newest additions, presenting plush, open-plan interiors encircling an inviting bar area, along with intimate nooks in the form of bolthole corners if you fancy cosying up while absorbing the ambience.
Tuck into a burger, tacos or open sandwich for lunch, or book a table for a supper of steak, pan fried hake, Katsu curry or seafood linguine washed down with something whipped up by the in-house mixologists such as a Cornish Fire Water, Spring Fling, Lemon and Basil Martini, White Cosmo, Tokyo Iced Tea or Blushing Mimosa. You'll also find a lip-smacking list of mocktails, gins, wines, beers and spirits to tickle every taste.
Secret Garden
Best for: Pizza and cocktails
Where: 21 Cliff Road, Newquay, TR7 2NE
Website: secretgardennewquay.co.uk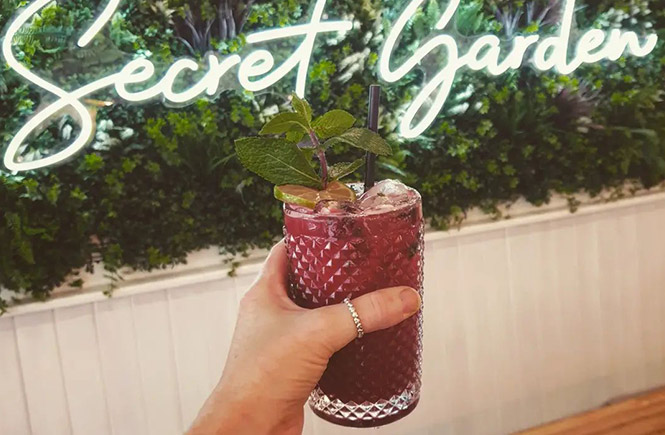 Serving up a heady combination of artisan pizzas, crafted cocktails, organic and biodynamic wine, and a selection of Cornish beers, ciders and gins – Newquay's Secret Garden (complete with a gorgeous green living wall) is as tantalising as it sounds.
Located on Newquay's Cliff Street – and so hosting heavenly sea views that you can relish further with an alfresco bite on the beautiful outside terrace – expect a laidback atmosphere and oodles of flavour, whether you visit on a themed night (like their renowned Margarita Mondays), book a family meal out, or opt for a last minute walk-in – as everyone is welcome.
The pizza menu comprises everything from a classic Margherita to the Cheesus Christ, Piggys Can Surf, Mother Clucker and Billy Goat's Gruff, while a range of salads, sides and sharing platters are also available.
As for the cocktails, particularly enticing numbers include the Meringue Shebang, Strawberry Gin Fizz, Atlantic Negroni, Basil Brush, Pineapple Kick and Elderflower Martini, which all look set to quench your thirst in truly lip-smacking style.
Rebellion Roast House
Best for: Something daringly different
Where: 34 Cliff Road, Newquay, TR7 2ND
Website: rebellionroasthouse.co.uk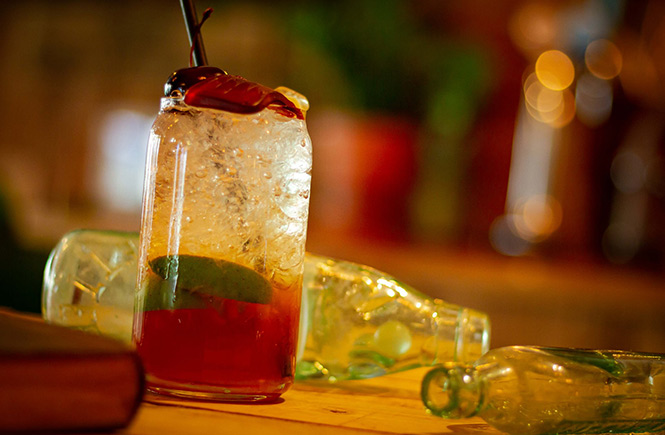 The centrally-located roast house and moonshine bar smacks of personality, pushing the envelope with their own 'badass' twist on standard food and drink menus to supply guests with something altogether more memorably palatable.
Unique dishes like Maple Moonshine Mussels, Pulled JackFruit Chilli and Truffle Mac & Cheese Gratin sit alongside burgers, salads, steaks, roast dinners, loaded fries and delicious sides (think confit garlic mash, Cajun skinny fries and corn on the cob) to ensure a scrumptious feast for all.
Those with a penchant for statement drinks will delight in Rebellion's Smokin' Gun or Flaming cocktails (yes, really!), while more classic tastes will be thrilled by the Moonshine Mary or Cornish Moonshine Mojito. Plus, with an ever-changing menu of seasonal specials (past creations include the Sloe Down Rudolph – a mix of sloe gin, Aperol, pumpkin spice, Martini Rosso, Angostura bitters, cherries, slice of orange and cinnamon stick) – you'll discover something dazzlingly different to try whenever you rock up at Rebellion Roast House.
Mix
Best for: A post-surf party/chill out
Where: Unit 3, The Ark, 1 East Street, Newquay TR7 1DN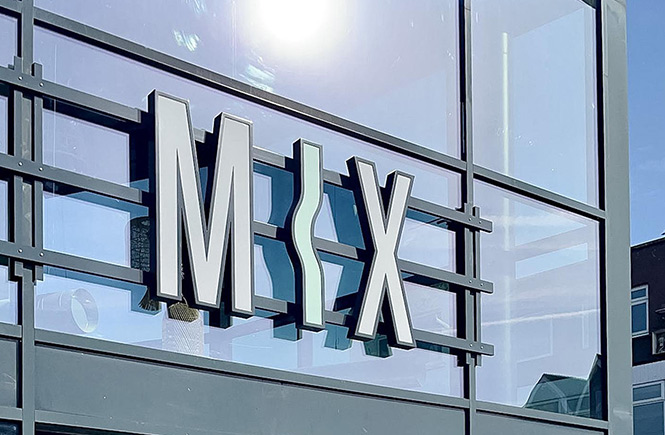 Newquay's newest and hippest place to see (and be seen) is Mix – a stunning après surf bar that oozes individual style and atmosphere. Having recently been transformed from an empty building into a gorgeous industrial-style workspace and cafe/bar, it looks set to become one of Newquay's most celebrated hangouts. Check them out on social media to follow their exciting progress.
The striking Scandi beach aesthetic has been achieved by polished concrete flooring combined with natural materials such as rattan, wood and eye-catching dried palm hanging installations flanked by a statement wall mural by Cornish artist, Joe Greenaway.
Come evening time, the bespoke patterned timber-clad bar provides the perfect centrepiece from which to serve up some fresh sushi alongside the carefully curated range of spirits and mixers, draught beers from Jubel and Sharp's Brewery, and extensive cocktail list featuring both classic and signature recipes including the house's favourite, 'Pic N Mix'. In the day, sup on a Matcha tea, Cornish-roasted Olfactory coffee, home baked cake, freshly prepared sandwich or sweet something from local bakery, Gorse while pondering your next surf.
Tom Thumb Cocktail Bar
Best for: Spirits and sustainability
Where: 27A East Street, Newquay, TR7 1DN
Website: tom-thumb.co.uk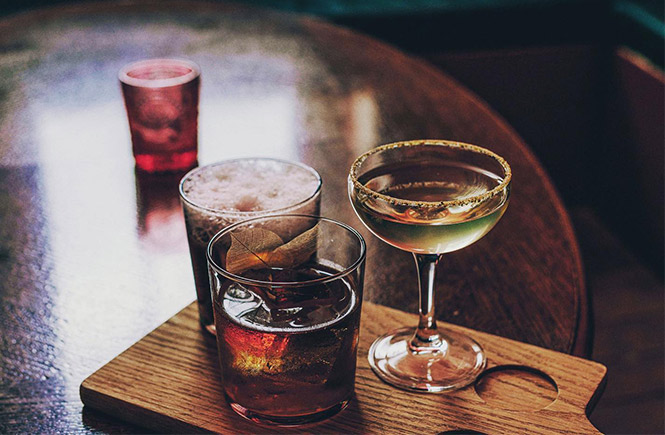 Presenting 'bold classics and original creations', Tom Thumb is renowned for its mouth-watering drinks menu. Along with well-known concoctions such as Margaritas, Negronis and Mia Tais, visitors can experiment with bespoke tipples like Autumn Edge, champagne cocktails (aka 'Giggle Water') such as The Rip Chord and Kir Royale, or an equally-as-tantalising non-alcoholic 'Driving Juice' like the Garden Cooler, Easy Bramble and Pomelo Sour.
Sustainability is as much of a focus as quality, and Tom Thumb's journey to zero waste is being undertaken by small actions such as foraging and growing their own garnishes, using LED light bulbs, stocking paper straws and reusing bottles along with grander gestures including using a 100% renewable energy supplier and reducing their carbon footprint by limiting deliveries to just once a week, allowing you to indulge your taste buds in all this earth-friendly knowledge.
The Dead Famous
Best for: Late night cocktails
Where: 8-10 Beach Road, Newquay, TR7 1ES
Website: thedeadfamous.co.uk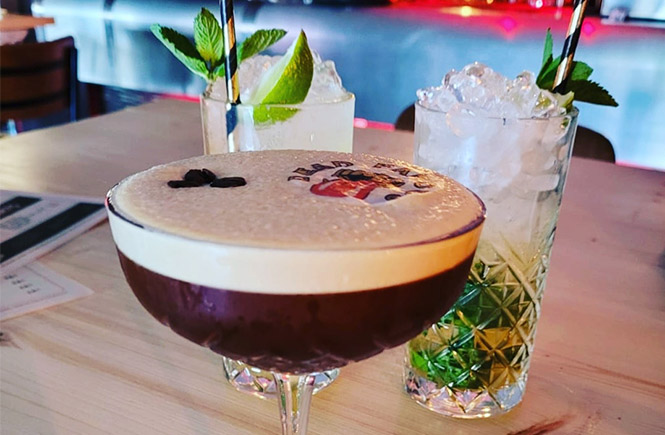 Situated in the town centre, the late night liquor lounge promises a heady dose of hard liquor, cocktails and live music, making it one of Newquay's most lusted-after locales.
The rock-inspired, LA styled establishment offers industrial-cool interiors and a laidback atmosphere for visitors to sample the drinks menu, which is also accompanied by classic cuisine such as gourmet burgers, loaded fries and scrumptious sides. Tipple-wise, think cocktails with a rock 'n' roll twist (and amusing song-inspired names), such as the Pretty Fly For a Mai Tai, Hotel Caipirinha, Bohemian Daiquiri and Espresso Yourself.
Playing live HD sports on their 75" LCD screen, the bar is renowned for its weekly live music experiences and DJ nights covering all genres to electrifying effect.
Fistral Beach Bar
Best for: Beach views
Where: Headland Road, Newquay, TR7 1HY
Website: fistralbeachbar.co.uk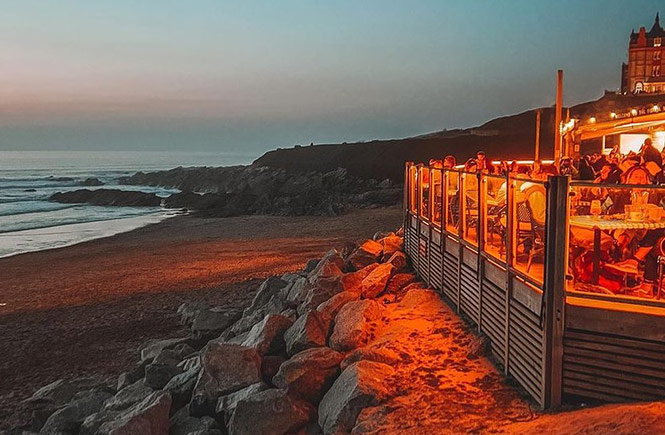 If you're dreaming of uninterrupted views of Newquay's famous surf beach while sinking a sundowner, Fistral Beach Bar is the venue for you. Sitting on the shoreline within stone hurling distance of the sea, it presents a heady combination of spectacular location, crowd-pleasing menus and year-round events including BoardMasters Surf Festival, Fistral Fireworks and the UK Pro Surf Night Surf contest. Then there are monthly silent discos and regular DJ and sax performances as part of their Ibiza-like sunset sessions, allowing everyone to soak up the atmosphere in fabulously chilled-out style.
Take shelter from the elements and snuggle up on the sofa with a hot chocolate or freshly ground mug of Joe, or select something from the drinks menu that features local offerings such as Rattler cider, Tribute ales and Camel Valley wines alongside a host of delectable drinks from across the globe and Prosecco cocktails such as Elderflower Fizz and Beach Bar Bellini. Should you feel peckish, pick a dish from their breakfast, pizza, loaded fries, kids, nachos, wraps/salads, snack and dessert menus guaranteed to sate all appetites.
Feeling hungry? Check out more places to eat in Newquay here.
And if you're ready to book your holiday to Newquay - browse our full portfolio of cottages here.
Tags: Newquay | Food and Drink | Food and Drink |