Newquay is one of Cornwall's secret foodie scenes, with a host of eateries from quaint cafes to cosy pubs and lip-smacking cocktail bars to high-end restaurants.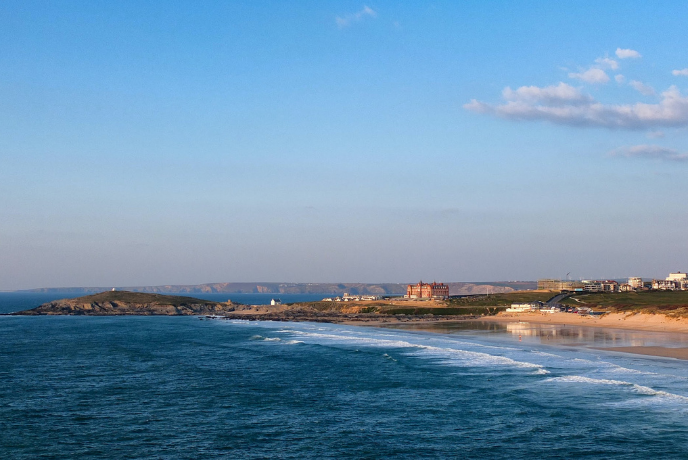 With world-famous beaches galore and boats coming in daily with fresh catches, it's little wonder that the seafood in Newquay is some of the best in the county. In this list, we've explored some of the top restaurants in this popular seaside hotspot to help you find the perfect place to experience Cornwall's food at its finest.
Looking for something a little more low key? Check out our list of top pubs and restaurants in Newquay here.
Lusty Glaze
For a pop-up experience…
Where: Lusty Glaze Rd, Newquay TR7 3AE
Contact: 01637 872444 | lustyglaze.co.uk/restaurant-aw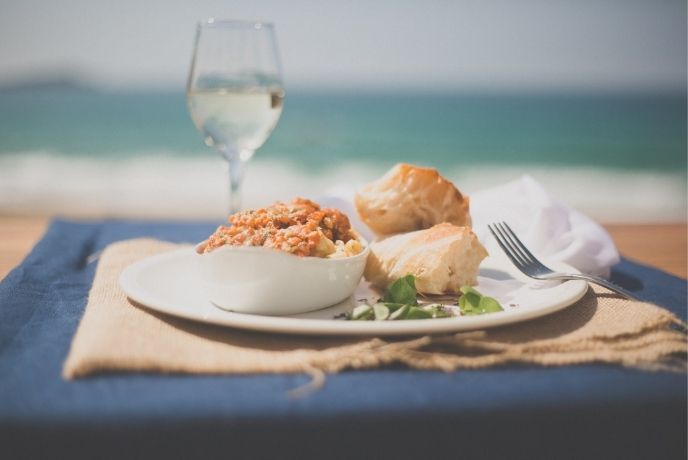 During the day you can curl up for a fireside coffee at Lusty Glaze's dreamy beach café but at night, you get to experience something truly spectacular as The Cornish Chef takes over the kitchen. Pair stunning sea views alongside a carefully curated menu that showcases the very best of Cornish food, all designed by a chef that cut his teeth alongside the likes of Gordon Ramsay, Michael Caines and Claude Bosi. Cornish scallops with wild mushrooms and winter truffle and locally caught lobster are just some of the incredible dishes on offer.
Scarlet Restaurant
For a taster menu…
Where: Tredragon Road, Mawgan Porth TR8 4DQ
Contact: 01637 861800 / scarlethotel.co.uk/food-drink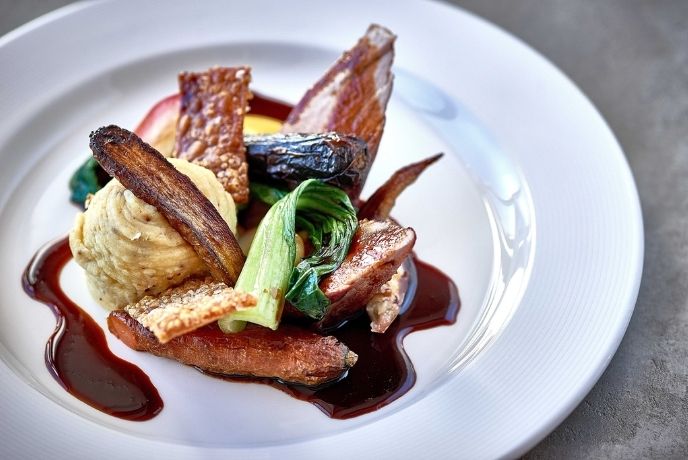 Alongside their daily à la carte menu, the Scarlet offers a superb seven-course tasting menu that provides the chance for eager foodies to try a selection of extraordinary dishes including turbot with champagne and caviar beurre blanc. Made using only the finest local ingredients, the food and wine at the Scarlet benefit from a real focus on quality and appreciation of the flavours and the processes that go into creating such memorable dishes. And great news for any vegetarians and vegans as you'll have your own menu to choose from when dining at the Scarlet. The food isn't the only thing that stands out when visiting the restaurant though as stretching sandy views provide the perfect backdrop to your meal. Check their website for more information on booking throughout the year.
The Fish House
For fantastic seafood…
Where: Unit 5 International Surf Centre, Fistral Beach, Headland Road, Newquay TR7 1HY
Contact: 01637 872085 / thefishhousefistral.com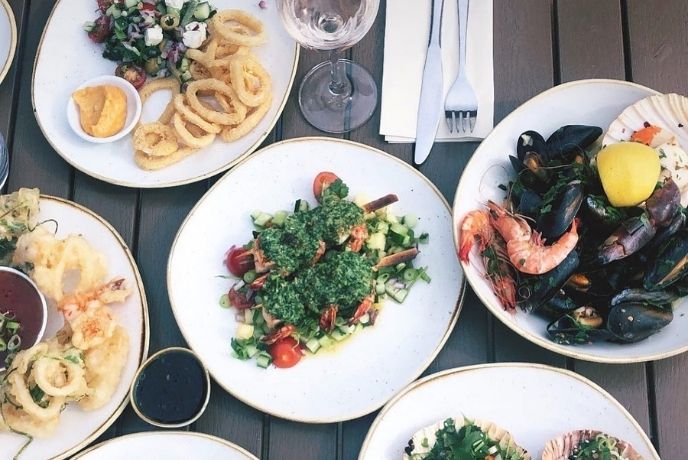 With fishing standing as one of Cornwall's top industries, it's little wonder that we love our seafood restaurants. Having recently won numerous awards and earning its way into the Michelin Guide, The Fish House at Fistral now sits amongst the greatest seafood restaurants in Cornwall. Fresh from the harbour and local farms, each dish is made using only the best of local produce giving you a true taste of Cornwall in every bite. Our favourite dish on the menu has to be the roasted hotshell, which includes all the seafood you could want with mussels, crab claw, scallops and tiger prawns. Situated on one of Cornwall's most famous beaches, if you're looking to make the most of the sea this holiday, this is definitely one for your list.
Cove24
For unparalleled décor…
Where: 24-26 Fore Street, Newquay TR7 1LN
Contact: 01637 856024 | cove24.uk/eat/food-menu
You don't have to be sitting overlooking the ocean to enjoy a meal with a view when at Cove24, which has been decorated to exceptional standards giving it a unique atmosphere. When you can bear to drag your eyes down to the menu, you'll find a simple yet oh so tempting collection of dishes that can be enjoyed as either light bites or spotlight-stealing main meals. The pan fried hake is always a firm favourite with diners and the roasted veg crepes are a great addition to the menu. Add cocktails and you've got the recipe for a perfect evening out in Newquay.
Lewinnick Lodge
For the view…
Where: Pentire Headland, Newquay TR7 1QD
Contact: 01637 878117 | lewinnicklodge.co.uk/eat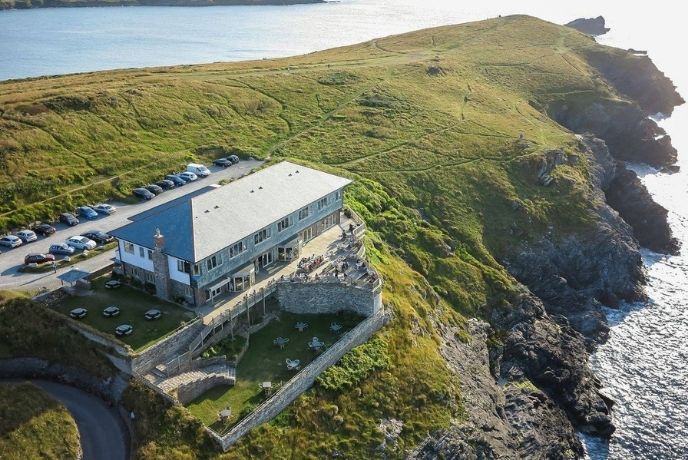 Exceptional food and far-reaching views are on the menu at Lewinnick Lodge, which is perched up on Pentire Headland. Watch storms roll in or settle in to watch the sunset while enjoying some tasty local dishes full of proper Cornish ingredients. The charcuterie, seafood and veggie platters in particular offer guests the chance to try a little bit of everything, perfect for those who find it hard to choose! Grab a drink at the dog-friendly bar before heading out on the terrace or cosying down by the fire in the lounge. Whatever the weather or season, make the most of it at Lewinnick Lodge.
Silks Bistro and Champagne Bar
For luxurious fine dining…
Where: Dane Road, The Atlantic Hotel, Newquay TR7 1EN
Contact: 01637 839048 | atlantichotelnewquay.co.uk/champagne-bar-and-restaurant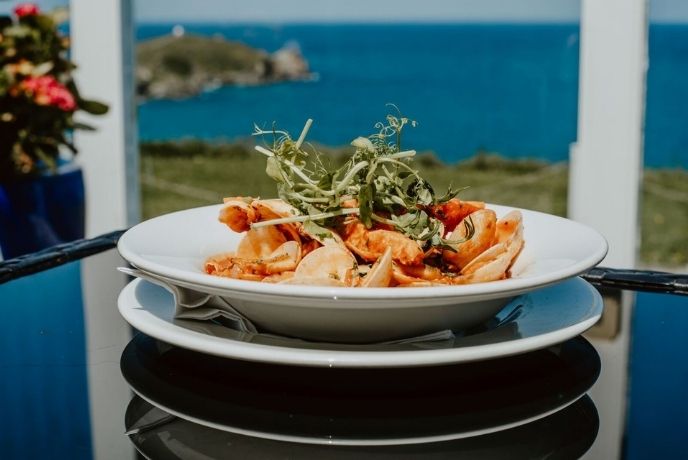 This Rosette-awarded restaurant deserves its accolade. Sleek interiors, top service and a lip-smacking range of dishes will delight all types of diner. Expect a la carte classics such as pasta and steak along with fresh and locally sourced fish and meat dishes, tapas and regularly changing specials as you unwind in the relaxed, Mediterranean style ambience. This clifftop favourite also offers wonderfully traditional afternoon tea, perfect for anyone who wants to don their finer clothes for an afternoon of cakes, sandwiches, and yes, champagne.
Rick Stein Fistral
For fish and chips…
Where: Fistral Beach Complex, Headland Rd, Newquay TR7 1HY
Contact: 01637 808437 | rickstein.com/restaurants/fistral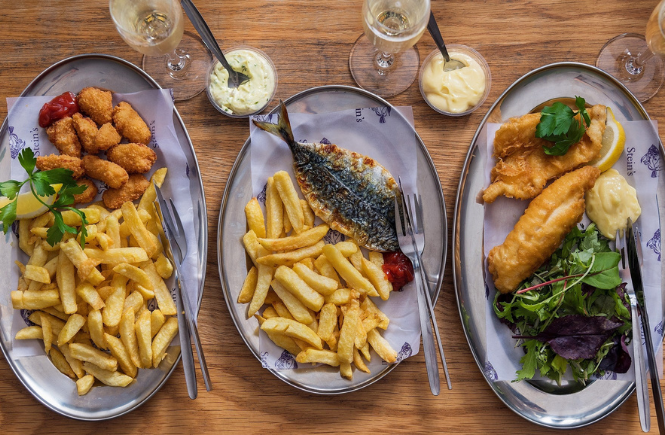 When it comes to iconic pairings, it doesn't get better than fish and chips and Fistral beach. Rick Stein's Fistral has become synonymous with this world-famous beach, with his stunning waterfront restaurant offering guests the chance to eat in and soak up the bustling atmosphere or take their meal to go so they can stretch out on the sand and eat their catch in true Cornish style. With lashings of homemade sauces, if you're looking for a fine fish and chips dining experience, Stein's is the place for you.
The Harbour Fish & Grill
For service, sea views and seafood…
Where: North Quay Hill, Newquay TR7 1HF
Contact: 01637 873040 | theharbourfishandgrill.com/menu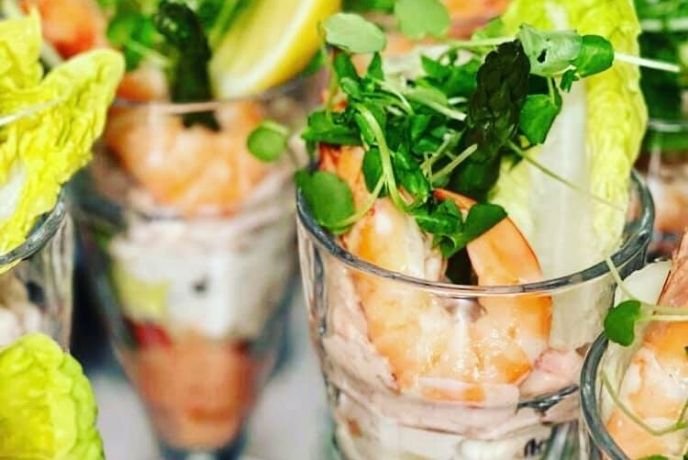 Situated on the harbour front, you can explore dishes that make the most of the Cornish land and sea with fresh local ingredients and dishes that blend classic flavours with the new. If you find it too difficult to choose from the menu, and believe us, we've all been there, you can order the seven-course tasting menu. This foodie feast will take you on an exquisite journey through a variety of indulgent dishes including lobster, crab, scallops and beef shin ragu, perfect for a special occasion.
Dune Restaurant
For private dining…
Where: Fistral Beach, Newquay TR7 1PT
Contact: 01637 852221 | fistralbeachhotel.co.uk/eat-drink/dune-restaurant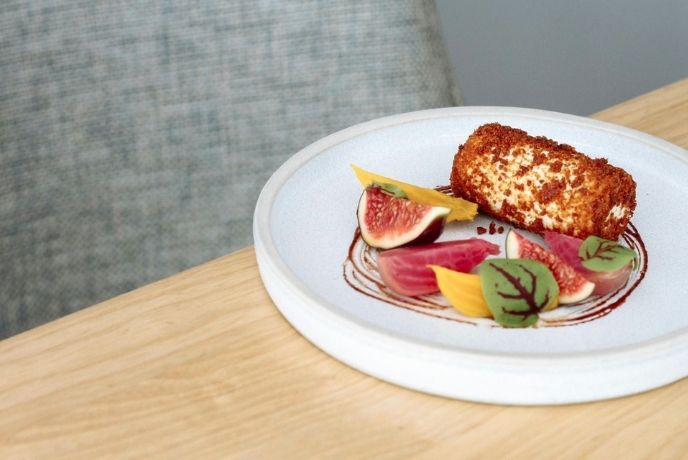 With food sourced locally and seasonally, you always know you're getting the best out of Cornish cuisine at Dune. Take a moment to sit and watch the waves of Fistral beach crash onto shore as you consider the 18 hour pork belly or teriyaki mackerel on the menu, allowing the atmosphere to wash over you. For those enjoying the thrills of a group holiday, a private dining space at Dune is the perfect place to get together and let the good times roll.
Beachcomber Restaurant
For a trip to the Mediterranean…
Where: Sands Resort Hotel & Spa, Watergate Rd, Porth TR7 3LX
Contact: 01637 872864 | sandsresort.co.uk/eat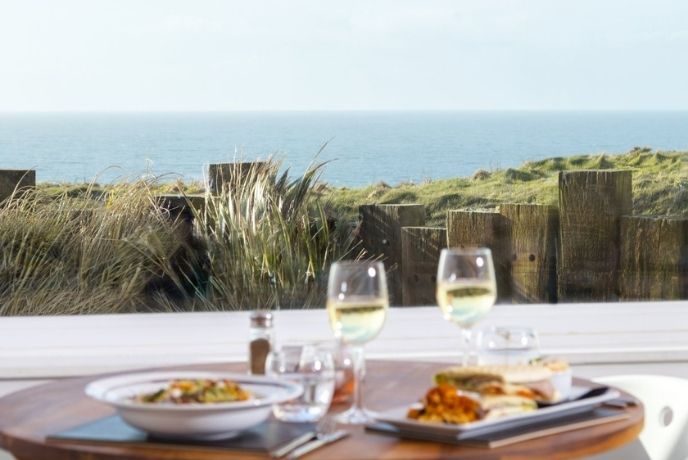 Inspired by the Mediterranean, Beachcomber has created a modern menu that can take you from filling breakfast to light lunch to elegant dinner with a loved one, all with beautiful views and a relaxed atmosphere. Making the most of Cornish produce, their mussels in a Rattler cream sauce is a particularly creative Cornish treat. Wanting a family-friendly meal? Every dish at Beachcomber can be made in a child-friendly size making this seaside restaurant a hit with couples, friends, and families alike.
The Great Western Restaurant
For a glass of Cornish wine…
Where: 36-37 Cliff Rd, Newquay TR7 2NE
Contact: 01637 872010 | greatwesternnewquay.co.uk/food-and-drink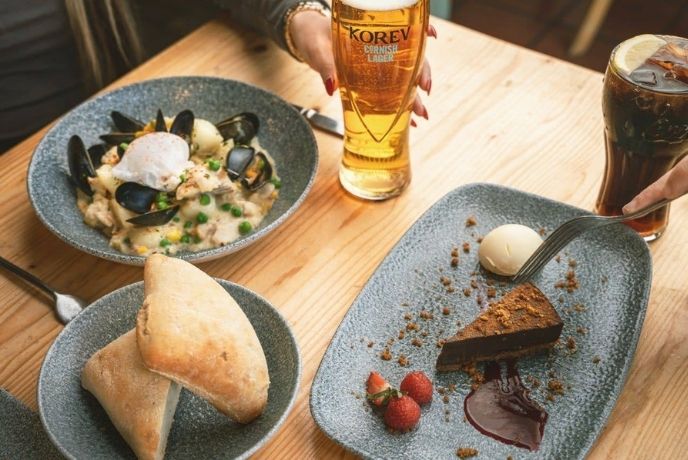 Fresh fish, local veg and reimagined pub classics are a mouth-watering combination that's only improved by a glass of wine that's made from grapes that are grown, picked and fermented right here in Cornwall. Enjoy far-reaching coastal views as you sip on a glass of Camel Valley wine and wait for your delicious main course to arrive. This is how you make the most of Cornish cuisine.
Excited to visit Newquay? Explore our list of cosy cottages and sun-soaked boltholes and plan your foodie visit.
Tags: Eating out | Newquay |