We were recently lucky enough to be invited to try out Go eBike Hire's new electric bike hire. Our friends at Global Boarders have started hiring eBikes from their base in Gwithian, at Sunset Surf Café and we couldn't have been more excited to give them a go!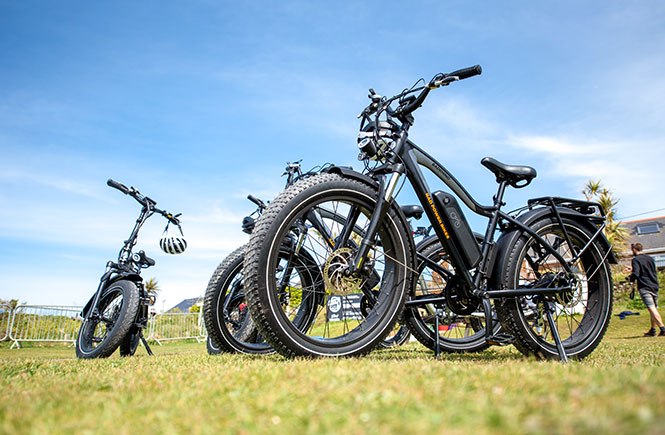 If you haven't heard of eBikes, they're essentially push bicycles with an electric battery to give you a boost! They work in the same way as traditional bikes with the added benefit of a fitted battery pack, which boosts your natural leg power, allowing you to cruise along with reduced effort.
On arrival at Go eBike Hire we were excited by the sight of the eBikes displayed on the grass outside the café, they looked larger and sturdier than traditional bikes and we couldn't wait to get going!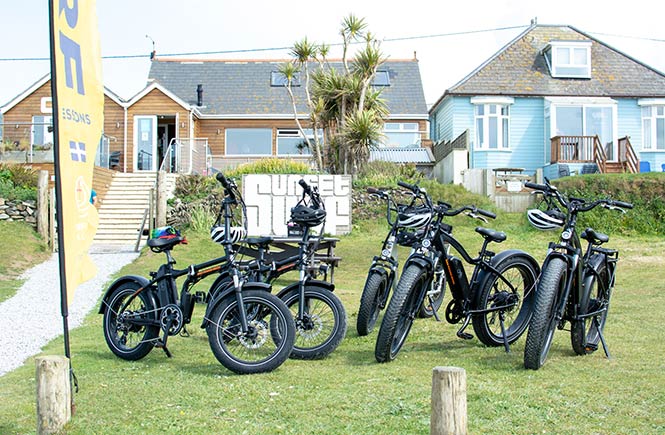 First, however, we were given a brief lesson on how to use the bikes, along with some safety information and our helmets (included in the bike rental). We had a choice of four styles: the Foldable eBike (particularly good if you're a bit smaller); the Go Anywhere, Do Anything eBike (a bit like a mountain bike); The Go Anywhere eBike (with easy mount/dismount) and the Retro Inspired eBike (super stylish!). Between the four of us, we had two Go Anywhere, Do Anything eBikes (opted for by the two men in the group) and two Space Saving eBikes (chosen by the two ladies). The Rad Power Bikes were chosen to manage the varied landscape of Cornwall with all-terrain, unique puncture-resistant tyres, so no matter which bike you opt for, you can go anywhere!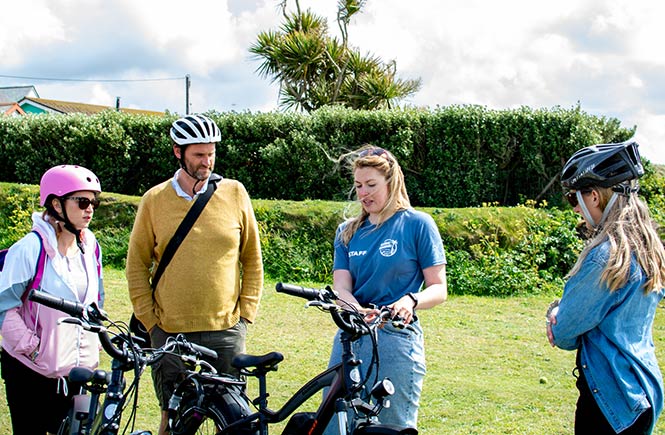 With this in mind, our group decided to head to the beach! If you know Godrevy beach, you'll be aware of the mountain of pebbles that lead to the sand. True enough, the all-terrain tyres lived up to their name, scaling the mound of pebbles, with just a little extra exertion on our part.
Cruising along the sand, wind rushing past and the sea crashing beside you is one of the most liberating experiences! We absolutely recommend taking an eBike ride along the beach! As we got closer to Hayle we found it proved more difficult to cycle as the sand was softer, so we upped the power setting and pushed onwards to… the pub! (Top tip, if you do stop on the beach, use the throttle to help you get going again, it gives you a little burst of power).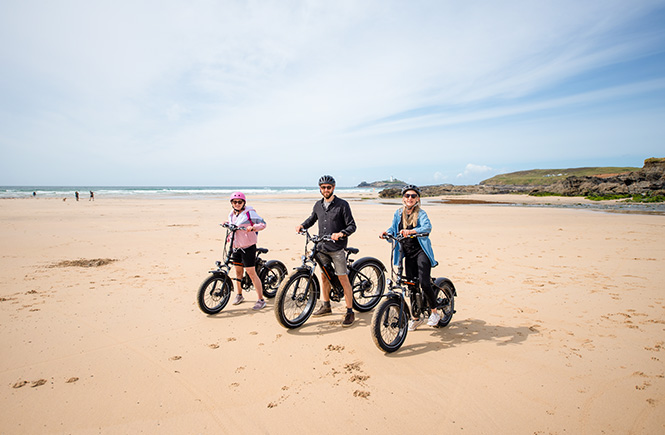 After stopping for a refreshing drink at the pub, we opted for the road route back to Gwithian so that we could test the bikes on the road. After the challenging stretch on the softer sand, riding along the tarmac was a breeze! We were able to decrease the electric power setting and cruise along with ease. When riding uphill, the electric makes it feel as if you're simply riding along a flat road. In addition, with the extra power, you can travel a greater distance in a much shorter time. As a local, I couldn't believe how quickly we made it from The Bluff Inn in Phillack back to the Sunset Surf Café!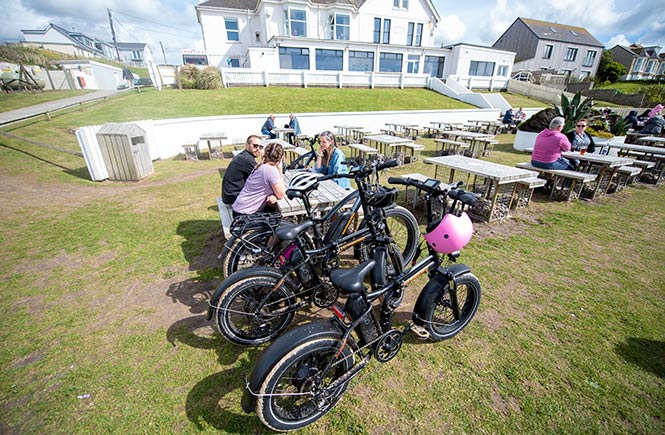 On arrival back at Go eBike Hire, we all felt as though we'd had a slight workout, without the strenuous level of exercise it would have taken to cycle the eight miles on a traditional bike (especially on the beach!). Overall, it was a fantastic experience that we'd all love to do again and definitely recommend!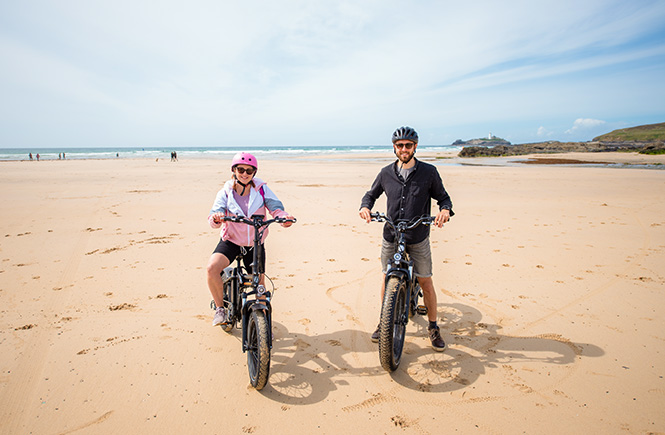 If you're staying nearby, why not hire an eBike and try riding along the beach yourself? Alternatively, hire an eBike for the day and cycle across to St Ives; you won't have to worry about parking, and you'll be able to explore the town with ease (without having to worry about the hills!). Another option would be to ride across to the opposite coast and explore Marazion (and St Michael's Mount), Penzance, Newlyn and Mousehole. Every bike comes with a gold-rated lock, so you can have peace of mind when stopping off for lunch or to explore the shops and area on foot.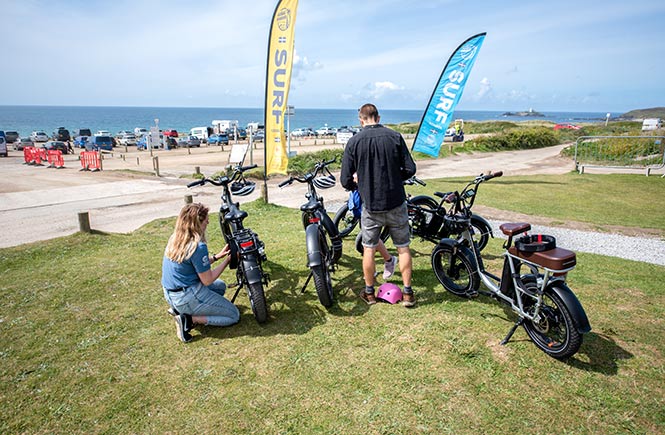 The eBikes cost £45 each to hire for the day, and can be hired here, hire includes a helmet, a gold-rate lock and a phone mount. Child seats can be booked for an additional charge of £10 a day. If you can't make it to Gwithian, then free delivery can be arranged with Go eBike Hire on request.
Find out more here>