With an idyllic working harbour as your backdrop and everything from Asian fusion to some of the best seafood restaurants in Cornwall, there are plenty of choices when it comes to eating out in Porthleven. In fact, Porthleven is becoming so synonymous with foodie delights that it was chosen as the site for the now famous Porthleven Food Festival, which turns this pretty Cornish harbour into a hub of world foods and music every April.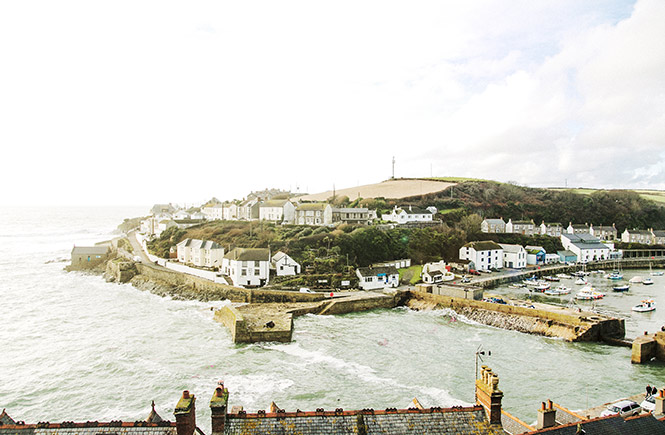 Sit down to a catch of the day with a pint of Cornish larger or tuck into a proper Cornish fish and chips as you watch the boats bob in the harbour (check out our Porthleven webcam to see the view that's waiting for you). Getting hungry? Here's our complete rundown of Porthleven's ever-growing list of places to eat.
Find out more
Restaurants
For incredible menus created by some of the best chefs in the south west.
Kota
Best for: Local produce with an Asian twist
Where: Harbour Head, Porthleven TR13 9JA
Website: kotarestaurant.co.uk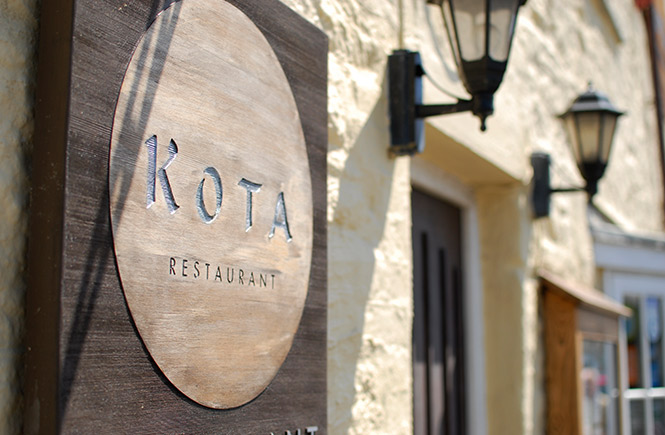 Sitting down to a meal at Kota, it's immediately clear that their ethos to serve locally-sourced food that looks as good as it tastes is at the forefront of everything they do. A stack of awards tells you exactly how passionate chef Jude and his team are. The food is a mix of eastern and local influences, which makes for some excellent dishes from the simplicity of oysters to the rich flavours of venison.
Kota is situated right on the harbour front in Porthleven and is much-loved by all who visit. In fact, Jude Kereama has become a household name in Cornwall, often appearing at food festivals to share his vast knowledge and unbeatable enthusiasm for good food.
Kota Kai
Best for: Family fun and food
Where: Celtic House, Harbour Head, Porthleven TR13 9JY
Website: kotakai.co.uk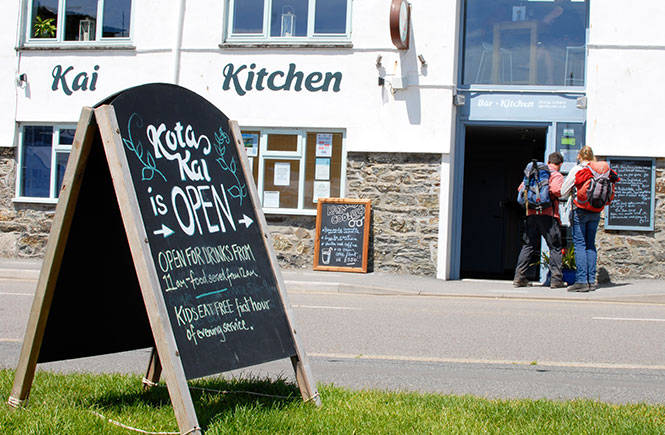 Sister restaurant to Kota, you'll find the same flair and attention to detail but with a more relaxed feel, making it perfect for families. Opening hours are earlier, there is a family room with skittles, and they serve mocktails for children, teenagers, and adults! The dining room has a funky, fun feel designed to appeal to the young-at-heart diner while the quality of the food remains exceptional. We love the idea of their rockpool dishes, which feature a range of seafood favourites.
Local seafood takes centre stage, and there are lots of varied and interesting dishes to choose from. There is an open kitchen that some tables have views over, which adds new meaning to dinner and show. Don't fret if your table doesn't have a vantage point over the griddle, you'll get to bask in the marvellous views of the harbour and beyond instead!
The Square
Best for: An intimate meal
Where: 7 Fore Street, Porthleven TR13 9HQ
Website: thesquareatporthleven.co.uk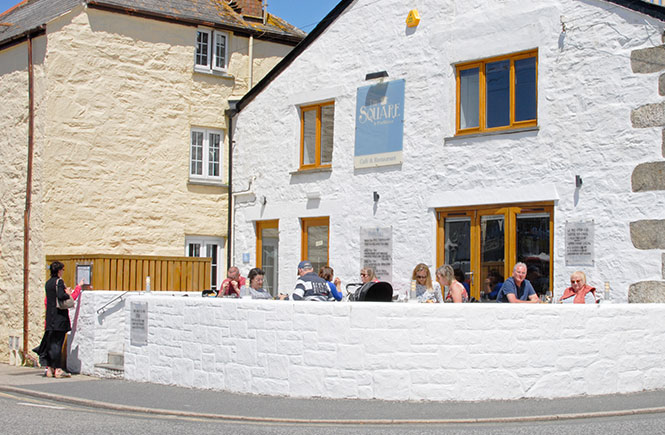 The Square also takes advantage of harbour views and locally sourced produce with a more traditional take on the dishes it produces. While the menu changes daily in order to make the most of the superb seasonal produce, you can expect a fantastic range of dishes that often includes favourites such as belly pork, monkfish and a devilishly chocolatey dessert.
This extends to its kids' menu, where aspiring foodies are well catered for without the usual children's fare. The Square welcomes people for coffee and cake throughout the day as well, so why not take this as a chance to drool over their menu and plan future visits? You can even pop in for an ice cream from their very own deli next door – you can't beat that for an after-dinner treat!
Amélies
Best for: Stacks of seafood
Where: Mount Pleasant Rd, Porthleven TR13 9JS
Website: ameliesporthleven.co.uk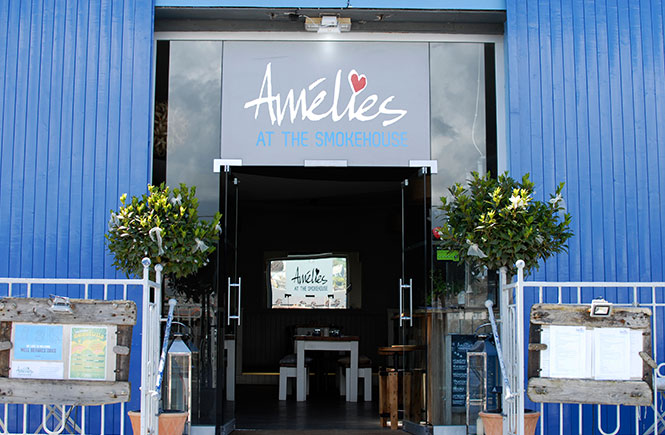 A bar by day and a relaxed dining experience in the evening, Amélies has been sharing its Mediterranean inspiration with locals and visitors for years. You'll find a wood-fired oven that produces exceptional pizzas alongside a simply incredible seafaring menu. The shellfish tapas menu allows you to mix and match your perfect shellfish feast while the Porthleven fish dish depends on what comes in with the daily catch that the local fishermen bring to the kitchen door.
Another restaurant to make the most of the stunning harbour views, it's easy to while away an afternoon or evening here, especially in the summer months when live music ups the chilled vibe even more.
Seadrift
Best for: Dog-friendly dining
Where: Fore St, Porthleven TR13 9HJ
Website: seadriftporthleven.co.uk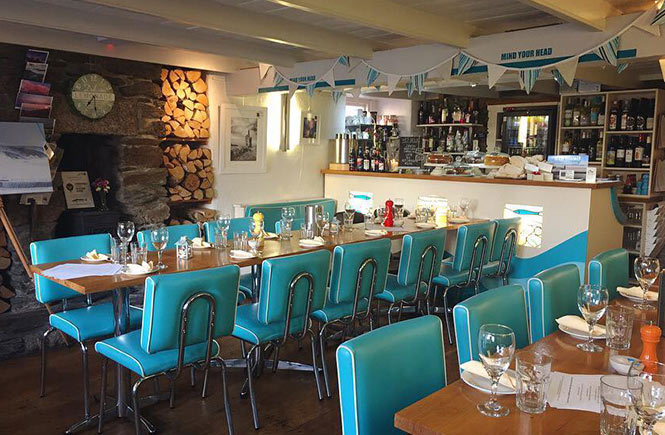 If you're looking for somewhere to enjoy top-notch fare with the dog by your side then look no further than Porthleven staple, Seadrift. With a relaxed and cosy atmosphere and locally sourced seafood dishes, it's easy to see where all of the five-star reviews have come from.
Dine on chargrilled monkfish and black pepper crispy squid or treat yourself to the two-course set menu on a Friday or Saturday, complete with a glass of house wine!
Pubs
For that a proper feast of pub grub and local ales.
The Harbour Inn
Best for: A proper Sunday roast
Where: Commercial Rd, Porthleven TR13 9JB
Website: harbourinnporthleven.co.uk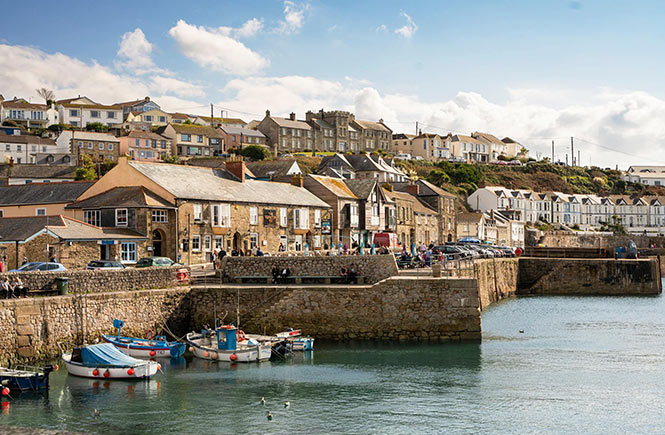 There are beer gardens and then there are harbourside beer gardens and we have to say, we're in love with the latter! You just can't beat sipping on a Cornish ale as you look out over the harbour and wait for your homecooked food to arrive. Alongside the well-stocked bar, you'll have a choice of superbly fresh seafood dishes as well as a Sunday carvery that really finishes the week off right. The carvery is (understandably) popular, though, so we definitely recommend booking to avoid pangs of disappointment and hunger.
For those new to the world of Cornish drinks, you'll be delighted to see that the menu includes recommended pairings so you can match your bevvy to the right dish – proper job!
The Ship Inn
Best for: Simply unbeatable views
Where: Mount Pleasant Rd, Porthleven TR13 9JS
Website: theshipinnporthleven.co.uk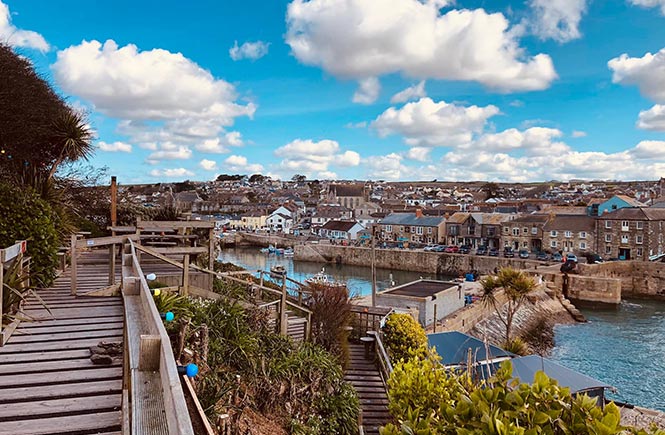 Known for its steep steps that seem to get steeper the more drinks you have, The Ship Inn is certainly vying for the top spot of best views in Porthleven. Head up to the very top of the beer garden to enjoy incredible views over the harbour and out to sea, or pop inside for a traditional pub atmosphere and a roaring fire (in the cooler months). While the drinks menu is populated with all the local ales and craft beers taking centre stage at the bar, the food menu is made up of classic pub grub, with fish pies and fresh crab paying tribute to the fishermen who keep the local restaurants well stocked.
Whether you fancy a light bite or a large bite, a stop off at The Ship Inn is a Cornish must when visiting Porthleven, especially when the sun is high and the beers are cool.
Atlantic Inn
Best for: Chilled vibes and good views
Where: Peverell Terrace, Porthleven TR13 9DZ
Website: theatlanticinn.co.uk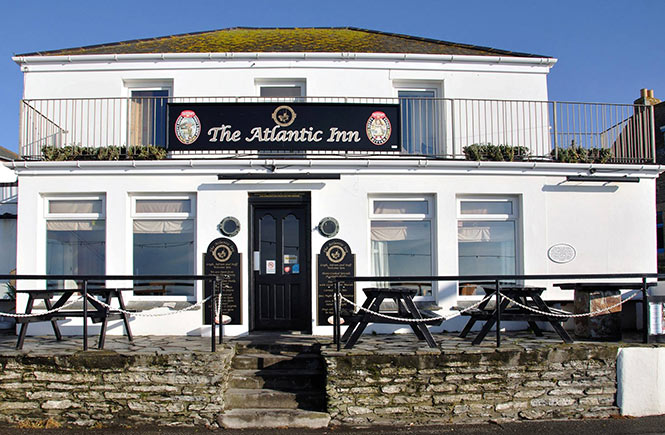 Family run and a favourite of locals, the Atlantic Inn enjoys all the laid-back vibes you would want from a Cornish inn plus a fantastic lineup of weekly entertainment. From live music to bingo, there's always something going on at this hilltop hideaway so make sure to check out their website to see what's coming up. Unwind to the acoustic strummings of local bands or head out onto the terrace and enjoy a glass of wine and the stretching views that reach all the way to Mousehole on a clear day.
You'll find simple, hearty grub on the menu full of fresh, local ingredients, perfect for a relaxing evening of Cornish culture and cuisine.
Cafés
For a coffee and a cake with a sea view.
Nauti
Best for: Local ice cream and food-fired pizza
Where: Commercial Rd, Porthleven TR13 9JE
Website: nautibutice.co.uk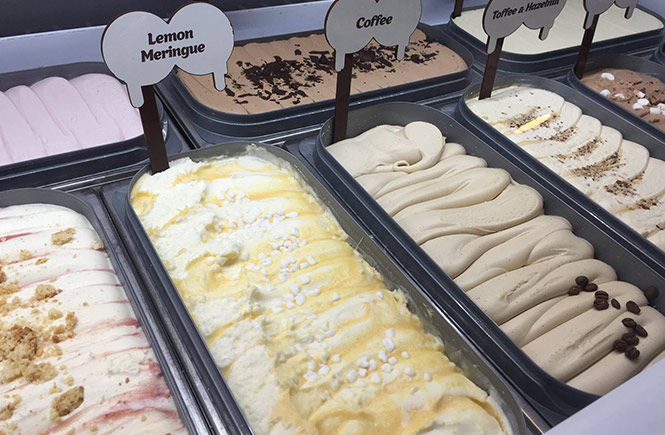 Starting off as the place in Porthleven (and possibly the entire Lizard peninsula) to grab an ice cream on a hot summer's day, Nauti now offers everything from chilled treats in Nauti But Ice to mouth-watering, wood-fired pizza in its pizzeria next door, all overlooking the picturesque Porthleven harbour.
After you've made your choice from over 30 flavours, take your Roskilly's ice cream to go and head out on the Cornish cliffs or settle down in the brightly coloured café and enjoy a coffee and a cake – or a full English if you fancy it! You can also enjoy Nauti's trademark Cornish fare in Helston at the Lakeside café, where you can sip on an Origin coffee and watch the ducks go about their business.
The Corner Deli
Best for: Light bites and Cornish delights
Where: 12 Fore St, Porthleven TR13 9HJ
Website: thecornerdeliporthleven.co.uk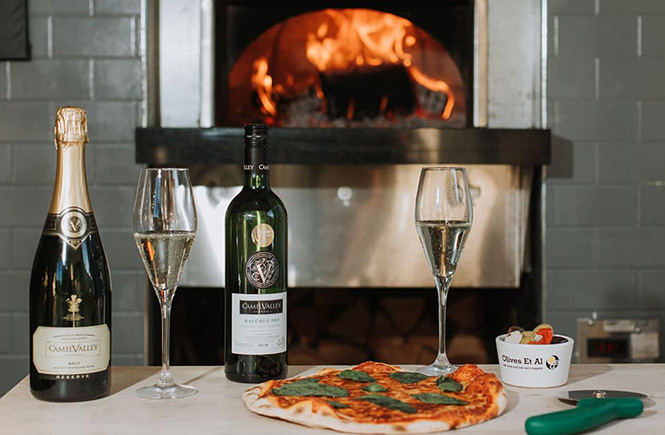 From hot off the press paninis to salad boxes that manage to make greens the best part of the meal, the Corner Deli is a lovely little spot for lunch in Porthleven. You can sit inside in their cosy nook or you can take your food to go and pop yourself down on the harbour as you watch the locals jump into the sea all year round. In the evenings during peak season, the oven gloves come out as the deli turns into a welcoming pizzeria that boasts everything from gluten-free bases to customisable toppings – one of everything is acceptable, right?
It's not just lunch you can pick up here, either. A corner of the deli has been transformed into a mini Cornish store so you can pick up all manner of local treats from Cornish chocolate to Cornish gin!
The Twisted Currant
Best for: A traditional afternoon tea
Where: 10 Fore St, Porthleven TR13 9HJ
Website: twistedcurrant.co.uk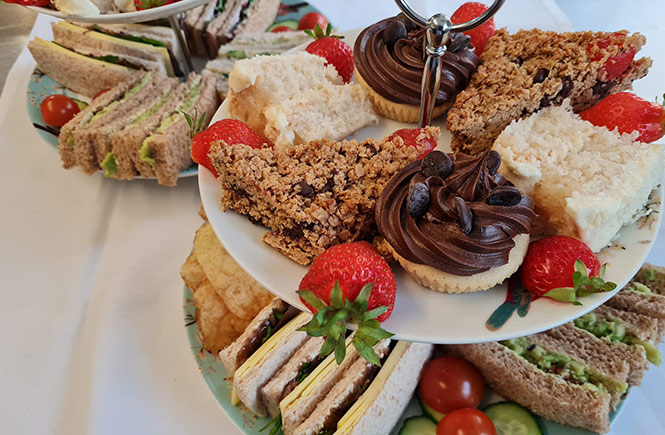 Whether you're a fan of a cream tea with lashings of jam and cream or you just can't get enough of tiny sandwiches with big flavour, if you're looking for a place to enjoy one of Britain's favourite culinary traditions then a trip to The Twisted Current is a must. You'll find a lovely shabby chic space that adds a great twist to the traditional afternoon tea (that will see you through to breakfast the next day).
Homemade cakes and scones are always a great shout here, especially when paired with a cup of Cornish tea from Tregothnan Estate, while the hungrier visitor might opt for one of the famous breakfasts, which have placed this dog-friendly café in Porthleven amongst the best places for brunch in Cornwall.
Origin Coffee
Best for: Coffee and a cake
Where: Harbour Head, Porthleven TR13 9JY
Website: origincoffee.co.uk/pages/origin-coffee-porthleven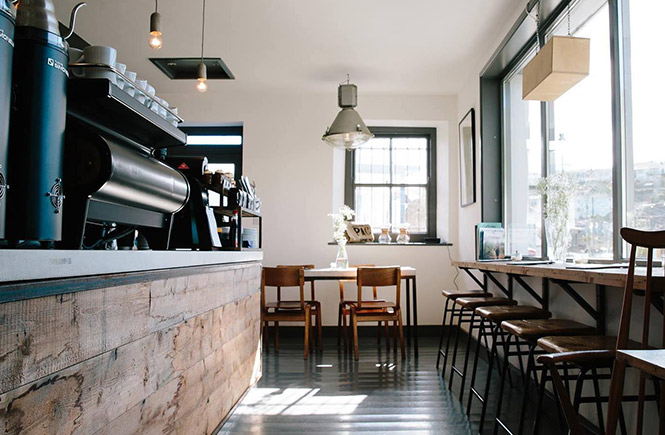 When it comes to a perfect Sunday afternoon, you can't get much better than sipping on a fresh cup of Origin coffee with a great big piece of cake in front of you as you watch people and boats go about their business in and around Porthleven harbour. It's just such a peaceful way to while away an afternoon.
Taste your way through Origin's monthly feature coffees in the little village where it all began or take your brew to go - they make great hand warmers for a wintery walk along the cliffs!
Harbour View Café
Best for: Breakfast with a view
Where: Mount Pleasant Rd, Porthleven TR13 9JS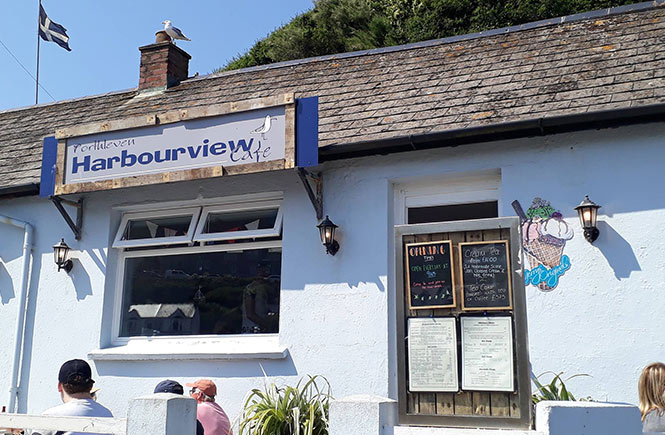 You just can't beat a full English breakfast… unless it's a full English breakfast with a view over Porthleven harbour! This friendly café has been a part of Porthleven's growing foodie scene for years, so much so that it's basically become part of the stonework of the village.
Whether you're in the mood for the mega breakfast or you want to treat yourself to a crab sandwich and a glass of fizz, the simple, honest menu covers every craving and hunger pang, alongside some of the best coffee around. Throw in the glorious harbour views and no one would blame you if you accidentally spent your whole holiday chilling at Harbour View Café.
Light bites and takeaway treats
For that extra special something to enjoy at your favourite spot along the harbour and beyond.
Dan Dan – The Lobster Man
Best for: Fresh seafood in the fresh air
Where: Mount Pleasant Rd, Porthleven TR13 9JS
One of the newest additions to the Porthleven's culinary roster, Dan Dan The Lobster Man is quickly becoming a firm favourite when it comes to fresh off the boat seafood. Perched right on the edge of the harbour, you won't find a better spot to enjoy some fresh crab and lobster. Dine on crab sandwiches, lobster salad or the ultimate seafood platter all while sitting back and watching the bustling harbour go about its business.
You can even pick up ready to BBQ mackerel so you can continue your seafood feast at your holiday cottage. Check out the lobster man's social media to see what's going on at this tempting Cornish shack!
The Mussel Shoal
Best for: Mussels and music
Where: Harbour Head, The Mussel Shoal, Porthleven TR13 9JY
Website: musselshoals.co.uk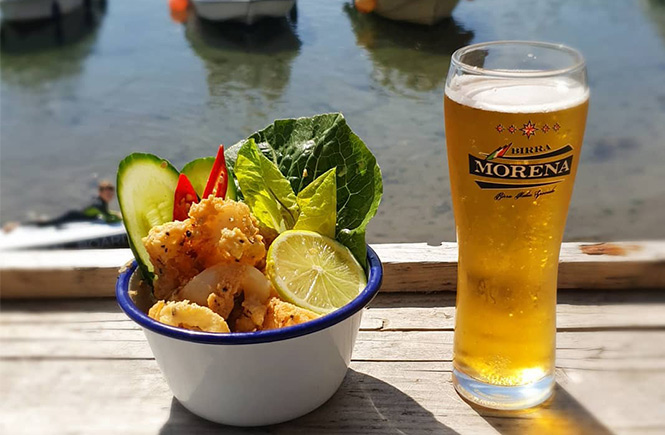 In Porthleven, there's harbourside dining and then there's The Mussel Shoal, which is as close to the harbour as you can get while staying dry! Rock up to this relaxed café kiosk and enjoy some French bistro-style food that really puts a spring in your step. Gorge on moules-frites and fresh squid as you listen to music by the famous Sound Studio that gave this unique Cornish eatery its name.
BigEats StrEATkitchen
Where: Porthleven, TR13 9JD
Website: bigeatsporthleven.co.uk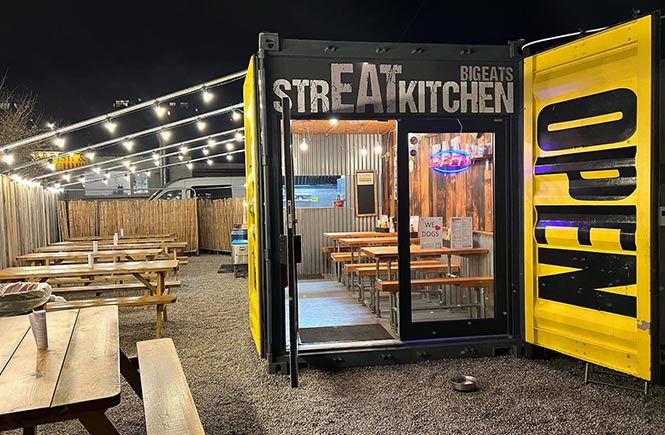 Tuck into festival-worthy street food at BigEats in Porthleven, where they bring the finger-lickin' food and you bring the beer - perfect! Situated just next to the harbour, you can take your burger, hot dog, and loaded fries to go as you find the perfect place overlooking the water or you can sit down on one of their classic picnic tables that are ready waiting to get the good times rolling.
If you really want to kick your foodie experience up a notch then we absolutely recommend getting some nacho cheese on the side… there are very few dishes that aren't improved by nacho sauce!
Porthleven Fish and Chips
Best for: The nation's favourite takeaway
Where: Shute Ln, Porthleven TR13 9DS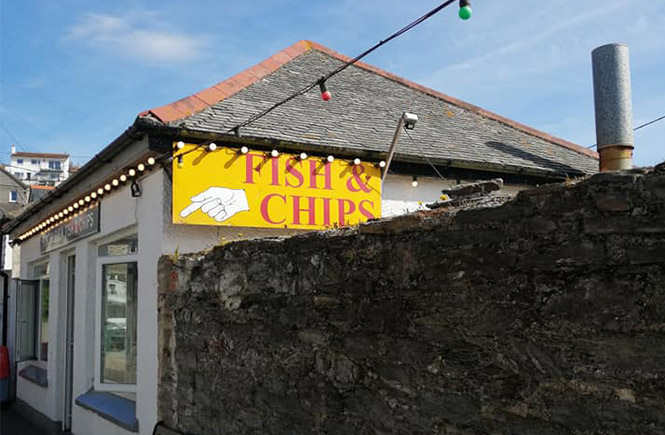 With a setting as incredible as Porthleven harbour, sometimes the best meal you can have is one you can carry with you as you explore. A short walk from the harbour (and by short, we mean ten steps), Porthleven Fish and Chips have all your favourite chip shop classics from battered cod and chunky chips to scampi and sausages.
The only question you'll need to ask yourself is do I fancy mushy peas or curry sauce with my chips… or both!
Ann's Pasties
Best for: A pasty and a pint
Where: Fore St, Porthleven TR13 9HQ
Website: annspasties.co.uk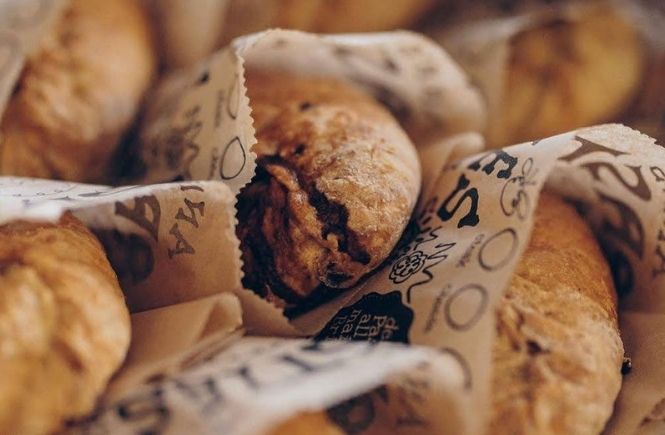 Don't worry, we haven't forgotten about Cornwall's staple meal… the humble Cornish pasty. At Ann's Pasties in Porthleven, you can pick up an oggy (Cornish pasty), a sausage roll, and a homemade cake to go (they're great for popping in your bag before heading out on the nearby coast path) or you can sit down for the most Cornish of traditions and enjoy your croust with a pint on the side.
Time your pasty craving just right and you might catch one of the live performances that turn this pasty haven into a one-stop shop for a cracking time.
Philp's
Best for: Pasties and a salad
Where: 1 Commercial Rd, Porthleven TR13 9JD
Website: philpspasties.co.uk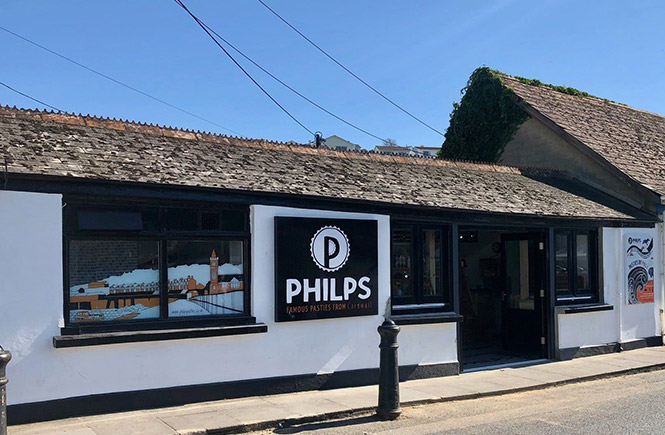 There's no shortage of pasty choices in Porthleven so make sure to try them all before settling on your favourite crib or croust. Known for their fantastically large pasties and superb salad boxes for those wanting a lighter bite, Philps are always a popular choice amongst locals and visitors (and the cream teas are good too).
Pop your pasty in your bag and head out onto the Porthleven cliffs for an authentic Cornish lunch with a view.
Moonflower
Best for: A cracking Chinese takeaway
Where: 10 Fore St, Porthleven TR13 9HJ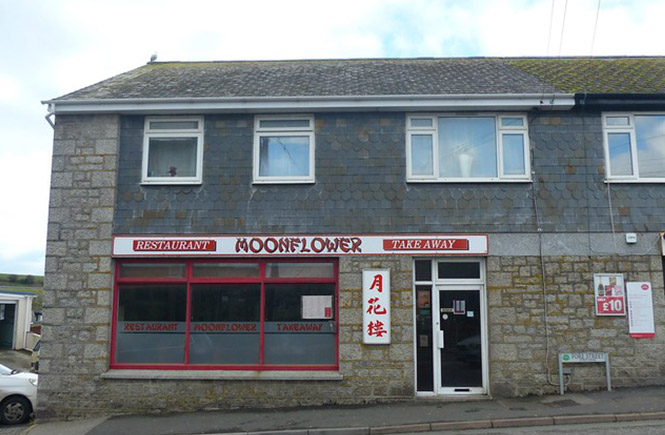 Have you ever had spring rolls on the beach? No? Well, now's your chance! Moonflower is Porthleven's one and only Chinese takeaway and you'll quickly learn there's no need for a second once you've tasted your way through their extensive menu, which covers Chinese and Cantonese cuisine.
You'll find all the classics from chicken fried rice to vegetable curry as well as the set meals for those that avoid decisions (or for those who want to try a little bit of everything). Moonflower is often the last restaurant to close in Porthleven, so it's perfect for a late-night feast after a wonderfully long day on the beach.
Porthleven Harbour Market
Best for: Local makers and producers
Where: 5 Methleigh Bottoms, Porthleven TR13 9JR
Website: porthlevenharbourmarket.com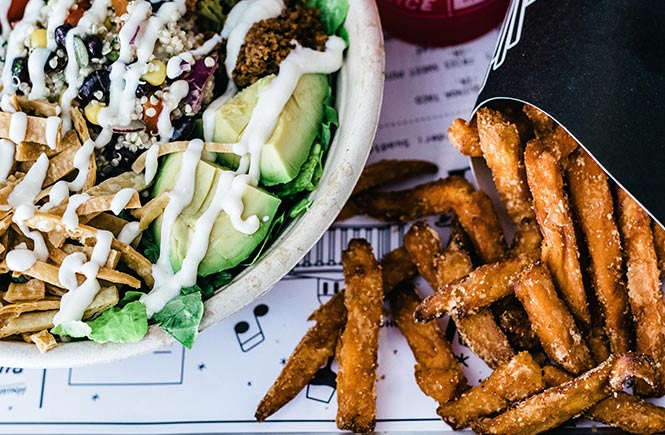 For a more eclectic mix, a walk around the Shipyard market is always a must. With a rolling lineup of makers and traders, you can eat your way through a delicious bagel from Ced's Bagels while you browse all the local nick-nacks on offer. This fantastic harbourside market makes every visit feel like a festival, with lots of local vendors adding to the already tempting choices for food in Porthleven. Radish Cafe, Bee's Vegan Bakery, Good Vibes Juice Bar, Dungaroos, and Truly Cornish Cupcakes are just some of the foodie delights you can try. Check out their social media to see what's on the menu.
With your foodie treat chosen, find the perfect spot along the harbour or take your tasty treat down to the beach for the ultimate Cornish experience – just watch out for the seagulls!
Excited to start making the most of the many places to eat in Porthleven? Check out our lovely cottages in Porthleven and start planning your foodie holiday.
Tags: Eating out | Porthleven |