Porthleven is definitely becoming the place to visit for restaurants, with amazing reputations and delicious food. A variety of venues means you will find something to please everyone. Serving fresh, seasonal foods that vary menus through the year, the only danger is that one holiday may not be enough to appreciate the full flavour that Porthleven has to offer…
Kota, Harbour head
www.kotarestaurant.co.uk
01326 562407
An airy and open feel to the dining room at Kota, with delicious and attractively served food clearly the focus. Kota has been awarded a Bib Gourmand, meaning it comes highly recommended by the Michelin Guide as providing delicious and value-for-money food. There is a very good value two-course set menu available any evening, and Kota's ethos is to use local food suppliers and remain organic as far as is possible. The food is a mix of eastern and local influences, which can provide some very interesting dishes, all cooked with flair and an appreciation of the ingredients. Kota is situated right on the harbour front in Porthleven, and is perhaps the restaurant that currently has the most impressive reputation in town thanks in part to its faithful fans who return time and time again.
Kota Kai, Harbour head
www.kotakai.co.uk
01326 574411
Sister restaurant to Kota, with the same flair and attention to detail and quality but a more relaxed feel. Kota Kai was opened in town to satisfy customer demand for a family restaurant. Opening hours are earlier, there is a family room with skittles and they serve mocktails for children and teenagers. The dining room has a funky, fun feel designed to appeal to the younger customer, but the standard or quality of the food has not been compromised. Local seafood takes centre stage, and there are varied and interesting dishes. This restaurant is really taking a new and different approach to its function in Porthleven, with movie nights scheduled for the summer; watch a free film with table service and special offers on food available. There is an open kitchen that some tables have views over – but if your table does not have a vantage point over the griddle you will have the marvellous compensation of views over the harbour and beyond.
The Square, 7 Fore Street
www.thesquareatporthleven.co.uk
01326 573 911
The Square also takes advantage of harbour views and locally sourced produce, but has perhaps a more traditional take on the dishes it produces. The Square has an award-winning sister restaurant in Perranuthnoe – The Victoria, and the tried and tested formula of high quality food cooked brilliantly –the belly pork in particular comes highly recommended. This extends to its children's menu, where aspiring foodies are well catered for without the usual children's fare. The Square welcomes people for coffee and cake throughout the day, so why not take this as a chance to drool over their menu and plan future visits?
Amelie's at the Smokehouse, Harbourside
www.ameliesporthleven.co.uk
01326 554 000
A bar by day and a relaxed dining experience in the evening. Amelie's has a wood-fired oven that produced the expected pizzas but also sardines and lobster. There is a shellfish tapas menu where you can mix and match your perfect shellfish feast, and a Porthleven fish dish that depends daily on the catch that the local fishermen bring to the kitchen door. Again, a harbour view and a welcoming and efficient service make this a popular place to eat in Porthleven. It is worthwhile keeping an eye on the Amelie's website as they have music events throughout the summer, and you could now celebrate your wedding in style there too!
Rick Stein, Mount Pleasant Road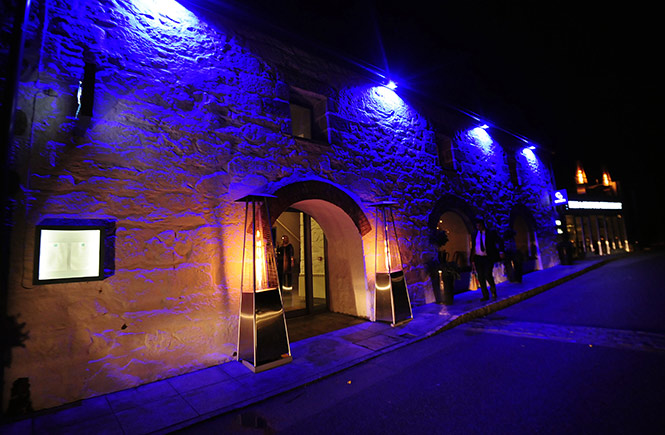 Located right in the heart of this stunning harbour you can sample dishes inspired by Rick's worldwide travels in the moreish form of sharing platters from the 'Far East' and 'Med'. You will also find fresh fish from the quay and classics such as rib eye steak – all served with priceless harbour views.
Blue Haze, Mount Pleasant Road
www.bluehazerestaurant.com
01326 564 424
Perched right on the edge of the harbour, Blue Haze offers great food at a reasonable price. They have an early diner's two-course special for £15 with the emphasis on fresh fish caught locally. Blue Haze has perhaps the most traditional feel out of the local restaurants, as it lets the food rather than the décor speak for itself. The staff are warm and friendly, the food has an eastern influence thanks to the chef's background, and there are little added extras such as sorbets between courses that add delight to your meal. Blue Haze might not be the most talked about restaurant in this foodie town, but it certainly provides a lovely meal for a reasonable price – why not give it a go.
Fancy staying in Porthleven? View all our cottages in Porthleven >
Tags: Eating out | Porthleven |