Evenings drawing in, a wintry nip in the air, sounds like the perfect excuse to swap your front room for a cosy corner in one of West Cornwall's many welcoming traditional pubs. And what better way to end a blustery weekend walk, or an exhilarating cycle ride, or maybe even a wet and wild surf, than to warm your cockles and frozen toes with a pint of whatever you fancy, a tot of rum, or a steaming mug of hot chocolate by the fire.
You'll be spoilt for choice as to where to go, but here's a few of our favourites:
The Gurnard's Head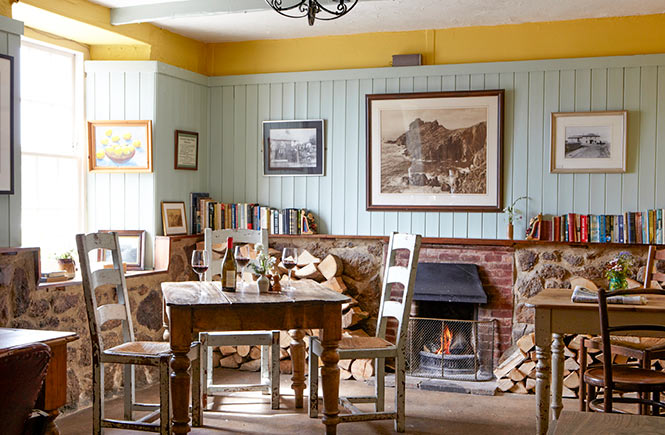 This renowned Cornish gastro pub takes its name from the rather tasty, but ugly fish, and the adjacent headland, shaped like a profile of a gurnard from the right angle. It's a fantastic walk from the pub car park, and perfect for building up a thirst or an appetite. At low tide, if you don't mind rock-hopping, you can even access a magical sandy beach. Keep an eye out for seals bobbing about in the waves. Gurnard can often be found on the menu, with the restaurant priding itself on incorporating fresh, locally foraged wild ingredients, including seaweeds, sea beets, wild garlic and samphire.
With lovely art work, shelves piled high with books, and a selection of games, what better way to escape the cold and drizzle, than enjoying a round or two of backgammon, in front of one of their two cosy fires with a wee dram of whisky. A stunning drive from St Ives along the coastal B3306, voted in the top ten best Sunday drives ever, and easy access from Penzance as well, if you've got bikes it's a great cycle ride through Newmill (uphill there, but a smooth freewheel home on the way back!) the welcome, whichever way you get there, will be warm.
Stay in a holiday cottage in West Cornwall >
The Lifeboat Inn, St Ives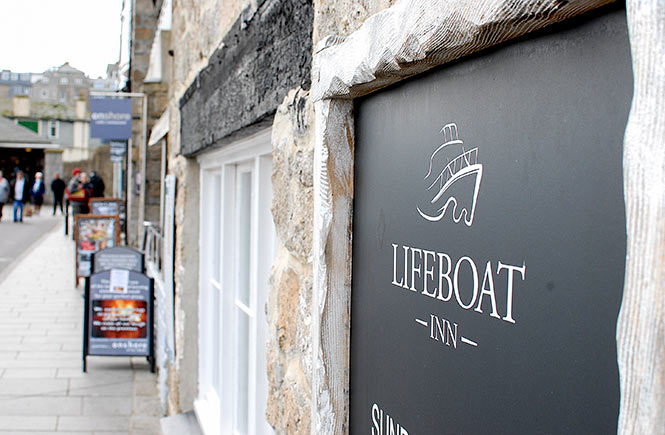 A popular pub with great views of the harbour, their Sunday carvery is busy whatever the weather. And although the fire may be on the small side, the inn itself is spacious and warm. Also a regular live music venue, especially during St Ives September Festival, in the quieter winter months you can still see some top musicians playing. With St Austell Brewery's new seasonal ale Jolly Holly on tap, a dark, rich, fruity ale with zesty undertones and toasted malts, it's like Christmas cake in a glass, and sure to hit the festive spot.
The Lifeboat Inn is right next to the RNLI lifeboat house, whose volunteer crews do such a sterling job of supporting seafarers and rescuing those in difficulty at sea. You could pop your spare change in the collecting tin on your way past. Justifiably proud of their 165 year history of saving lives, St Ives station are delighted to have recently received their new Shannon class lifeboat Nora Stachura, the first for Cornwall.
Stay in one of our St Ives cottages >
The Engine Inn, Cripplesease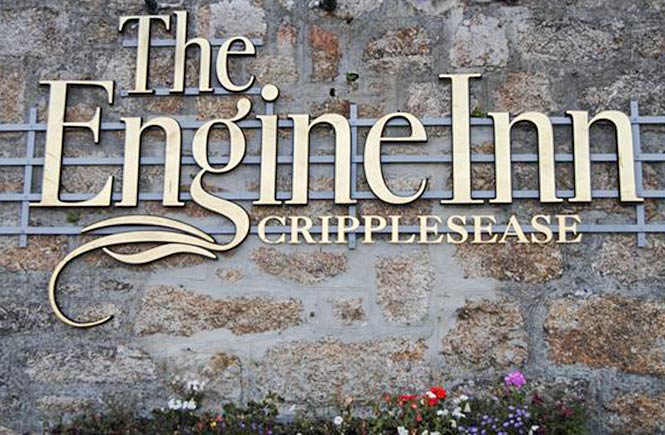 Halfway between Penzance and St Ives on the B3311, and with a public footpath running alongside, The Engine Inn is a great place to venture forth into some of the lesser known moorland countryside around this part of West Penwith. Alternatively, just come and soak up the friendly ambience in this former count house for the local tin mine, and later farmhouse. Agricultural implements and mining relics, plus the biggest set of bellows imaginable, are reminders of this pub's varied past, with parts of the building dating back to the 1700s.
If you're feeling peckish, they offer reasonably priced home cooked food, using fresh local ingredients, with a separate children's menu, and of course a range of lagers, ciders, wines and Cornish ales. Last time I was there, I had to be prised out of their comfy leather sofa, occupying prime position next to the lovely woodburner. Poring over an atlas trying to work out the logistics of riding an Enfield motorbike back from India, it was the perfect place to while away a soggy Sunday afternoon, but equally you could plan your exciting Cornish adventures from here. And if you're free on a Monday night, their pie and quiz night is popular with locals and visitors alike, with all proceeds going to charity. They're dog friendly too.
Stay in one of our holiday cottages in Penzance >
The Logan Rock Inn, Treen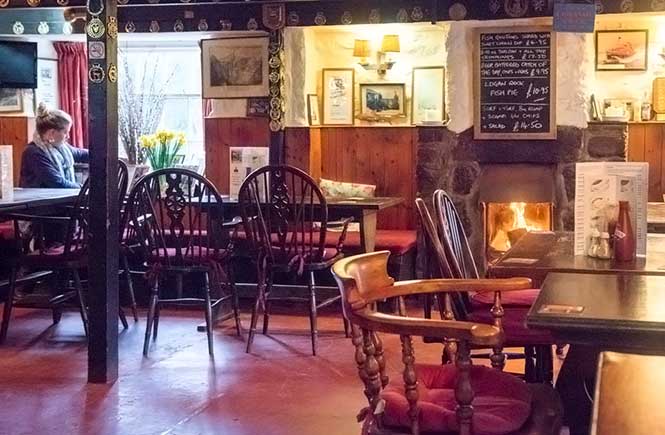 This 16th century traditional village pub in the small village of Treen, has a roaring open fire and a woodburning stove, so you can double your chances of nabbing a seat near the flames. Serving unpretentious pub grub, using locally sourced produce where possible, like the seafood in their Newlyn fish platters and even the bread used to make their sandwiches, with four traditional Cornish ales on tap, it's an ideal refuelling stop before, during, or after a day's outing.
A short distance away is its namesake Logan Rock, an 80 tonne stone balanced precariously on the cliffs overlooking Pednvounder and Porthcurno Beach. Famed for its ability to rock back and forth with the slightest touch, it was dislodged by a group of seamen in 1824 trying to prove the British Navy's might. A popular tourist attraction even then, the men were later forced to reposition it (at great expense) but sadly its easily rocking nature was lost in the process. Being so handy to the coast path,  the pub is a great starting, end or stop off point for a number of walks, and is only a few miles from the Minack Theatre and Porthcurno Telegraph Museum.
Stay in one of our holiday cottages in Treen >
Queen's Arms, Botallack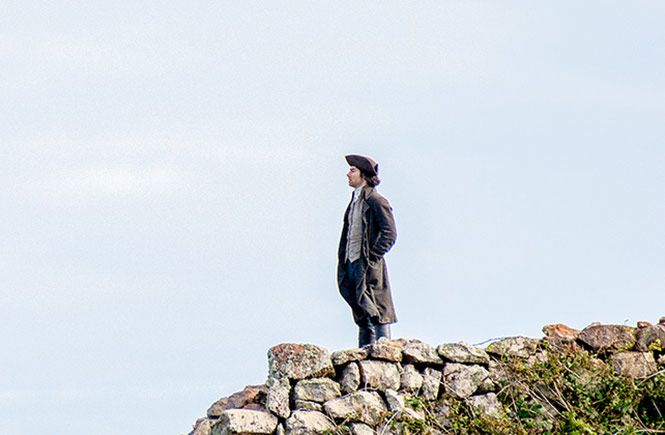 If it's Poldark territory you're after, then this Grade II listed pub dating back to the early 1600s, is a great place to set out from to explore 'Wheal Leisure' and the tin mining heritage of Cornwall's wild north coast. Not far from one of the TV drama's primary location shoot sites, Botallack itself is an historic mining village, while the restored Count House and Workshop by the cliffs, host fascinating displays on the local and natural history of the area. Built during the 1860s, at the height of the Cornish mining boom, the Count House was central to the day-to-day running of the mines and where the miners collected their pay. Open daily 10-5pm year round, apart from Christmas, Boxing and New Year's Day, entry is free but donations welcome.
In the summer, the Queen's delightful beer garden is perfect for relaxing with a pint, and is also where they hold their annual real ale and music festival in September. But in the winter, cosying up by the fire is the obvious choice. If you fancy a bite to eat, their chef's are passionate about provenance, with a menu devised to provide an authentic taste of Cornwall. A couple of miles from St Just, if you've got time, do have a wander round this lovely wild west town.
Stay in a holiday cottage in St Just >
Admiral Benbow, Penzance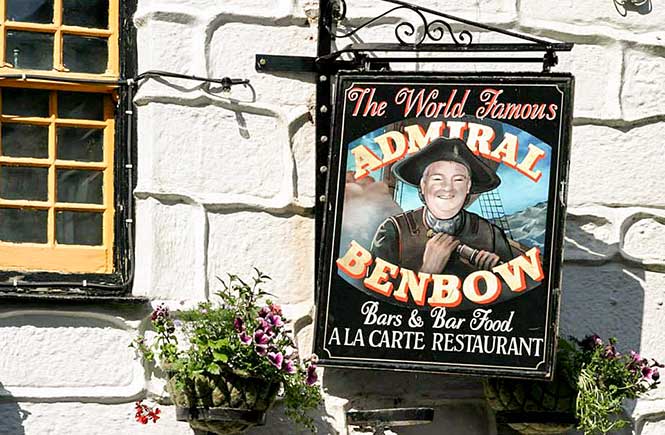 You can spot this quirky 17th century pub down historic Chapel Street, thanks to the blunderbuss wielding sniper on the roof ridge. Inside, it's like visiting a maritime museum for free, as the decor consists of hundreds of artefacts rescued from numerous shipwrecked vessels, which foundered off the Cornish coast over the last 400 years. Brightly painted figureheads, brass lamps, ships' ropes, a magnificent cannon, and even a deep sea diver's helmet or two, there's plenty to look at, while the snug low timber ceilings make you feel like you're actually on board ship! Why not splash out and stick to the nautical theme with a tot of Sailor Jerry's rum?
The Captain's Cabin restaurant has a full a la carte menu, and features fine woodwork from a Portuguese Man O' War, not forgetting their lovely fire, and they're extremely dog friendly. If you happen to be in on a Wednesday evening, there's often a folk club upstairs, with other musical and cultural events held throughout the year, a room which enjoys fantastic views over Penzance harbour and towards St Michael's Mount. The Benbow's illustrious visitors include Gregory peck, The Rolling Stones and Suggs, the lead singer of Madness, so you'll be in good company.
Stay in one of our Penzance holiday cottages >
Red Lion Inn, Newlyn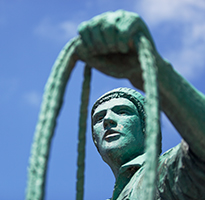 You won't be surprised to hear that this no-nonsense pub serves excellent, locally caught seafood. Their fish stews, crab cakes and speciality crab soup are to die for. A stone's throw from one of the busiest fishing ports in the UK, and overlooking Newlyn's historic port, the pub is at the heart of the local fishing industry, with landlord and landlady, Tom and Jackie have been at the pub for 25 years.
Serving a range of Cornish ales, there's an elevated secret garden to the rear, or plonk yourself by the toasty open fire. A great place for a game of pool, a chat with the friendly locals, or sit back with a paper and just chill.
Stay in one of our Newlyn holiday cottages >
Tags: Newlyn | Penzance | Porthcurno | St Ives | St Just | Treen |