One of the top foodie events in the South West, the Porthleven Food Festival is a three-day foodie fiesta that's become a huge part of the Cornish calendar. Fantastic food, soul-quenching music and glorious views all combine to create an event that turns this quaint Cornish harbour into a bustling pillar of foodie and musical delights.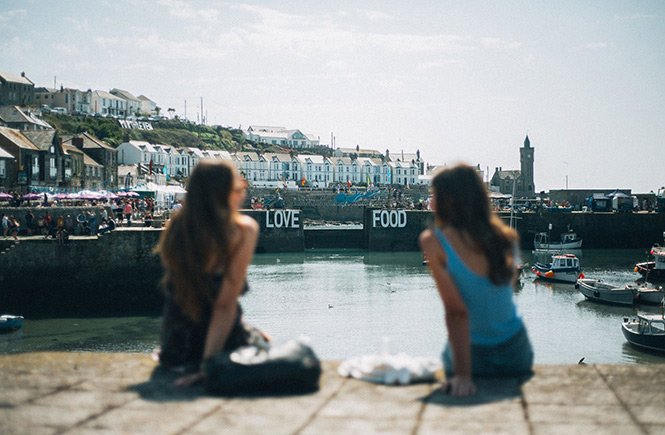 Taking place in April (22nd - 24th), this food-filled, seaside party has been filling the stomachs of locals and visitors alike for over ten years, with each year seeing more and more added to the increasingly awesome line-up. From its plastic-free ethos to the mouth-watering stalls, here is all you need to know about the Porthleven Food Festival.
Food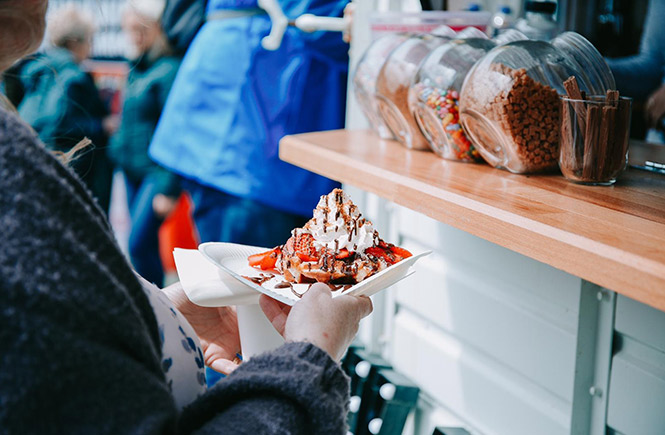 Let's be honest, we're all here because we want to talk about food, right? Right! Situated around a working harbour, the Porthleven Food Festival is a hub for local producers and showcases an incredible variety of food and drink for hungry visitors to enjoy.
Spread around the harbour, playing fields, and shipyard, there are lots of spots to discover your next tasty treat. Dart inside the Royal Cornwall Food and Farmers Market to discover what the locals have been whipping up, stroll along copious street food stalls offering local and global cuisines and quench your thirst from one of the many drinks stands that sell Cornish gin and lager. The newly added Diner's Club will open your taste buds to the finest catering outlets around while the Ann's Pasty Lounge will introduce you to everything Cornish (edible and historical). Your eyes will quickly become bigger than your stomach as you choose between seafood and sweet bakes, Asian influences and American comfort food, and so, SO much more.
Food demonstrations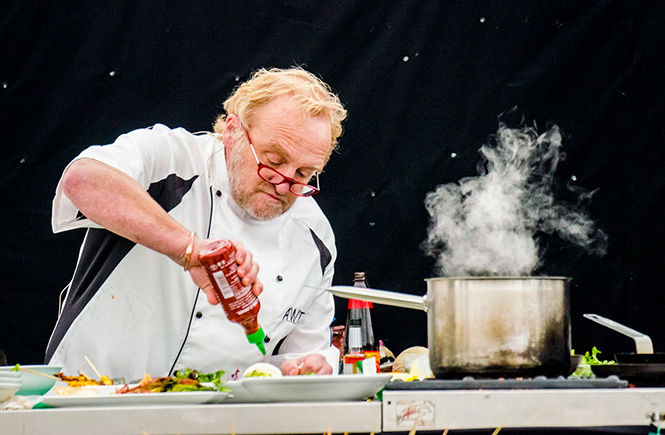 And if fresh and ready food isn't enough, the countless demos from Michelin star chefs will have you preparing restaurant-quality dishes in no time from the comfort of your own kitchen. This year the likes of Jude Kereama (head chef of Kota), Stephane Delourme (Rick Stein Seafood Restaurant) and Ben Tunnicliffe (Tolcarne Inn) will be swapping the kitchen for the stage as they share their infinite wisdom with the crowd.
There will be hourly demonstrations across the three days between 10.15am and 3.15pm each day. There's no need to book these sessions, simply turn up, pull up a seat and learn from the greats.
With so many incredible foodie opportunities, it's a good thing the festival lasts for three days because we don't know how else we would fit it all in!
Stalls and shopping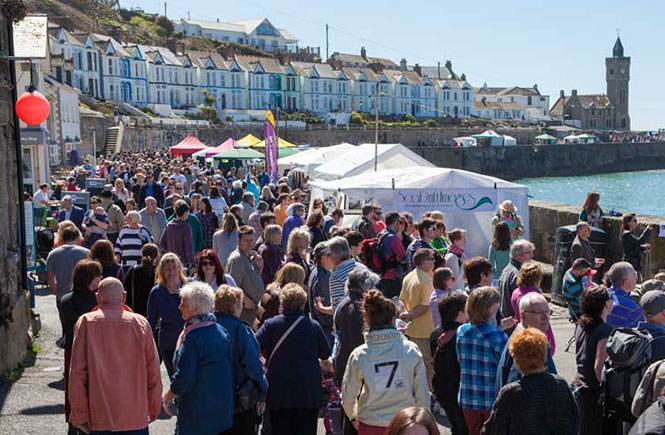 Once your culinary knowledge has been sharpened, a stroll around the less edible stalls is a must, where you can pick up shiny new equipment and kitchen essentials to further your culinary exploits at home. If you fancy a break from thinking about food, there will be lots of arts and crafts on offer as well as local artists set up shop to add colour and beautiful take-homes to the festival line-up.
And if countless stalls aren't enough to satisfy your shopping needs, you can simply dart in and out of the many shops and art galleries that line the harbour of Porthleven. You'll find incredible coastal photography at Waves Gallery while Stargazey is full to the rafters of trinkets and Cornish treats.
Music
Taking you from day to night, the Porthleven Food Festival is just as well-known for its musical exploits as it is for its food. While the sun shines, various bands, groups and artists lend their voices and instruments to the sea air so you can tap your foot while filling your stomach with everything from sea shanties to pop songs reimagined.
By night, the Chef's Theatre swaps eats for beats as a superb line-up of performers emerges to give you a night to remember. Previous years have seen the evening performances ticketed but this year it's free entry for all – woo!
Three nights see Cornwall's best performers take to the stage giving you some serious variety for your evening's entertainment across the weekend. In 2022, you can look forward to; the 1940s stylings of Company B, a 'jump jive' band that makes it impossible to stand still; Sandy Acre 7, who will have you swinging and singing to soul, ska, and reggae; local Porthleven legends Go Go Skank with their rockabilly tunes that get the heart pumping and the soul rocking.
Entertainment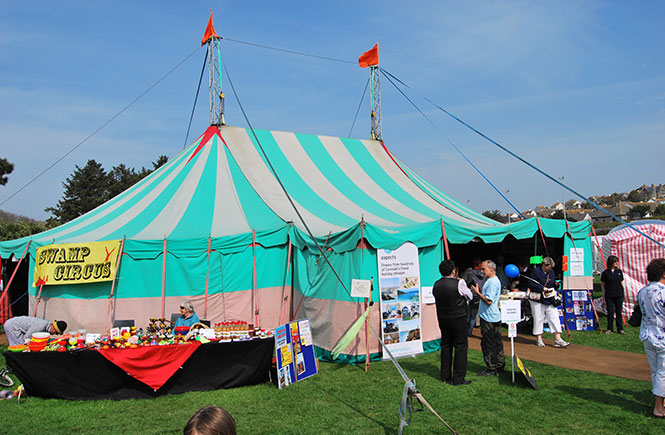 With people of all ages eager to visit this foodie haven, the event organisers have made sure there's plenty to see and do for the young at heart. The Community Zone will act as a beacon for the local community while giving visitors the chance to learn some fantastic new skills from circus to arts and crafts to how to crimp a pasty… and for those that want to simply let loose, the bouncy castle is there to provide the springboard to your high jumps.
Stay for half an hour or the whole day, this friendly and fun-filled corner of the festival welcomes you with open arms at any time.
At The Moors Field and Fringe, you'll find even more entertainment for the whole family as face painting and games are dished out alongside tasty treats, providing the perfect place to enjoy everything the festival has to offer.
Keep an eye out as you roam the festival looking for your next nourishing and purely decadent feast as there will be lots of entertainers dotted around the harbour and fields. Can you spot the circus act as you chow down on a churro?
The area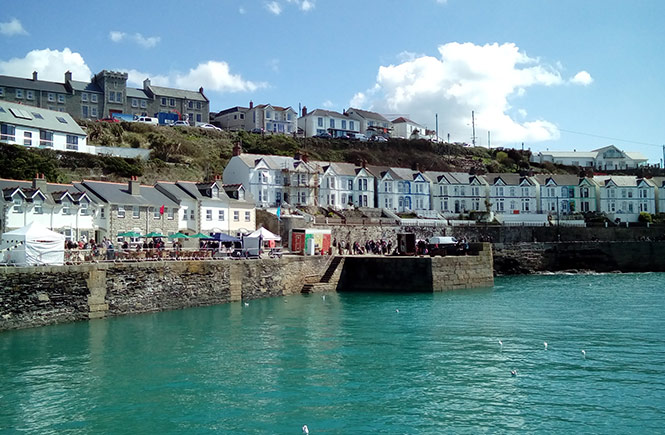 From the Hollywood-style signage to the impressive bridge that appears once a year for the food festival, the pretty harbourside village of Porthleven is transformed each year into a unique and wonderfully eccentric foodie destination that showcases local businesses and producers in the best way.
With local restaurants such as Kota, The Square and Amélies lining the harbour (not to mention Nauti But Ice for those with a sweet tooth), Porthleven is renowned for being a tasty day or evening out at any time of year. Check out our complete guide on places to eat in Porthleven so can fully appreciate just how vast your choices are.
And if it's a drink you're after, you'll be pleased to know Porthleven has no shortage of pubs with a view. From the traditional and perfectly perched Ship Inn (you can see the view from our webcam here) to the very best spot for some pub grub with a view at the Harbour Inn, you'll have plenty to choose from during your visit.
All of these businesses and more will be open throughout the festival giving everyone the chance to experience Porthleven and its local greatness fully – while also giving you countless reasons to visit throughout the year!
Access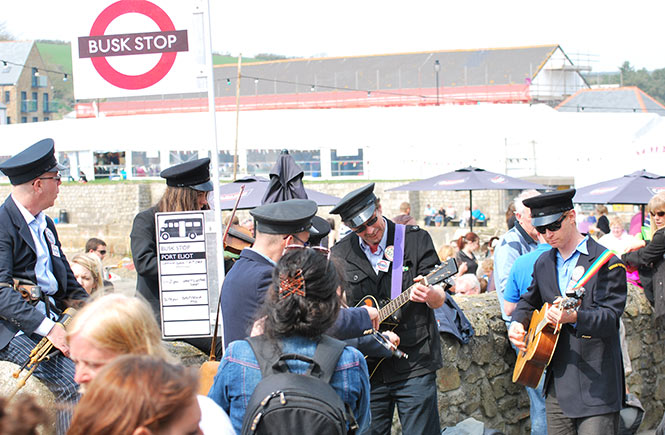 As over 30,000 people flock to this tiny harbourside village every year, there's little wonder that the town fills up fast, so it's worth taking some time before you head off to go over the logistics of your visit. (Unless you're staying in one of our lovely properties in Porthleven, in which case you can just roll out the front door and start eating your way through the festival).
Road closures will be in place to ensure there is access for emergency services and buses. When approaching Porthleven, follow the road signs to the festival parking if you're travelling by car. From there, you can stroll the short distance to the harbour where delicious sights and smells await. Alternatively, you can park in nearby Helston and either take the pretty Penrose Estate walk into Porthleven (which takes around an hour) or you can catch one of the buses or the festival shuttle bus, which will be operating across the three days from the free car park opposite the Boating Lake in Helston.
While previous years have seen tickets being sold for the evening shows, this year Porthleven Food Festival has made entry completely free. If you're able and would like to support the festival, you can make a donation at the door but it's completely up to you and is in no way a requirement.
Plastic-free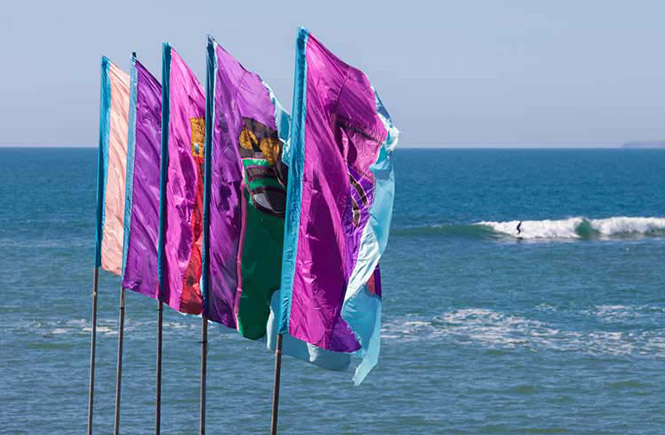 With a commitment to avoiding single-use plastic and most stalls offering biodegradable alternatives, sustainability is an important aspect of this local festival. In order to protect the village and the environment, it's important that all waste be disposed of appropriately so that Porthleven can be left exactly as it was found. Bins and recycling points will be scattered around the harbour and there will be places for visitors to refill water bottles.
So that's the Porthleven Food Festival in all its sweet (and savoury) smelling glory. Excited to visit and taste your way through the South West and beyond? Check out our lovely cottages in Porthleven for the perfect accompaniment to the festival.
Tags: Festivals | Food and Drink | Porthleven |