There's nothing quite like a proper stomp. Just you, the open sky and rolling earth - your feet could take you practically anywhere. Throw into the mix world-famous landscapes from west Cornwall's prized Lizard Peninsula and the result is a walking holiday in heaven.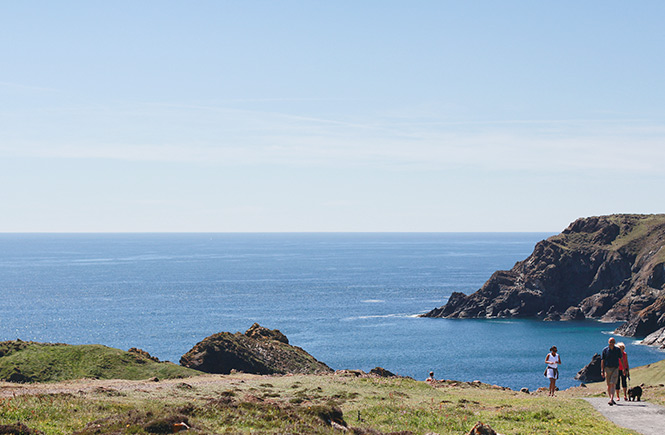 Set amongst an Area of Outstanding Natural Beauty, The Lizard is prime walking territory. Farmland, fields, heathland and riverscapes meet some of the best waterside routes in Cornwall and beyond courtesy of the renowned South West Coast Path. Then there are hidden coves and beaches of the most breath-taking kind: a rich reward for anyone hiking across the wild and rugged terrain.
Imagine trailing rural routes and headlands, cliff-tops and countryside before sinking into the cooling ocean and sprawling on the soft sands at an impossibly beautiful cove as you drift into the sweetest slumber. And it doesn't matter if you're a serious rambler or simply fancy a little stroll, as there are plenty of paths to pick from.
You might wish to make the most of the many things to do on the Lizard before taking a stroll slightly off-the-beaten track, roam a route and see where it leads you, or plan a day out that combines a hike with a must-see place to make the most of all the peninsula has to offer.
Here are a few of the walks we love on the Lizard Peninsula...
Lizard Point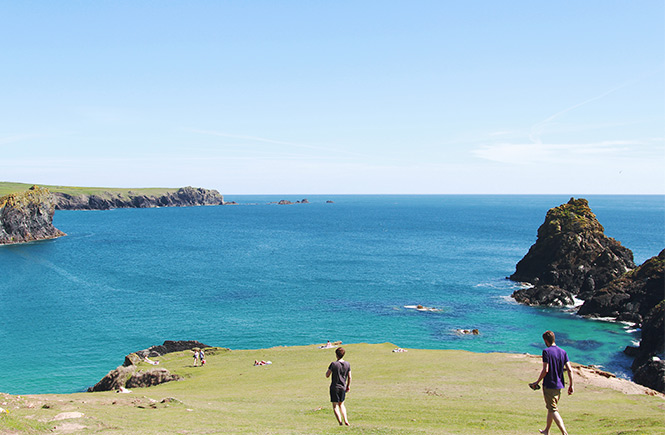 Difficulty: Easy
Distance: 1 mile
Type: Linear
A great route (especially with kids) to take in the country's most southerly point, walkers will be treated to incredible views, historic landmarks and a gorgeous variety of plant and wildlife. Starting at the National Trust car park next to the Lizard Lighthouse (schedule some time to explore the building), wander down to the point for a stint of seal spotting before joining the South West Coast Path that runs beside Wavecrest Café.
From here, the route passes Polpeor Cove then descends down some steps into Pistol Meadow – the burial site for those lost when the Royal Anne was wrecked in 1720. Venture from the valley to Old Lizard Head for views of the spectacular, Kynance Cove and spy Shetland ponies grazing nearby. Cross the field and re-join the coast path, retracing your steps back along the section leading back to Lizard Point.
Three sides of the Lizard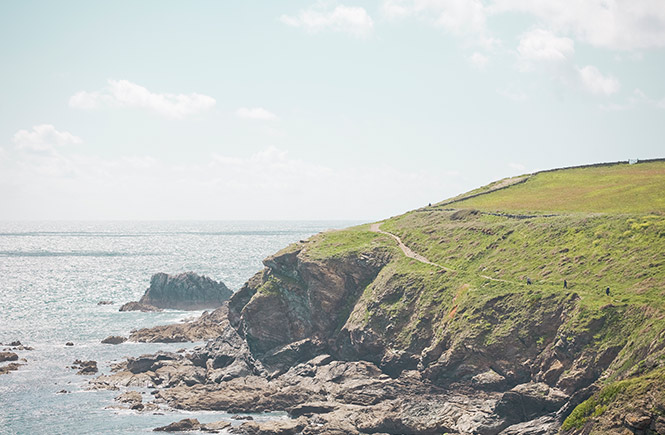 Difficulty: Moderate
Distance: 4 miles
Type: Circular
Ideal for those that prefer flat walks, but with the opportunity to extend the route or go slightly off-piste – this network will lead you round the tip of the Lizard as you explore three of the headland's scenic sides. Expect flora and fauna, migratory birds and perhaps even a glimpse of the rare chough: the orange-beaked black 'Crow of Cornwall'. Beginning at Lizard Village Green, stock up on Ann's Pasties, which you'll pass before heading toward Church Cove.
Follow the coast path to Kilcobben Cove Lifeboat Station and you'll reach Bass Point and the white building of Lloyd's Signal Station and National Coastwatch Institute. Continue along to Housel Bay (and stop off for a swim or picnic) and further along to the Lizard Point Lighthouse, which is definitely a must-see if you have time. Here, you can roam the cove and scan the water for seals while looking out for the Cornish chough as you make your way to Pistol Meadow and Old Lizard Head for staggering views of Mounts Bay and beyond. Retrace your steps to double your step count, or follow the bridleway back to Lizard Village.
Coverack to Lankidden Cove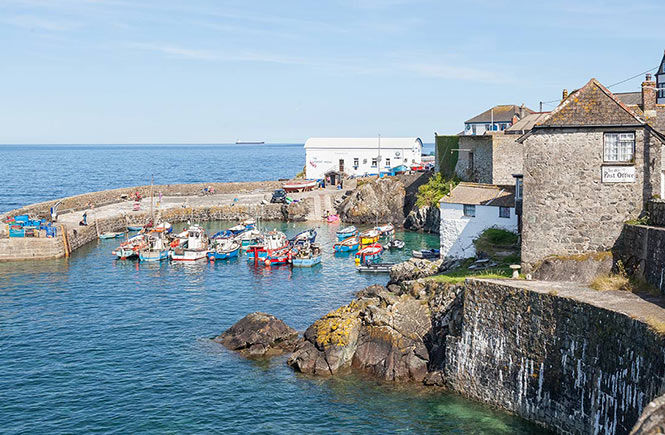 Difficulty: Moderate-strenuous
Distance: 7.3 miles
Type: Circular
Explore the stunning harbour village of Coverack alongside spectacular headlands, coastline and rural hinterland during this more challenging route, which includes the chance to stop off at a sculpture park and several sandy beaches. Fuel up in the village at Harbour Lights Café, The LifeBoat House Restaurant, Elizabeth's or the Paris Hotel before embarking upon this walk, which will take you along the coast path toward Kennack Sands via Chynhalls Point and Porthbeor Beach.
Onward toward the Terence Coventry Sculpture Park you'll traverse a pretty series of hedgerows, fields and a stream, after which lies the gorgeous lookout at Black Head. Beyond here, you'll discover prime scuba diving territory between Downas Cove and Lankidden Point complete with underwater serpentine rock formations; or should you wish to scramble the rocks onto Lankidden Cove (covered at high tide), the south-facing stretch offers the perfectly sheltered spot for a scenic siesta. Pack a picnic for the grassy point nearby overlooking Carrick Luz before continuing inland on your return route via Arrowan Common and Ponsongath.
Penrose walks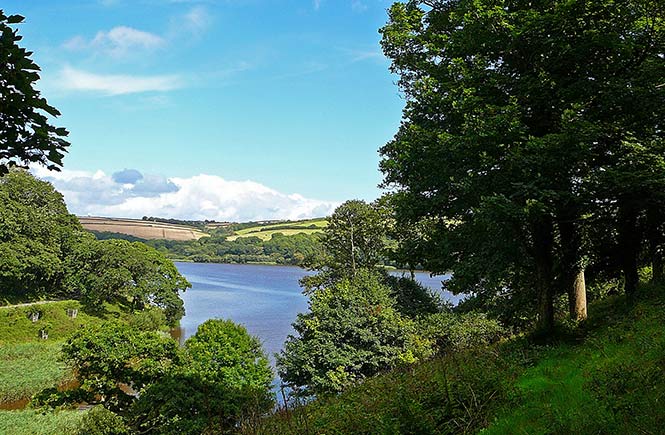 Difficulty: Easy-moderate
Distance: 1 miles+
Type: Linear/circular
Seek out Cornwall's largest natural lake for expansive parkland, woodland tracks, wetlands replete with wildlife, and coastal routes primed to pique all the senses and please all types of walker. The house and National Trust estate covers a whopping 1,536 (dog friendly) acres east of Porthleven and is home to one of the largest wet willow areas in the entire Duchy, making it an especially enchanting place for nature enthusiasts.
Pick a 1.5-mile circular ramble through the tree plantations for wildlife spotting, or opt for a one-mile stroll to take in Dollar Cove, St Winwalloe Church and jaw-dropping bay, marsh and moorland views from Halzephron Head. Alternatively, explore the marshes on foot for an easy 1.3-mile circular hike complete with Iron Age settlement, Wheal Pool silver-lead mine and River Cober, starting and finishing at the delightful Coronation Park and boating lake (which has a café, toilets, parking and play park). There's also a network of running and cycling trials, including the smooth tarmacked route of Helston Drive that leads to the Stables Café via pretty parkland and woodland.
Lizard coastal walk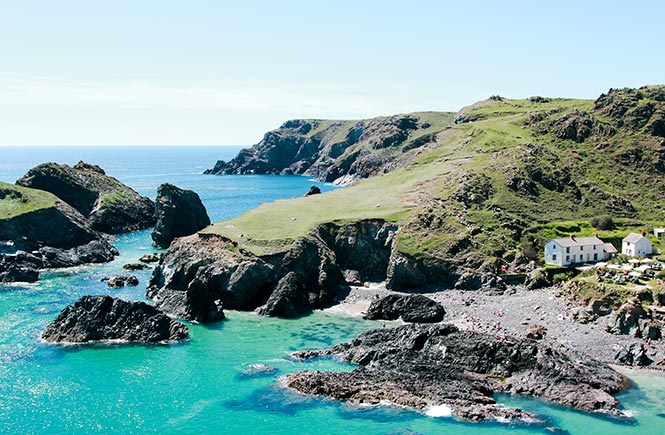 Difficulty: Moderate-strenuous
Distance: 7 miles
Type: Circular
Hug the South West Coast Path for access to some of The Lizard's most majestic sights, including the renowned Kynance Cove, which is the route's picturesque starting point. If you can drag yourself away and eastward from the unbelievably beautiful cove, the path leads past Pentreath Beach and Polpeor Cove and on to the Lizard Lighthouse and Point. At Bass Point Old Signal Station the route tracks inland to Lizard Village (grab a pasty from Ann's Pasties or ice cream from Roskilly's), continuing west back to Kynance.
There's plenty to see and do, from exploring caves, rock formations and rock pools to enjoying the beaches, coves and attractions en route. Keep an eye out for choughs, seals and an abundance of flora and fauna, and pack a picnic and bask in to-die-for views at lookout point of Pen Olver as you lose yourself to the soul-stirring wilds of west Cornwall.
Coverack to Helford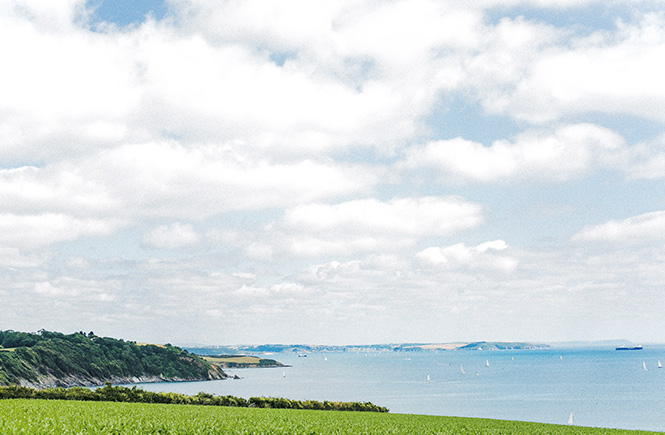 Difficulty: Moderate
Distance: 12.9 miles
Type: Linear
Explore the eastern edge of The Lizard Peninsula with this walk along the South West Coast Path to the Helford. Expect a myriad of landscapes including beaches, cliffscapes, woodland, and fishing villages as you traverse a beguiling variety of habitats and scenes.
When it comes to views, walkers will be treated to the likes of The Manacles: a granite reef extending from Porthoustock to Lowland Point just off Godrevy Cove, as well as glorious panoramas of Falmouth Bay and the Helford River from Nare Head. Other highlights include Porthallow Vineyard, the remains of the Celtic cliff castle at Dennis Head, and the priceless tranquillity of nearby Gillan Creek.
Kennack Sands to Cadgwith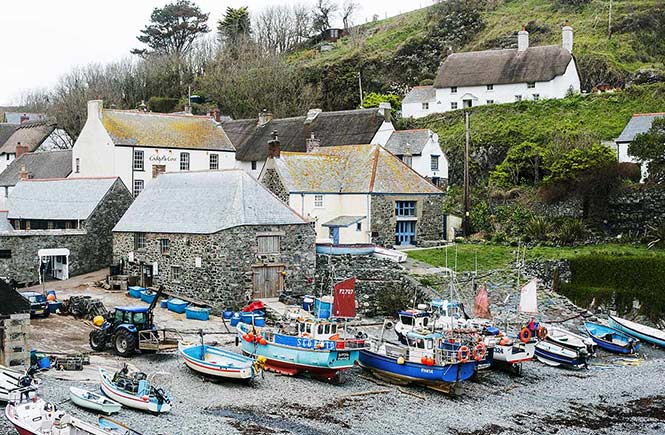 Difficulty: Easy-moderate
Distance: 4.5 miles
Type: Circular
For awe-inspiring coastal views and sights of The Lizard's famous serpentine rock formations, this walk combines a sea-gazing route with the area's rural hinterland to exquisite effect. From Kennack Sands (where you'll find several beach cafés/shops and public toilets), head to the coast path and pass the golf course, continuing on to Poltesco (which features the Old Serpentine Works and a National Trust Discovery Centre in one of Poltesco Farm's barns).
From here, the route leads to Carleon Cove for striking serpentine boulders on the beach, before delivering you to Cadgwith, where you'll find a picturesque working harbour and neighbouring beach alongside a small village shop, the Cadgwith Cove Inn, and The Old Cellars restaurant. The return route takes in the village of Ruan Minor, traverses fields with views to Black Head and Carrick Luz, and tracks into woodlands before delivering you back to the sweeping twin beaches of East and West Kennack Sands for a well-deserved rest.
Other note-worthy routes include Mullion to Predannack, Poldhu to Gunwalloe Church Cove, and Kennack Sands to Lankidden Cove. There are some great things to do in and around Mullion, so it's definitely worth a walk or two!
For the perfect walking base for exploring this corner of Cornwall, peruse our fabulous range of holiday cottages in The Lizard.
Tags: Mullion | The Lizard | Walking | West Cornwall | Porthleven |