There are times when all you want is a beach with everything catered for: a café nearby, toilets close at hand, watersports to keep the kids entertained – and there are many beaches in West Cornwall where you can find exactly that. However, we know that sometimes your soul cries out for a quiet afternoon in a secluded place, looking at a sensational view. We can help you with that too.
Kynance Cove, The Lizard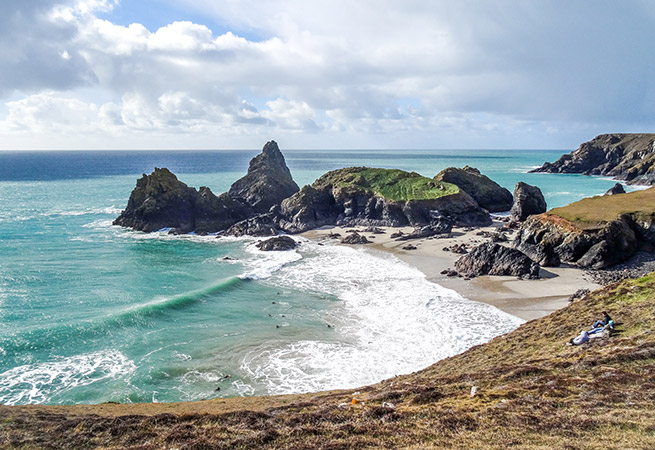 Kynance Cove on the Lizard Peninsula is something of a cross over – it has a café and toilets (which are both environmentally friendly) but isn't a traditional activity-driven beach. It is perhaps the most beautiful cove around, and at low tide you can walk around the corner to find caves carved out of the rocks by the waves. At high tide these are inaccessible and the foreshore is covered in rocks and pebbles so do check a tide timetable before you set out. There is a large National Trust car park at the beginning of a long walk down to the Cove, and you will see lots of walkers taking advantage of the coastal path. This is one of our favourite places for a winter walk and a piece of cake – it's a brilliant place to sit and watch the waves, but can get busy.
Church Cove, The Lizard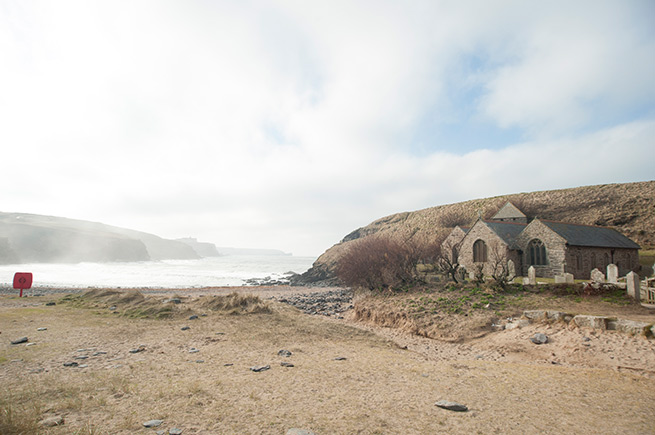 The Lizard itself is a brilliant place for exploration, being studded with tiny harbours, small beaches and quiet corners. Try Church Cove, which has a church almost on the beach itself; Lankidden Cove, a brilliant vantage point for dolphin and basking shark watching in summer; Cadgwith, a picturesque fishing village with a number of boats still working, or St Anthony. The Lizard is easily accessible by car and it is well worth seeking out some of these small and eccentric places.
Prussia Cove and Piskies Cove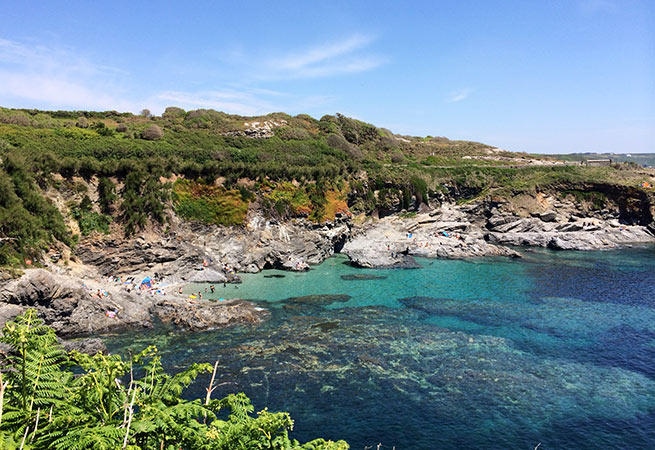 Prussia Cove is to be found in between Helston and Penzance, and has romantic links to smugglers and contraband. Piskies Cove is just to the west and more sheltered, often being the historical landing cove for the local smugglers, the Carter Brothers. Some fishing boats still operate out of Prussia Cove, and it is an atmospheric place, with granite fishing huts built on to the sides of the cliffs. At low tide the flat platform of rocks is easily accessible to explore, and the cliff path takes you on a beautiful and easy walk round to Perranuthnoe Beach.
Kenneggy Sands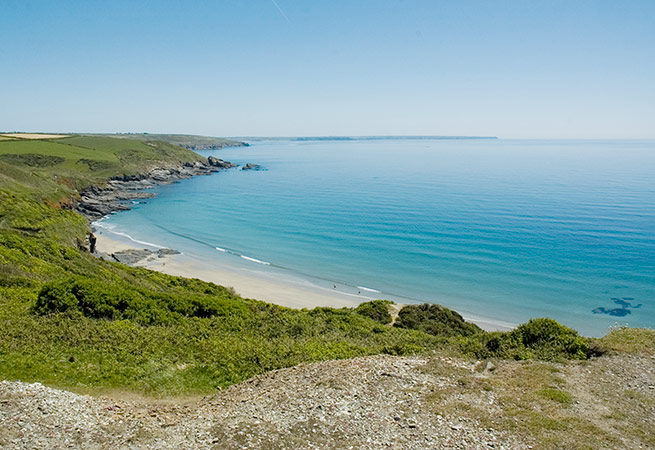 Kenneggy Beach is not for the faint-hearted, as access is via rope ladders bolted into the cliff face. This does, however, mean you are not going to be bothered by crowds! The car park is small too, and although the beach is beautifully sandy, at high tide it completely disappears, as the sea comes right in to the base of the cliff. Nearby are Bessy's Cove and Coule's Cove, which are both tiny, rocky inlets.
Lamorna Cove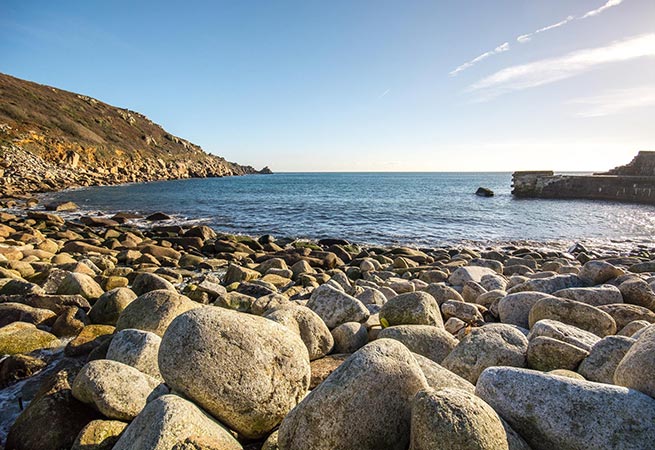 Lamorna Cove is immortalised in a traditional Cornish song that tells the tale of a husband receiving a tongue lashing from his wife! There is a small yet expensive car park in the cove, which is rocky and full of pebbles. It is a great place to visit as a start to a coastal path walk – Mousehole is a couple of miles away.
St Loy's Cove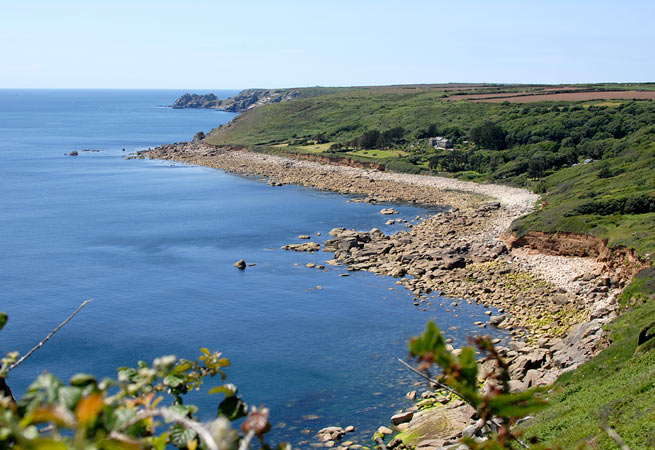 St Loy's Cove is accessible through a wooded valley – in spring and summer this is part of the charm of the place, as bluebells and flowers are in abundance. There is a cottage on the footpath to the cove that serves fabulous cream teas in season, and the cove itself is full of boulders that make great seating platforms from which to stare at the sea.
Pednvounder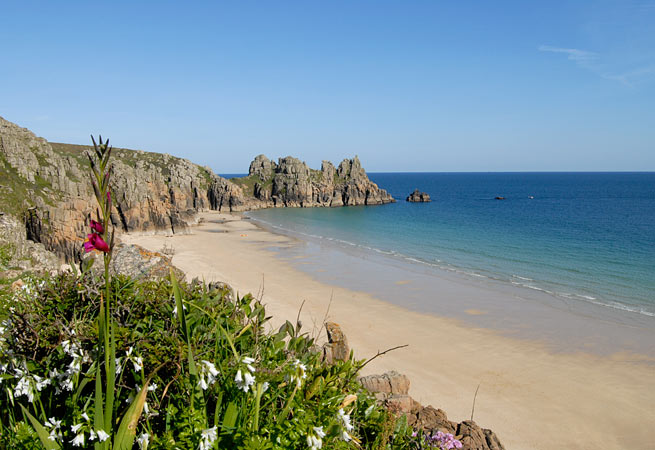 Pedn Vounder is an interesting beach! Accessible through the village of Treen, near Porthcurno, it is a beautiful sandy beach and unofficially naturist. It is also famous for Logan Rock, a massive lump of granite balanced so that one person can rock it. Logan Rock was dislodged in 1824 by Navy seamen anxious to show off their strength, then reinstated following the fury of local people. Apparently it doesn't rock as easily since its disturbance!
Penberth Cove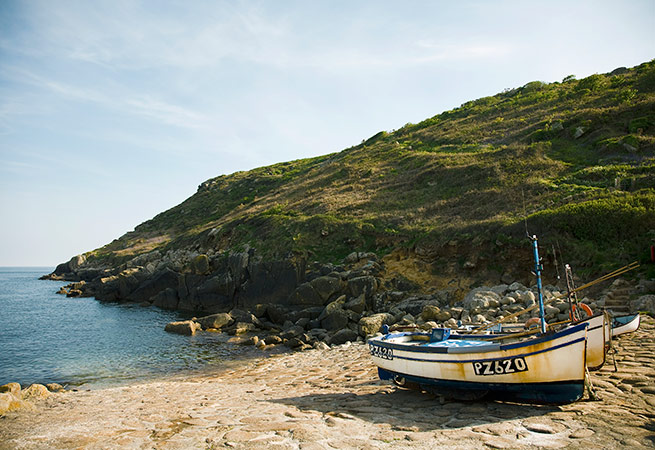 Near Porthcurno, Penberth is a tiny fishing cove that still has working boats. This is a safe place to swim at high tide, and a good place to fish. It is looked after by the National Trust, and although there is no car park, some parking on the road is allowed.
Nanjizal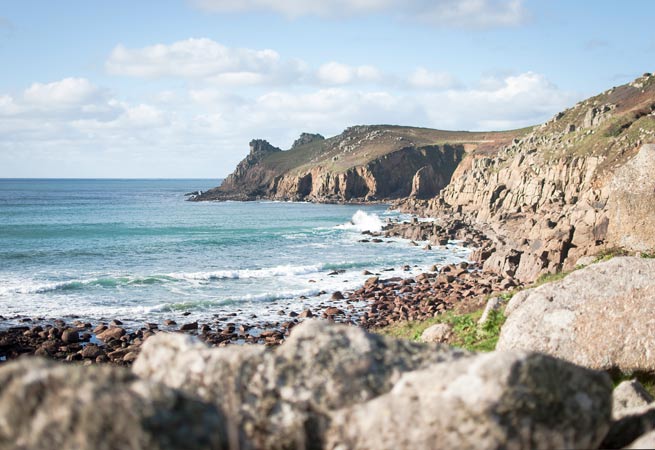 Nanjizal Bay is a mile before Land's End, and used to be a lot sandier than it is now, as storms over the last few years have washed a lot of sand away. There are , however, caves to explore, cliff paths to walk and brilliant views to look at. There is also an amazing natural arch, Zawn Pyg or the Song of the Sea, and Dr Who fans will already know that Nanjizal was used in a 1966 episode called 'The Smugglers'.
Cot Valley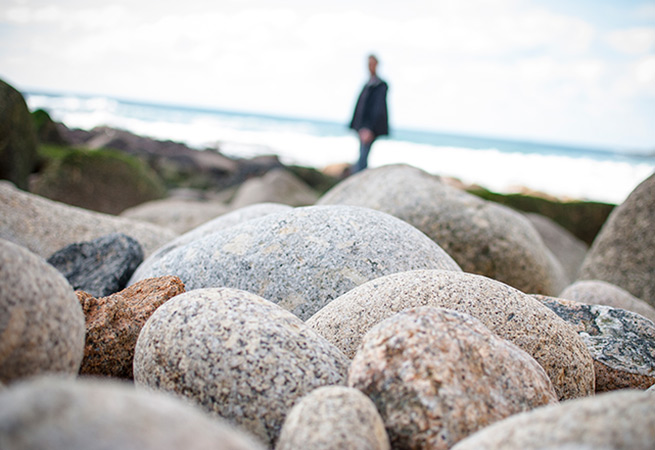 Cot Valley is another boulder-strewn cove reached by a walk through a wooded valley. The boulders here are strangely smooth and rounded; Cot Valley stones have been so prized for their shape in the past that they are now protected. This is a great cove for birdwatching, and gives you an excellent view of the Brisons – the rocky outcrop just off Cape Cornwall.
Portheras Cove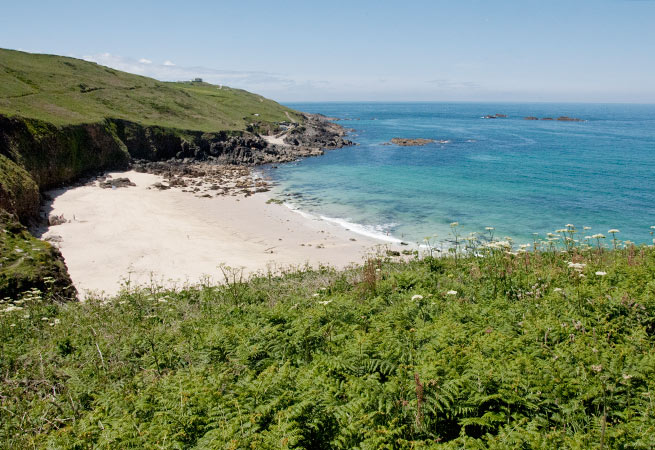 Between Pendeen and Morvah lies the sandy beach of Portheras Cove. Take care however, as a wreck that ended up on the beach here in 1963 left sharp fragments behind, and although the beach was finally cleared in 2004, it pays to be vigilant. The unique atmosphere and views here inspire many people to return time and time again.
Gurnard's Head beach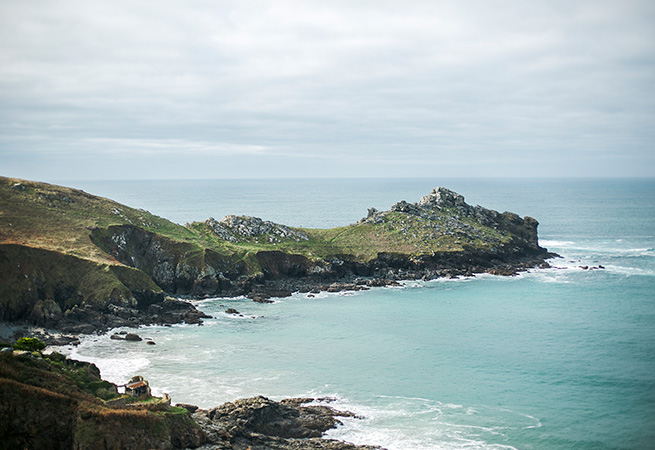 Gurnard's Head Beach or Treen Cove is between St Just and St Ives and bears testament to the history of the area. There are remnants of an Iron Age settlement, a tin mine and pilchard works – making it a fantastic place to get a real sense of Cornish Heritage. Porthglaze and Veor Cove beaches are nearby.
Of course – there are plenty more coves and hidden beaches that are equally rewarding to discover. We really don't want to take away from you the sense of achievement and ownership that comes when you find your own secret hideaway. Pack a flask, a sandwich and a blanket and go on an expedition. Following the coastal path will lead you to a variety of different places that will find a special place in your heart. Hopefully, our recommendations will only be the beginning of your journey to a place that is personal to you and your family.
Stay near Gurnard's Head beach >
Where to find them:
View all our cottages in Cornwall and start exploring >
If you don't fancy exploring these hidden coves, check out our blog on sandy beaches in West Cornwall for a selection of the best beaches around.
Tags: Beaches | Lamorna | Nanjizal | Prussia Cove | The Lizard |