If you don't fancy a day on one of the sandy beaches near Penzance, or you aren't in the mood to explore one of the many pebbled or rocky coves nearby, we have loads of ideas to occupy you and your family. Check out what is available nearby below or alternatively read our blog post on Penzance Pleasures for other ideas.
Land's End
Although Land's End has become a much more commercial enterprise over the last few years, it is still well worth a day out with the family. Although you will have to pay for parking, entry to the site itself is free. The four experiences provided by the attraction have to be paid for – we found that buying a ticket that gives you admission to all four is the best value. There is a 4D film, an Arthur's Quest interactive experience, Greeb Farm with lots of small animals and Air Sea Rescue display – all of which will entertain the family. Free activities include art and craft shops near the farm, an exhibition of 'End to Enders' – those who have travelled from Land's End to John O'Groats – and the iconic Land's End signpost, although you will have to pay for a photo with the name of your home town on the post! Check the website before your visit as there are often extra exhibitions or firework displays to mark historical or seasonal events. The views of the rugged coastline are astounding, and there are cafes and ice cream shops around the site. Dogs are allowed, and there are some beautiful walks along the coastal path that start from the Land's End attraction. If you are very lucky, you may even witness the emotional arrival of some End to Enders, or see someone about to set off – a crowd of well-wishers outside the entrance is a sign that someone's journey is about to begin – or end!
Minack Theatre
Rowena Cade's vision of an open air theatre overlooking the Atlantic Ocean is awe-inspiring, and when you consider that the construction was the work of one woman and two gardeners over decades of winters, the result is nothing short of amazing. A Shakespeare play is performed each year, and there are also other productions, including those that would appeal to smaller children. Having the Atlantic Ocean as an ever-changing backdrop adds atmosphere and excitement to the plays, and performers have to be on their toes as a pod of dolphins, a rainbow or sudden downpour cannot be ignored and need to be worked into the fabric of the play somehow! Please make sure you are properly prepared for the performance – expect a change of weather and take cushions to sit on, as the granite and concrete seats can become uncomfortable for a long stretch of time. Performances continue through rain showers, and umbrellas are forbidden as they would block the view of spectators behind, so invest in some waterproof clothing if the forecast is looking grim – cancellations rarely happen. This is an experience not to be missed, however, so do check the schedules and go along. The Visitor's Centre is open throughout the year for those interested in the history and construction of the theatre, and nearby Porthcurno Beach is also worth a visit.
Geevor Tin Mine
Geevor Tin Mine was a working mine until 1990, and it is now a wonderful reminder of Cornwall's tin mining heritage. You can take an underground tour through part of the mine itself, practise panning for minerals, and investigate the tools used in every stage of metal processing. Our favourite part is the miners' dry (locker rooms), which has been left exactly as it was on the day the mine closed; the atmosphere there is one of expectancy and anticipation that reaches every visitor. You can see boots and clothing hanging there, looking for all the world as if tomorrow mining will continue just as it always has done. There is a huge amount to do and look at, and a café providing amazing pasties. Well worth a visit.
St Michael's Mount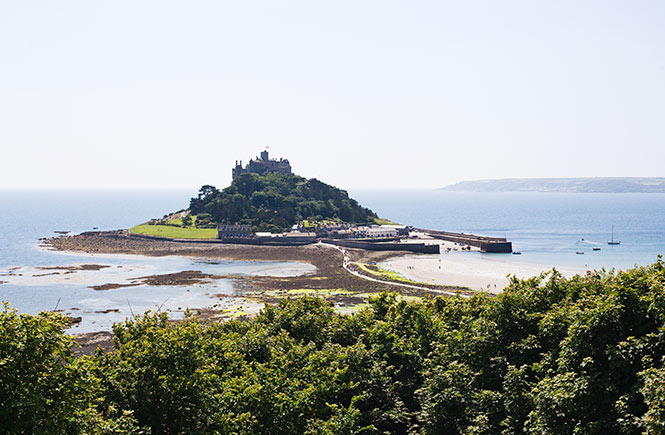 As you approach Marazion you cannot miss St Michael's Mount – a place of mystery and myth that dominates the horizon. It also never looks the same twice, as the sunlight and weather can play tricks so that colours change and mists hide…….. Whatever the conditions you will find you can't take your eyes off the Mount and the way it rises out of the sea so near the shore. At low tide the Mount can be reached on foot across the Causeway – but do not estimate the speed of the tide or the slippiness of the cobbles if you leave your exit a little too late, as people are often seen rolling up trouser legs with their shoes in their hands as the waves once again reclaim the Causeway! As the Mount itself is owned by the National Trust entry to the Castle and gardens needs to be paid for, but you can walk across the Causeway and have a gentle wander around the Harbour for free (look for Queen Victoria's footprint!) At high tide local boatmen provide a reasonably priced ferry service on demand from the small jetty behind the Godolphin Arms to the quay on the Mount. Read more about St Michael's Mount.
Trengwainton Garden
Another National Trust property in nearby Madron, the gardens are a product of Victorian plant collectors, and as such there are many horticultural wonders to be seen. Unfortunately the house is not open to the public as it is still occupied by members of the original family, although Trengwainton has something to appeal to all plant lovers, and dogs are actively encouraged as long as they are on a lead – you can even collect a biodegradable poo bag from reception! There is a tea room in a sunny walled garden, and many events happen in the grounds throughout the year – with pumpkins, scarecrows and mud pies all making an appearance!
Chysauster
This is a fascinating place to visit, although you need to bring your imagination! Nestled deep in the beautiful countryside are the remains of an Iron Age Cornish village. You can clearly see the outlines of the dwellings, and there are information boards with historical information written on, but the true beauty of this place lies in the peace and the atmosphere that surround it. Soak it up and admire the views over the coast that have remained unchanged for centuries.
Tremenheere Sculpture Gardens
This wonderful mix of art and nature near Gulval combines sculpture with exotic plants in a way that constantly surprises you as you wander around. The art installations change regularly, and the fact that the plants are relatively young means that regular visits to Tremenheere will always turn up something new for many years to come. Facilities are good with a fabulous café that can provide picnics as well as a restaurant menu, but do check opening times as the gardens are closed throughout the week in the winter.
Parks and Gardens
If the weather is still kind enough to be outdoors, there are plenty of gardens around Penzance worth a visit.
Penlee Park contains Penlee House – a gallery and museum that contains examples of the Newlyn School of Artists. There is an admission charge throughout the week, but if you decide to go on Saturday, admission is free. There is a café and shop with an introductory talk given on your arrival, before you even get to have a stroll amongst the sub-tropical plants around the gallery. There is even a playground for children to let off steam as you wander around more sedately. During the summer Penlee Park plays host to outdoor theatre, and has a programme of productions that take place each summer – keep an eye open for the current programme so you don't miss anything.
Morrab Gardens are public gardens that lie right in the centre of Penzance itself, making it an ideal stopping off point for a bit of sanctuary as you are exploring the town centre. The climate here means that visitors from out of town will be surprised by the variety of plants you can find in gardens around Penzance – it is certainly worth taking a stroll through and seeing what you can find.
View all our Penzance Cottages >
Tags: Minack Theatre | Penzance | St Michael's Mount | Walking |