If ancient history is your bag, then you've come to the right place. West Cornwall has the highest concentration of ancient sites in Europe: standing stones, stone circles, quoits, barrows, fougus, wells, Bronze Age settlements and hill forts. Even the field systems between St Ives and St Just are old, some dating back 4000 years or more.
Armed with a decent map, you can easily fill a whole day visiting a variety of ancient landmarks and monuments, while taking in the glorious Cornish countryside, little changed since the start of the Bronze Age 2500BC.
Here's a few of the more familiar ones to get you started.
The Merry Maidens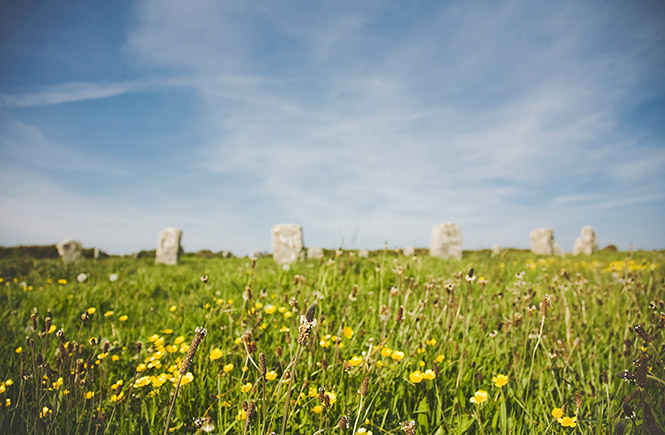 One of the best preserved and easily accessible stone circles, it consists of 19 dressed granite blocks in a perfectly formed circle of 23m diameter. Also known as the Dans Maen or Stone Dance, legend has it that these were nineteen girls turned to stone for dancing on the Sabbath. In a nearby field, The Pipers are said to be their guardian stones, former musicians who suffered a similar fate. A popular pagan monument, people often hold their own special ceremonies here to celebrate the solstices, and to take advantage of its magical fertility powers. You can find it adjacent to the B3315 about 4 miles (6km) out of Penzance.
Tregeseal Stone Circle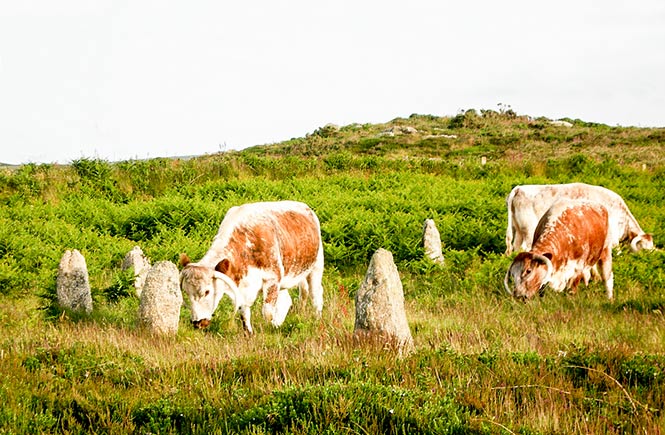 A bit more of a trek as it's about a mile northeast of St Just, this one has undergone substantial restoration in recent years. Situated on open ground at Truthwall Common, the current circle is thought to have been part of a ritual complex of three such circles, possibly dating back to late Neolithic times. Their alignment suggests they were built to mark the equinox sunrises, while to the east there are five holed stones. The imposing rocky outcrop of Carn Kenidjack to the north is well worth hiking up to for the amazing views, and if you're a geocacher, there's a container stashed in amongst the boulders.
Mên-an-Tol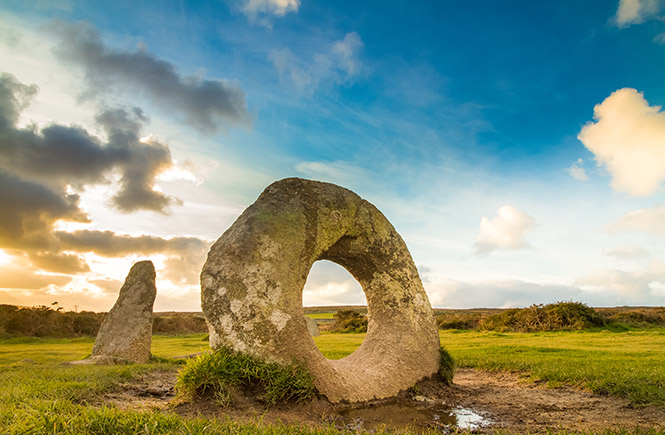 A favourite with children and photographers alike, this megalithic structure is known far and wide. Its name translates as the 'holed stone', thanks to its polo mint shaped centrepiece, but it's also commonly called the 'crick stone' on account of its alleged healing powers. Babies and infants were frequently brought here as a cure for rickets, which involved circling around the stone formation widdershins (against the sun) with the child nine times, before passing them through the hole backwards. Also said to alleviate back pain, cure 'scrofulous taint' and protect against evil charms, bigger people have to make do with crawling through it. You never know, it may well ward off the common cold, so is worth a punt. Located on moorland in an Area of Outstanding Natural Beauty, it can be reached by a path from Ding Dong mine, or the track from the road out of Penzance to Morvah.
Madron Holy Well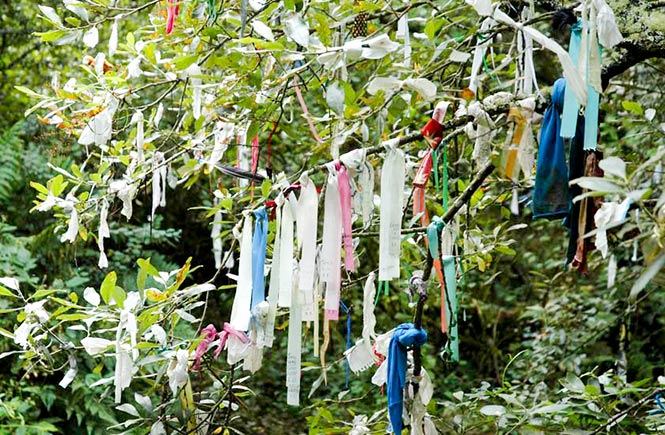 Also on the road out to Morvah, but nearer to Madron, you'll find one of the many holy wells which pepper the Penwith landscape, tucked away down a windy path. A natural spring with folkloric curative powers, mothers would bring their sickly children on the first three Sundays in May to plunge them into the water. Celtic in origin, today the roofless ruins of a small Baptist chapel houses the holy well itself. But before you reach the well, the path passes an ancient cloughtie tree. Strips of well-dipped cloth or rag were traditionally hung by those in need of healing, in the hope that as the rag disintegrated so would the illness. These days, notes and memorials to loved ones are often left, blessings asked for and wishes made… hope still springing eternal.
Lanyon Quoit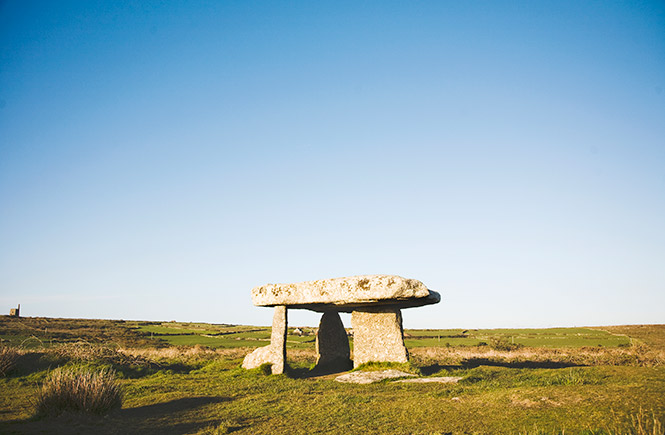 One of the oldest ancient sites in West Cornwall, dating from about 10,000 BC to 2000 BC, this quoit was constructed during the Late Mesolithic to Early Neolithic period. Previously tall enough for a horse and rider to pass underneath it, it collapsed in a storm in 1815 and was resurrected nine years later, but is considerably lower now. North of Madron, and clearly visible from the roadside, the capstone weighs an impressive 13 tonnes which makes you wonder how they managed to raise it. Twice!
Chûn Quoit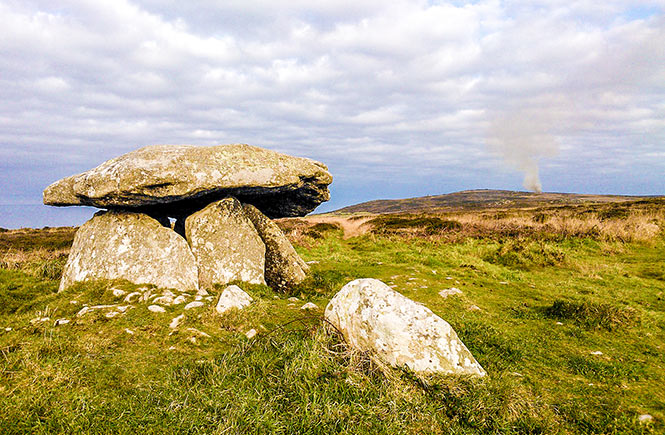 It's the only quoit in the area to have retained its original capstone. Being supported by four substantial slabs, it looks like a giant stone mushroom! Standing on a windy ridge near the much later constructed Chûn Castle Iron Age hill fort, it would probably have originally been covered by a round barrow, and served as a burial chamber. A bit bleak at times, on a sunny day it's the perfect place for an atmospheric picnic, with sweeping views to the sea and across the moors. Access is up a path from a nearby farm, the lane to which branches left off the same Penzance to Morvah road that goes past Madron Holy Well and leads to the Mên-an-Tol lay-by.
Bodrifty Iron Age Village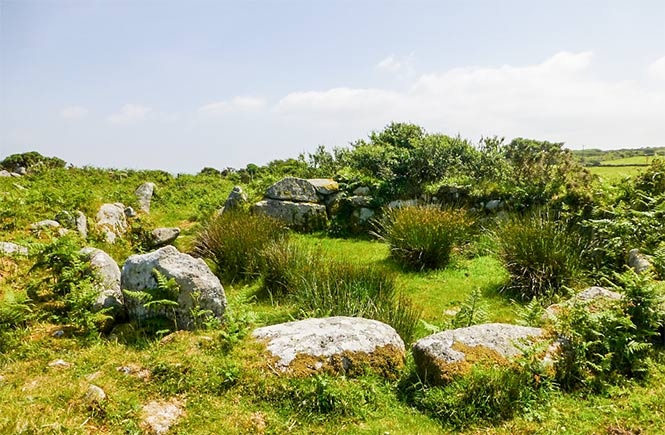 Consists of the remains of eight structures surrounded by a stone wall enclosing three acres. A settlement which thrived between the 5th and 2nd centuries BC, it's always a humbling experience to walk the ancient pathways here and really feel the history. Excavated extensively in the 1950s, most of the finds are now in the Royal Cornwall Museum in Truro. Unlike the more famous English Heritage site at Chycauster, access is free, but there's still an informative board detailing the ruins and explaining some of this village's fascinating past. Nearby there's a replica roundhouse built to the same dimensions as the largest of the ruins. Previously featured on Time Team, this authentic, conical thatched-roof dwelling, made from locally sourced granite, timbers and marsh reeds, was initially used as an educational resource for schools to learn about pre-history and archaeology. Three miles northwest of Penzance, Bodrifty is signposted from the village of Newmill.
Where to find them:
View all our holiday cottages in Cornwall >
Tags: History | Penzance | West Cornwall |