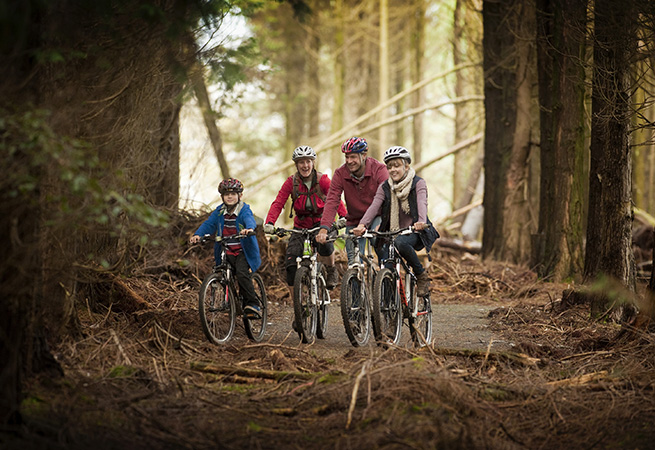 Want to get your fix of the great outdoors, but unsettled weather forecasts keep putting the brakes on your best intentions? Why not try off-road cycling – an activity that can be enjoyed throughout the year, whatever the weather. Thanks to significant investment from '1 South West', Cornwall boasts not one, but two cycle trail centres, where riders of all abilities can shelter from the worst of the elements, while still getting their quota of healthy exercise, fresh air and fun.
Both within a few miles of Bodmin, Cardinham Woods' exciting mix of technical climbs and descents, snaking singletrack, and tight bermed corners is perfect for more experienced mountain bikers, while the Lanhydrock Cycle Hub ticks all the right boxes for complete novices, families and anyone looking to improve their skills.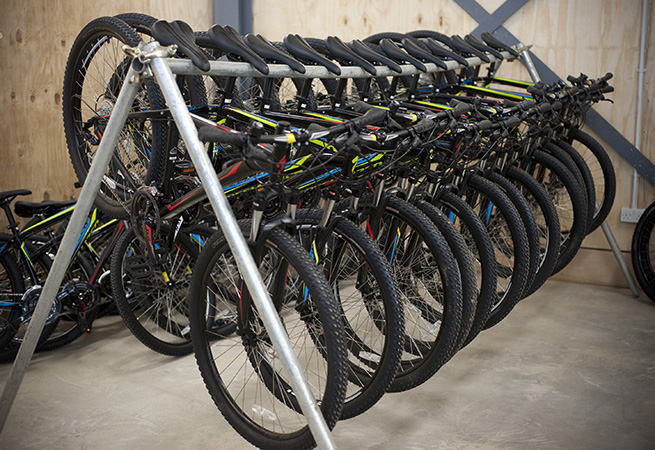 Both centres have excellent bike hire facilities, so if you don't fancy strapping the whole family's collection of mountain bikes to your car – or you're not staying in one of our Cornish holiday cottages that can accommodate a bike – there's no excuse not to give it a go. Don't worry, if pedalling isn't your thing there's always the option of taking a stroll, as both sites have delightful designated woodland walks, while Lanhydrock also boasts it's National Trust estate gardens. And if you've got a really big car and you remembered to pack your horse, there are bridleway routes at Cardinham too.
I'd recommend trying Lanhydrock first if you're an off-road newbie, and parking is free, which is always a bonus. Here's what to expect when you get there:
Right next to the car park, a special 'skills section' (incorporating rollers, rocks and jumps) is the ideal starting point for practising and progressing your off-road skills, while the balance bike track is aimed at improving the confidence of very young cyclists. Beyond this, as you enter the main trail area, some lovely Cornish hedging shows how much thought and attention to detail has gone into the build.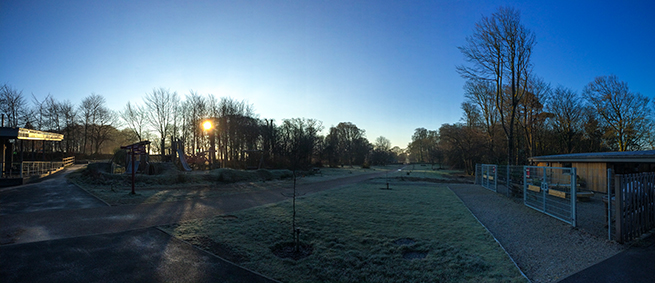 From here, the easy green graded Lodge trail has wide, smooth paths that are especially suited for family groups, toddlers with stabilisers, pram-pushers, dog-walkers and wheelchairs, while the more challenging blue Bazley's trail features swoopy banked sections and mini humps, set amongst stunning woodland scenery. The grittier surface requires more concentration round corners, but with several split loops to choose from, taking a different fork second time around will double your fun.
A gentle pedal along a connecting track takes you to the blue Timberland trail. Hugging the fire road to begin with, it then veers left into some super tight corners, a tabletop, lots of bumps, more switchbacks and a final run down. No need to be a speed demon to enjoy the trail flow though. Devised for averagely competent riders, it's the right balance of heart-in-your-mouth adrenaline vs control. Then it's the long slog back up to the top… no pain no gain… but you can always get off and push.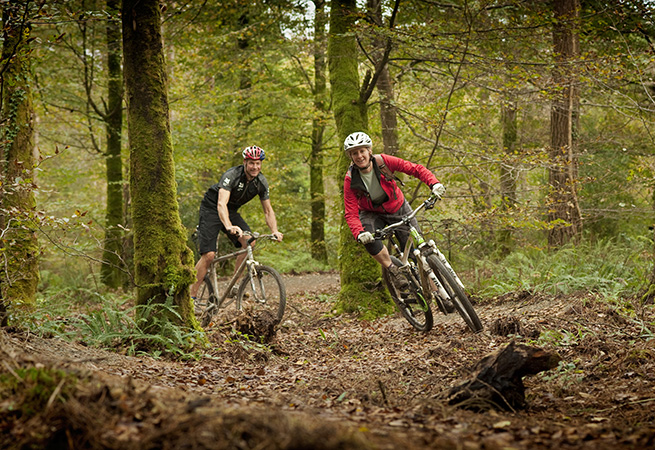 At the top it's a short, sweet loop down the blue Hart trail, the twists keeping you on your toes without being too taxing. Hundreds of newly planted trees in the lower section, promise even more delightful woodland to zigzag through in years to come.
Back up and it's time to face the dual track that is the intermediate red Sawpit. Daredevil types can make the most of the bumps and the momentum to get airborne, but if you prefer to have both wheels firmly on the ground, just keep feathering your brakes to slow yourself down.
The reward for all this healthy activity? The Park Cafe. A light and inviting space, with a refreshingly un-boring menu, the cosy sofas and woodburner in the corner are ideal for a post-ride chill out, or there are tables on the veranda if sunny. Outside, the adventure playground's sensitive design and use of natural materials (turfed tunnels, ambitious climbing frames and embryonic willow dome) prove popular with everyone.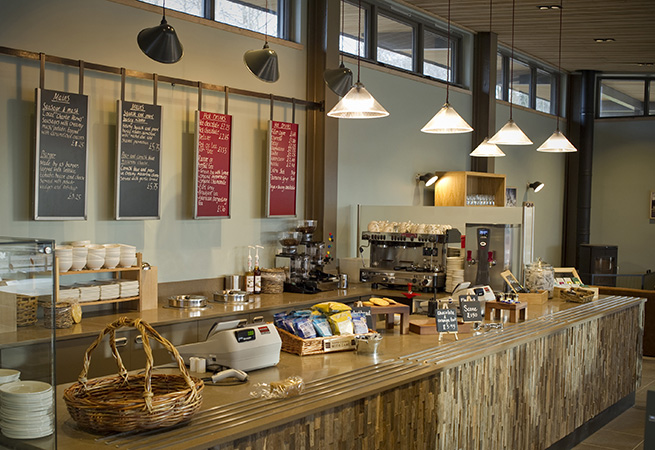 Lanhydrock's friendly onsite cycle hire shop ensures accessibility for all, as their stock includes balance and disability bikes, trailers, tag-a-longs as well as over a hundred standard mountain bikes of varying sizes all racked up and ready to roll. From £5-12 for half a day, plus child seats and free helmets, catering for all ages and abilities, why not saddle up and experience the Hub for yourself.
Check out our holiday cottages in Cornwall with space to store a bike.