From picture-postcard cottages to boutique getaways by the sea (along with everything in between), we've got your holiday wishlist covered, with over 650 holiday cottages to choose from. To whet your appetite for your next break in Cornwall, take a look at 10 of our most popular properties that are guaranteed to book up! If you can't find any availability, get in early and make an advance reservation for the following year!
For more holiday inspiration, see our guide to the 10 prettiest villages in Cornwall and our top 10 properties with unforgettable views.
Fisherman's Square, Mousehole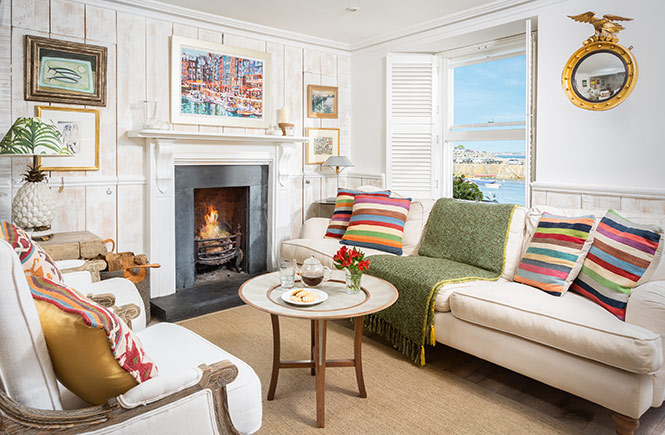 Part of our Unique and Boutique range, Fisherman's Square is a stunning coastal retreat for four guests. With its carefully thought out interiors and postcard-worthy views across the harbour, it's easy to see why it is so popular! Sumptuous beds promise a blissful night's sleep whilst little touches of luxury such as a free-standing bath and cobbled courtyard garden with sea views, are yours to indulge in. Spend lazy afternoons captivated by the comings and goings of the harbour or make the most of the property's coastal location and explore rocky coves, sweeping beaches and awe-inspiring coast paths!
Location: Mousehole
Sleeps: 4
Best for: an indulgent stay with the pooch in tow.
View all our holiday cottages in Mousehole >
Boathouse Loft, St Ives

A dreamy coastal haven, Boathouse Loft has glorious views across the bay with St Ives Harbour beach just mere feet from your balcony. A light and airy apartment, muted tones and elegant furnishings have created a stylish yet cosy space to relax and recharge your batteries. Stretch your legs in the morning with a quiet amble along the golden sand to watch the sunrise, before filling your days with fun and adventure exploring St Ives.
Location: St Ives Harbour
Sleeps: 4
Best for: relaxing in style and watching the hustle and bustle of St Ives from your balcony!
View all our holiday cottages in St Ives >
1 Seagull House, The Wharf, St Ives

Boasting breathtaking panoramic views from the living area and double bedroom, 1 Seagull House is a beautifully finished two bedroom apartment, positioned on the sought-after wharfside. Perfect for a romantic getaway or a family holiday by the sea, you will have the harbour right outside, so you can dip your toes in the turquoise sea and relax on the golden sands just steps from your front door. Being so central, you also have an excellent array of shops and restaurants close by, to spend time browsing or dining out.
Location: The Wharf, St Ives
Sleeps: 4
Best for: those wanting a central location for a romantic break or family getaway
View all our holiday cottages in Sennen >
Gunvor Cottage, Coverack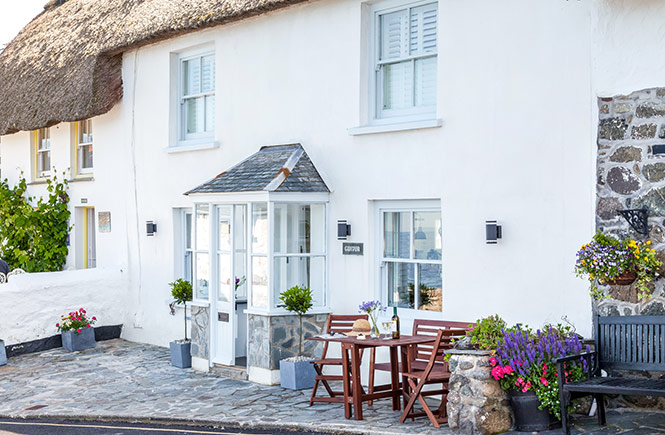 A gorgeous, thatched cottage that is steeped in history and close to the sea, Gunvor Cottage is straight from a storybook. Carefully renovated to blend modern luxury with traditional features, it offers two en suite bedrooms, both with striking views across the beach and Coverack. Enjoy breakfast at the dining table whilst taking in the ever-changing sea views, before heading out to explore the enchanting local area. Walking enthusiasts and adventure lovers are offered a wealth of exploration opportunities from the property, which is also perfectly positioned for a traditional family beach holiday.
Location: Coverack
Sleeps: 4
Best for: a relaxing break away in quintessential Cornwall
View all our holiday cottages in Coverack >
3 St Bridgets House, St Ives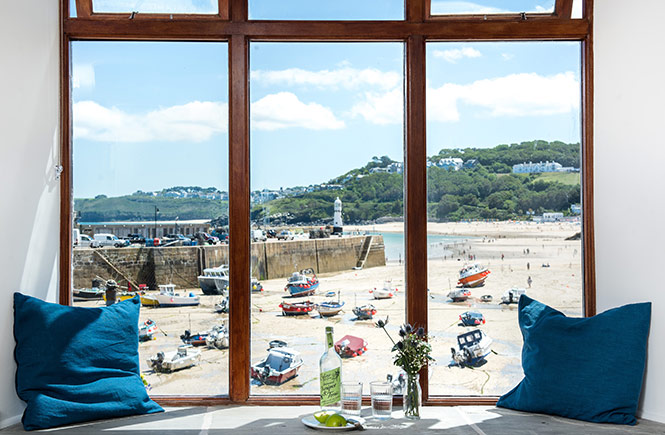 Overlooking the harbour, 3 St Bridgets House is a striking, romantic apartment that is ideal for couples looking for a seaside escape and time to themselves. Wake up, pour yourself a mug of your favourite hot drink and watch the early morning sun sparkling on the waves as St Ives slowly wakes up. You will be spoilt for choice for things to do and places to explore as St Ives' five golden, sandy, beaches and a variety of shops, bars and restaurants are just minutes away. You will be booking your next stay even before you've left!
Location: St Ives Harbour
Sleeps: 2
Best for: couples looking for a romantic break with a view to die for.
View all our holiday cottages in St Ives >
Cove Cottage, Cape Cornwall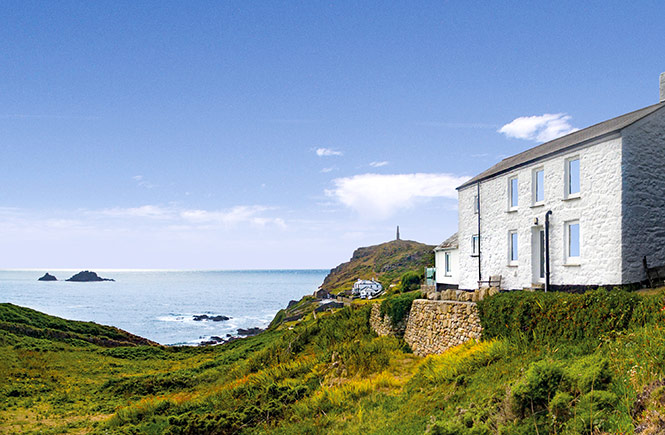 Nestled in two acres of private grounds, sweeping down to the very edge of Priest's Cove in the heart of National Trust Land, Cove Cottage is a cosy, former fisherman's cottage. Set in a rugged and awe-inspiring location, the west-facing garden room offers breathtaking views over the majestic Brisons Rocks and the vast expanse of the Atlantic Ocean. Walkers will delight at the coast paths available, whilst the ancient market town of St Just is a short drive away, where you will find a lovely selection of shops, galleries and pubs to enjoy.
Location: Cape Cornwall
Sleeps: 4
Best for: peace and seclusion in rugged surroundings
View all our holiday cottages in Cape Cornwall >
St Breca, Prussia Cove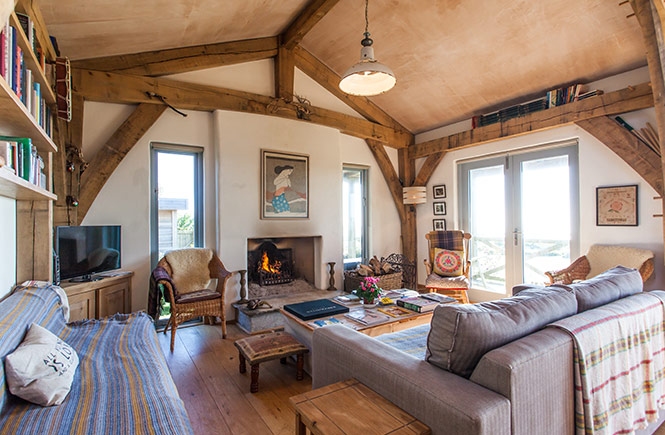 St Breca is Cornish for 'unique' and this property certainly lives up to its name! Furnished beautifully by the owners with homely and wonderfully quirky décor, this one-off property is bursting with character and luxury living. Open plan living blends modern fixtures with country chic style whilst bi-fold doors lead out to the large veranda where you can enjoy a glass of wine and take in the mesmerizing views. The outside area even has a large fire pit, so you can toast marshmallows under the stars on summer nights!
Location: near Prussia Cove
Sleeps: 4
Best for: a cosy winter break on a beautiful stretch of coast.
View all our holiday cottages near Prussia Cove >
1 Seawall Court, St Ives

In simply one of the best locations in St Ives, 1 Seawall Court is a delightful first-floor apartment, just feet above Porthmeor beach. Offering exquisite panoramic views of the sea, you'll be able to watch the waves put on a show no matter the weather as well as be treated to glorious sunrises and sunsets. 1 Seawall Court is also ideally located for the wealth of restaurants, pubs, art galleries and shops St Ives has to offer. Not only does it have amazing views, it also has quality fixtures and furnishings, ensuring guest comfort at all times.
Location: Porthmeor Beach, St Ives
Sleeps: 2-4
Best for: enjoying incredible sunsets and beach days
View all our holiday cottages in St Ives >
Tranquility, Carbis Bay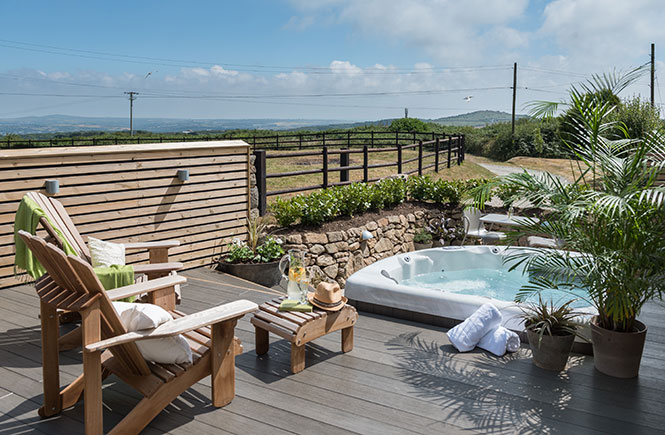 Tranquility is the ultimate romantic getaway for couples, providing memories you'll treasure and want to recreate year after year. This stunning one-bedroom cottage is guaranteed to blow you away from the minute you park up. Settle in, grab some bubbly and jump straight into the hot tub to enjoy blissful seclusion as you gaze out at the endless, rural views leading out to Mount's Bay in the distance. During the cooler months, you can settle down for the evening watching your favourite boxset on the 65" Smart TV, getting warm and cosy in front of the woodburner while wrapped up in the robes and slippers provided.
Location: Carbis Bay
Sleeps: 2
Best for: a luxury break away at any time of year.
View all our holiday cottages in Carbis Bay >
St Clements, Mousehole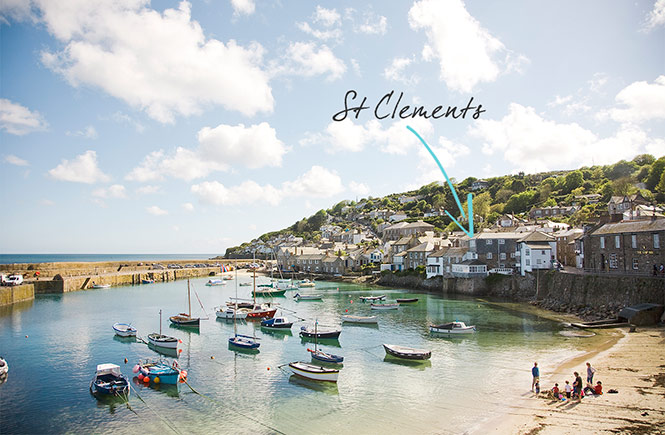 If style and luxury is what you're after, look no further than St Clements! A gorgeous penthouse, it offers 180-degree views of the harbour, with Mount's Bay and the Lizard Peninsula in the distance. St Clements in the top floor of the former Lobster Pot Hotel in Mousehole, a grade II listed building. The interior design is bespoke and contemporary whilst remaining sympathetic to the history of this special building. Expect to find black granite worktops, leather sofas and solid oak floors with underfloor heating. The marble-tiled en suite bathrooms add a further touch of glamour to this outstanding holiday home.
Location: Mousehole
Sleeps: 4
Best for: families looking for an unforgettable holiday
View all our holiday cottages in Mousehole >
Feeling inspired? Take a look at all our holiday cottages in Cornwall and start planning your next holiday.
Tags: Cape Cornwall | Carbis Bay | Mousehole | Sennen | St Ives |