Dreaming of a sunny sojourn? While we can't guarantee the weather here in Cornwall, we can offer you a selection of beautiful holiday homes that are perfect for a relaxing break at any time of year.
Wherever you decide to stay, all our properties are reviewed by our lovely guests to help you choose. Take a look at our top 20 most loved cottages in Cornwall...
Turnstones, Rural St Ives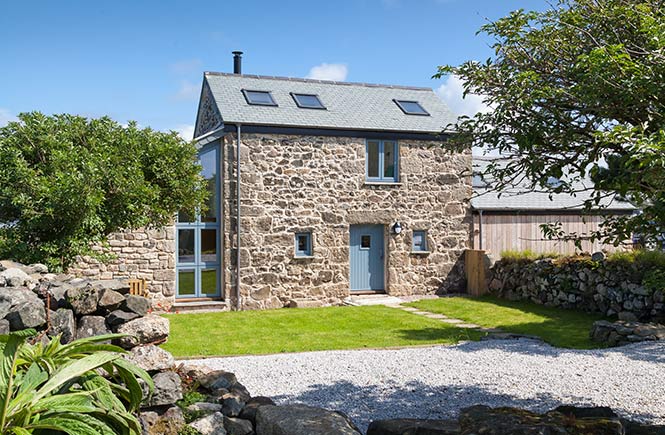 Lovingly restored by the owners, Turnstones is a beautiful barn conversion for four. Enjoy mesmerising views across meadows and out to sea and cosy evenings by the woodburner, or head into St Ives, which is just a short drive away.
Location: Rural St Ives
Sleeps: 4
Best for: a secluded escape close to St Ives
What our guests say: "From the minute we arrived at Turnstones, to our departure, we had smiles on our faces. This property is exceptional and is a credit to the owners. The quality of the renovation of this property is exceptional. The location is perfect, close to the SW coastal path, and close enough to walk into St Ives, yet far enough out to escape the crowds. The perfect holiday property, and the perfect location, where you can either relax in a great rural setting, or enjoy busy St Ives."
Virgin Place Net Loft, Mousehole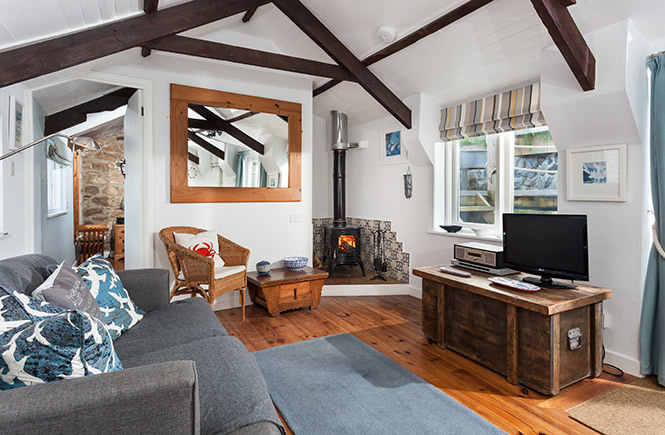 A former fisherman's loft tucked away in the heart of Mousehole, Virgin Place Net Loft is charming and well-appointed. Explore the maze of cobbled streets off the stunning harbour, before heading back to enjoy drinks on your private decked area.
Location: Mousehole
Sleeps: 2
Best for: a couples break by the sea
What our guests say: "This is our fifth stay in this cottage and our umpteenth stay in Mousehole. Both are very special and didn't disappoint this time. We will definitely return next year both to Mousehole and the Netloft (if there are any vacancies!)."
Safe Harbour, St Ives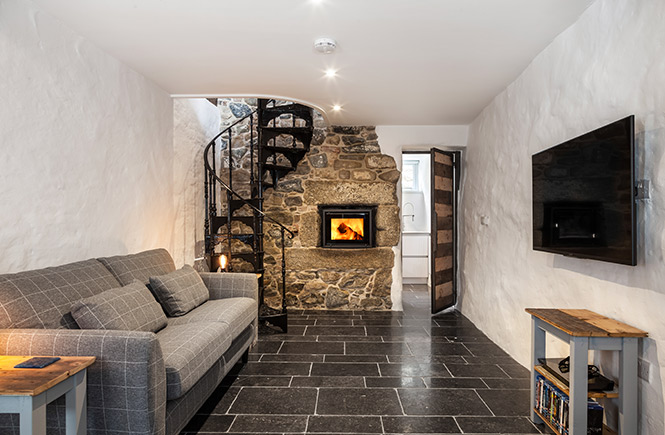 A truly one-off Cornish cottage with a rich history, Safe Harbour is perfectly located, only moments away from St Ives' picturesque harbour. Catering for couples or solo travellers, the cottage seamlessly blends traditional features with modern luxury.
Location: St Ives
Sleeps: 2
Best for: a solo or couples trip away
What our guests say: "What can I say... perfect in everyway, I will definitely be booking my next stay in St Ives to come back to safe harbour, thank you for making my 50th Birthday one to remember."
Apartment 2, at Thirty Six, Newquay

This two-bedroom apartment has been beautifully finished and offers a fantastic base, just a short walk from Fistral beach. With parking provided, you can leave the car behind and explore this vibrant town and the breathtaking coastal paths that circle it.
Location: Newquay
Sleeps: 4
Best for: small families or couples sharing
What our guests say: "This was probably the nicest holiday apartment we have ever stayed in. It was fantastic! Beautifully decorated, brilliant showers, all the mod cons and utensils you could ever need! The owners had thought of everything!"
Songbirds, Bude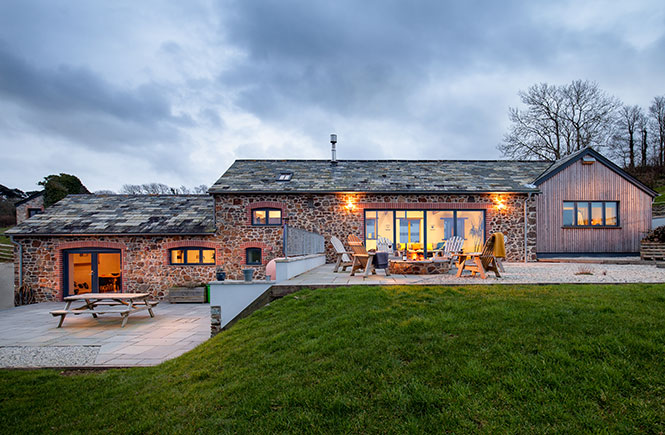 Painstakingly restored, Songbirds is sat within the secluded grounds of a sixteenth-century farmhouse. Offering every modern luxury, you can say goodbye to the hectic world and escape in total privacy surrounded by an oasis of nature.
Location: Bude
Sleeps: 6
Best for: families looking for a luxury escape to the countryside
What our guests say: "Fantastic property, 5 star luxury, we could not ask for anything more it exceeded our expectations! Fantastic views, Location superb totally private. We did not want to leave. Only wish we had booked two weeks not just one!!"
Chy an Leddra, Marazion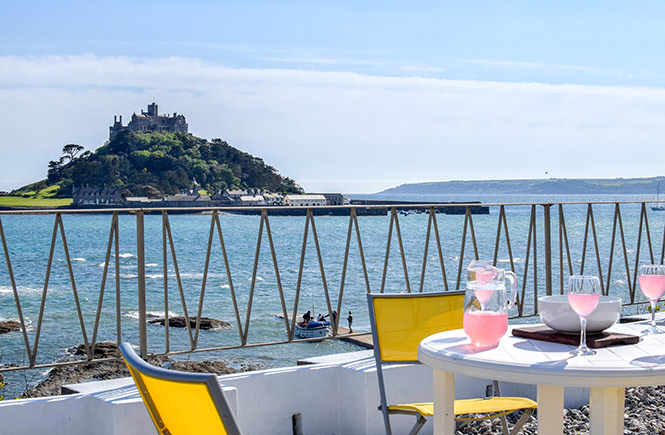 Tucked away yet only a few steps from the centre of Marazion, Chy An Leddra is a gorgeous home. Relax on the private terrace with a glass of bubbles, whilst gazing out at the spectacular and uninterrupted views of Mount's Bay and St Michael's Mount.
Location: Marazion
Sleeps: 5
Best for: families seeking a seaside escape
What our guests say: "I am loathe to describe how nice and luxurious this property is as it is already fully booked but its so well furnished, clean and warm and welcoming, its a dream holiday booking. Talk about rooms with a view, St Michael's Mount from every window and what a terrace, great furniture and to be able to hear the waves break at night is brilliant. Well done the owners!!!!"
Howldreval, Mousehole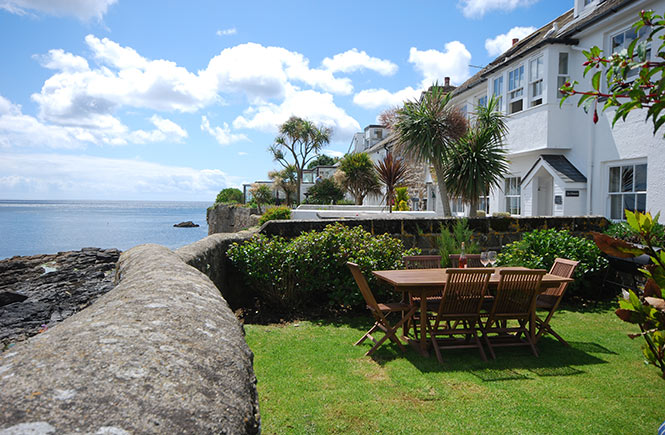 Howldreval is a Grade II listed cottage perched on the edge of the sea wall. Commanding postcard-worthy views, this delightful cottage exudes charm, with a half-timbered staircase, painted ceiling beams and original doors adding to its quirky Cornish appeal!
Location: Mousehole
Sleeps: 6
Best for: larger families wanting a quintessentially Cornish break
What our guests say: "Howldreval' is probably the best holiday cottage we've ever stayed in, and that is saying something, as we've stayed in very many all over the country over 40 odd years! There is almost always something that makes a holiday cottage less than perfect, but in this case, we would be struggling to find anything negative to say."
Cherry Blossom Barn, West Cornwall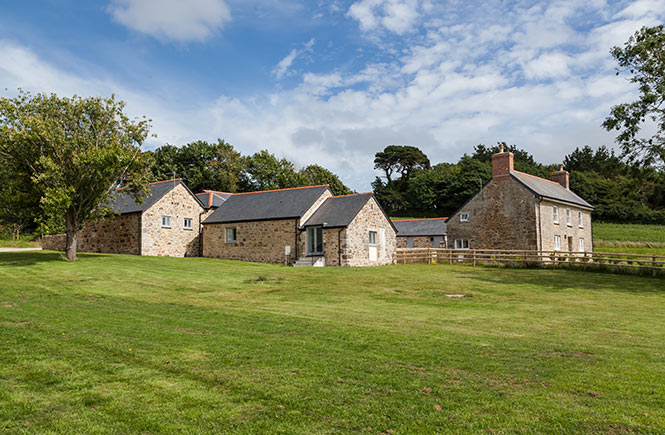 Cherry Blossom Barn is a year-round sanctuary complete with a sprawling meadow, idyllically situated between both the north and south coasts. Quietly tucked away, it offers a warm welcome to guests looking for some peaceful rejuvenation.
Location: West Cornwall
Sleeps: 4
Best for: peaceful breaks in the countryside
What our guests say: "We have just returned from the most perfect week in Cherry Blossom Barn. It is the most peaceful, well equipped, clean cottage we've ever stayed in. Would highly recommend!"
Tranquility, Carbis Bay
The ultimate romantic getaway for couples, Tranquility provides memories you'll never forget and will want to recreate year after year. Get settled in, grab a glass of something chilled, and head straight into the hot tub.
Location: Carbis Bay
Sleeps: 2
Best for: romantic breaks by the sea
What our guests say: "We were absolutely blown away with how amazing our week holiday at Tranquility was. We were welcomed with a personalised welcome message on the chalk board and a selection of local treats which was lovely. The location and property itself is perfect with the incredible hot tub and log fire. Thank you for a lovely stay."
Countryside Hideout, Mevagissey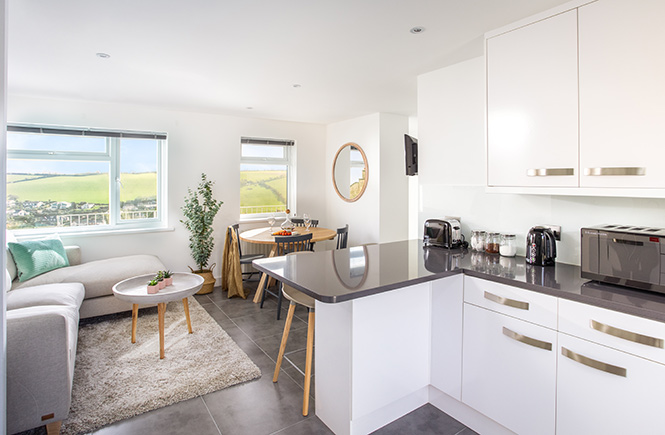 This apartment sits in a fabulous location, just a short walk from the fishing village of Mevagissey where you can wander around the shops or enjoy some local cuisine. It's been beautifully furnished by interior designers and your four-legged friends are also welcome!
Location: Mevagissey
Sleeps: 4
Best for: friends, couples or families looking for a perfect bolthole
What our guests say: "We had a lovely few days in the apartment. It was so clean and comfortable. We really enjoyed the location, it was so nice to walk into Mevagissey to enjoy the restaurants and pubs. Also the coastal walk to Goran was beautiful. Looking forward to returning in the near future."
Above the Bay, St Ives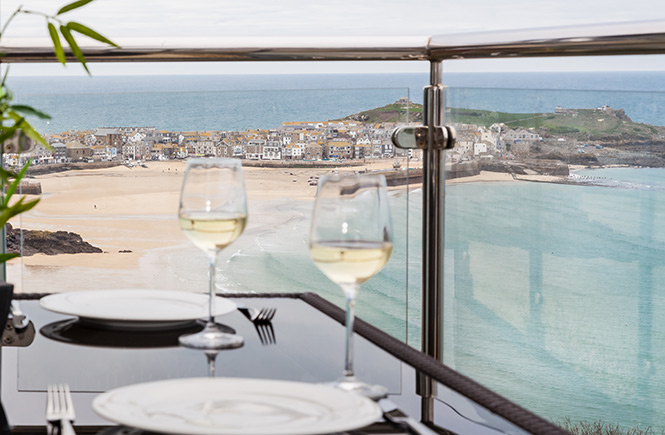 A luxury first-floor apartment, Above The Bay offers turquoise sea views and the charming sights of St Ives harbour and The Island. Thoughtfully designed and lovingly furnished, memories made here will be cherished.
Location: St Ives
Sleeps: 4
Best for: couples or families wanting a special seaside retreat
What our guests say: "I cannot fault this property. The view was amazing, the apartment spotless and well equipped, the comfort of the beds, it all exceeded our expectations. I would imagine this particular apartment would probably be one of the best of the Morwenstow ones, as it is almost at the top, so the view is completely uninterrupted."
Hideaway House, Penzance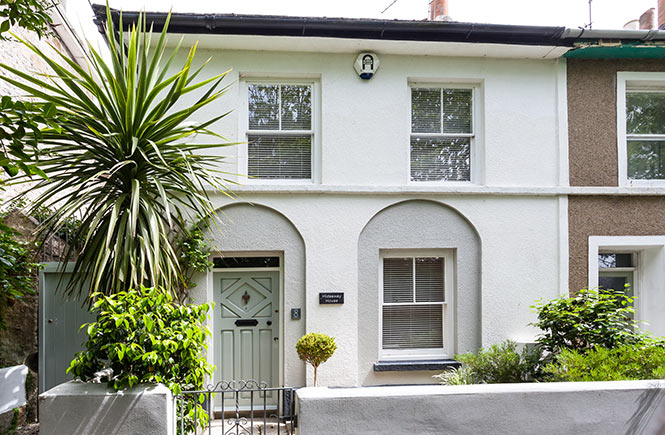 Located in a pretty, traffic free area of Penzance, between the promenade and the sub-tropical Morrab Garden, is this delightful town house. Hideaway House boasts open plan, light filled spaces that welcome you inside after a busy day exploring.
Location: Penzance
Sleeps: 4
Best for: those wanting a homely base for exploring West Cornwall
What our guests say: "We really enjoyed our stay at Hideaway House and have already booked again for next year. It's a bright, modern cottage in a great location with a very homely feel to it. Honestly I didn't want to leave! Would definitely recommend if you are thinking of booking."
Harbour Watch, St Ives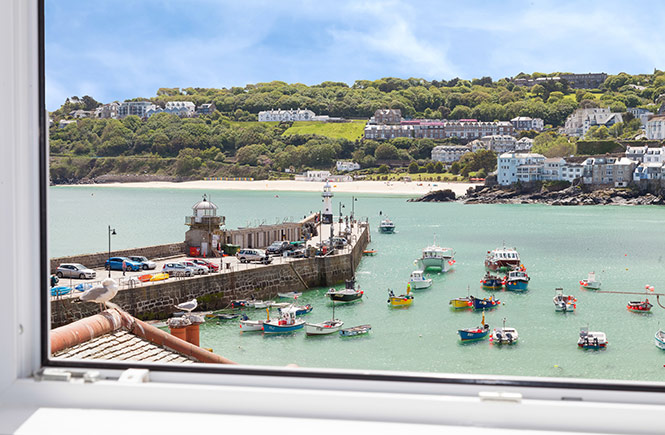 This unique little cottage is nestled in the very heart of old St Ives and over the decades has had many uses. Now a lovely bolthole, from its picture window you can take in the superb views after a day of wandering the enchanting streets.
Location: St Ives
Sleeps: 2
Best for: couples looking for a special break away
What our guests say: "What a perfect place to stay, our 3rd stay there in fact and next year booked already! Everything there for a lovely stay. The views from this property are to die for. Can't fault this little love nest! Thank you Aspects for your consistent high standards and helpful staff."
7 Saltwater, Newquay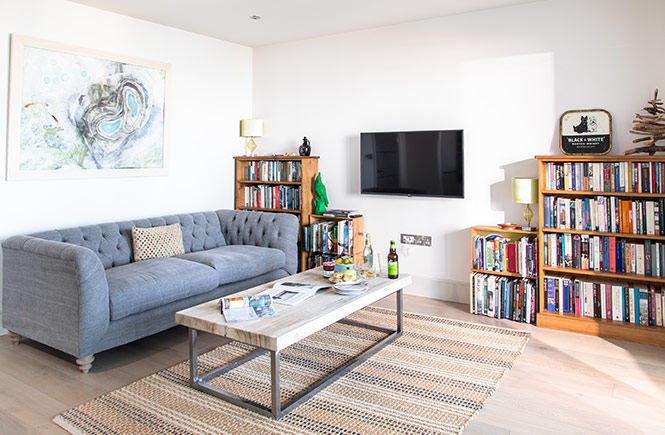 Stylish décor, tastefully furnished and with views of Fistral beach and beyond, 7 Saltwater is a gorgeous and homely apartment, sleeping up to four guests in one of Newquay's most affluent locations.
Location: Newquay
Sleeps: 4
Best for: family holidays with easy access to the beach
What our guests say: "This apartment was perfect! It had everything we needed and the location was fantastic. We were a party of 4, 2 adults and 2 children and there was plenty of space. The children just loved it. Would highly recommend this apartment to anyone looking to explore Newquay. We really hope to make a return visit and will definitely choose to stay here again."
Far West, Sennen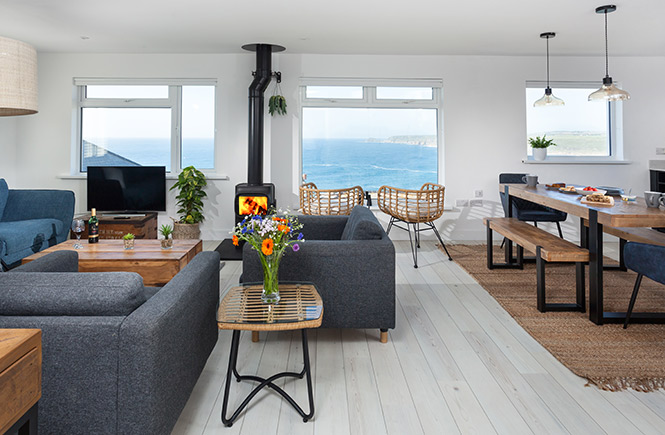 This captivating property sits in a commanding elevated position on the cliff above Sennen Cove and boasts striking views. Sleeping up to six in three en suite bedrooms, with a gorgeous open plan lounge, complete with cosy woodburner, this is the perfect retreat whatever the season.
Location: Sennen
Sleeps: 6
Best for: those wanting a luxury stay with unrivalled sea views
What our guests say: "My family and I absolutely love this accommodation, the views are absolutely fantastic with just a short walk to Sennen beach and also a short walk to Lands End. Everything is done to a high standard, its very comfortable. We enjoyed it so much we booked to go again next year."
1 Harbour House, St Ives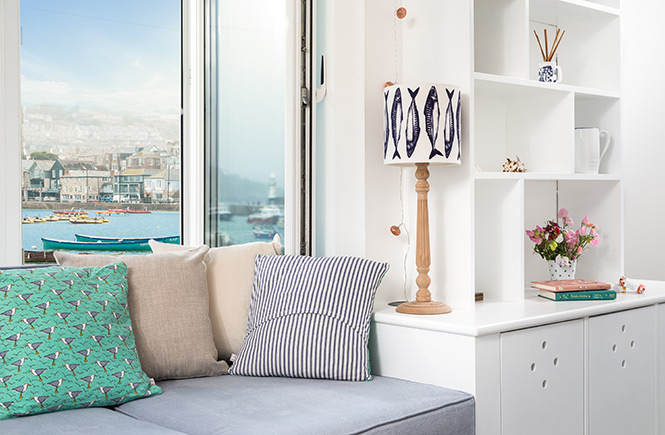 A beautifully finished apartment, 1 Harbour House spans the ground floor of a period conversion on the favoured side of St Ives Wharf. From the private front door, you can virtually walk out onto Harbour beach, whilst large windows allow you to admire the views.
Location: The Wharf, St Ives
Sleeps: 4
Best for: small families or couples looking for a seaside haven
What our guests say: "Wonderful apartment. Spectacular harbour views Exudes class and luxury. New window seat is the most amazing place to sit and watch the harbour come alive. Perfect location for all the glorious treats st ives has to offer. The smells of the restaurants waft in thru the huge windows- the only problem being deciding which to go for. Comfortable beds fully equipped kitchen and a real feeling of decadence in the best location in St ives."
Paddles, Hayle
Looking out across Hayle estuary and situated in a new and centrally located apartment block, a stay at Paddles will mean you will have the many delights of this popular working heritage town right on your doorstep. Make the most of the private balcony to soak up the views!
Location: Hayle
Sleeps: 4
Best for: families wanting a central location and easy beach access
What our guests say: "Wonderful place to stay to get away from it all. Real home from home with everything provided for an enjoyable stay. The balcony has the sun on it all day which is a real bonus for al fresco eating and drinking."
Little Wheal Speed, Carbis Bay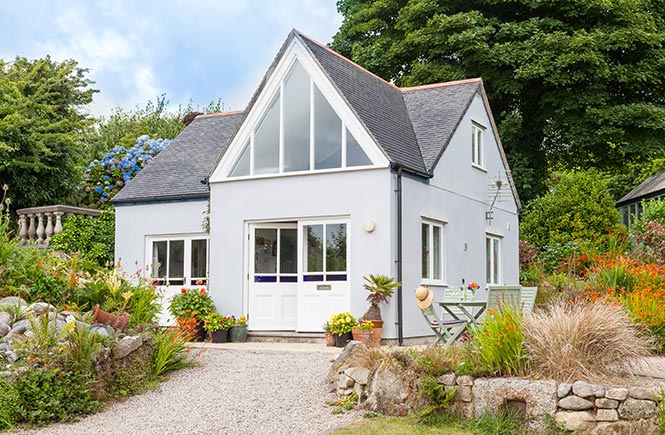 Set in attractive landscaped gardens in a secluded and peaceful setting, Little Wheal Speed boasts truly stunning views with a sunny aspect and plenty of outside space. Ideal for couples, this special little getaway is close to Carbis Bay beach and St Ives.
Location: Carbis Bay
Sleeps: 3
Best for: couples looking for a quiet getaway
What our guests say: "The property was even better in reality than the photos, we were already excited to see it from the photos. It was nice and clean, lovely and warm with the heating working nicely and felt very homely. John was really friendly and welcoming, he even dropped round fresh mackerel for us and the dog, it was delicious, how lovely. There was also milk, teabags, coffee, kitchen roll and washing up liquid, a nice touch. The property location was perfect, the view from the living room was amazing and getting down to Carbis Bay and St Ives was a lovely easy walk. We will be back. It really did feel like home. Thank you, a definite recommendation from us, you won't be disappointed."
Arch Cottage, Bude
Arch Cottage is a delightful, 200 year old traditional Cornish home, which has been lovingly restored to create an extremely cosy and friendly place to stay in Bude. This pretty, well-appointed and unique cottage, will make you feel instantly at home.
Location: Bude
Sleeps: 5
Best for: families seeking a home from home
What our guests say: "Arch Cottage is a very pretty and well equipped cottage, very close to Bude centre. Parking is provided. The cottage is very close to the beach, lovely cafes and the town centre. There is no need to travel far (or, indeed, at all) if you don't want to. It was extremely clean and tidy and the furnishings were all very comfortable (lovely bedding and a comfortable bed). No corners have been cut. I would go again in a heartbeat, Bude is a lovely destination and we were really impressed with the cottage."
31 St Nicholas Court, St Ives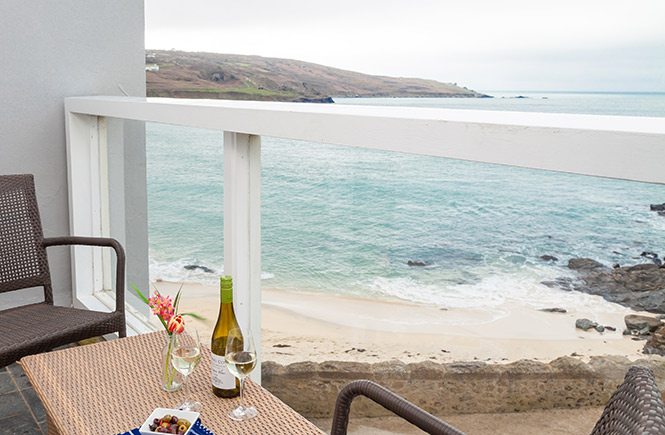 Superbly located, Number 31 is a two bedroom apartment that is perfectly situated to offer peace and tranquility whilst still being next to the beach and just a 5 minute walk from the hustle and bustle of the centre of St Ives.
Location: Porthmeor, St Ives
Sleeps: 4
Best for: those wanting to be as close as possible to the beach!
What our guests say: "This holiday was fantastic. The location is brilliant. The view is wonderful. We just stare at it in wonder. The apartment is great. Well appointed and lovely comfy beds. We loved it last year so came back this year and we are hooked. Booking again for next year. Aspects provide excellent service. Thank you everyone for making this holiday so wonderful."
Love these properties and want to see more? Take a look at our full range of holiday homes in Cornwall >