Full of myth and legend, not to mention mermaids waiting to pull you into the swirling depths of the ocean, Cornwall's storybook past has always provided plenty of inspiration for a chilling tale or two, which is perhaps why you'll find such a variety of Halloween activities on offer throughout the county.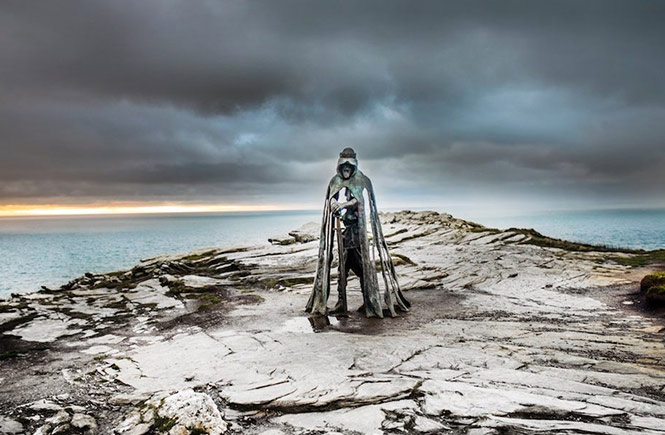 Oh yes, from haunted jails waiting to scare and delight to creepy trails winding through shadowed woodlands, Halloween in Cornwall is here to raise goosebumps and inspire many a campfire story. Cornwall also boasts an impressive selection of haunted places, where you can see history come to life (well, almost) at any time of year.
Ready to gather your courage and embark on a scarily fun adventure? Here's our list of the best spooky experiences in Cornwall to make your Halloween extra memorable…
Halloween at Bodmin Jail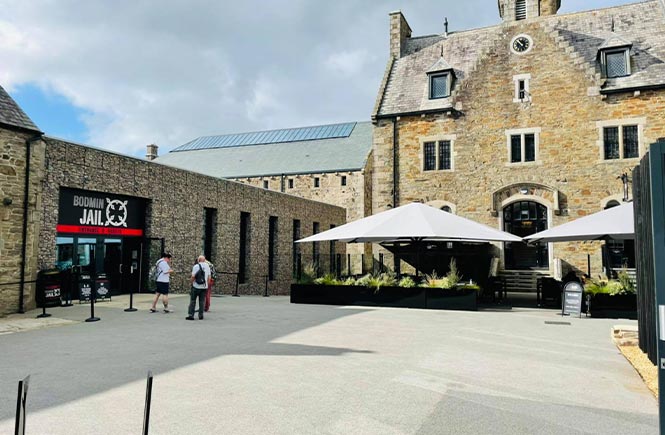 Best for: A bit of paranormal activity
Berrycoombe Road, Bodmin PL31 2NR
bodminjail.org
Perhaps Cornwall's spookiest attraction, Bodmin Jail really pulls out all the stops to celebrate the time of year when the veil between life and death is at its thinnest. The jail's famous heritage tours, which take you on a walk through the prison's fascinating history, get a dark and mysterious facelift for Halloween, delving even deeper into the grim and gruesome past of the Georgians and Victorians who walked these halls.
The junior jailers tour and trick or treat trail are perfect for younger audiences, while adults will love the ghost walk and séance. A series of cinema fright nights are also on hand to cast your visit in a silver light, with the likes of Hocus Pocus for families and John Carpenter's Halloween for the brave of heart.
Halloweden at the Eden Project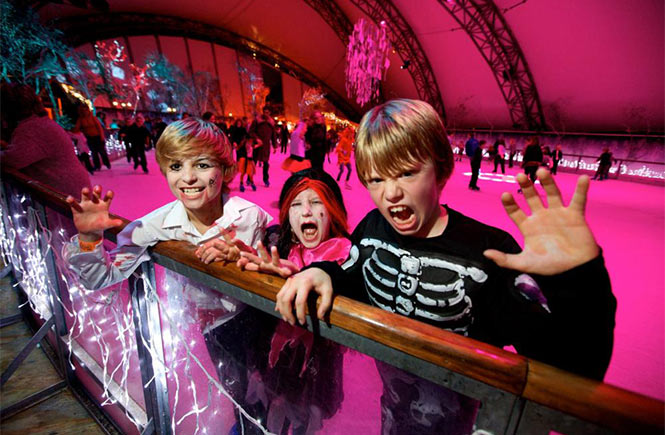 Best for: A Spooktacular skate
Bodelva, Par PL24 2SG
edenproject.com
With Halloweden always providing a fun and engaging experience for all, it will come as little surprise that everyone's favourite domed attraction is taking things to new heights for Halloween in 2023. Tree Giants are coming to the Eden Project looking for brave people to help them protect the world's rainforests. Kids will love uncovering their hiding places, with a series of performances creating an enchanting and educational show.
You'll also find Cornwall's iconic ice skating rink in the shadow of the looming biomes, offering everyone the chance to experience a chilling skate. Decorations turn the winter wonderland into a Halloween-inspired extravaganza, with a not-so-spooky rink-side café ready to fill hungry bellies with burgers and hot chocolates. After your skate, make sure to explore everything Eden has to offer, from the tropical delights of the rainforest biome to the fascinating invisible worlds exhibition.
The Dark Gathering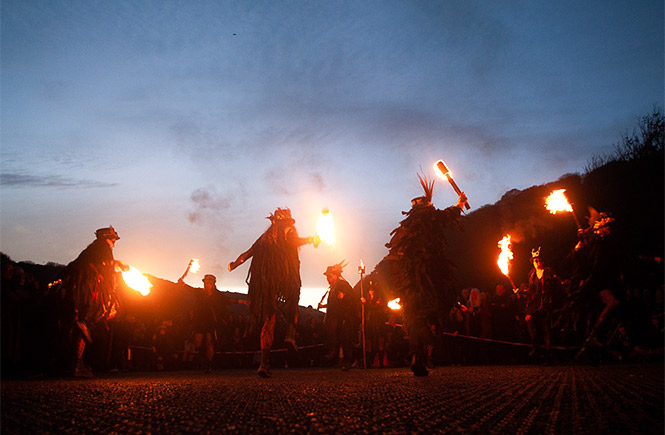 Best for: Spine-tingling tradition
Mayfair Car Park, Tintagel PL34
thedarkgathering.co.uk
An annual tradition, The Dark Gathering is a community event that celebrates Hallowtide and the change of seasons. Taking place on the Saturday before Halloween in the spooktacular village of Tintagel (famous for its haunted castle and dramatic coastline), The Dark Gathering is unlike any other Halloween event in Cornwall. Performances from Morris dancers and musicians create an unearthly atmosphere, while the Obby Osses and Mari Lewyds (the Cornish and Welsh tradition of decorated horse skulls) add a certain chill to the proceedings.
Throw on your thickest coat – or cloak – and spend an evening getting swept up in Cornish tradition, it's an experience you won't forget but will be eager to repeat year on year. The evening is open to all, with families welcome – although it is worth noting that the event, by its very nature, could be unsettling for some. For an extra special visit, arrive a bit early and head to Tintagel Castle, where tales of King Arthur and wandering ghosts linger to this day. Tickets sell very quickly, so if you're planning on attending make sure to book your place far in advance.
Halloween Display at Trethevy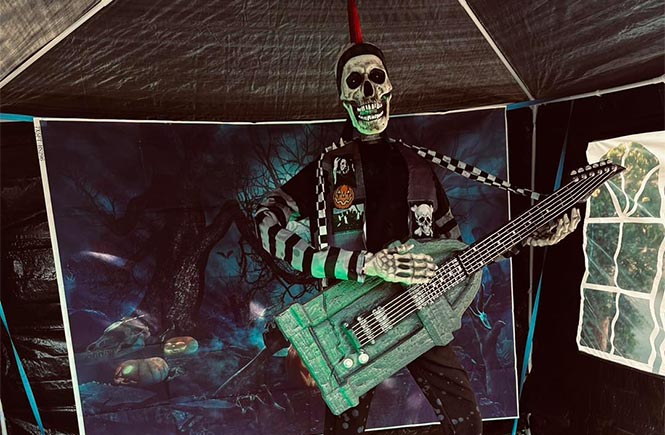 Best for: A terrific trail
Trethevy, Tingtagel PL34 0BE
Another mysterious attraction that proves Tintagel is the place to be for Halloween in Cornwall, Trethevy's annual display is to Halloween as Angarrack is to Christmas! Featuring a series of scary displays, from guitar-playing skeletons to spider-infested tunnels, this beloved trail takes you on a fantastical journey through a variety of frightfully creative scenes, with animatronics adding a whole new meaning to the phrase 'coming to life'.
Visiting the display is free but donations are welcome, with this year's fundraising efforts going to the Multiple Sclerosis Society. You can park at the St Nectan's Glen car park, and we recommend wearing sturdy footwear and taking a torch as the route to the trail is unlit (it also adds a wonderfully eerie vibe to the visit). Check out Trethevy's social media for updates on the display.
Halloween Maze of Horrors at Cornish Maize Maze & Fun Farm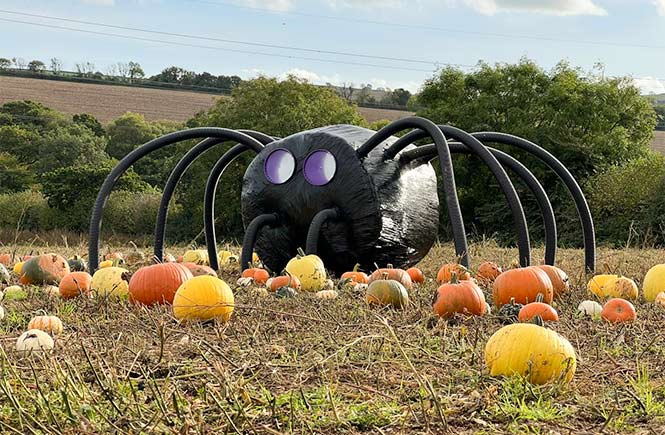 Best for: A-maze-ing activities
Leigh Lane, Pillaton, Saltash PL12 6RZ
amazingcornishmaizemaze.co.uk
Cornwall's beloved maize maze has undergone its usual spooky stylings to offer brave visitors the chance to test their metal against the terrifying twists and turns found within its growing walls. Don't let the nature of the maze fool you though, with a variety of scare actors and performers – including fire jugglers! – there is nothing corny about this fright-filled puzzle.
For those wanting a more relaxed Halloween experience this half term, you'll find a smaller pumpkin maze and pumpkin patch where you can pick your very own pumpkins for carving. Dogs are welcome but need to be kept on leads as there are farm animals around. We recommend booking your tickets in advance, as although you can buy them on the day, the maze is always popular and availability is not a guarantee.
Scare Asylum at Raze the Roof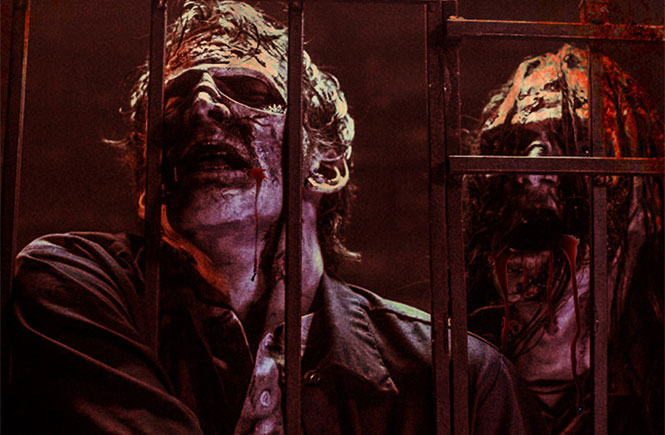 Best for: A frighteningly good time
30a Parkengue, Kernick Road, Penryn TR10 9EP
scareasylum.co.uk
Are you brave enough to take on a horde of zombies to save the world? If the answer is no, then this next maze might not be for you as it bridges the gap between reality and fiction. Raze the Roof in Penryn is transformed into a playground for courageous adults, with a host of actors donning rags and a lifeless pallor to add an extra layer of realism to the activities.
Your goal: gather a fearsome team and reach the end of the maze before the virus spreads to the rest of the population. Of course, the population can wait if you fancy grabbing a drink at the Graveyard Bar first. With jump scares waiting around every corner and a goal of providing "nightmares for years to come", it's easy to understand why visitors must be over 16 years old to enter the horror maze and VR experience, which runs between Thursday the 26th and Saturday the 28th of October.
Dead of Night at Tehidy Woods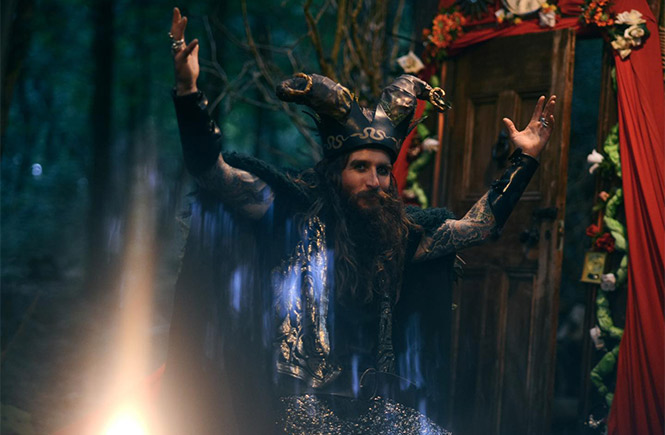 Best for: A weird and wonderful woodland wonder
Tehidy, Camborne TR14 0TW
rogueotherworld.co.uk/dead-of-night-23
If you go into the woods today (well, between the 20th and 31st of October that is), you're in for a big surprise as Rogue Theatre unveils their popular Halloween celebration. Held at the North Cliffs end of Tehidy Woods, this frightfully fun experience is a come one, come all affair, with incredible performances and rib-tickling stories. Book your tickets online to make sure you don't miss this under-this-world experience.
Walk through dark and mysterious paths, keeping an eye out for lost souls as you go, before being utterly bewitched by a series of bone-tingling stories. At the end of your eerie adventure through the woods, you'll find the Dead of Night Dance, where skeletons of all ages are welcome to come and let their spirits loose. The underworld, like Cornwall, can be on the cooler side when the sun goes down so we definitely recommend warmer attire - after all, the only chills we want to experience are from the performances!
The Twilight Run at Scorrier House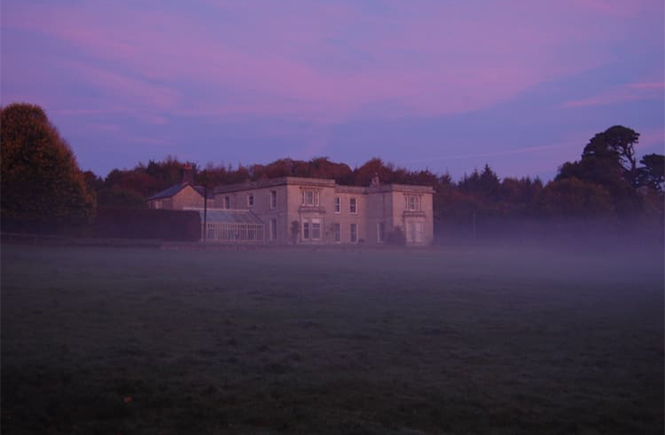 Best for: A spot of exorcise
Scorrier, Redruth TR16 5AU
scorrierhouse.co.uk/events-scorrier-house
As Zombieland taught us, the first rule of any apocalypse is cardio. And what better way to prepare than with Scorrier House's epic, annual run on Sunday the 29th of October. With the choice of a 2.5k fun run, a 5k, and a 10k, there's a race for every experience level, and children are welcome to join the fun run!
The final 5k and 10k will start as the sun sets, giving you that extra wash of eerie atmosphere as you attempt to beat the zombies around the estate. T-shirts and medals are awarded to all who take part (and manage not to be eaten), making it a wonderfully memorable way to spend a spooky evening in Cornwall.
Halloween Half Term at Pendennis Castle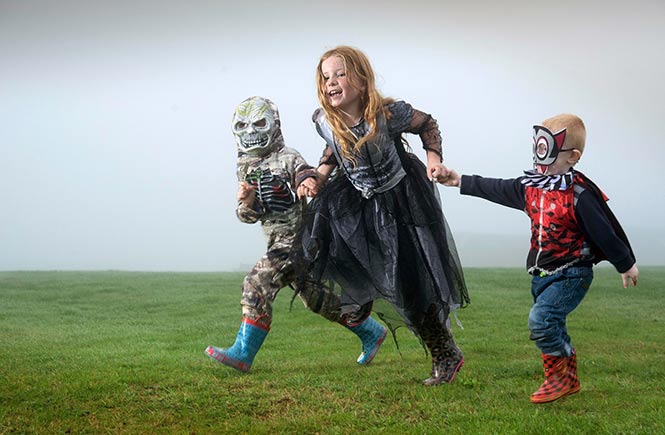 Best for: Freaky families
Falmouth TR11 4LP
english-heritage.org.uk/visit/places/pendennis-castle
One of the two castles in South Cornwall to be commissioned by King Henry VIII (the other residing over St Mawes), Pendennis Castle is always a fun day out in Falmouth with the kids in tow, offering interactive displays and buckets of historical fun - and Halloween is no different.
Little ghouls will love the shuddersome storytellers with their tales of kings and monsters, while the quest to follow creepy clues in the hunt for some magical potion ingredients is sure to inspire any budding witches and wizards. While exploring the historic site, keep an eye out for the ghosts who are thought to inhabit the ruins!
Museum of Witchcraft and Magic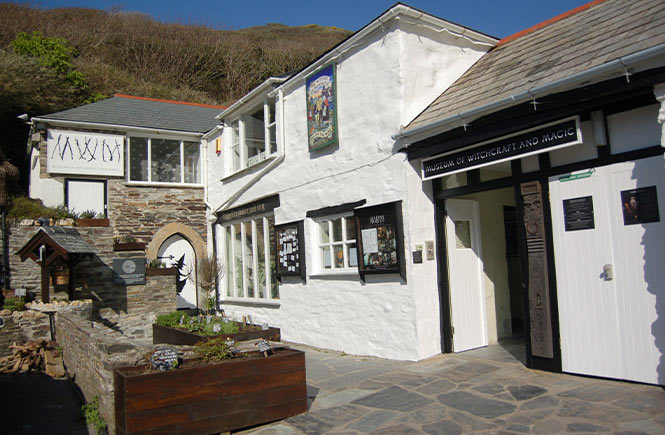 Best for: An enchanting history lesson
The Harbour, Boscastle PL35 0HD
museumofwitchcraftandmagic.co.uk
With a simply staggering coastline surrounding it, Boscastle is known for its enchanting locale, but that's not all this magical place is famous for. Tucked away in the village you'll find one of Cornwall's most beloved oddities, where magic and history walk hand-in-hand.
The Museum of Witchcraft and Magic offers a rolling roster of exhibitions that delve into the history of magical practices across the UK, providing a highly entertaining mix of education and wonder. From tools of divination to chilling masks, the range of fascinating objects on display is incredible and well worth a proper browse. While Halloween adds a certain atmosphere to the visit, we recommend exploring the museum at any time of year, as there's always something intriguing going on.
2:22 A Ghost Story at Hall for Cornwall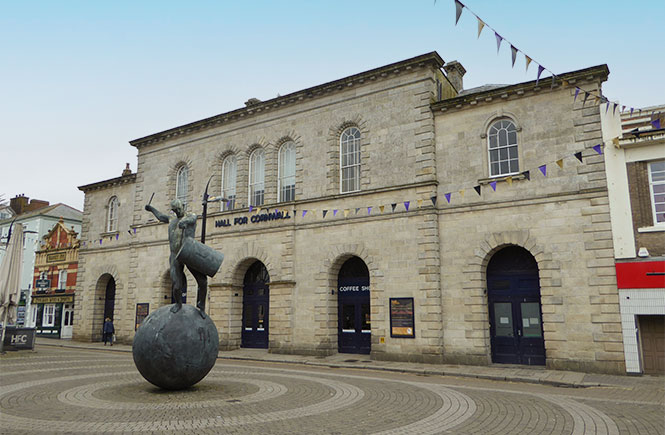 Best for: A gripping ghost story
Back Quay, Truro TR1 2LL
hallforcornwall.co.uk/whats-on/222
The scarily good stage show that's taken the West End by storm is coming to Cornwall, perfect for those who like their scary stories with a side of laughs. Yep, blending horror and humour, this terrifically tense thrill-ride will have you on the edge of your seat and rolling on the floor!
Brought to you by the mind behind Uncanny and The Battersea Poltergeist podcasts, 2:22 is a record-breaking play that follows new home owners Jenny and Sam and their friends Lauren and Ben. Is there a noise? Are ghosts real? You'll just have to find out… Playing at the Cornwall's premier theatre, Hall for Cornwall, in April 2024, this haunting show is definitely one for the diary!
Excited to experience the spookier side of Cornwall? Explore our BOO-tiful holiday cottages and start planning your spooktacular stay.