Where to surf in Cornwall
The North Coast of Cornwall is well known for its beautiful beaches – but for many, the waves are another major attraction. If you are a body boarder or an experienced surfer there is a beach break ideal for you. The villages along this coast have plenty to offer, whether you plan on hitting the waves or not – take a day to explore and enjoy the beaches, scenery and local food. Most villages have a surf school too, which is a really good way of getting the best out of the local waves and learning a few more skills. The far West and South coasts can muster some decent waves too, so wherever you choose to stay, you wont be far from finding somewhere to hit the surf. Below are ten of the best places to surf in Cornwall…
Newquay

Fistral is the most popular surfing spot in Cornwall! But this does mean that it's usually busy if there's a rideable wave, and is full of surf schools for most of the year. You may struggle to park during good swell and school holidays, but in the depths of winter it will be a lot more accessible, and a more enjoyable surf when there are less people braving the wintry waves. North Fistral has a large team of RNLI lifeguards that work from Easter, through to November weekends. South Fistral tends to be a little quieter, but is still lifeguarded during the peak summer. There are surf shops, restaurants and cafes right on the beach side, but a lot more facilities down in Newquay itself. Read more about surfing in Newquay.
St Agnes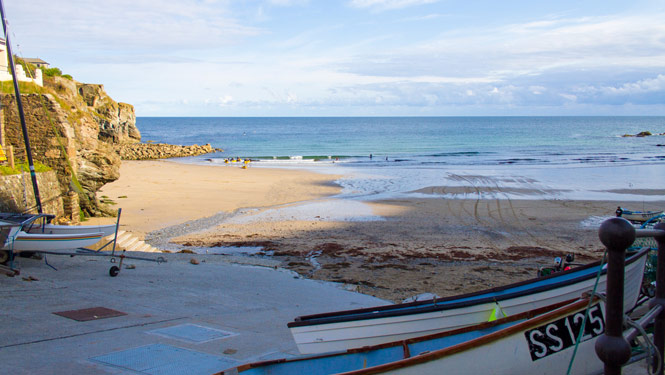 There is a small car park above the beach, but you may have to park further away and walk, because when the conditions are right at St Agnes it can get very crowded. Local surfers can be short-tempered with inexperienced surfers, so if you do get drawn by the waves make sure you follow surf etiquette! St Agnes is becoming well known for its cafes and restaurants, and the village itself has lots to offer.
Chapel Porth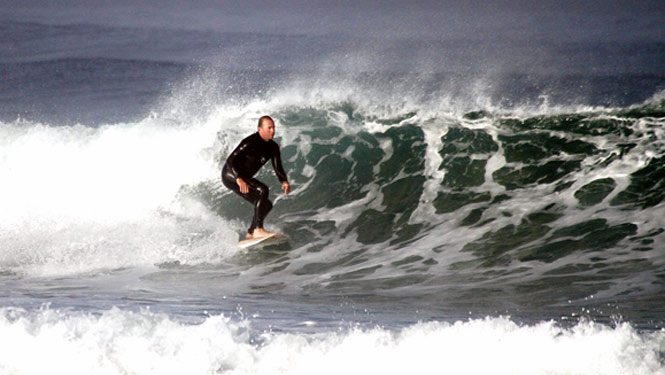 There can be a really powerful, fast wave at Chapel Porth, which is more suited to the more experienced surfer. There is a National Trust car park and café, so National Trust members have the benefit of free parking. At high tide the beach disappears, and at low tide the beach can join up with Porthtowan. Chapel Porth is the venue for the World Bellyboard Championships, when boarders use wooden bellyboards and no wetsuits (or even old-fashioned swim suits and flowery swim caps) to compete for trophies. A hedgehog ice cream from the café is a must after your surf, and there are plenty of rock pools to explore.
Porthtowan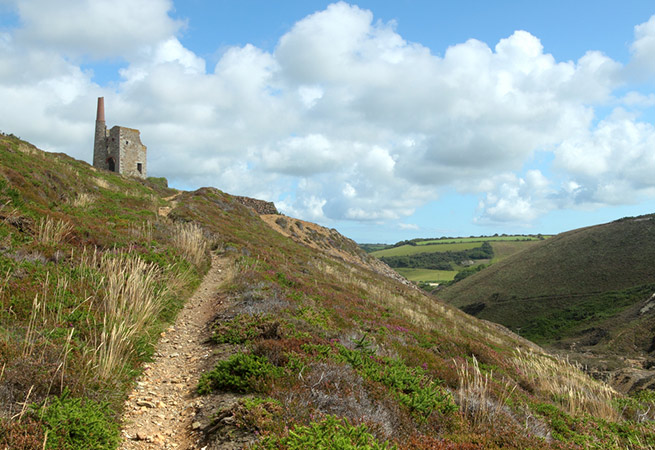 Porthtowan has a large car park right next to the beach and is a popular place to visit for its Blue Bar – a bar and restaurant right near to the beach itself with a great view and a good atmosphere. Porthtowan has a good quality beach break but can get busy, particularly in high season. At high tide the cliffs protect the beach from the incoming wind, and there is RNLI lifeguard cover throughout the season. Porthtowan itself has a longstanding reputation for surf culture with a rich history of local characters, many of whom still enjoy the waves.
Portreath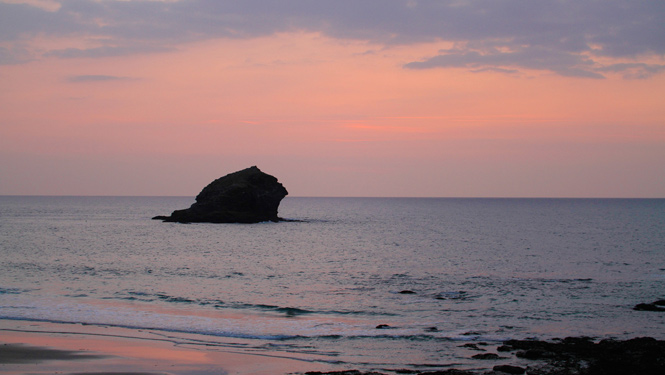 If you enter Portreath village from the west you will drive down a very steep hill, giving you a brilliant early view of the kind of waves the conditions have produced. Popular with body boarders for the dumping waves at high tide, Portreath is well known for big waves at times, so beginners should be careful. The combination of a reef break and a harbour wall can make for interesting waves, particularly when the swell is big. The village itself has good facilities with a toilet over the road from the beach and shops and cafes to replenish your energy. Portreath is well-known for its surf lifesaving club, and if you visit for a surf you are bound to see some of the local athletes training in their different craft. Portreath has RNLI lifeguards throughout the main season. There is a large car park right next to the beach at Portreath, currently charging £1 per hour.
Gwithian and Godrevy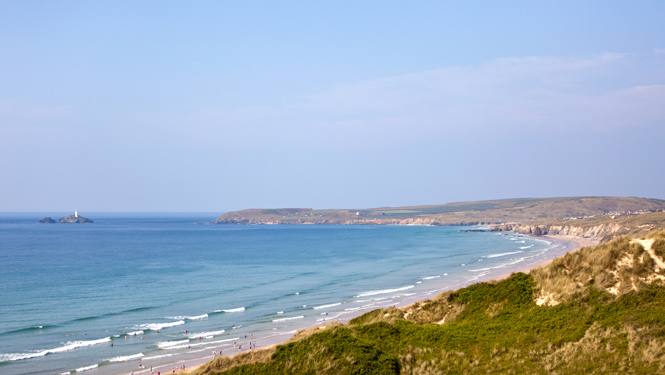 A very popular wave with those who live in the area, there is usually a fun beach break along Gwithian. Godrevy offers a slightly larger wave further along the beach, making it a good step up for those who fancy more of a challenge. Be warned though, as at high tide the waves break into the rocks at the top of the beach. There are a couple of surf schools operating along the long stretch of beaches, so it's ideal for beginners, but also popular with experienced surfers, bodyboarders and SUPs too! Gwithian has a large pay and display council car park, so you will need to make sure you put enough money on your ticket if you are planning a long surf! Godrevy, is just to the north on the other side of Red River, and has a large National Trust car park and field, so you can park easily here, and if you are a NT member then parking is free! Sunset Surf and Jam Pot at Gwithian along with Godrevy Cafe are all good for an after surf hot chocolate!
St Ives (Porthmeor)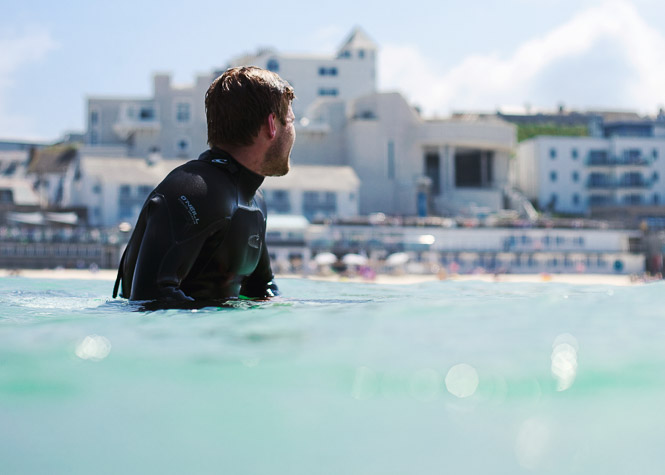 Porthmeor is a popular beach for surfers and surf schools, along with the St Ives surf lifesaving club. Parking close to the beach can be difficult but on-street parking is possible if you don't mind a short jog down to the beach from higher up in town. The RNLI work from Easter – October, the surf school and Porthmeor Beach Cafe are located right next door, but the rest of the beach is made up of cottages and apartments with prime surf-views! This beach break is popular in larger swells, and "The Boiler" – a sunken cargo ship – creates a right hand barrel down by The Island on the outgoing tide. Read more about Surfing in St Ives on our blog.
Sennen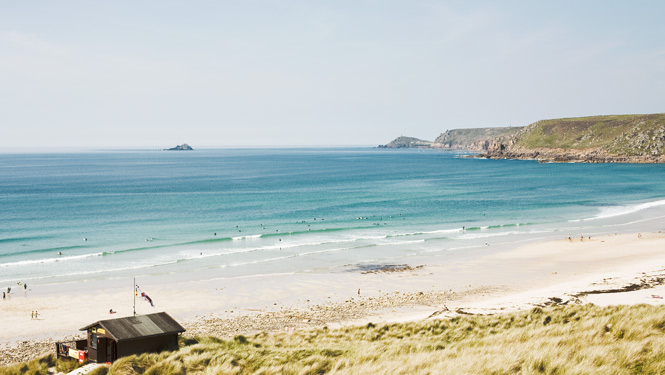 Easily accessible and a very popular spot, Sennen is the most westerly beach in England! There is a large sandy beach, with RNLI lifeguards throughout the summer, and it is very popular with tourists and a frequent dolphin playground. There is a large car park just above the beach, and another large one at the end of the sea front. Sennen has lots of fine eateries for that post-surf snack. Gwenver is just tucked around to the right hand side of the bay and is accessible from Sennen on a low tide, but keep an eye on the tide though as it's a walk over the cliff path if you get cut off! Gwenver is worth checking out for some great less-crowded waves, but parking can be more difficult.
Check out our blog on Surfing in Sennen: Tips and hints
Praa Sands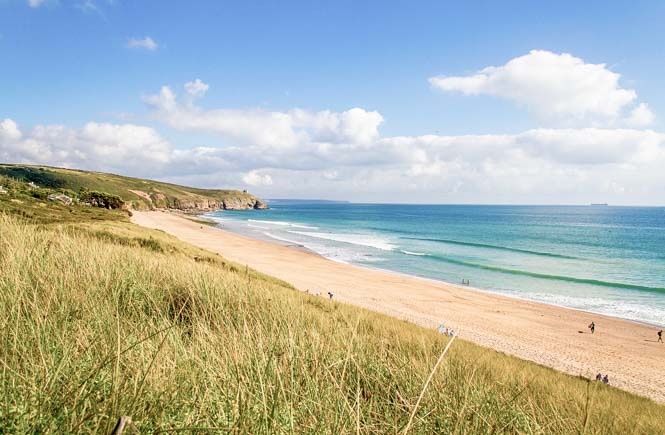 Praa Sands is a very popular south coast spot, and promotes off shore waves on a northerly wind. Winter brings more consistent waves than the summer, and the beach is a lot quieter, often with only a few dog walkers for company. The beach can become rippy at low tide, and often shore dumps at high, so bathers are closely watched by the lifeguards in season. Praa Sands village has a car park close to the beach, and on street parking can also be found.
Read more about surfing in Praa Sands >
After a days surfing, head down to Sandbar for some great food and views!
Porthleven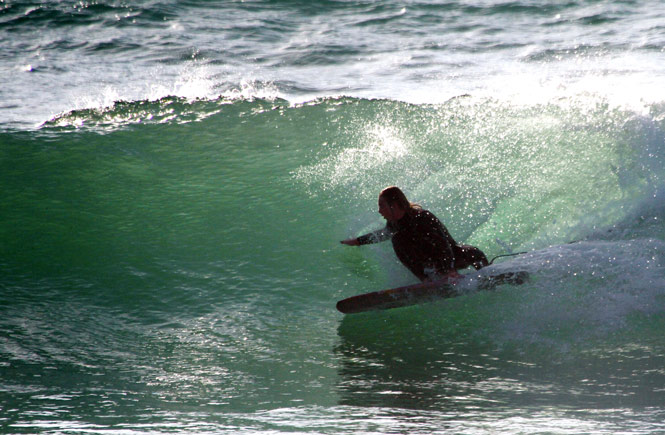 One of the best reef breaks in West Cornwall, situated to the west of Porthleven Harbour, this may be unknown to many visitors. When the conditions are right this is can be a perfect wave, but only for the experienced surfer or bodyboarder! Don't be tempted in unless you are confident as this can be a very powerful wave breaking over shallow rocks. If you stand on the end of the harbour you can see the waves and the brave attempting the barrels! You can park relatively easily in the car parks by the harbour or there is on-street parking available close by.
Where to find them:
Where are your favourite surf spots in Cornwall? Let us know in the comments section below!
Tags: Beaches | Gwithian | Newquay | Porthleven | Porthtowan | Praa Sands | Sennen | St Agnes | St Ives | Surfing | Watersports |