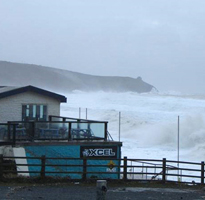 When I first recommended Praa Sands to my visiting family as a holiday base, I didn't think too hard about eating out nearby to be honest. How pleasantly surprised we all were, not least me, by the Sandbar on the beach.
Not only were there 10 of us, but add into that a dog, a very active 21 month old, a vegetarian and a vegan, not exactly the easiest group of people to please but pleased we were. No-one batted an eyelid while we happily rearranged their furniture to make up a table of 10 in the spacious child friendly area by the air hockey and pool tables and no-one seemed to mind when my 21 month old decided to sit on the floor by the tourist information leaflet holder and re-enact story corner from Nursery, although the children's library of books, colouring in paper and pencils provided did help distract her and keep her occupied whilst we waited for our food, which didn't take too long by the way.
From handmade Pizzas to rich crab bisque, all with lovely fresh bread and dressed salads, there was something for everyone. Even our Vegan was catered for thoughtfully and without compromise on flavour or taste. The usual suspects were on the children's' menu, but all freshly prepared with quality ingredients. Chicken goujons were our choice for my bundle of energy with real chicken breast not unrecognisable chicken flavoured gunk!! A round of drinks didn't break the bank either which makes a change. On a sunny day, Praa Sands is a gorgeous, family friendly beach but on a wild and wet Saturday in February, it's a very different view but no less enjoyable. Dogs can run freely when the tide is out and by the time we left the Sandbar, the waves were breaking just a few feet from the cliff edge, truly hypnotic if all you have to worry about is letting your coffee go cold or your pint go warm, unfortunately that bundle of energy I was talking about didn't allow me the chance to become entranced by the waves but we still had an amazing day and it looks as though I've got another 2 bookings at The Cove from a very satisfied Granny, Auntie and Uncle, oh not forgetting Hugo a very contented Border Terrier.
Written by Amanda Stinchcombe
Operations Manager at Aspects Holidays Ltd
Visited Sandbar, Praa Sands on 1st February 2014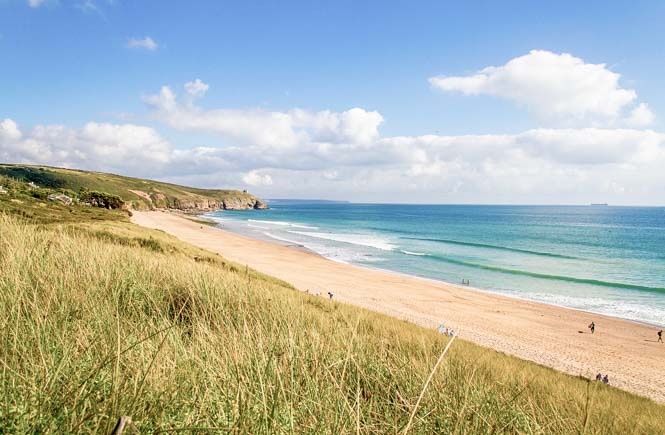 View all our Praa Sands Cottages >
Tags: Praa Sands | Winter |