As with many of Cornwall's villages, Mousehole is best when explored on foot as you get to really appreciate the coastal location. Nestled at the base of steep cliffs, Mousehole benefits from incredible sea views that are just as iconic in the heights of summer as they are in the depths of winter – who doesn't love a hearty stomp before retreating to a waterside pub to refuel.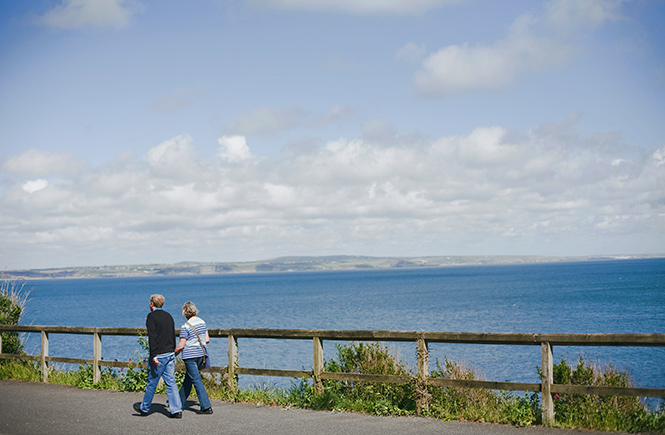 Before you even set foot in the surrounding Area of Outstanding Natural Beauty, we heartily recommend strolling around the winding streets of Mousehole first. You can tour the cobbled alleys on your own as you stroll down to the picturesque harbour and sit and watch the comings and goings of the boats, or you can throw some history into the mix and embark on a Mousehole Heritage Walk. Check out our Mousehole webcam, which sits above the mouth-watering Hole Foods Deli & Café, to see for yourself the iconic beauty of Mousehole.
While in the waterside village, why not explore the sea as well as the land with a spot of coasteering? It's a fun-filled adrenaline rush - not to mention an incredible way to experience Mousehole from an entirely new angle.
Once your whistle has been well and truly whetted during your village wanderings, it's time to head further afield. Here's our round-up of the best walks in and near Mousehole…
Mousehole to Penzance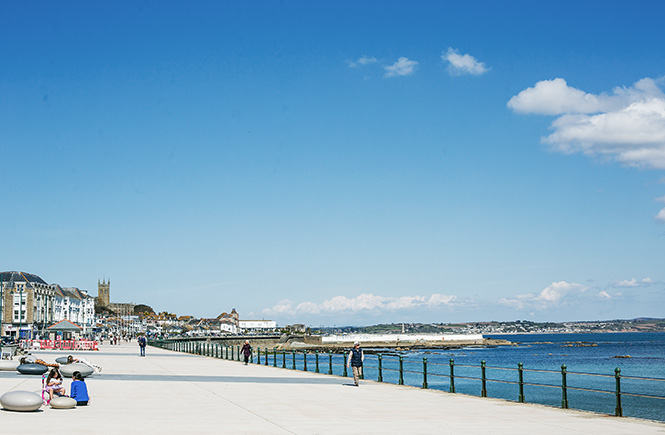 Difficulty: Easy
Distance: 3.6 miles one-way/ 7.2 miles return
Type: Linear
When it comes to child-friendly walks in Cornwall, this has to be one of our favourites. From the wheel-friendly pavements to the numerous opportunities for ice cream, you just can't beat this easy-going promenade for family frivolities.
The best part is that it can end anywhere you like in Penzance, whether you want a bit of retail therapy along Causeway Head or you just want to splash around in the Jubilee Pool before enjoying an ice cream on the Penzance promenade.
Start this family-friendly stroll by leaving Mousehole on the coastal road past The Old Coastguard (where the whole family can rest and refuel upon your return). This stretch is lovely and flat and boasts reaching views out over Mounts Bay. It's worth stopping along this stretch as there's always something going on in the bay. From tall ships to tankers on their way to Falmouth, boat watching in Cornwall is its own pastime. As you come around Penlee Point, St Clement's Isle lies in the water before you, often with shags fishing off the rocks.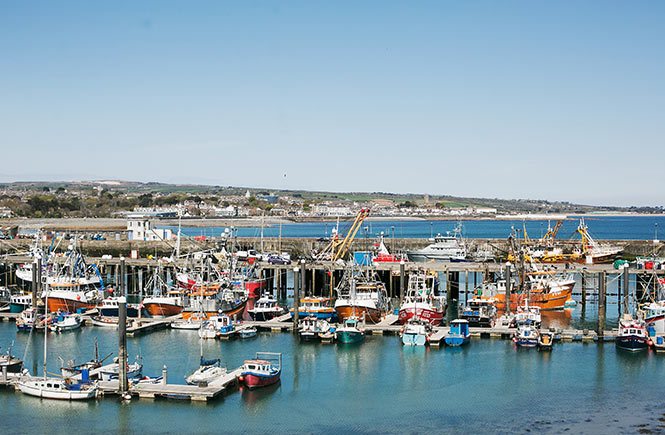 A steep hill marks your descent into Newlyn, which is well worth an extended wander, whether during your walk or when you undoubtedly return. Watching the hardworking fishermen go about their business is something of a marvel, especially as the trawlers come in teaming with the fresh catch of the day. Stop by Newlyn Gallery for a spot of culture or head straight to Jelbert's (only in the summer) for the most famous ice cream in Cornwall!
Before leaving the peace and quiet of Newlyn for the hustle and bustle of Penzance, you'll come across the historic Tolcarne Inn, which has been quenching the thirst of weary travellers and fishermen since 1717… so really, it would be rude not to pop in for a quick drink.
When you arrive in Penzance, you have several options on how to finish your walk. You can turn tail and walk back to Mousehole at any point (the views are just as astonishing in the other direction) or you can continue your walk into the historic town and stop for a bite to eat at one of the many fantastic eateries before catching one of the buses back to Mousehole.
Mousehole to Paul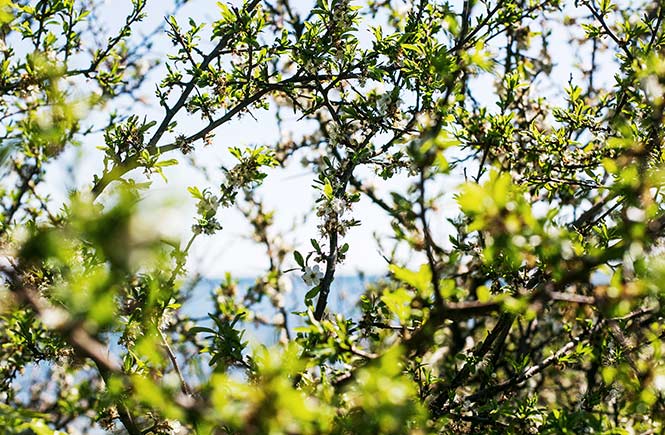 Difficulty: Easy
Distance: 0.5 miles one-way/ 1 mile return
Type: Linear
If you're staying in Mousehole and just fancy stretching your legs, there's a lovely little village that's only a fifteen-minute walk away – score!
Paul is just half a mile away and boasts the same quaint cottages as Mousehole along with the much-loved The King's Arms, which serves crisp ales and proper pub grub, perfect after your snack-sized climb up the hill.
As you walk up and out of the back of Mousehole, you'll pass some lovely cottages that cling to the cliffs before entering some trees that provide lots of natural frames to the sea behind you. Then it's a quick stomp through some fields before emerging in Paul where the pub awaits. Drink and eat your fill before plodding back the way you came - we do love a downhill finish!
Mousehole to Lamorna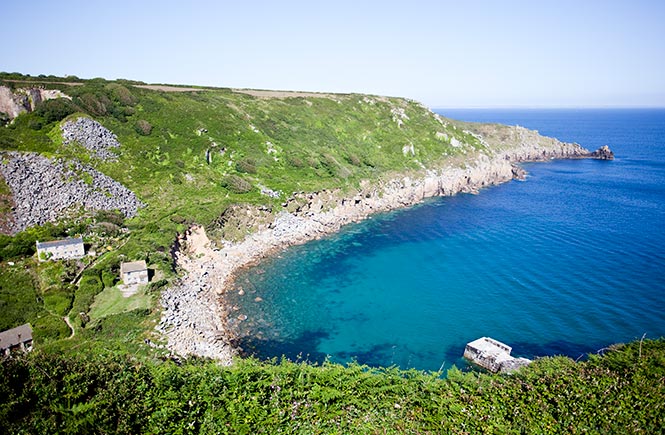 Difficulty: Moderate/challenging
Distance: 4.8 miles
Type: Circular
We hope the walking boots are dusted off and the backpack is well stocked for this one, as this stunning stretch is no casual stroll. Don't let this put you off, though! This walk may be a toughie, but the views along the way more than make up for the calf-burning climbs.
Now, when it comes to actually starting this stunning Penwithian trek, there are a couple of variations you can choose from. There is a coastal and a field path to and from Lamorna from Mousehole, so you can mix and match to create the walk you want. Start off coastal and finish walking through pretty Cornish fields or turn it on its head – the walk is just as stunning in any direction so you really can't lose!
The coastal route starts at North Pier in Mousehole, where you can follow the signs for the coast path. This route will lead you along one of the most beautiful stretches of the South West Coast Path, which is well marked and takes you through wooded reserves and incredible clifftop paths. Each new climb is another opportunity to pause and bask in the views (while catching your breath of course). The views towards Lamorna Cove and the Tater Du lighthouse are particularly jaw-dropping.
Once in Lamorna, a refreshing dip in the water is always on the to-do list, although it is worth noting there are no lifeguards on patrol here. You can also pop into the lovely cove-side café or stroll up to the Lamorna Wink for an uber-refreshing pint!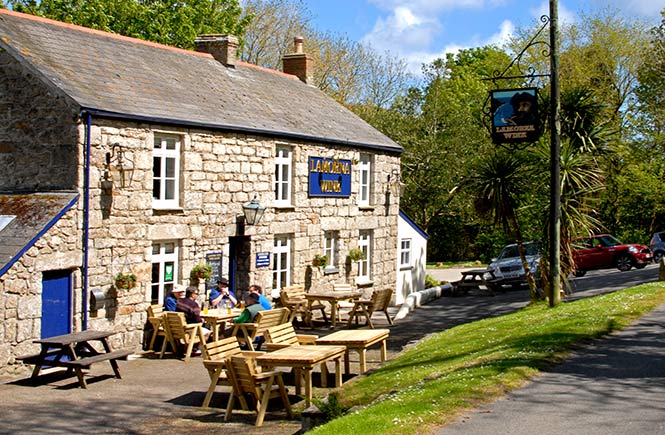 The return to Mousehole follows paths and tracks that take you through fields, across stiles and even through pretty woods. Keep your eyes peeled for the waymarkers along the way and always make sure to close gates behind you and keep dogs on leads as some of these fields could have cattle in them. Once the familiar historic harbour appears in front of you, it's time to pick your newly discovered favourite pitstop for a well-earned feast.
If you want to do the walk in reverse, starting with the more in-land route, simply head off from the Harbour Office and follow the steps up past Star Haze onto a lane where you can follow the waymarkers until you reach the fields that stand high above the coast.
Did you know that walking over to Lamorna for Good Friday has been a tradition for generations? Certainly, grandparents and great-grandparents remember descending on The Wink at Lamorna Cove after a stonking Good Friday trek. Even today, you're sure to find a group of raring-to-go hikers ready to tackle the climbs in exchange for unbeatable views. So, if you're ever in Mousehole for Easter, why not join in the annual pilgrimage to Lamorna for some camaraderie and frankly ridiculously beautiful views.
While these are some of the more popular walks in and around Mousehole, we recommend going further afield and discovering your own favourites as well. Cornwall has a seemingly endless supply of incredible walks and rambles, each with a more impressive array of views than the last.
Are your toes itching to set out on the South West Coast Path? Take a look at our welcoming cottages in Mousehole and start planning your Cornish walking holiday.