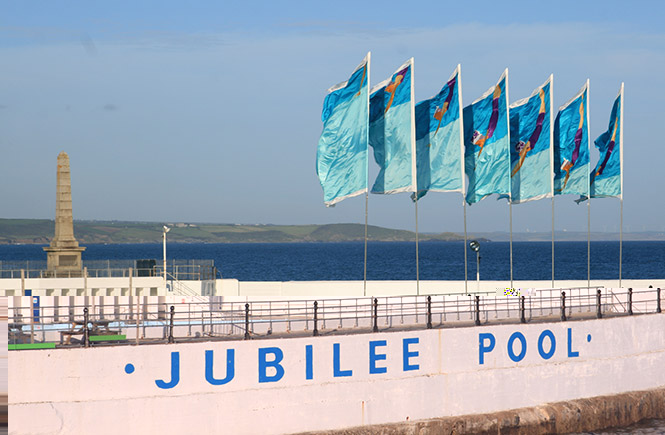 Cornwall is known for its glorious beaches, but if swimming and sunning is your thing then a visit to Penzance's magnificent Jubilee Pool is an absolute must. Built just a stone's throw from the harbour, on a traditional bathing spot at Battery Rocks, this stunning art deco saltwater lido first opened in May 1935, the year of King George V's Silver Jubilee. Its sweeping curves are said to represent a seagull in flight, while the triangular shaped design by borough engineer Captain F. Latham, was chosen in the hope that it would withstand the full ferocity of Cornish seas.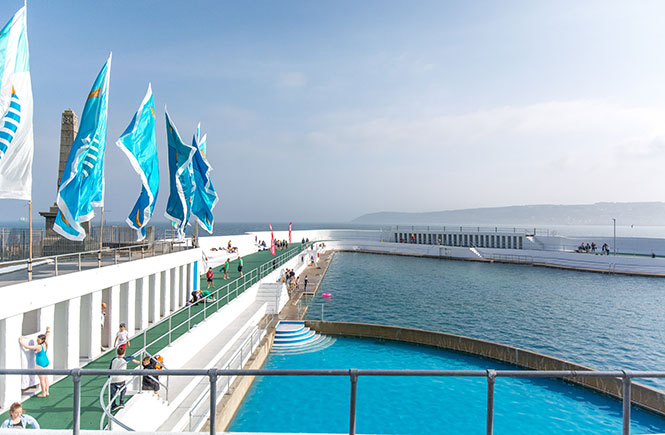 The 1930s were a golden age when healthy outdoor pursuits were encouraged, and 169 municipal outdoor lidos were built around the UK. The Jubilee Pool is the largest (and most certainly the grandest) seaside one left, and as such deserves to be cherished. In the days before car travel was commonplace, and when leisure centres were still but a distant dream, everyone learned to swim in its bracing bluey-green waters. The vibrant swimming club hosted galas, the men's water polo team triumphed up and down the county, schools brought classes of shivering children down for lessons, beauty pageants and fun days were held, there was even a diving board and floating pontoon in situ, while locals and visitors alike enjoyed a dip, or made the most of its suntrap sheltered areas to hunker down with a good book.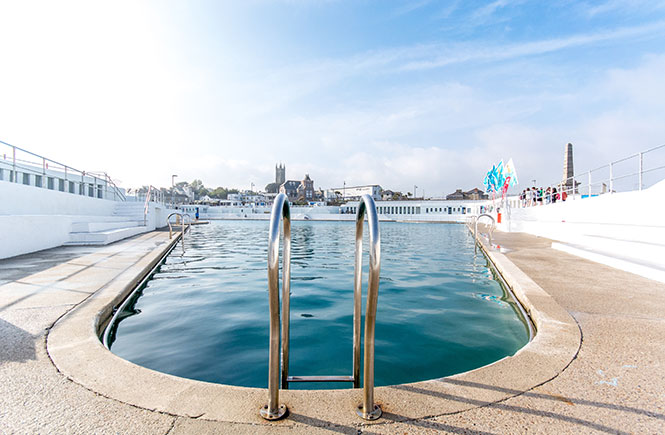 In 2011, a fabulous poolside exhibition took place as part of the Jubilee's remit to provide a cultural arena for the town, and to celebrate its then 75th birthday. Ninety changing cubicles became mini art galleries where artists showed work inspired by the pool, jazz bands entertained the crowds, and synchronised swimmers put on displays. I'm still proud as punch to have orchestrated a spoof team of bathing belles called The Jubilees, dressed in spangly silver retro style swimsuits and floral caps, who performed our own version of a synchro spectacular á la Esther Williams.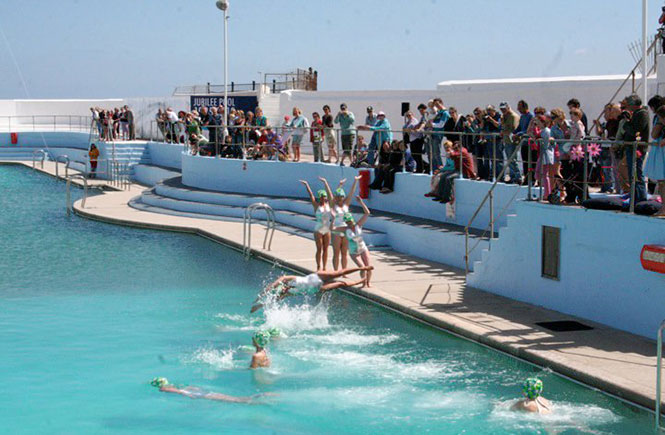 Capturing people's imaginations, since then the pool has been a venue for a number of musical, arty and charity events, not to mention being somewhere incredibly beautiful to swim. The sight of the fluttering silk flags with their diving girl motif, is one that signifies the pool like no other, while the sculptural curved steps, terraces and walls, are sublime architectural features which also shield you from the wind. And if you forget to pack your cossie, you can still enjoy the visual splendour without getting your toes wet, over a light lunch or coffee and cake, at the ideally situated café.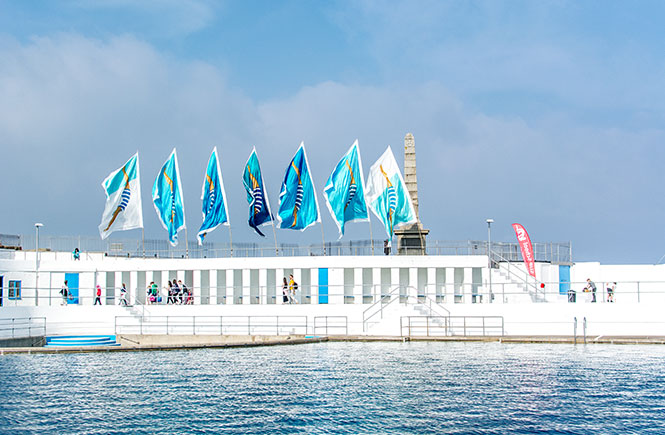 Unfortunately, violent winter storms in February 2014 caused extensive structural damage to both the iconic pool and Penzance's promenade. A major asset, one which is integral to the history of the town, the Friends of the Jubilee Pool committee and members of the local community fundraised tirelessly for 18 months to raise £100,000 to help restore it to its former glory, and safeguard its future. All their hard work paid off, as alongside significant investment from the Coastal Communities Fund and other stakeholders, the pool is set to reopen for the season on Saturday May 28th. To mark the occasion entry will be free, with live music from The Boundless Brothers at 3pm, while some of the Friends will be on hand to answer questions about the renovation project and the Grade II Listed pool's unique heritage.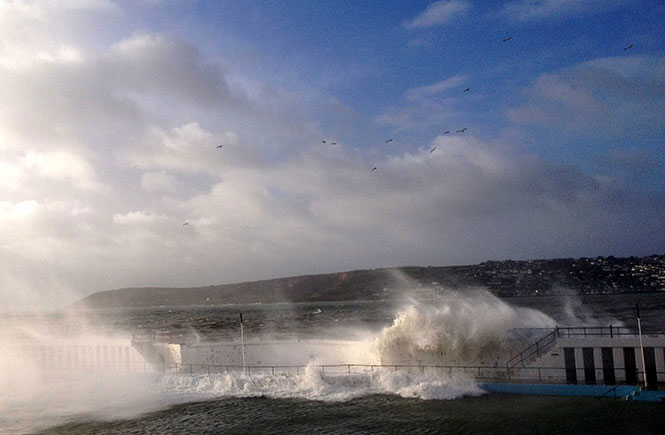 An official opening ceremony will take place later in the year during the school holidays, which I might have to brush off the old silver suit for. In the meantime, we can all look forward to a summer of poolside fun. Lots of events are planned, including their regular aquathon races and more music and dance nights. There's even talk of possibly heating part of the pool using geothermal energy to create an all year round facility, which would be so amazing, but it's all very early days yet…
Patrolled at all times by qualified pool lifeguards, with a dedicated paddling pool area for toddlers, swim sessions are 10am – 6pm every day, with late opening until 8pm on Tuesdays.
For more information on prices etc, and how to support the Friends scheme, please visit the Jubilee Pool website.
Tags: History | Penzance | Watersports |