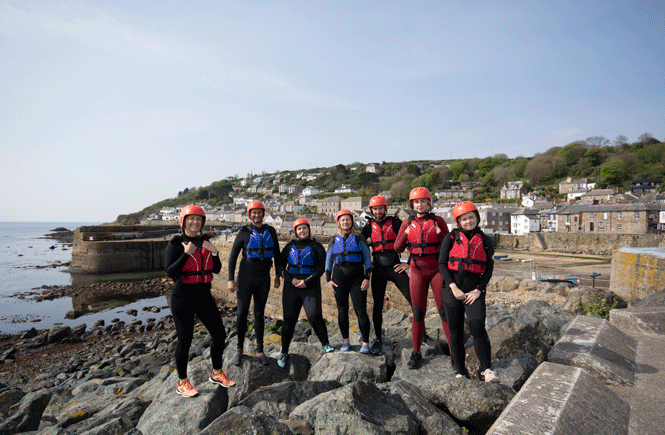 When we were asked by Chris and Steve from Global Boarders if we wanted to have a go at Coasteering, we jumped at the chance! We headed to Mousehole, one of Cornwall's top Coasteering routes, to meet the guys down there in the car park. It was a beautiful sunny April day, and the sea was flat and calm, perfect jumping conditions.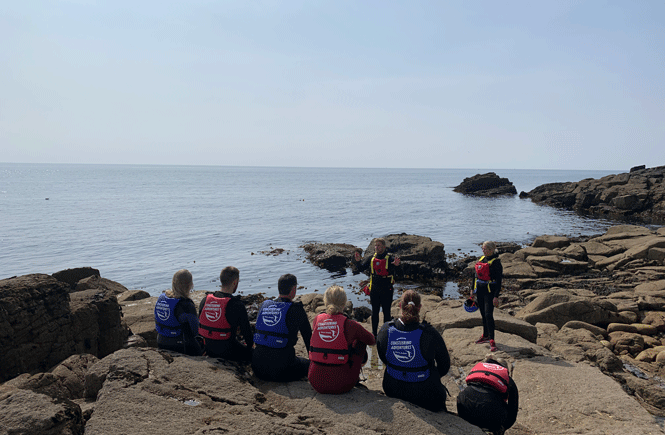 We were given a warm winter wetsuit, buoyancy aid and helmet and all the staff checked we were securely in our equipment, which was very reassuring. We were also told to bring grippy trainers, which helped when making our way over slippery seaweed. Chris and Steve were knowledgeable on the area and knew all the best jumping and scrambling spots, and even where we may spot a seal or two. We headed down to Mousehole Harbour beach in all our gear and took the plunge into the sea to start our Coasteering adventure. We were informed that the sea was about 11 degrees, and it certainly felt chilly, even on a fairly warm spring day.
After clambering across rocks full of barnacles we came to our first jumping ledge, which wasn't too high to ease us in. After the initial shock of the cold water, the adrenaline rush hit us in a wave, and we were rearing to go to the next jump.
We also had some snorkelling time, the masks were provided for us, and we had a good look at the local sea life below. We noticed spider crabs galore, which offered a tempting lunch, but on second thought we left them go about their day!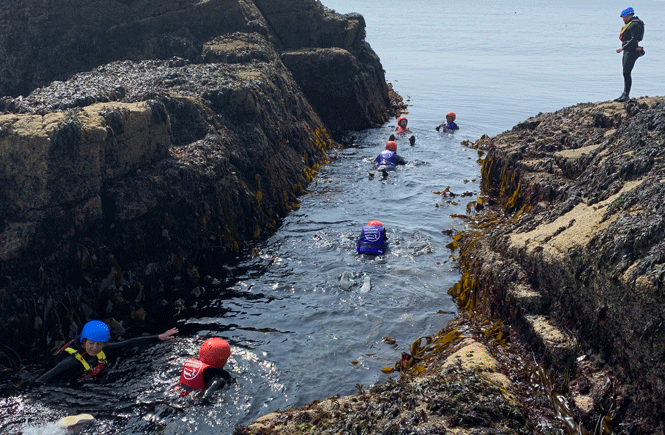 All sections of the route have various levels of jumps, and everything was optional, making the novice jumpers feel at ease. The final jump was one for the adrenaline junkies, it was the highest of the experience and involved jumping into a gully. Some of us sat this one out, opting instead to provide encouragement to the brave among us! In total we spent about two and a half hours splashing about before getting out and taking a scenic walk through picturesque Mousehole to head back to get changed.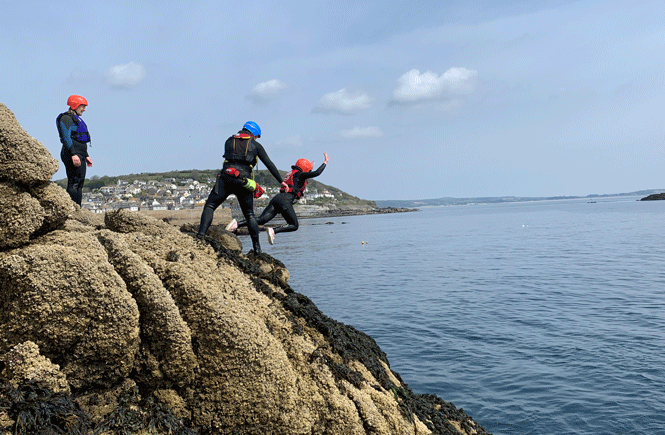 We finished off by grabbing a bite to eat from Hole Foods Deli & Café, home of our Mousehole webcam!
To find out more about what Global Boarders offer and to book a session, click here.
Tags: Mousehole | Watersports | Team experiences |