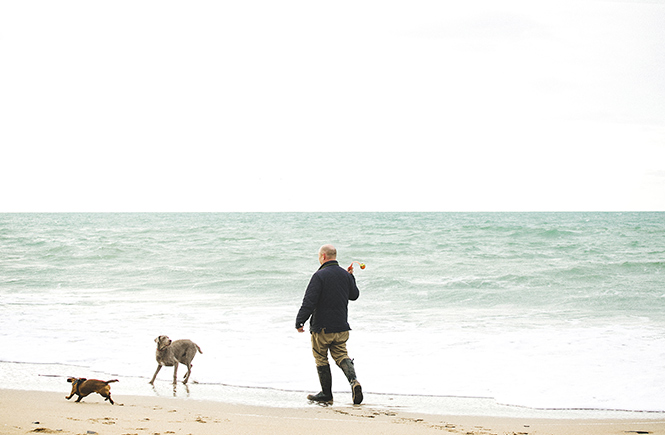 Of course we all dream of those long summer days, (occasional) balmy evenings and barbequing on the beach, however autumn is the best time of year for the dog lovers amongst us. Newquay benefits from many dog friendly beaches all year round, but they can be enjoyed throughout the quieter months with less risk of picnic pinching!
Dogs can relish splashing in the seas and chasing balls to their hearts' content, on some of the best beaches Cornwall has to offer, such as Fistral, Great Western, Lusty Glaze and Crantock. All of which are never too far away from a place for them to catch their breath, whilst you warm your fingers over a hot chocolate or warming bowl of soup.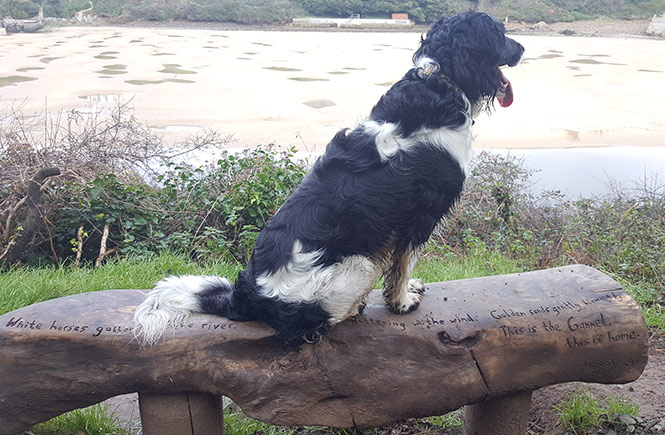 With a superb autumnal day to enjoy, the Gannel Estuary is a great place to start. With the footbridge that leads towards Penpol corner and the coastal path to Crantock, no longer bursting with toddling crabbers, you can rest assured there will be no naughty noses attempting to pilfer away any bait of bacon!
Follow the coastal path that runs above the winding river and leads to the National Trust car park of Crantock beach. Heading up over the sand dunes and grass land of Rushy Green, you can choose to join the expanse of space that is Crantock beach for a quick splash, or continue along the coastal path and enjoy the breathtakingly beautiful views!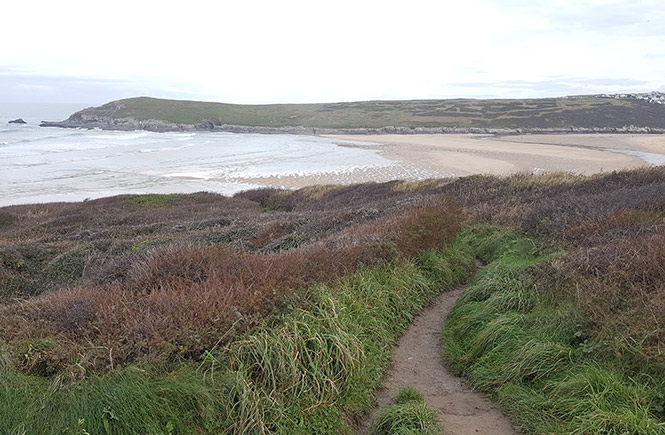 Before you know it (those views really are distracting) you will have made it to West Pentire, where you can rest your feet a while at the dog friendly C-Bay Cafe. If you still have it in you, the coastal path continues from here around to Porth Joke known as Polly Joke beach, which in the summer is a busy family beach, but in autumn, well, you could just be lucky enough to have the entire beach to yourself!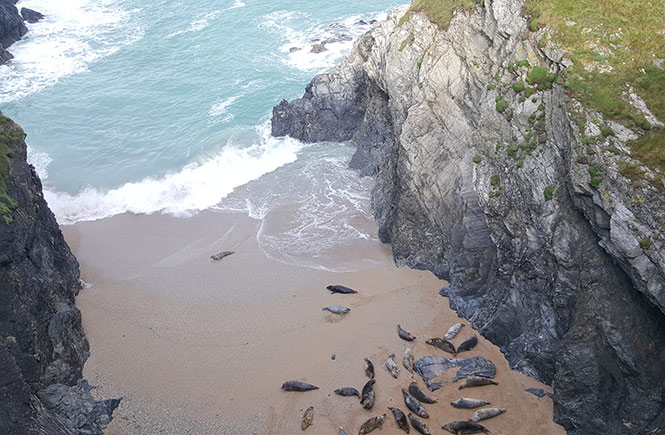 Heading over the surrounding Cubert Common, if you (carefully!) peak your head over a little cove just around from the beach, you will see the sleeping colony of seals that congregate in this quiet, secluded spot. (Best to keep your four legged companion on a lead here!) Cubert Common is a vast, almost endless space to enjoy, with unbeatable views as far as the eye can see! If some quiet time of reflection and relaxation is what you seek, then this is the place to be!
Now, hopefully your pooch will be starting to slow down a bit by this point, so will forgive you for keeping him on a lead as you head inland where the sheep are often grazing. Once you have exhausted the common, you can head to the village of Cubert for some well-earned lunch at the delightful Smugglers Inn, a traditional thatched pub with roaring fire and serving up a treat of local produce. A welcome rest point where you can recoup before the journey back! Or if you're like me, enjoy a glass in front of the fire and await collection!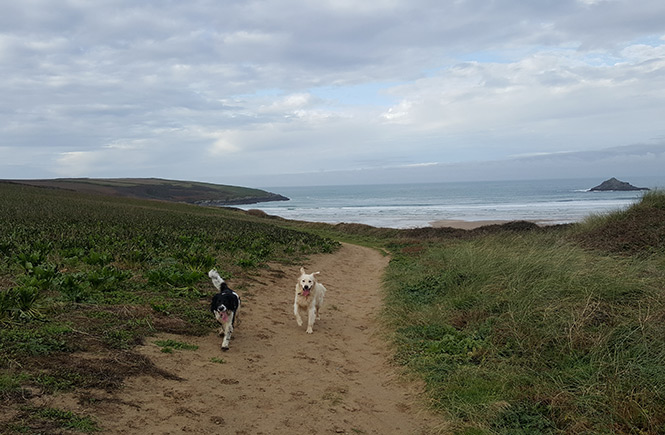 If you're not looking to cover so many miles, the headlands that surround Newquay provide all the fun and exciting smells for your hound! Pentire Headland sits between Fistral and Crantock and the parking here is free from 1st November to 31st March. Amble across the headland to the dog friendly Lewinnick Lodge where you can read a paper in front of the fire.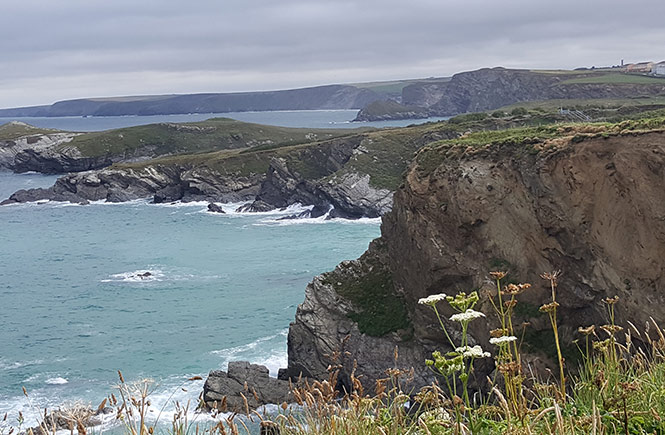 Newquay Barrowfileds is another great place to stretch the legs when a quick run is all you need. You can simply sit on a bench (throw a ball) and take in the spectacular views of the surrounding coast line, which you can explore to further afield if you choose! Armed with some good boots and a bottle of water, the walk from here all the way to Mawgan Porth, via Porth, Whippsiderry and Watergate Bay, is not for the faint hearted, but well worth it to experience this beautiful stretch of the North Coast.
If your dog is not one for socialising, (or perhaps likes socialising a little too much!) Newquay dog walking field at Higherwell Farm, Rejerrah (just on the fringe of Newquay), is where you can book a time for your dog to run free in the enclosed three acre field, without the distraction of other dogs or people. So, whether its miles and miles of coastal paths, lazy ambles across a beach or two, or simply sitting in a dog friendly pub with a cosy fire and a snoozing pooch at your feet, Newquay and the surrounding area is the perfect winter retreat, that will make your dog the envy of all their friends!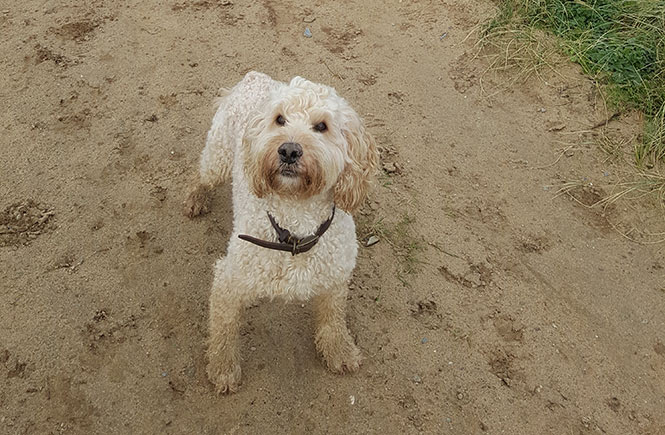 If you fancy rambling around Newquay with your dogs, then see all our cottages in Newquay >
Tags: dog friendly | Newquay | Walking |