Combine one of the world's most popular pastimes with some of Cornwall's most lust-worthy landscapes with a walking holiday to Newquay. Miles of jaw-dropping coastline meet stunning countryside, ancient woodland and historic landmarks in and around north Cornwall's celebrated surf town for a stay that's soul-stirringly good.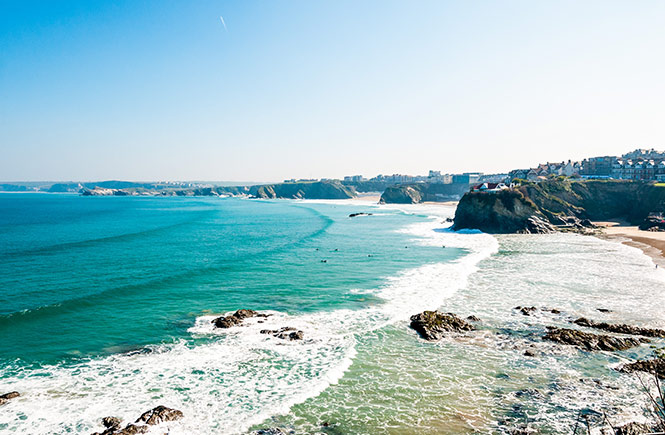 From tours of the town to strolls along the famed South West Coast Path and beach walks complete with a sea dip or watersport session, Newquay's myriad routes offer a walk for everyone, whether you fancy a quick exploration on foot or a more serious hiking challenge.
Stop off at a beach café with a view, pack a picnic, or plan a full day's rambling from breakfast to dinner and sundowners on the sand as you take a walking tour of Newquay's array of cafés, restaurants and cocktail bars.
With seven sandy beaches alongside dramatic clifflines and an assortment of attractions and nearby destinations to discover, there's oodles to see and do in and around Newquay. But for anyone keen on stretching their legs to discover the town and surrounding area in unique style, a walking holiday in Newquay is just the ticket.
We've rounded up a few of our favourite routes for starters...
Newquay town walk
Best for casual strolls with plenty of opportunities for cake
Difficulty: Easy-moderate
Distance: 5.8 miles+/-
Type: Circular
Pick any part of the town to embark upon your walk and see where your whims – and feet – take you. This particular route begins at the harbour, striking west up the hill toward the historic Huer's Hut for beautiful bay views before continuing along the coast path to Towan Head and the famous surfers' haunt of Fistral Beach, where you'll find cafés, facilities and shops aplenty. Shorten the walk by cutting up through the dunes back toward the town centre, or continue to Pentire Point for vistas of the tropical oasis that is Crantock Beach.
Round the headland and walk along the gorgeous Gannel River (take a pitstop at the waterside Fern Pit Café – you could even take a ferry across to the beach to spend some time there or walk even further to the hidden cove of Polly Joke), which will lead you to Trenance Gardens and boating lake. Stop here to admire the blooms, birdlife, enjoy a leisurely pedalo or play park session, and refresh at The Garden Tea Room before winding your way back toward town.
Porth to Watergate Bay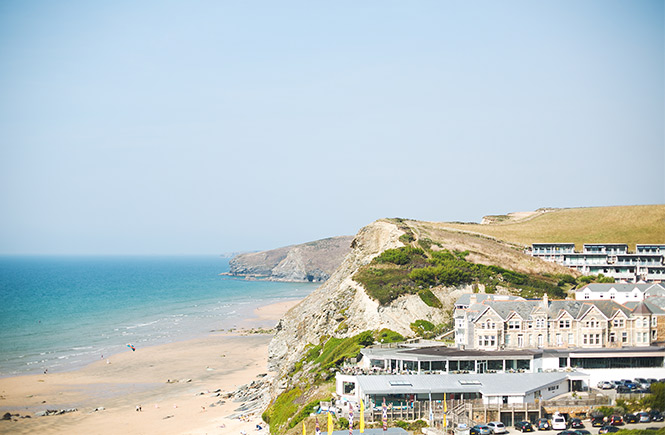 Best for cinematic views
Difficulty: Easy
Distance: 3.5 miles
Type: Linear
Whether you've wandered this far from town and want to extend your walk, or desire some stomping time away from the crowds, this particular stretch of the South West Coast Path rewards visitors with dazzling vistas, dramatic scenery and a wonderful sense of escape. From Porth (a short bus ride away from Newquay town centre), you can enjoy some beach time or fill your bellies at Gwenna Teahouse, Café Coast, or Hole In The Wall, or simply start off up the hill as you gather bird's eye views of Newquay and beyond while weaving your way to Watergate Bay.
With two miles of stunning sands, the watersports hub also boasts an array of places to eat, drink and shop, including The Beach Hut, Venues Café, Emily Scott Food, Zacry's and WAX Watergate Bay. If you're keen to hit the water, head to the Extreme Academy for Wavehunters' range of activities including surfing, stand-up paddleboarding, outdoor fitness classes and yoga. Retrace your steps back to Porth or Newquay, or catch a return bus ride.
Town beaches walk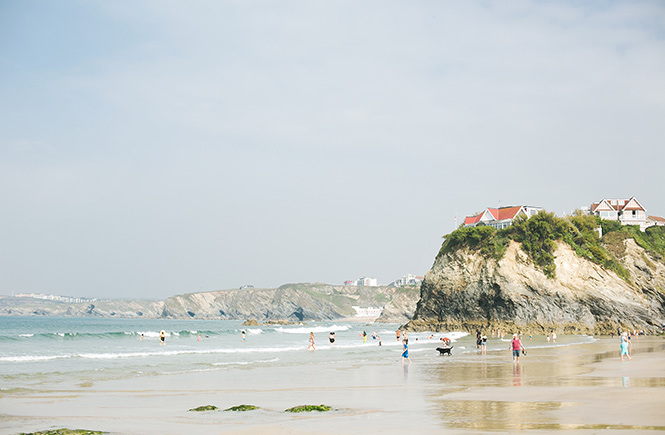 Best for a quick stomp between swims
Difficulty: Easy
Distance: 1 mile+/-
Type: Linear
Let your feet plot the course for a ramble along the breath-taking beaches as you explore Newquay's heady variety of sandy offerings. Start anywhere along the coastline and venture eastward, where you'll be greeted by rugged rock formations, jagged clifflines, windswept headlands and golden sands (with an abundance of places to eat and drink along the way). From the harbour, you'll first pass Towan (home to Blue Reef Aquarium) before rounding the island and heading on to Great Western Beach, where you'll find The Slope Beach Bar & Kitchen alongside Newquay Surfing School.
Next comes Tolcarne Beach complete with café, bar, restaurant and hire shop, after which you'll stumble onto Lusty Glaze Beach (tide pending – always be aware of its movements and where access to the coast path is). Here, a beautiful beach bar and restaurant is joined by a centre offering everything from surfing to abseiling, so whether you wish for some sand-between-the-toes dining or adrenalised activity, you'll find it here. Walk further over the headland for Porth and continue to Porth Island for incredible views at Trevelgue Head. Should you wish to turn your amble into a full-blown hike, Whipsiderry Beach falls between Porth and your next destination of Watergate Bay, beyond which lies Beacon Cove, Mawgan Porth and the staggering rock stacks at Bedruthan Steps.
Alternatively, explore Newquay's western beaches by walking toward Towan Head for Little Fistral, Fistral Beach and the curving sweep of Crantock Beach and the Gannel River, which sits between East Pentire Head and West Pentire Head.
Porth Reservoir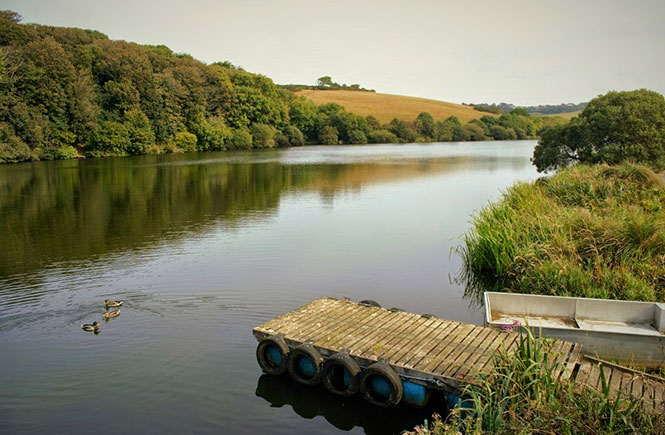 Best for idyllic wanderings
Difficulty: Easy-moderate
Distance: 5.2 miles+
Type: Circular
Escape the crowds and take a break from the beaches (if you dare) with a walk around the staggeringly beautiful Porth Reservoir. Located 4 miles inland from Newquay (which you can also walk to for an extended route), you'll roam a variety of landscapes throughout the wildlife reserve including woodland, countryside and lakeside.
You'll also pass the picturesque hamlet of Colan and its beautiful church, while anglers are welcome to try their hand at a spot of coarse fishing, which is open to everyone keen to net a carp, pike, bream, roach, tench, eel or rudd. Expect wildlife aplenty alongside parking, toilets and wheelchair accessible platforms, which are all located at the route's start point of the reservoir entrance.
Bedruthan Steps
Best for coastal explorations
Difficulty: Easy-moderate
Distance: 0.7 miles+
Type: Linear/circular
This low tide walk (be very mindful of tidal movements while taking this route) reveals hidden coves, caves and rock pools as you meander amongst sand and volcanic stack at this jaw-dropping destination. A winding path leads from Carnewas car park, from which you can descend to the sands below and roam for as long as you like. Take in the eye-catching sights of Pendarves Island, Queen Bess Rock and Diggory's Island, and expand your walk to Park Head for Bronze Age barrows and a cliff castle.
Further on still for the circular part of the extended route, you'll arrive at Porth Mear for views of Trevose Head and the lighthouse (and a beach stint should you fancy one), before making your way inland and through the valley and a series of fields. Rejoin the coastal route to Carnewas to complete both the linear and circular route.
Crantock to Holywell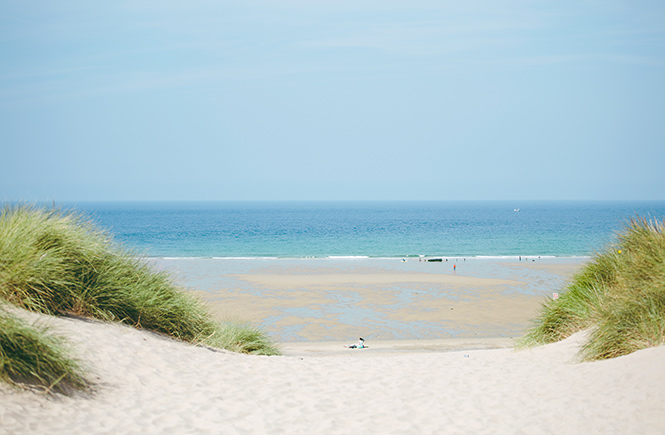 Best for beachy vibes and pretty vistas
Difficulty: Moderate
Distance: 4.7 miles
Type: Circular
This western stretch of coastline fringes the main town and will make you feel as if you have been transported somewhere else entirely. Starting at the sheltered oasis of Crantock Beach (home to Beachcomber Café, Fern Pit Café and C-Bay Bar & Bistro), the path elevates you over bright fields of poppies and a nature conservation area to Polly Joke, a hidden cove offering sheltered sands and picture postcard views.
From here, track further west toward Poldark filming favourite, Holywell Bay for gigantic sand dunes, sprawling sands and the iconic twin peaks of Gull Rocks. Refresh en route at the Bowgie Inn, or fuel up at Gullrocks Bar and Coffee House or The Treguth Inn in Holywell before making your way back for a refreshing sea dip or siesta on Crantock.
Cubert to St Piran's Round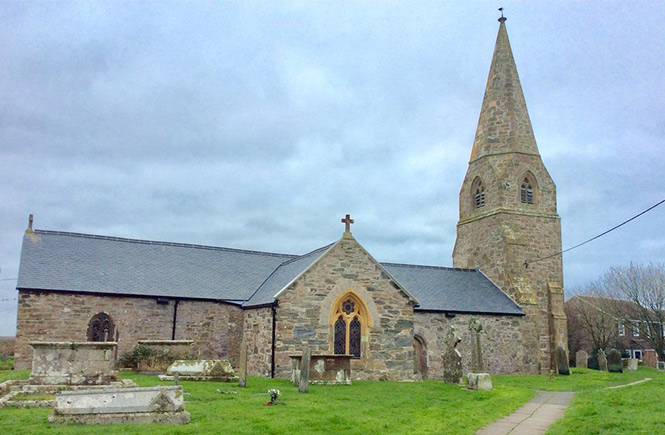 Best for historic ramblings
Difficulty: Moderate-strenuous
Distance: 6.3 miles
Type: Circular
Brace yourself for a breath-snatching challenge as you traverse valley and dune during this sightseeing hike through some of north Cornwall's most spectacular rural terrain. Starting at the 13th century Cubert Church (3 miles from Newquay), the path winds along a valley replete with wildlife before passing meadows and farms to Perran Round: a stunning example of a well-preserved medieval amphitheatre (or Plen-an-Gwary).
From here, you'll meander across former mining land en route to the Smugglers Den Inn – the perfect place for a pitstop, after which you can continue the scenic trudge along the circular route back to the church.
Feeling inspired? Check out our variety of beautiful cottages in Newquay - or scroll through our entire collection of cottages in Cornwall.