Many people holiday in St Ives as part of their celebration of a special event – a family occasion, a special birthday or even just Christmas and New Year. Unusually for a small town, St Ives has a wealth of restaurants that offer a special experience for special occasions, with gorgeous food and views to delight. Make sure you treat yourself to an evening in one of them during your stay – here are some of our favourites!
Seafood Café, 45 fore Street

A restaurant where you truly eat with your eyes first! There is a chiller cabinet full of cuts of locally caught fish and Cornish meat to tempt you – you choose what you fancy, how you want it cooked, and then add side dishes and your choice of potatoes. In this way you ensure you always get exactly what you want. There is a good children's menu to choose from as well, making this a good option for families to eat a special meal together during their holiday. You will find the Seafood Café in Fore Street, the main cobbled shopping street in the middle of St Ives itself.
Alba, The Wharf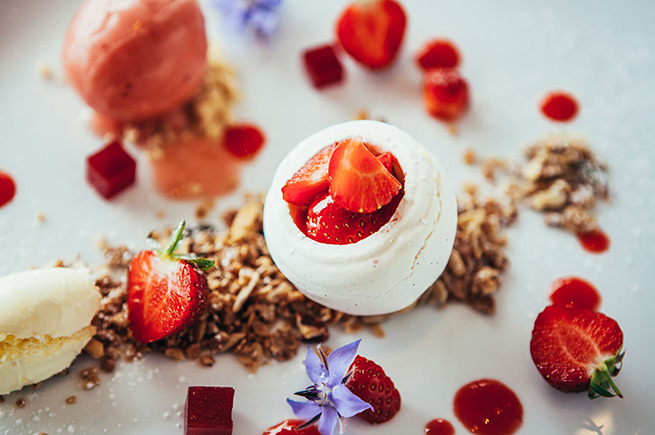 Alba has made its home in the old lifeboat house on St Ives harbour front. The restaurant, at the top of the slipway, boasts a glass frontage that gives unrivalled views over the harbour itself whether you are eating upstairs or down. The winter storm surges this year have seen water almost halfway up the front door, but fortunately the restaurant has emerged unscathed. The view inside the restaurant is also a feature, as diners can watch the chefs prepare their food. The food is excellent, with a choice of a set menu, smaller portions and a really good and varied children's menu. The menu itself has plenty of choice; we love local seafood and there are plenty of dishes to showcase the best the sea has to offer. When you book ask if you can have a window table upstairs to really benefit from the location, and enjoy a brilliant evening.
Black Rock, Market Place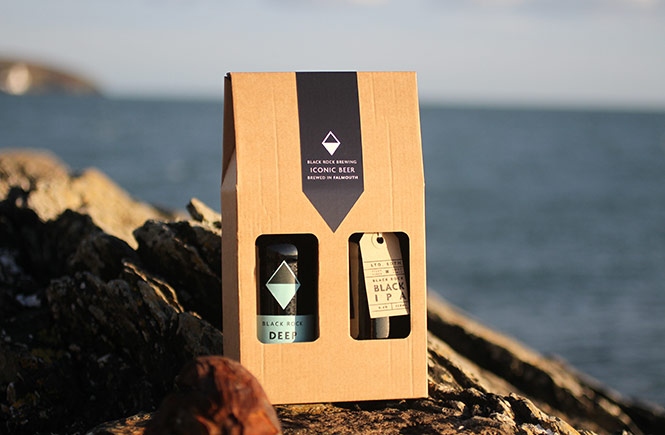 An unpretentious family-run restaurant in the heart of St Ives that delivers superb food in relaxed surroundings. The menu can change frequently as the chef plans around the local produce available on that day, and chef David Symons uses ingredients foraged from local hedgerows to add to the Cornish seafood and farm produce that are the mainstay of the food here. The work of local artists is displayed around the restaurant, including work by the chef's mother – we told you it was a family enterprise! This would be a fabulous choice for a special occasion as Black Rock has been awarded a Michelin Bib Gourmand for the quality of its food – an award given to those restaurants that combine fabulous food with accessible prices and a more relaxed restaurant experience. Black Rock can be found in Market Place, in the centre of St Ives, and is well worth a visit.
Porthminster Beach Café, Porthminster beach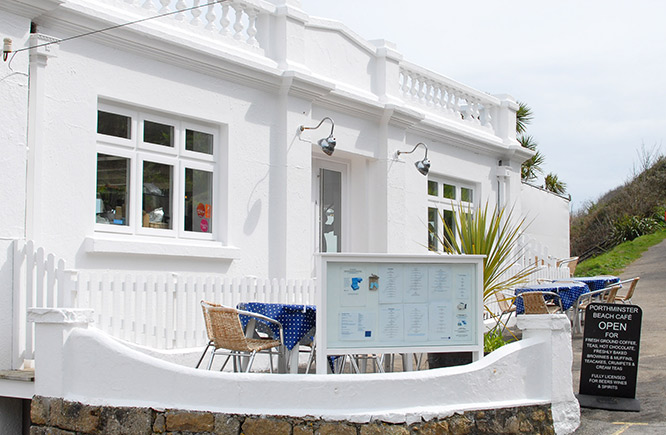 Fine dining on the beach – this is a favourite venue with local residents when anniversaries and other special events need a special meal and a special evening out. Some of the ingredients used in the restaurant are grown literally a couple of metres away in the kitchen garden, and there is now a Porthminster Café recipe book so that you can recreate your special evening in your own home. Of course, you won't have the view – a sublime vista of Porthminster Beach with St Ives Harbour to the west, and if you're lucky a sunset to die for. Gorgeous food at lunchtime and in the evening, but also a fabulous place to have breakfast or coffee in the morning. Perhaps the most well-known fine dining restaurant in St Ives – don't miss out.
Porthmeor Café Bar, Porthmeor beach
The Porthminster Beach Café may have the famous name, but the Beach Café overlooking the surf at Porthmeor has lots to offer too. The food is really good, the service and atmosphere is friendly and you will find it difficult to drag your eyes away from the view all night! Even when it is dark the waves can be seen as a line of white froth sweeping across the beach. What we love best about the Porthmeor Beach Café, apart from the prawn and butternut squash curry, is the little booths outside. Snuggle in with a blanket and the outdoor heater on and enjoy an al fresco eating experience without the chill. Bliss. Porthmeor Cafe features in our blog post: The best beach cafes in West Cornwall.
Where to find them:
View all our cottages in St Ives >
Tags: Eating out | St Ives |