Cornwall has an enviable reputation for its quality theatre. Established companies Kneehigh, Wildworks and Miracle are household names here, there and everywhere, with next generation innovators: Rogue, Cube, Pipeline, Owdyado, Trifle Gathering, hot on their heels. Alongside the home grown talent, there are plenty of opportunities to catch touring shows from further afield. Hall For Cornwall in Truro stages larger productions, while watching a play at the Minack (an open-air theatre constructed on a cliffside above Porthcurno) is a summer must. In fact, whether you choose to stay at one of our holiday cottages in St Ives, or further afield,  there's bound to be a vibrant arts centre or small scale venue near you.
The Minack Theatre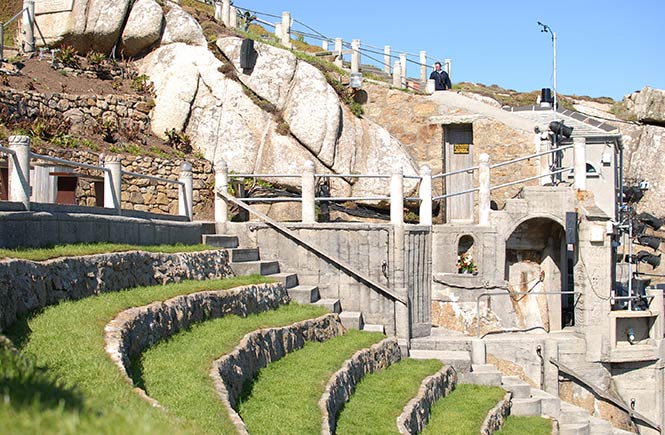 An article about theatres in Cornwall wouldnt be complete without first mentioning the renowned Minack Theatre. Carved out of the cliffs looking over Porthcurno, The Minack Theatre is a must-see attraction when visiting Cornwall  – the scenery alone makes it worth a visit, and provides a stunning backdrop to every performance (of which there are many!). Particularly lovely when there's a full moon, this world famous open-air theatre is open all year-round. Visit during the day to just enjoy the scenery, or book in for a performance in the evening; you won't be disappointed. Although this is the most popular theatre in Cornwall, other lesser known theatres are dotted throughout Cornwall but are still well worth a visit none the less…
The Acorn Penzance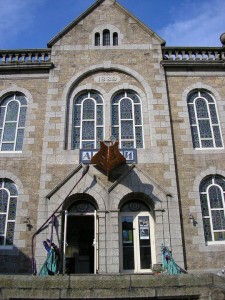 For over 40 years, The Acorn has programmed a broad mix of live music, theatre, comedy, story-telling and spoken word, kids' shows, dance, film and visual arts. From international tours to local school plays, performers and audiences alike find it a warm and welcoming venue, with excellent facilities. Located in the heart of Penzance, they also host charity fundraising events, classes, workshops, meetings, markets, private parties and wedding receptions.
A former Wesleyan Methodist chapel, which has seen several incarnations since becoming a community arts centre, these days the main auditorium seats 170 or 220 standing, while the smaller basement bar/theatre has an 80 seat capacity, both of which are available to hire to individuals and groups.  A registered charity, the Acorn operates through the generous input of volunteers. Fully wheelchair accessible and with an induction loop, they're well known for their inclusive policies and friendly bar staff who make everyone feel at home, and for some events even provide delicious light meals and cakes.
St Ives Arts Club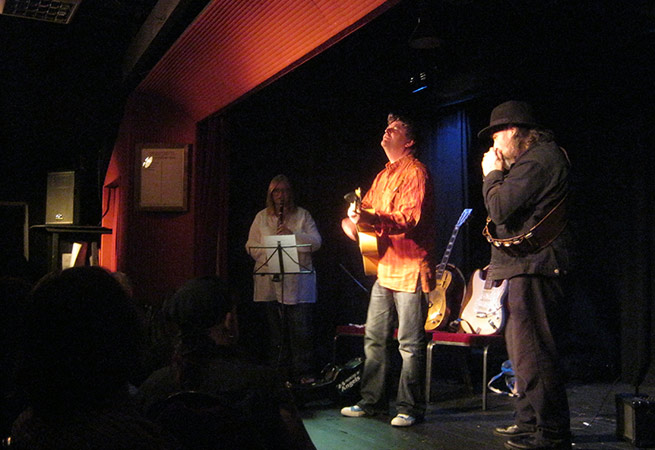 This unique establishment is a members club for visual artists, performing artists and anybody with an interest in the arts. Founded over 100 years ago with spectacular views over St Ives Bay, just a stone's throw away from the picturesque harbour and Porthminster beach, it was originally a social venue where members could meet and paint communally – a tradition that is carried on to this day. It also hosts a variety of events, exhibitions, theatrical productions, comedy evenings, music and film shows.
There's a fully equipped theatre with stage, changing room and auditorium upstairs, and a large club room with kitchen bar and exhibition space downstairs. A festival hub during both May's literature and arts festival, and the town's main September one, why not come and hang out where the beatniks once did. Often off-the-wall and avant-garde, their am dram productions are legendary, and you may well rub shoulders with some of Cornwall's leading lights in the Arts world.
The Tolmen Centre
At the heart of village life, The Tolmen Centre in Constantine has a loyal and thriving audience who are treated to an outstanding and varied arts programme. A not-for-profit organisation run entirely by volunteers, by and for their community, managers Charlie and Barbara Pugh aren't afraid of taking risks when it comes to booking shows, resulting in one of the most ambitious programmes anywhere in the South West. From quirky Edinburgh Festival Fringe performances, to five star review London shows, and multi award-winning musicians, it's all impressively good stuff you wouldn't expect to see out in the sticks, and well worth the trek.
They also support new and developing work, offering rehearsal space and residencies to some of Cornwall's most exciting theatre and dance companies.  Subject to availability they are happy to allow the venue to be used by all groups – amateur and professional – with charges being kept to a minimum to encourage this.
Used by the village's community choir, a toddler's group, Pilates and yoga classes, it's also home to the fascinating Constantine Museum and a popular cafe serving home-cooked food at prices everyone can afford. Open when there's an 'event' or film (please call to book) there's also a licensed bar, all profits going towards the development and upkeep of the Centre.
The Poly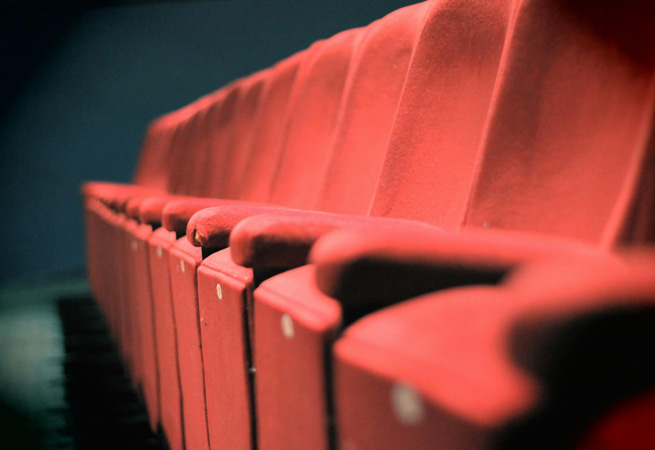 The Royal Cornwall Polytechnic Society, or The Poly, is a cultural, historical and scientific hub right in the heart of Falmouth. Their mission: to promote innovation in the arts and sciences, with particular focus on the county of Cornwall. Founded by the Fox sisters in 1883, and aiming to improve economic growth through the '…inventive powers of the young', the RCPS played a key role in the development of the pneumatic drill, Cornish Man Engine, microscopes and uses of nitro‐glycerine.
These days it remains a focal point for scientific talks and discussions as well as being home to several societies. It also offers a diverse programme of comedy, theatre, dance, films, music, workshops and exhibitions. With a world class university on its doorstep, Falmouth's student culture brings with it a real sense of excitement and edginess which is reflected in the The Poly's ethos. Maintaining their drive for dynamism, this ground-breaking Cornish institution is sure to deliver a top night out.
Carn to Cove
Cornwall's performing arts scheme for rural communities, Carn to Cove fills community halls with poetry, laughter, music, drama, stories and dancing. Local people get to choose the shows they want to see and hear in the places they live, with events then subsidised by the scheme, ensuring ticket prices are kept low despite the high calibre of the touring performers. But you don't have to be a villager to come along – everyone is welcome. And as a visitor it's a privilege to feel part of a local community for an evening. Homemade refreshments and raffles are an integral part of the experience, with the success of Carn to Cove down to the commitment and enthusiasm of volunteer promoters around the county.
To find out what's on and where, visit the C2C website. Offering two seasons per year – autumn (Oct-Dec) and spring (Feb-June) tickets can be booked online or by calling the local hall direct as indicated on the calendar listing. Or you can just take a punt and turn up, but be warned as shows tend to be very well attended.
Where to find them:
View all our cottages in Cornwall >
Tags: Falmouth | Minack Theatre | Penzance | Porthcurno | St Ives | Theatre |