When it comes to surfing in Cornwall, there's one place that's practically synonymous with the sport: Newquay.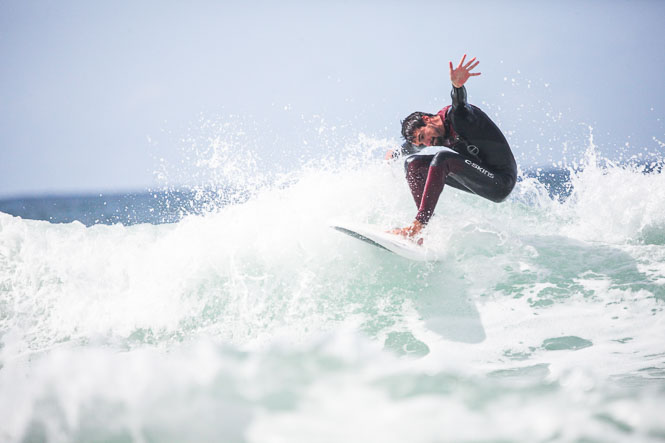 Surfing in Newquay really is top tier and remains one of the most popular things to do when visiting the town. In fact, it's listed amongst the best places to surf in the world, which is no small feat for a Cornish town!
So why is Newquay such a mecca for hitting the waves? This seaside town has all the facilities you would expect from the most popular surfing destination in the county, including an abundance of surf schools, cafés, restaurants, bars, shops, and even a surfing centre on Fistral beach that has showers where you can rinse off after. There are also lots of places to hire kit around the town and on some of the beaches, so all you need to bring is a swimming costume and a desire to get stuck in!
There is a multitude of beaches to suit different surf abilities and the changing sea conditions, so to help you pick the right beach for you, we've created the ultimate guide to surfing in Newquay…
Top tip: check out our blog on beach safety so you can enjoy the seas safely.
Fistral beach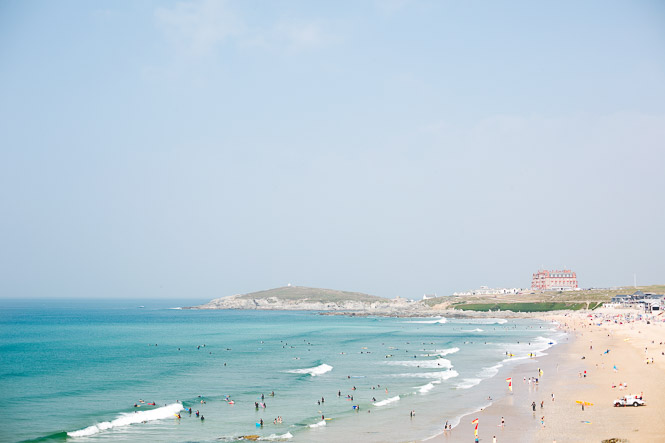 Best for: The ultimate Cornish surfing spot
Lifeguards: Seasonal (Easter Bank Holiday to end of October)
Parking: Large car park at Fistral
Facilities: Surf centre, toilets, café, surfboard and wetsuit hire
Accessibility: Easy access to the beach and sand chair available to hire from Fistral Surf Hire Shop
When there is a solid swell, Newquay's main beach, Fistral, produces some very powerful, hollow waves. The quality of waves on offer at Fistral beach is one of the reasons Newquay hosts surfing competitions here, including the famous Boardmasters event each year.
Held in August, Boardmasters combines a love of surfing with some seriously incredible music, with top acts performing at the Watergate Bay site, as well as evening sessions and skate demonstrations at Fistral. Whether you want to enjoy the music or you just want to soak up the atmosphere down on the beach, this weekender is one for the Cornish diary.
After a day spent riding the waves at Fistral, you can emerge from the sea ready for a pizza and a pint at The Stable, which sits overlooking the sands, seas, and sky… the perfect way to end a beach day.
Towan beach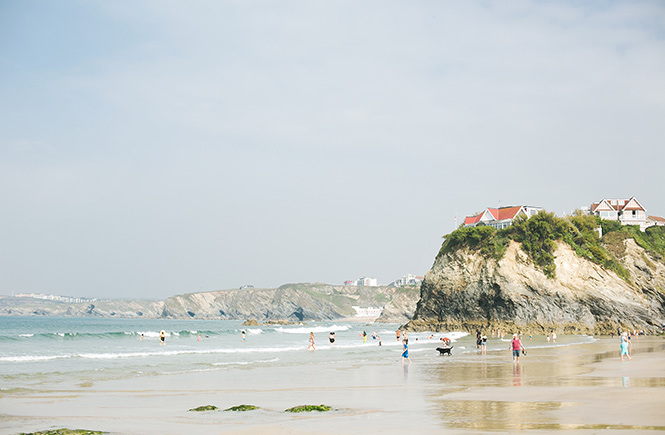 Best for: Everyone, from beginner to pro
Lifeguards: Seasonal (May – September)
Dog-friendly: All year
Parking: Newquay town centre is a few minutes away
Facilities: Café, toilets and much more in town
Accessibility: Steep hill down to the beach. Sand chairs are available on the beach from Blue Reef Aquarium
When the surf is big at Fistral, the waves at the more sheltered Towan, provide a safer place to surf with smaller, less powerful waves. This makes it popular with learner surfers, and families looking to enjoy the safer waters.
When heading to Towan beach, it's good to check the tide times as mid tide (when the tide is halfway between low and high) is the best time to surf. There is a local bylaw that prevents surfers from surfing at Towan beach at high tide, but that doesn't mean you can't enjoy the sea. High tide is great for body boarding, body surfing, and hand planing so don't worry if you miss mid tide.
Tolcarne beach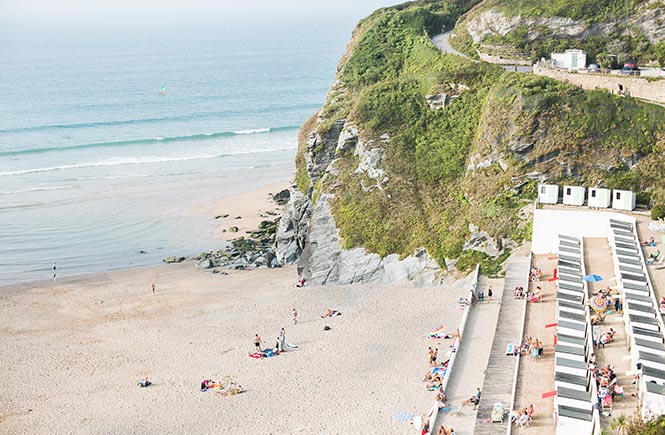 Best for: Bodyboarders
Lifeguards: Seasonal (May – September)
Dog-friendly: Seasonal dog restrictions (15 May - 30 September, 10am - 6pm)
Parking: None at the beach, but it's a short walk from the town centre where there are plenty of car parks
Facilities: Shop, surf school, toilets, and café
Accessibility: Over 200 steps to access the beach
Carry on up the coast and you'll find various smaller coves, one of which is the popular Tolcarne, home of the infamous 'Tolcarne Wedge'. The wedge is a favoured spot for bodyboarders and experienced surfers. At high tide, the backwash from the cliffs meets the incoming waves and produces a nice wedge-like wave, which many bodyboarders enjoy.
If you're new to surfing or you just want to refresh your skills, Escape Surf School offers an incredible range of surf lessons from beginner to advanced coaching. You can also hire your own wetsuits and boards from the beach shop, giving you the freedom to learn as you go. The stretch of soft sand and quick access to the great facilities also make Tolcarne a popular choice for families.
Lusty Glaze beach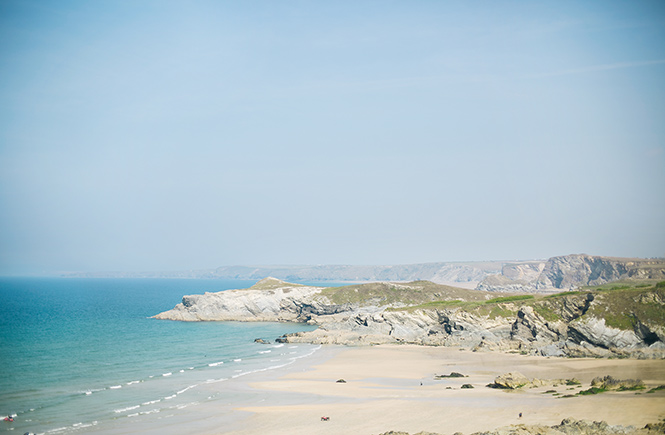 Best for: A surf at sunset
Lifeguards: Seasonal (May – September)
Dog-friendly: Seasonal dog restrictions (15 May - 30 September, 10am - 6pm)
Parking: Large field car park at the top of the cliff
Facilities: Restaurant, shop, surf hire, showers, changing rooms
Accessibility: Lots of steep steps down to the beach, alternatively you can access it from the neighbouring Tolcarne beach
A few bays up you'll find Lusty Glaze Beach, where live music and events regularly take place during the summer months. Lusty Glaze is a privately owned and managed beach with public access allowed most of the time. They run adventure activities, surfing lessons, hold private functions, weddings, and have a great beachside restaurant making Lusty Glaze a true jack of all trades when it comes to beachside activities.
The conditions might not always be perfectly primed for surfing at Lusty Glaze, but when the stars align/when the winds and tides align, it's a great place for a spot of surfing. To help get the timings right, heading down in springtime at low tide is best, as surfing at mid to high tide isn't recommended due to rebounding waves.
Porth beach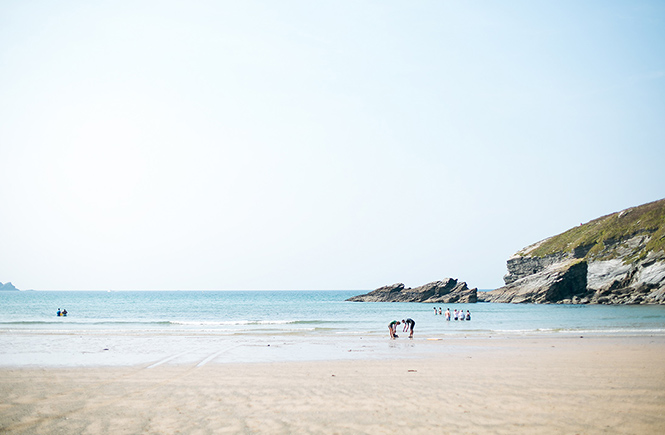 Best for: A family day out
Lifeguards: Seasonal (May – September)
Dog-friendly: Seasonal dog restrictions (15 May - 30 September, 10am - 6pm)
Parking: Car park next to the beach
Facilities: Shop, café, toilets, and pub
Accessibility: Easy access from the car park
As you head north out of Newquay town on the coastal road you come to Porth beach, which is one of the best family-friendly beaches in Newquay. It might not have the greatest surf, but this long beach has a lovely gentle stream running down it, which is great for kids to play in. There is lots of room at low tide and there are some great rock pools to explore.
That's not to say that there are no waves here. Despite the sheltered nature of the beach, you will sometimes find some fun waves amidst the ankle slappers, which provide hours of fun for the whole family. After your day splashing around in the waves and competing in the age-old art of sandcastle building, a trip to The Mermaid, which sits right on the beach, is a Newquay must!
Watergate Bay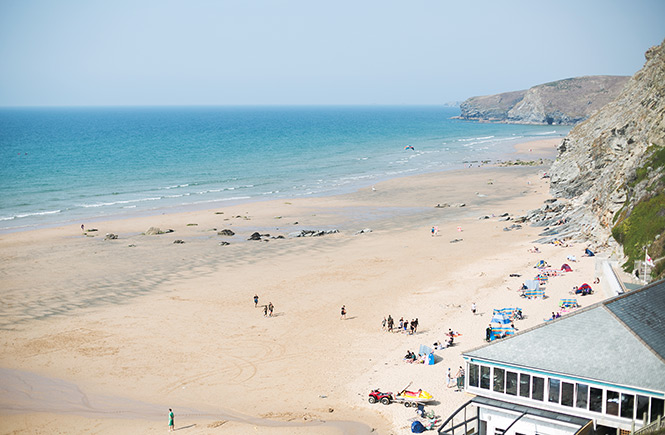 Best for: Reliable surf with lots of space
Lifeguards: Seasonal (May – September)
Dog-friendly: All year
Parking: Two car parks towards the centre of the beach
Facilities: Café, restaurant, toilets, and shop
Accessibility: Fully accessible for wheelchair users with sand chairs available from Watergate Bay Hotel
The last beach in this area that's still considered a Newquay beach is Watergate Bay. Home of The Extreme Academy and boasting a whopping 2 miles of golden sands, there is a good reason why this beautiful beach is so popular. Frequented by surfers, kitesurfers, and bodyboarders, Watergate bay has a similar quality of waves to Fistral but with a lot more space to enjoy them.
While the stretch of sand and close proximity to a superb restaurant are winning factors, the biggest draw to Watergate Bay has to be the surf as it usually offers a great swell on most tides. The best waves might be found at mid to high tide, but that doesn't mean low tide is a no-go for visits. Entertain yourself along the expansive golden beach or simply enjoy the seas as they are (although do be careful of big swells). Round it all off with fish and chips at The Beach Hut and you'll be hard-pressed to find a better beach day during your visit.
Ready to make the most of the surfing in Newquay? Browse our lovely cottages in Newquay and start planning your totally tubular stay!
Tags: Newquay | Surfing | Watersports |