From stylish harbourside restaurants to family-run bakeries, here's our list of the best places to eat in St Mawes that are sure to get your taste buds tingling. Situated on the balmy Roseland Peninsula, the pretty fishing village of St Mawes is a sight to behold. In fact, before you even get to your sun-soaked destination, the roads around the Roseland offer a scenic drive in their own right, so you really are spoilt for choice when it comes to beautiful views and things to do.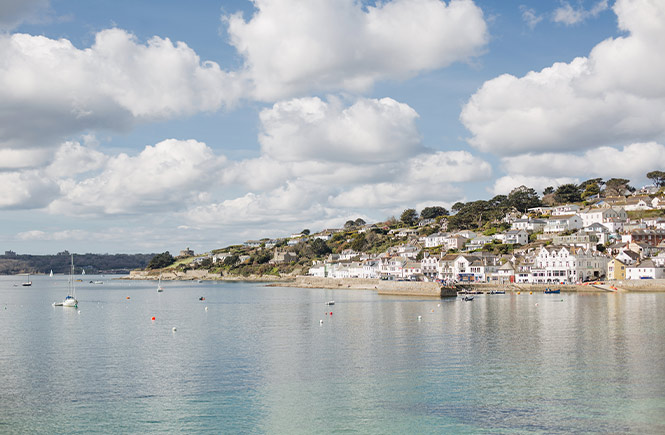 It's not just the scenery that provides a feast for the senses as St Mawes is home to some of the best eateries on the peninsula. From age-old pubs that offer traditional fare to sleek restaurants that fill your belly as your eyes drink in the peaceful surrounds of the harbour, there's something for every occasion and fancy in St Mawes.
You're also a stone's throw (or rather ferry ride) away from Falmouth, which is quickly becoming a hub of superb restaurants and bars, perfect for a foodie day out.
Ready to start creating your hunger-quelling to-do list? Let's tuck into the best places to eat in St Mawes!
The Watch House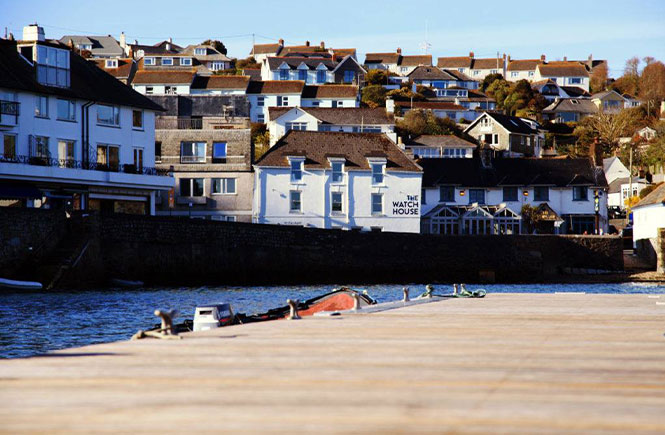 Best for: Harbourside dining
The Old Watchhouse Restaurant, 1 The Square, St Mawes, Truro TR2 5DJ
watchhousestmawes.co.uk
If you're looking for somewhere to settle down and watch the waves with a table full of local grub in front of you, then The Watch House is the perfect fit. Nestled on the picturesque harbour of St Mawes, this welcoming restaurant has a corner for every kind of diner, whether you're in the mood for a booth and a burger or an evening of Cornish seafood by the sea.
Head along to the ground floor dining area for a cosy meal with friends or a refreshing drink at the bar, or head upstairs to the dining room where you can enjoy ocean views and a tempting menu packed with local produce. You can even enjoy The Watch House's infamous food on the go thanks to their Watch Out takeaway window, which serves fresh fish and chips alongside an assortment of other tasty options you can enjoy anywhere along the Roseland that takes your interest.
Victory Inn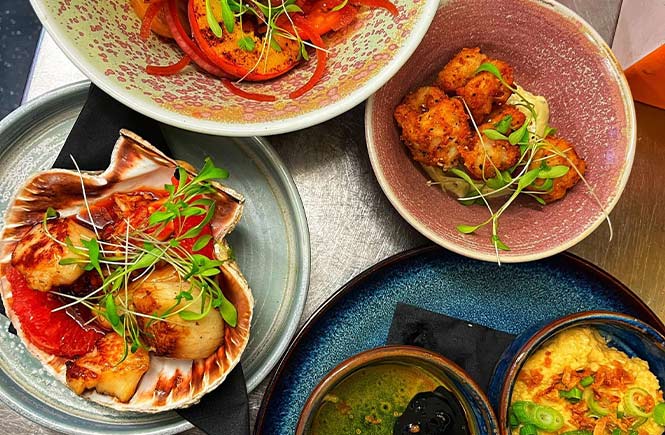 Best for: A traditional inn experience
Victory Hill, St Mawes, Truro TR2 5DQ
victoryinn.co.uk
Not only is the Victory Inn the oldest pub in St Mawes, it's also the only traditional pub, making it the place to be if you're in the mood for proper pub grub in ye olde Cornish setting. Dating back to the 16th century, you'll find all your favourite features of an inn, from the well-stocked bar to a roaring fireplace in the winter months. One of the best dog-friendly places to eat in St Mawes, the hound will love curling up in front of the flickering fire as you tuck into the heartiest of meals.
Choose from the sea, field, or garden as you browse the mouth-watering menu, which features the likes of Goan curry, catch of the day, and the Moving Mountains plant-based burger. Wash it all down with one of the fantastic local spirits or a local tea or coffee – there's a wealth of Cornish produce and heart here, and even the ice cream is made in-house!
The Idle Rocks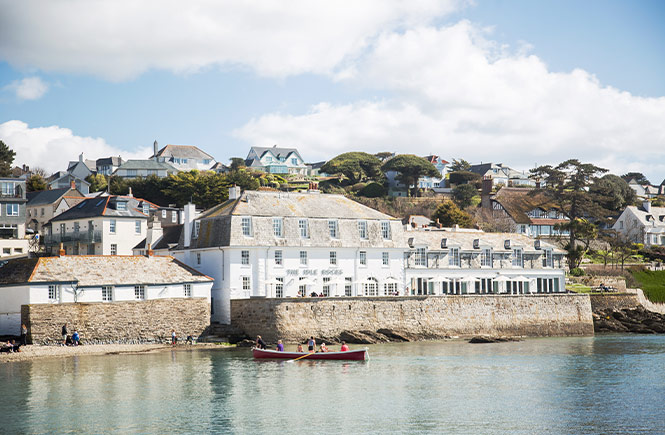 Best for: Dining on the water's edge
Harbourside, Tredenham Road, St Mawes, Truro TR2 5AN
idlerocks.com
Another restaurant in St Mawes to enjoy incredible sea views, The Idle Rocks makes full use of its waterside position, with a terrace providing a magical place to spend a sun-soaked afternoon or a lazy evening. When you can bear to draw your eyes away from the turquoise waters of the harbour, you'll be met with an equally pleasing sight on the menu. Mostly British fare with influences of Asian and French cooking – and of course made with local produce wherever possible – the menu at The Idle Rocks is a celebration of Cornwall and the natural larder it provides.
Tuck into miso glazed aubergine or roasted cod, or for a true taste of Idle deliciousness try The Idle Rocks' signature menu, which offers seven incredible courses that bring the flavours of the land and sea to your plate.
The Rising Sun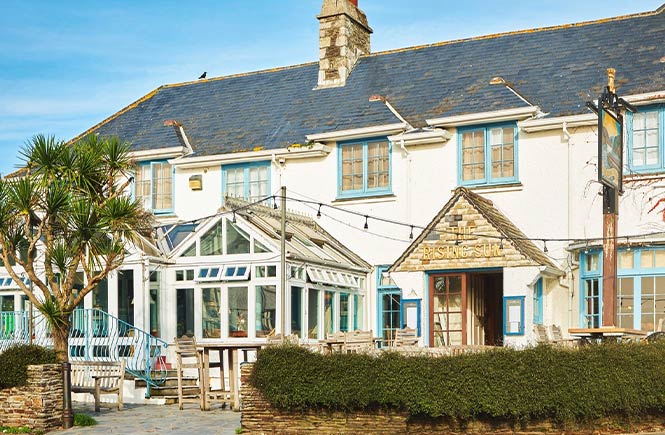 Best for: Proper Job and pub grub
The Square, St Mawes, Truro TR2 5DJ
risingsunstmawes.co.uk
When dining at a St Austell Brewery pub you know one thing for absolute certainty, the Cornish ales will be on-tap and on-point. Alongside your lip-smacking choice of local ales is a menu full to the brim of tasty pub classics, from fish and chips to pie. You can also enjoy locally sourced seafood including mussels and market fish, which changes daily depending on what the boats bring in.
Alongside the main menu is another British favourite that can't be beaten… the Sunday lunch. Whether you spend your weekend dreaming of west country beef, lamb, chicken or nut roast, a roast at The Rising Sun is perfect for that post-Sunday stroll feed. The atmosphere inside the pub is friendly and welcoming, with beautiful views across the harbour that are just as beautiful in the depths of winter as they are in the height of summer.
St Mawes Hotel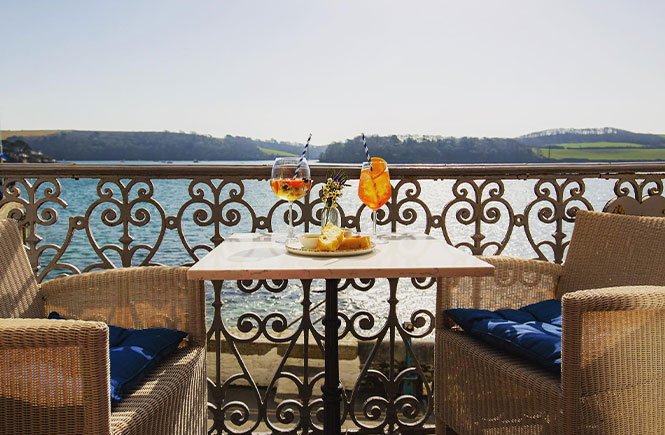 Best for: Pizza on the beach
Harbourside, St Mawes TR2 5DN
stmaweshotel.com/eat-drink
While the relaxed yet stylish offerings of the lower deck bar and upper deck restaurant are a big draw to the St Mawes Hotel, we have to say the takeaway pizza offering is a home run. There's just nothing better than tucking into a fresh, sourdough pizza while nestled in the sand of one of St Mawes' pretty beaches… It's a whole mood and we love it.
Of course, if you want a more traditional meal out then we definitely recommend you head inside for some delightfully Cornish dishes. In the downstairs bar area, you can dine with your furry best friend in tow (they even have dog treats at the bar) while the Upper Deck provides an informal setting in which to enjoy some seriously good food – think Cornish produce with an Italian twist.
Hotel Tresanton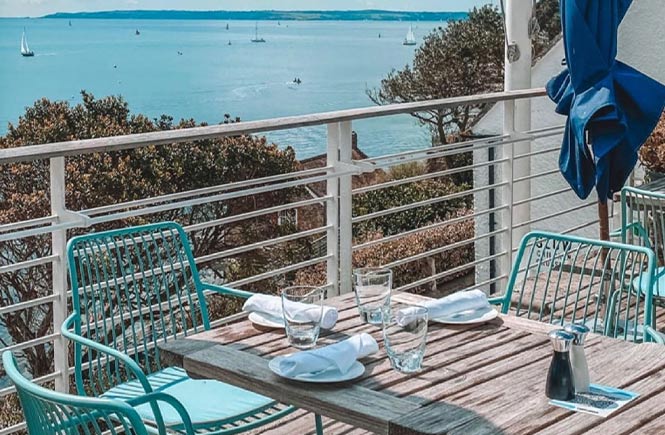 Best for: A little bit of everything
27 Lower Castle Rd, St Mawes, Truro TR2 5DR
tresanton.com/food
When it comes to choice, no one does it quite like Hotel Tresanton, which is perhaps one of the reasons this waterside restaurant recently received three AA Rosettes. The restaurant provides a relaxed space in which to enjoy views of St Anthony's Lighthouse alongside a menu of Cornish and Med delights while in the summer months you can join them for a BBQ that can feed a family and then some.
If you're after something even more laid back, simply pop into the Beach Club where you can sip on a cold-pressed juice or steaming coffee as you watch the water go about its business. Dogs are welcome in the Dog's Bar, which serves top-notch nosh in a more informal setting, with an open fire to add a lovely toasty feeling in the cooler months. You'll also find board games here to really kick your winter evenings up a notch.
Mr Scorse Gourmet Deli and Wines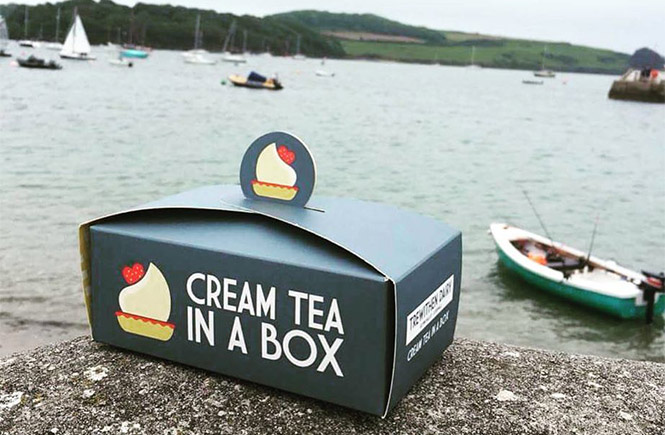 Best for: Filling food and cupboards
1, The Arcade, St Mawes, Truro TR2 5DT
mrscorse.com
Here in Cornwall, we love an independent food shop for all our shopping needs, which is why delis like Mr Scorse will always be on our list of the best places to eat as they have everything you need, whether you want a quick bite to eat now or tasty ingredients to use in your favourite recipe back at your home from home.
The deli is jam-packed with seasonal produce, from carefully cured meats to award-winning, artisan cheeses. It's not just plates you can fill here, either, as the range of exceptional wines and spirits ensures your glass will never be empty when staying in St Mawes. And of course, it wouldn't be a deli without freshly prepared sandwiches and hot-out-the-oven Cornish pasties you can pack up and take with you as you explore the stunning surrounding coast – the St Mawes crab sandwich is a must-try!
St Mawes Bakery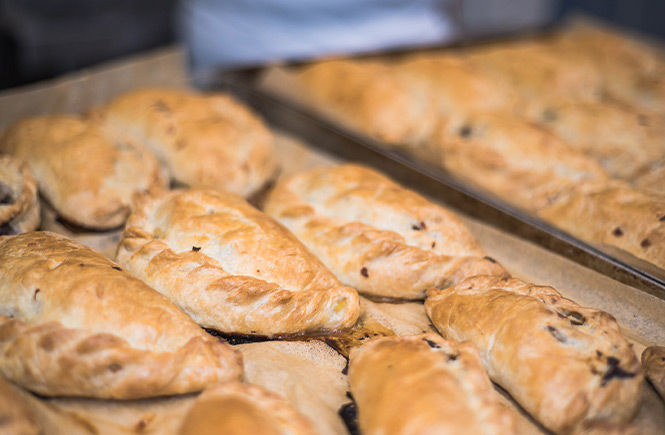 Best for: Fresh Cornish pasties
9 Marine Parade, St Mawes, Truro TR2 5DW
stmawespasty.co.uk
Keeping the people of St Mawes fed for over 100 years, family-run St Mawes Bakery is as much a part of the village as the harbour itself. Selling an array of delicious baked goods, you'll find something for every taste bud in the bakery, including freshly baked breads and the bakery's famous pasties, which come in steak, vegetable, and cheese.
The best part of St Mawes Bakery is that you don't have to wave goodbye to the pasties when you leave, as they're delivered all over the UK. You can either order a box whenever you feel like the warming comfort of a proper Cornish pasty, or you can join The Pasty Club and get your box full of Cornwall every month – perfect!
Café Chandlers
Best for: Breakfast by the sea
St Mawes, Truro TR2 5AA
cafechandlers.co.uk
Café Chandlers in St Mawes is where you want to go for an egg and bacon muffin! Perched on the harbourside overlooking the quiet waters, you'll be hard-pressed to find a better spot to start your day. The breakfast menu has everything from fresh pastries to fresh orange juice, while lunch is covered with a selection of sandwiches, subs, and paninis – not to mention a collection of cakes, Cornish cream teas and sundaes to make any sweet tooth sing.
You can eat inside the welcoming café, or you can take your food harbourside and watch the boats bob in the water as you enjoy your hearty fare. Top it all off with one of their supreme hot chocolates and you've got the makings of a true Cornish feast.
Excited to explore the culinary delights of this beautiful harbourside village? Check out our lovely holiday cottages in St Mawes and start planning your stunning Cornish break.
Tags: Falmouth | Food and Drink | Food and Drink | St Mawes |