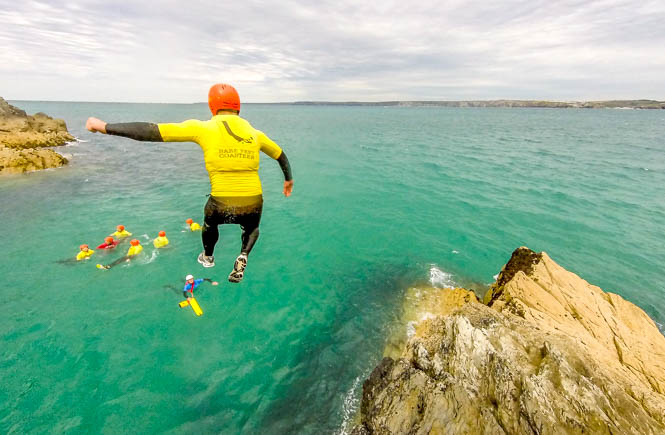 Holidays in Newquay are all about having fun, and taking to the sea to enjoy one of the many water-based activities on offer is a must; with coasteering being no exception.
Based only a stone's throw from Fistral Beach, Bare feet coasteer provide everything you need for some extreme and exhilarating water fun, but don't be fooled by the name; remember to bring some footwear suitable for rock clambering!
Having been wanting to give it a try for a while, Nick from Bare Feet kindly invited a group of us along to give it a go, so after a day in the office, we headed over to Newquay for an after-work jolly.
After enjoying the sun for ten minutes while we waited for everyone to arrive, we were sized up with winter wetsuits to keep us warm. After donning our rubber, we were then kitted out with buoyancy aids, neoprene shorts, rash vests and helmets, everything you need to ensure you look ridiculous! Despite this, we were well and truly ready to hit the surf, so off we headed down to Fistral headland, only a short walk away.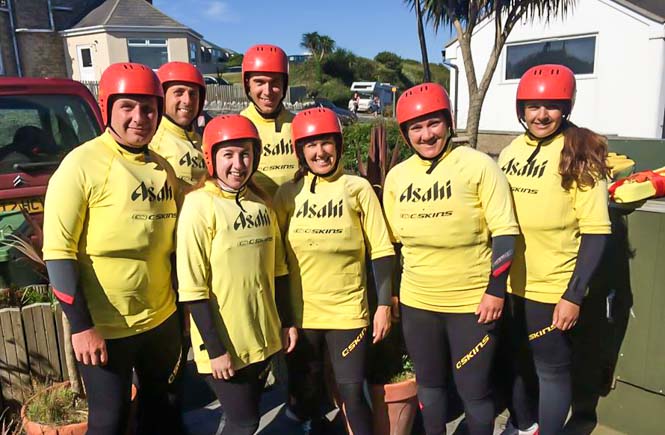 A safety talk introduced us to the basics of water entry and exit, and how to prepare ourselves for the imminent 'jumping from very high places'. Amped and ready to go we made our way towards the water's edge and attempted our first shallow entrance by walking out along shallow rocks before the water was deep enough to swim. Once we had all taken the plunge we slowly made our way around the rocks to familiarise ourselves with swimming in buoyancy aids, which is a lot harder than you may think!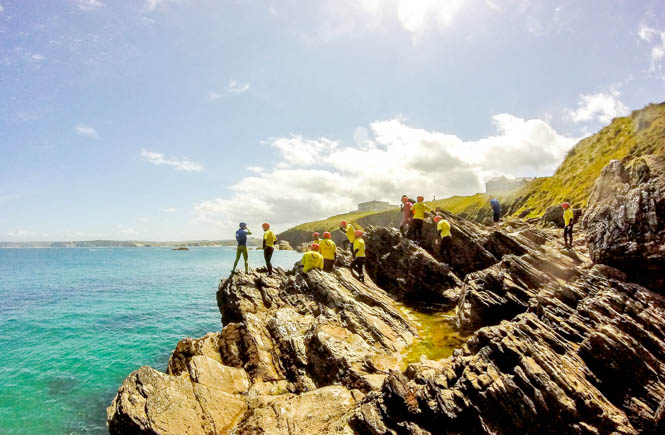 After a short swim  made up of a mixture of breast stroke, old English, and flapping our arms around in an undignified manor,  we climbed out the water by the old lifeboat slipway (reported to be the steepest in the country!) and prepared for our first jump.
After a few encouraging words we had all taken that first leap of faith, and within seconds we were all lining up for the next go! The second jump was from a slightly higher point but still only a baby jump compared to what was to come later on.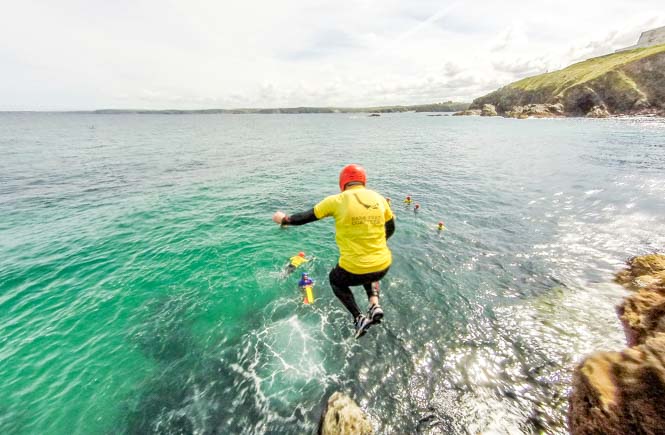 Once the second jump was complete we all started to relax (if you can say that when jumping off cliffs) and we were encouraged to concentrate on our technique so we wouldn't hurt ourselves on the larger jumps.
We swam around the cliffs for a few minutes, and with the increasing swell were challenged with deep water exits where we had to use the movement of the waves to assist us out of the water safely. Some of us found this easier than others, but Nick and Luke were on hand to give us a pull if needed.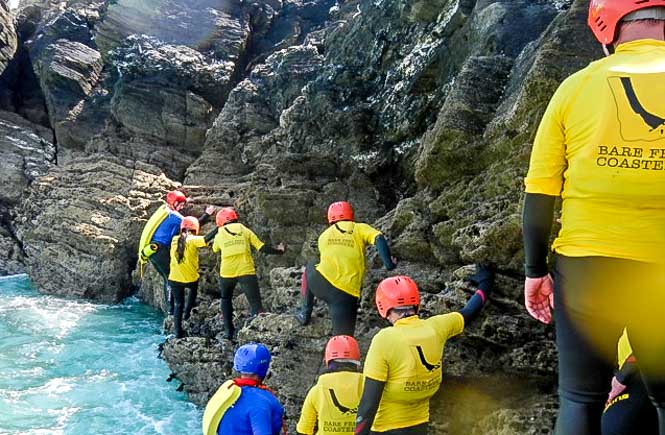 Next up was traversing; making our way along the rock face in a follow-my-leader style line.  This tested our rockclimbing skills and ability to avoid slippery surfaces, but fortunately the cliffs had rock formations running horizontally which provided us with convenient foot holes.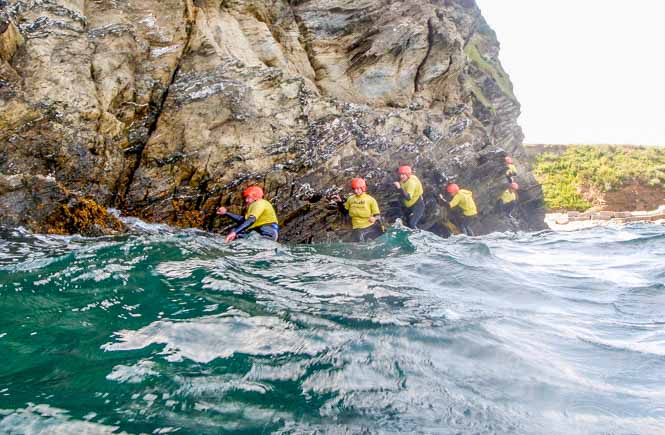 We then swam a little further along the coast to a section of three jumps called 'The Triple'. This soon had some of us buzzing with excitement and others quaking in our wetsuit boots. A group of locals were already jumping from here so we knew we had reached a popular spot, and we all began our deep water exit and climbed up the cliff face.
With our new found confidence, we bypassed the first jump and headed straight for the mid-level jump. After a bit of reassurance, and some digging of the heels from those less sure, we all stepped from the rocks and plunged what must've been at least 20 feet.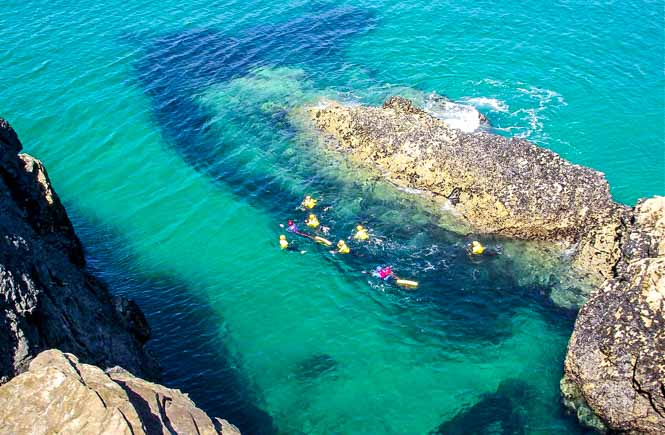 The thrill was greater than that of what we had previously experienced, but those of us that were more hesitant were encouraged to look at the horizon and just enjoy the ride! I must admit I did let out a squeal on the way down, along with a couple of the other girls. Looking up to the final 30 foot jump, some of us were starting to think we might give it a miss, but the rest of the group were almost running to the top of the cliff and eager to give it a go.
To show us how it was done, Luke made us feel a little more at ease by jumping off backwards, and performing a somersault on the way down! If he could do that, then what was a pencil dive!?
The usual culprits were first in line and eager to be the first in the water, only so they could watch the rest of us hesitantly standing on an outcrop mustering up the courage. After some encouraging words from Nick, we all (after a little persuasion) took the step…
Upon surfacing, and emptying the salt water from our noses, we were met with cheers from our peers and that very proud feeling that we had completed such a large jump.
After a pat on the back and a final swim, we made our way up the cliffs, only to spot a seal poking his head up out of the water below.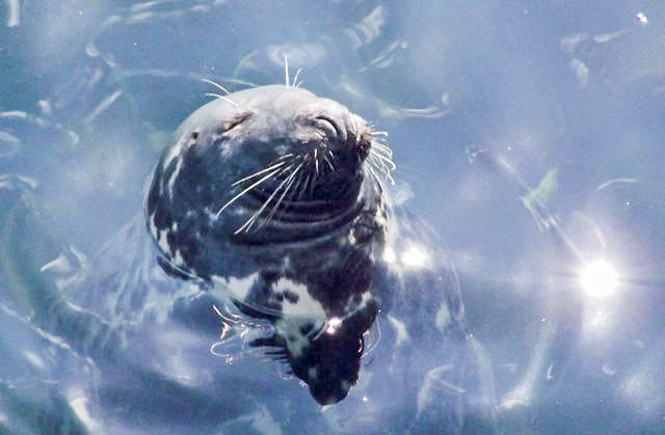 We headed back to HQ, all feeling rather abused but with our veins pumping full of adrenaline. After stripping back the layers of neoprene, we headed to the beach bar on Fistral to take in the beautiful Cornish sunset with beverage or two…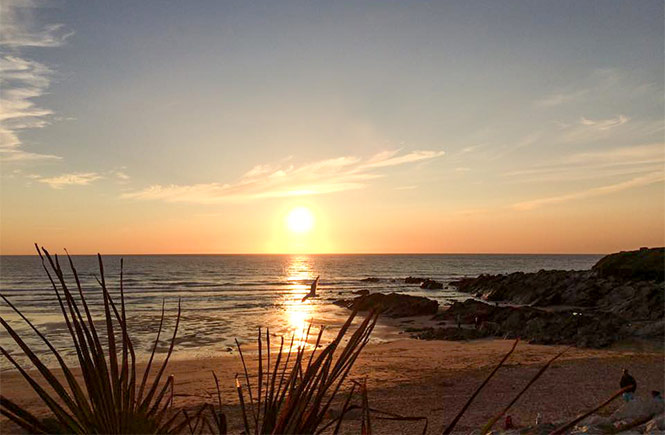 'Jump with us!' is their slogan…and we certainly did! To book your coasteering day visit:  www.barefeetcoasteer.com
If jumping off cliffs doesn't take your fancy, check out our blog on Surfing in Newquay for more ideas on where to take to the water.
Stay in one of our Newquay cottages >
Tags: Beaches | Newquay | Watersports |